This post may contain affiliate links.
Are you hoping to get great wildlife photography on Rocky Mountaineer, a luxury train through the Rocky Mountains? If you try very hard (or not at all) you'll be able to get stellar shots like me.
FYI: This post was sponsored by Rocky Mountaineer. I bet they're sorry!
Wildlife photography
Many people are jealous of my astounding photography. And I'm fairly sure I'll win an award with the amazing Rocky Mountaineer wildlife photos I captured on The First Passage to the West rail trip from Vancouver to Banff. I don't want to brag (yes I do!) but these shots are one of a kind.
You see, anyone with a point and shoot can snap an action shot of an wild animal and get a clear crisp picture. But it's not easy to go one step further, to capture the heart of the natural world.
Wildlife photo ops
If you do the same Rocky Mountaineer luxury train journey through the Canadian Rockies that I did, you'll have plenty of opportunity to spot eagles, bear, moose, deer, mountain sheep and beyond. So get your cameras ready or scroll down, sit back and experience the thrills of the Canadian Rocky Mountains through this travel blog.
Amazing Rocky Mountaineer wildlife photos: The Osprey
Ospreys have white heads and big nests. They eat fish and will dive three feet down into the water to get them.
Notice the detail in the osprey photo below. Can't you just see how the osprey's beady yellow eyes reveal a perceptiveness that goes far beyond the sensibility of humans? Can't you sense the majesty of this mighty bird? What? You can't? It looks like a dark dot with a beak and a tail on a pole? Well. That just proves that the osprey is more perceptive than you.
Amazing Rocky Mountaineer wildlife photos: The Mountain Sheep
Mountain sheep are only outdone in the climbing-steep-mountains agility department by mountain goats. They were described as "Sheep as big as a Horse," by the famed Spanish explorer, Coronado, in 1540.
While the photo below may look blurry to you, I intentionally shot it this way to represent the fragility of a harsh mountain life, and the uncertainty these plucky sure-footed beasts of the mountains face every single day.
Amazing Rocky Mountaineer wildlife photos: Salmon Swimming Upstream
Every year millions of chinook and sockeye salmon stream into the Fraser River, the same river we travelled along on The First Passage to the West route. Salmon likes to eat zooplankton, and they die after they spawn, which makes a great case for celibacy.
See how I managed to get an in-the-moment action shot here, with the fish leaping out of the water in graceful arcs? Doesn't it just transport you to the wilds of British Colombia? (And make you hungry?)
Amazing Rocky Mountaineer wildlife photos: The Bald Eagle
Important note about bald eagles: They're not really bald. Their heads are covered with white feathers. Another note: They're bigger than turkey vultures.
It's not easy to capture a eagle in flight but I managed this rare feat by having my camera pointed this way by accident planning carefully and waiting patiently. Can you feel the wind in your hair?
Amazing Rocky Mountaineer wildlife photos: A Deer
This is the shot I am most proud of. When people on the Rocky Mountaineer train shouted, "Deer!" I was right there with my camera. When shooting wildlife you need to be constantly on alert. I leapt over a row of seats to the other side of the train and bulldozed a few bystanders out of the way just in time to catch the backend of this stunning deer as it sped into the woods. Squint and you can almost see it.
You see? Where other people are content with capturing a two dimensional image full of irrelevant clarity and detail, my goal was to capture the SPIRIT of the animal. I call this photo, quite simply, essence of a deer's behind.
Amazing Rocky Mountaineer wildlife photos: A Bear. With a Bird.
I feel extremely blessed to have stumbled upon this natural scene of wildlife soon after I arrived in Banff. Of course you know that black bears are found in the Canadian Rockies, but did you know that Banff National Park has only 35 to 40 still out in the wild? So this was a rare moment indeed.
To make the photo even more complex and rich in narrative, I managed to capture the bear cub sharing a perch with a bird. Think of it!
And here I bring you an impassioned plea: If animals can live in harmony like this, why can't humans? Let's hear it for world peace! (Unless the bear cub is going to eat the bird, in which case I will have to rethink my impassioned plea.)
Amazing Rocky Mountaineer wildlife photos: A Chipmunk
Chipmunks are striped rodents who like to shovel food into their cheeks and 'squirrel' it away to eat later. (Much as I do with chocolate.)
At great personal risk, I ventured as near as I could to get a closeup of this wild and potentially ferocious mammal-of-the-woods, which will heretofore be known as Rocky Mountain Chipmunk with Grass in its Mouth.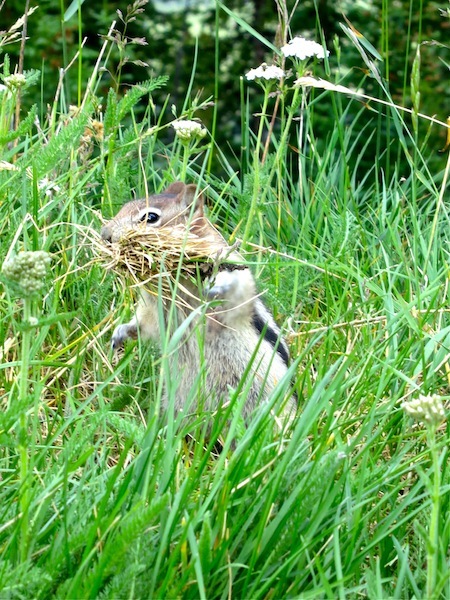 And they say I can't shoot wildlife. Next trip, I'll be sure to photograph a grizzly!
To learn more visit the Rocky Mountaineer site. Or check out my Vancouver to Jasper train review. You'll soon become a master photographer, too!
For more about travel to Canada visit Things to do in Canada.