This post may contain affiliate links.
A romantic train ride on Rocky Mountaineer's Rainforest to Gold Rush Route between Jasper and Whistler is a ride through Canadian history and adventure
FYI: I'm a brand ambassador for Rocky Mountaineer and this was a sponsored trip. All romantic adventures were my own. And my husband's.
Jasper to Vancouver through Quesnel
"You've been outside for five hours straight," my husband says when I stagger back upstairs to our dome car on the train, reeling from the microwave-like heat of the arid Fraser Canyon in the interior of British Columbia, Canada's most westerly province. "I was starting to wonder if I still had a wife."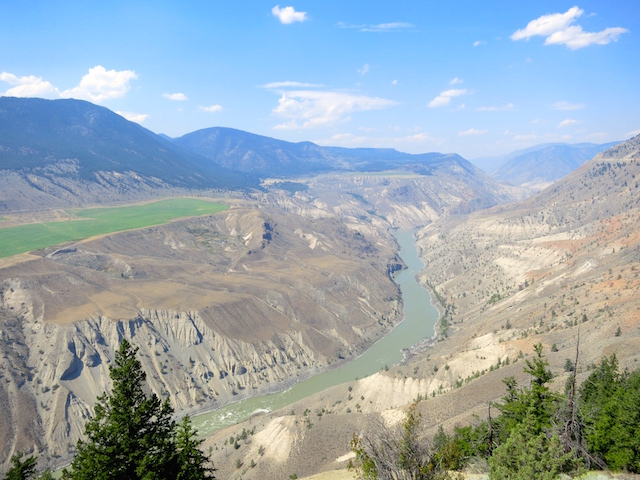 "A bridge!" I shriek, hopping out of my window seat again, my mind obsessing more about photo possibilities on Rocky Mountaineer's Rainforest to Gold Rush route than on romance. "Be right back!"
Romance on the rails
As I stand outside in the open-air viewing car, my legs steadying myself against the motion of the train as I attempt to get the one perfect photo that will make my life complete (if you saw my wildlife photos from last year, you'd know why), it occurs to me that the Season 5 Bachelorette, Jillian Harris, had it easy when she rode the luxury Rocky Mountaineer train in search of romance.
She only had to choose between a posse of eligible bachelors. I'm torn between the two big loves in my life, my husband and the outdoor viewing car in GoldLeaf Service.
… there isn't a train I wouldn't take,
No matter where it's going.
― Edna St. Vincent Millay
Is train travel truly romantic?
People often describe train travel as romantic, but what are they actually referring to? A journey that inspires romance, or the romantic notion of travel itself? And what makes train travel so impossibly romantic anyway? And – here's the big question – is the Rainforest to Gold Rush route so bloody romantic it's going to sabotage this gaze-into-each-other's-eyes-for-two-days-solid Harlequin-love-sized train trip I'd planned?
Love will wreck your heart like a derailed train. So choo-choose your partner wisely.
― Jarod Kintz
The truth about the open-air viewing car
The problem is that for me, the outdoor viewing car in the Rocky Mountaineer's GoldLeaf Service is like crack. The more I'm out here, the more I need to be here.
Otherwise I might miss something … an eagle circling over the pines; icy-looking Mount Robson, the highest point in the Canadian Rockies; Deep Creek Bridge (one of the highest railway bridges in the world); the Cariboo Plateau, an elk showing off his backside …
In short, waiting for what's coming around the bend on the Rainforest to Goldrush route from Jasper to Whistler can drive you CRAZY, at least if you are me. Especially when you're travelling through spectacular nature and Canadian history from early European explorers to fortune hunters.
In Seattle, Washington, women who sit on men's laps on trains without placing a pillow between them face a six-month jail term.
Other people, like my husband, have a more balanced attitude when it comes to the open-air viewing car. They like it, but are equally happy to enjoy the scenery from a comfy seat with a cocktail in hand.
They don't need to feel the slap of the wind (although, granted, the wind in the desert-like Fraser Canyon in summer is more like a blowdryer blasting up your nose).
And they don't seem to have that same irresistible attraction to the unfettered view, the feeling that the cedar trees and ospreys and rushing rivers are so close you could stick out your tongue and lick them, as if it's all one big scenic lollypop.
It's my experience that most folk who ride trains could care less where they're going. For them it's the journey itself and the people they meet along the way.

–David Baldacci
The only thing that can really drag me away is lunch.
Stories along the Rainforest to Goldrush route
Besides gourmet meals, one thing you gain from staying inside the train is the commentary, and there are plenty of tales to tell.
The Rainforest to Gold Rush route (except in our case, it's the Gold Rush to Rainforest route because we're doing it the other way around), is as much about history and 'place' as it is about scenic views.
A romantic train ride through legends and gold
From the moment the train departs from Jasper, Alberta, curving its way through the Rockies in the slanted morning light, to the overnight in Quesnel and the journey through the heart of the Cariboo Gold Rush region, you're in a land of explorers and adventurers.
Not just early European explorers such as Simon Fraser, but the ambitious dream seekers of the Cariboo Gold Rush.
The Cariboo Gold Rush
First discovered about 1857 in the lower Fraser Canyon, gold – and the lure of gleaming riches – drew some 30,000 prospectors to the Cariboo region in British Columbia's remote interior.
The Fraser River Gold Rush turned into the Cariboo Gold Rush as the finds moved north, creating bustling mining towns in places such as Barkerville, Quesnel and Wells.
The romance of the Cariboo Gold Rush lingers
Some fortune hunters hit it big, some blew their riches on dancing girls and gambling, and some found no gold at all, but all in all the Cariboo Gold Rush was a brief flash in the gold pan. By 1871 the boom had slowed to a trickle, leaving behind a legacy of adventure, courage and grit.
And surely the inner adventurer in each of us can't fail to connect with that.
In Wisconsin it's illegal to kiss on a train.
Heading to the Rainforest
Mark comes outside. I rest my head on his shoulder as we travel along Seton Lake, its candy-like blue green colour as exotic as the tales of the gold rush we've now left behind. The air is cooler here, more refreshing. I reach my arm over the side of the car, feeling the wind push against it, enjoying the heady sensation of moving forward while staying firmly planted in one place.
I've always felt that distant train whistles heard in the dead of night are the universe's way of letting us know the best days are neither ahead nor behind us…they're happening right now, cradled in the palms of our hands.
― Dave Matthes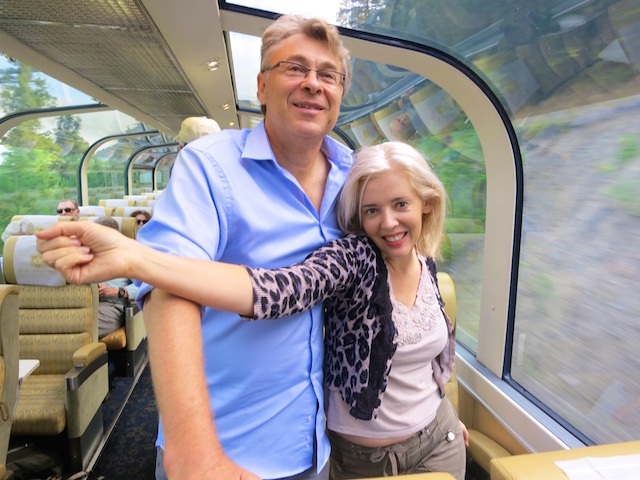 The real romance of a train trip
Maybe that's what makes train travel romantic, the idea of time and place being suspended while at the same time you're watching both pass by. Ultimately it doesn't matter if you're holding hands or your camera, or where you are on the train – it's the experience you're sharing, the journey, not just with your partner but with everyone on the train.
Could there be a more 'authentic' romantic train trip than that?
Mark puts his arm around me as Seton Lake fades into Anderson Lake and we steam towards Whistler, watching the West roll by.
Travel Guide for the Rocky Mountaineer and the Rainforest to Gold Rush Route
What Rocky Mountaineer trip to take: If you're wondering which Rocky Mountaineer route is best for you, take Rocky Mountaineer's quiz. But don't let it rule your life. My quiz said I should do the Journey through the Clouds route but I did the Rainforest to Gold Rush anyway (and, as you can tell, I'm a fan).
Still wondering which train route to choose? You can also read my Rocky Mountaineer Scenic Train Routes blog post for help. For the most comprehensive place to find information visit the Rocky Mountaineer website.
Our Rocky Mountaineer trip started in Banff
For more activities in Canada read Top Attractions in Canada
Disclosure: As Rocky Mountaineer's Blog Ambassador for 2015 much of my trip was paid for. The opinions and addiction to the outdoor viewing car are my own.
Do you really need GoldLeaf on the Rocky Mountaineer? Do you need the outdoor viewing car?
Those in SilverLeaf Service have access to open windows between cars for taking photos and enjoying that 'wind in your hair' feeling, while GoldLeaf Service (the premium option) has the open-air viewing car.
In my experience, I'd say about 10% of travellers in GoldLeaf Service (mostly 'mature' males and those carrying large cameras – FYI: I am neither) are seriously addicted to the outdoor viewing car. No matter what level of service you choose, you get the same route, the same scenery and commentary, so for 90% of you, my answer would be 'no.'
What do you see on the Rainforest to Goldrush route?
Short answer: A lot.
2nd shortest answer: The Rainforest to Goldrush route starts (or ends) in Whistler, BC, and ends (or starts) in Jasper, AB, with an overnight in Quesnel. Most people journey on from Whistler to Vancouver on Rocky Mountaineer's Sea to Sky route.
Long answer. Here are some highlights of what you will see on the Rainforest to Gold Rush train trip:
Jasper. The town of Jasper was established in the early 1800s. It's a sleepy lovely mountain town in the Canadian Rockies and the main tourist stop in Jasper National Park. I was a chambermaid here in my 20s. I lasted a month.
Yellowhead Pass. One of the lowest points along the Continental Divide and a historic pass through the Canadian Rockies.
Mount Robson. The highest peak in the Canadian Rockies. It's very exciting. Especially if you can actually see it instead of clouds.
Prince George. A timber town and transportation hub, this Canadian city of 80,000 sits at the spot where the Fraser River and Nechako River meet.
Cottonwood River Bridge. Built in 1952. It's said to be a good wildlife spotting area, but I had no luck. (I did, however, see a mountain sheep by Seton Lake. And some elk near Jasper.)
Quesnel. This is where you overnight and it's pronounced kwa-NELL, not KWEZ-nell as I persisted in calling it for far too long. It was named by explorer Simon Fraser when he stopped here on his route during his epic journey along the Fraser River back in 1808.
Soda Creek. During the gold rush, you could catch a paddle wheeler here to Quesnel. It's a very ancient land (yes, yes, what land isn't?) with petroglyphs and pictographs along the river. Oh, I would have loved to explore this region in more depth.
Deep Creek Bridge. Lying 94.5 metres (312 feet) above the water, it's the 2nd highest railway bridge in North America.
Williams Lake. A trading hub for the Cariboo and Chilcotin regions with a world famous rodeo, the Williams Lake Stampede.
Lone Butte. Photo op! A 75 metre (250 foot) hill of lava left from an ancient volcano.
Fraser Canyon and the Fraser Bridge. It might be hot as Hades but the stretch from Lillooet to Kelly Lake is the highlight of the trip. Just wow.
Lillooet. Another former stop on the gold rush route.
Seton Lake. Tunnels, BC Hydro's mega Bridge River Project and a long stretch of stunning green glacial meltwater – what more do you need? (Actually all I needed was the green water.)
Anderson Lake. All 24 km (15 miles) of it.
Nairn Falls, where the lovely (and obviously green) Green River enters a narrow gorge and topples over rocks.
Whistler. The most upscale outdoorsy ski (and summer resort) town this side of Aspen. (We stayed an additional week. In fact, it was amazing that we ever left.)