This post may contain affiliate links.
'Trying to decide where to stay in Whistler? Wondering about Whistler Village versus Creekside? Hopefully this will help: a Nita Lake Lodge in Whistler Creekside review.'
I broke my cardinal rule of travelling: always stay central. You'd think I would have learned from my recent trip to Barcelona, when I chose an outlying hotel because it overlooked the ocean then spent every day on a buzz kill subway ride into town.
Was the same thing going to happen in Whistler, BC?
Whistler: an outdoorsy kind of town
But, I thought, Whistler is a scenic mountain town in the Coast Mountains in British Columbia, Canada's most westerly province. It's all about the outdoors. Wouldn't it be better to stay on a lake? Wouldn't it be better to stay at Nita Lake Lodge in Whistler, Creekside? Wouldn't it be romantic?
Choosing a hotel in Whistler
My gut said yes, my head said no, and since my gut (sadly) is bigger than my head, I let it talk me into booking Nita Lake Lodge, the only lakeside lodge in Whistler, located about 7 km south of Whistler Village in the laid back community of Creekside. The conversation between Gut and Head went something like this:
Gut: Free kayaks, canoes and bicycles!
Head: Remember Barcelona.
Gut: Outdoor hot tubs!
Head: I do like hot tubs.
Gut: And a spa. And the hotel sounds all lodge-y and cozy.
Head: But what if you want to be in Whistler Village? All the excitement happens there.
Gut: I have two words for you, you big stupid fathead: free shuttle.
Head: I'm not fat.
As you can see, my gut is a bit of a bully, but for once it knew what it was growling about. In fact, just thinking about our recent week at Nita Lake Lodge makes me feel all woodsy and calm.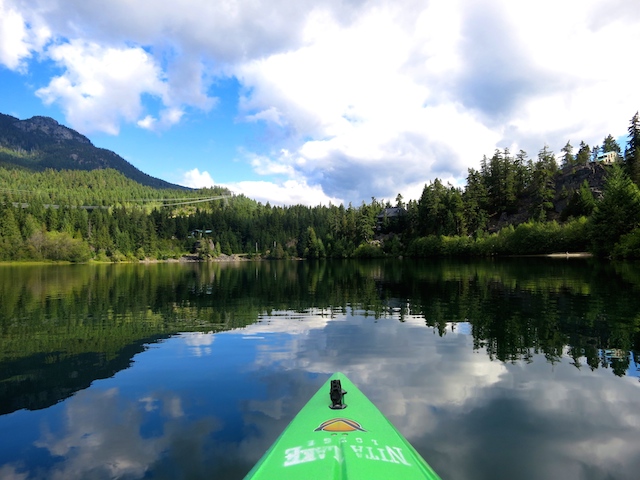 My Nita Lake Lodge in Whistler Creekside review
"Sorry, we don't have any lake view rooms left," said the receptionist at check-in.
My heart sank just a little because 1) once I knew I didn't have a lake view I wanted one, even though it hadn't occurred to me before and 2) if my husband didn't like Nita Lake Lodge I'd be blamed. That's how it works. I plan the trips and I bear the responsibility for them being wonderful.
It doesn't seem fair, but on the plus side I get to stay where I want, which is usually a star or two higher than what my husband considers 'luxury.'
FYI: Nita Lake Lodge is a 5-star. Did you really need to ask?
Nita brings the outdoors in, or is that the indoors out?
While we waited for our keys I glanced around the lobby, then took a second glance to confirm I was indeed in a lobby and not some chic faux forest of Douglas fir columns, alder trim and blue granite ground. Luckily the art on the wall helped me conclude that yes, this was a hotel interior, although as the art is inspired by the Whistler environment it still took a few seconds.
(The tree stump table didn't help either.)
She's not very observant
Before you say I'm not very observant (although you would be correct), let me say the 'bringing the outdoors in' design at Nita was intentional. Connecting Lake Placid Road with the lovely hiking and cycling Valley Trail that skirts Nita Lake, the lodge acts almost as an extension of the trail itself, and while I never saw anyone walking their bicycles through the stone-floored lobby, I was informed it does happen.
Room 217
Once we found our room (the lodge is a bit of a gabled balconied maze) I walked in and saw the cathedral ceiling, four-poster bed, dark wood accents, basalt-stone gas fireplace and separate kitchenette.
Then I stepped out onto the balcony and realized we did have a lake view after all, or at least a slice-of-lake view.
At that point I stopped caring what my husband thought because my gut, my head and I were all busy celebrating the fact that we had a week to spend at Nita Lake Lodge.
Our Nita Lake Lodge, Whistler Creekside routine
Because Mark and I are adventurous, we like to travel around the world so that we can do exactly the same thing every day. In the mornings Mark would go down to the hotel's Fix Cafe, which is a local Creekside hangout and a bit granola-y, while I'd loll about in the king-sized bed pretending to write working extremely hard.
Nothing wrong with a little relaxation
Then I'd pad through the hotel spa to the two hot tubs on the rooftop deck and soak and gaze up dreamily at Whistler Mountain, unless it was foggy or rainy, then I'd look at my hands or stare aimlessly into space.
Free activities at Nita Lake Lodge in Whistler, Creekside
Almost every day we'd kayak or canoe around the glacially-fed Nita Lake, which, truth be told, is a slip of a lake, almost a lake-ette, so circling it is only slightly more challenging than doing a lap around a pretty alpine pond.
Cycling in Whistler
In the afternoon we often cycled from Creekside to Whistler Village along the Valley Trail, a route Mark found easy while I'd be wheezing, pedalling like mad behind him and cursing Whistler for having mountains, which was a bit counterproductive as the mountains are the reason we'd come.
Nita Lake Lodge in Winter
Obviously if it were winter, we'd be skiing not cycling, so I feel compelled to tell you, as part of this Nita Lake Lodge in Whistler Creekside review, that the lodge is only 500 metres from the base of Whistler Mountain and the Creekside gondola. And that the lodge offers complimentary ski lockers. And free snowshoe rentals. And, if Nita Lake freezes over, you can skate.
Evenings at Nita Lake
Occasionally Mark and I went into Whistler Village on the lodge's free shuttle (which is the best shuttle ever because there are no scheduled times, you just call it and it comes and gets you).
Let Whistler come to you
We soon discovered, however, that people from Whistler Village like to come to Nita Lake Lodge for the evening, so we thought we might as well hang around, too. We ate once at Aura, Nita Lodge's fancy-ish restaurant with a menu based on locally-sourced ingredients (the chef even has a rooftop herb garden).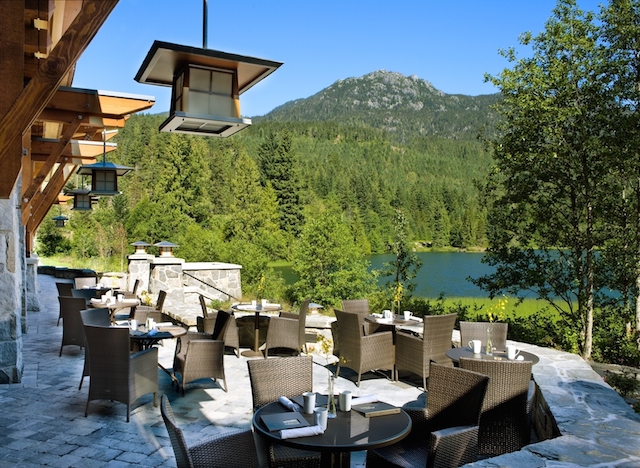 We also ate many times on the patio at the hotel's Cure Lounge & Patio.
Patience is a virtue
And only once did we see a lady being huffy because she couldn't get a coveted patio seat (even though one came available as soon as she'd given up so we got it). And twice we went to the pub right next to Nita Lake Lodge for burgers and beer.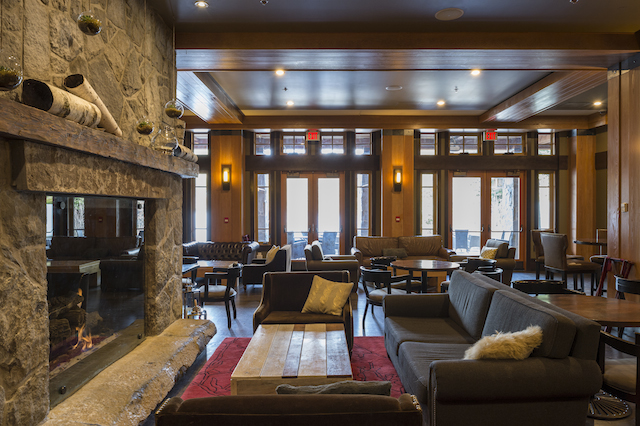 What to do in Whistler
Of course we did other things, too, just not very many because we're lazy. We went to Scandinave Spa Whistler and did the Peak to Peak Gondola experience and Mark did a mountain biking class (yikes! I wasn't going near that one), but Nita Lake Lodge in Whistler Creekside formed the framework of our stay.
I still stand by my cardinal rule of travelling: always stay central. But happily, in Whistler the outdoors is the centre, and we were right where we needed to be.
Travel tips for Nita Lake Lodge
How much is Nita Lake Lodge? Generally the lowest price you'll get for a studio without lake view at Nita Lake Lodge is $159. Price goes up for lake view rooms, on weekends, at different times of the year and for larger units.
During Christmas expect to pay much more (starting at about $639). Ski season is high season in Whistler so prices during the ski year start about $259 mid-week. Weekends are more expensive.
What I loved: the size of the rooms, the free sporting equipment ie kayaks, paddleboards, bicycles etc. And I loved that guests didn't need to do a spa treatment to have use of the spa hot tubs because, as you know, the hot tub was my second home.
Also on property is an art gallery and a yoga studio.
The Rocky Mountaineer train leaves right at Nita Lake Lodge, so if you're doing the Rainforest to Goldrush route it's convenient.
Did you know? Creekside is actually older than Whistler Village. It was the original base of Whistler Mountain and where the first gondola was built. And if you want authenticity, Creekside retains its local flavour.
Where is Nita Lake Lodge?
Nita Lake Lodge is about 90-minutes north of Vancouver and a 5-minute drive from Whistler Village.
For more information visit the Nita Lake Lodge website
For more about exploring Canada visit Top Things to do in Canada
Our Rocky Mountaineer trip started in Banff