This post may contain affiliate links.
If you're up for a summer mountain adventure, don't miss Whistler's Peak to Peak Whistler Gondola, a 4.4-km (2.7-mile) ride that connects the high alpine terrain of Whistler and Blackcomb mountains in British Columbia. Here's what you need to know, from how to buy tickets to how to bring annoying your husband hundreds to new heights.
A Peak to Peak Whistler Day Trip
I'm thinking about having a Passionate Affair. I mention this to my husband after our Peak 2 Peak Whistler Experience.
"You don't like rum," he says.
"Oh, right." I look up at Blackcomb Mountain from the patio of the Fairmont Whistler, an elegant chateau-style hotel that opened in 1989. The sun is fading, tossing shadows over the grass and scrub-covered ski runs. I go back to the cocktail menu. My second choice is a Super Sexy but I order a Moscow Mule instead.
Because some days are Mule days and not Super Sexy.
Some days are Mule days even on a romantic holiday when you're supposed to be bonding with your husband as you take in the spectacular mountain scenery on a Peak to Peak Whistler gondola experience in one of the most famous ski towns in Canada.
About Whistler
Sitting pretty in the Coast Mountains, Whistler Village is 120 km (75 miles) north of Vancouver, British Columbia. Known as the Princess of the West Coast, this world-class ski resort and year round vacation destination sits at the base of Blackcomb and Whistler mountains, two side-by-side peaks in stunning Whistler Valley.
One of the village's top attractions is the Peak 2 Peak 360 Experience, which includes a ride on the Peak 2 Peak Gondola, the highest and longest continuous gondola lift in the world.
The gondola is a fabulous way to sightsee and hike in summer and fall, to ski in the winter and to annoy your husband year round. So, as I sip my Moscow Mule, which is delicious by the way, a tart mix of vodka, ginger puree, lime and soda, let me share the highlights (and lowlights) of our day.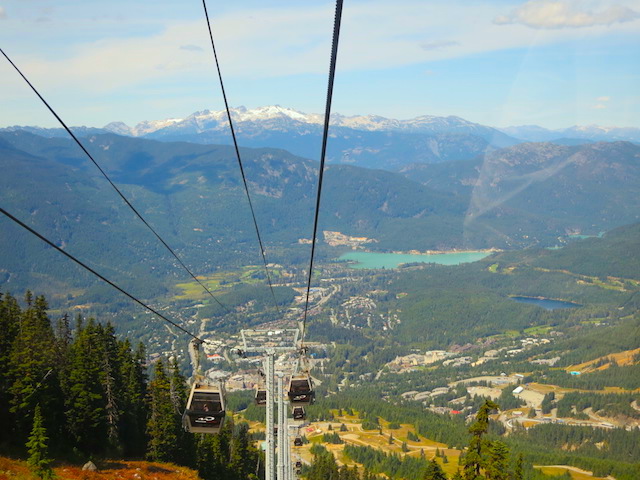 Our Peak to Peak 360 Experience Route
Whistler Village Gondola from Whistler Village up Whistler Mountain to 6,000 feet
From there, the Peak Express chairlift to the Summit of Whistler and back down to 6,000 feet
The Peak 2 Peak Gondola to Blackcomb Mountain
The Wizard Express chairlift from Blackcomb to Whistler Upper Village
Fairmont Whistler bar
(You can also do this the other way around, but in that case, skip the bar.)
Whistler Mountain
Our main problem was we didn't leave until mid afternoon and the lifts of the Peak 2 Peak close at 5. So after the first 30-minute Whistler Village Gondola ride up to 6,000 feet we couldn't linger but had to hop-foot it over to the (scary) Peak Express, an open-air chairlift that takes you right up to the Summit of Whistler.
The big thing to do on Whistler Summit is marvel at the fact you're up 2,182 metres (7,160 feet) high in the mountains. The other thing to do is take a photo with the giant Inukshuk.
What's an Inukshuk?
An Inukshuk is a piled-stone marker that vaguely resembles a human figure. Historically it was used in the arctic as a directional marker but has now overtaken the Mountie as an important symbol of Canada, even if few people outside Canada know what an Inukshuk is.
Everyone takes their photo with the giant Inukshuk. Probably even romantic bear couples come here after sundown to do selfies. Not us. My husband loped off immediately after I made him pose for a couples' shot with this sign:
Couples' travel tip: Don't pose with stupid signs if one of you hates doing photos. It's a clear path to divorce (unless you drink enough Moscow Mules afterwards).
Since my husband was AWOL, I asked two girls wrapped around the Inukshuk to take my photo. Then I saw a teenager posing on a rock with his head between two tiny Inukshuks, so I asked him to take a shot of me there, too.
Whistler Summit
Once all my photo ops were exhausted I tracked down my husband. "Let's go over there," I said, pointing to a wave of craggy rocks with a sweeping vista of the Fitzsimmons Mountain Range behind.
"I'll be right there," Mark said, reading an information board. Going ahead, I looked out over the wave of snowy mountaintops, trying to imagine it when the region was inhabited by the nomadic Coast Salish First Nations people and the land was remote and wild.
Thankfully, no matter how developed Whistler is today, its rugged soul still shines through, and it's a haven for wildlife such as bears, deer and marmots. When Mark didn't show up I asked a woman to take my photo on a rock then went back and found him by the chairlift.
"Ahem," I said.
"I couldn't find you," he said innocently.
I'm not sure how he could miss me as I was clearly posing like an early mountain explorer on a rock with the mountain vista behind me. More likely he saw me and retreated in case I uttered the dreaded words, "Couples' shot!"
Photo Ops in the Mountains
My husband doesn't understand anything. Couples shots are vital to the success of a trip. How else do you show the world (and yourselves) you're having a wonderfully romantic vacation? Sheesh. This is basic Couples' Travel 101.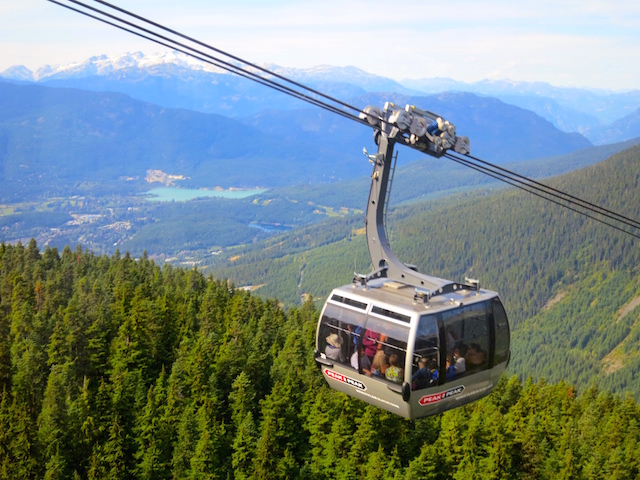 The Highlight of the Peak to Peak Whistler Experience
The next leg of our journey, once we'd sailed back down on the Peak Express to 6,000 feet, was the Peak 2 Peak Gondola ride from Whistler Mountain to Blackcomb Mountain, a record-breaking 4.4-km (2.73-mile) high alpine ride.
"Let's wait for the silver gondola! It's got the glass floor," I said, bursting with excitement at the thought of soaring 436 metres over the Fitzsimmons Valley with nothing but a glass floor between us and the ground.
Mark looked at the slow-moving lineup for silver gondola cars. He looked at the empty lineup for red cars. "How often does the silver gondola come?"
"Every 15 minutes," I said, feeling somehow guilty, as if it were my fault the silver Peak 2 Peak Gondola cars only come every 15 minutes while red cars come every 49 seconds. Did I mention my husband hates lineups?
"I'm willing to wait," he said. Willing? How gracious of him. Since he was willing to wait, we stood there for 15 minutes, but the next silver gondola was full.
Sighing, I switched to the red car line and within seconds we were gondola-ing through the air, surrounded by spectacular views of glaciers, lakes and snow dusted mountaintops. Sadly, neither of us saw a bear and while I'd like to blame this on not having a silver glass-bottomed gondola car, I'm forced to concede that if no bears are munching berries below you, even a glass bottom won't make one appear.
There are approximately 60 black bears that make Whistler and Blackcomb mountains their home, drawn by the abundant food sources such as berries, clover and grasses – and even if I didn't spot one, I was fascinated by the knowledge that they were there. And the trip wasn't a complete wildlife-spotting bust.
Reaching Blackcomb
Once we'd reached Blackcomb Mountain we stopped to watch a Whistling Marmot posing on a rock like a rock star. Obviously he thought he was a celebrity just because Whistler was named after him and his kin.
Wildlife
Mark didn't say anything outright, but before wandering off again, he made it clear he thought I was standing too close to the marmot. I wasn't too close, but I was right beside a tourist who was.
She was holding her palm out as if it were full of delicious hazelnuts and, as her hand was clearly empty, I expected the marmot to lunge ferociously and start chewing her fingernails, but it just twitched its little nose and said (in marmot language) "Lady, the town was named after me. How stupid do you think I am?"
The Wizard Express
When I had once again retrieved my husband, we took the Wizard Express open-air chairlift down and it was the best part of our day, all soft wind and silence and potential bear sightings and views of Green Lake, which is actually turquoise.
Another bonus was that on a chairlift your partner has no opportunity to run away or ignore you, even if you're threatening him with more couples' selfies.
Whistler Upper Village
The Wizard Express ends at Whistler Upper Village, which is conveniently right by the Fairmont Whistler Hotel. Here you can sit on the terrace and enjoy a Passionate Affair, a Loosey Goosey, or in some cases, a plain old Moscow Mule. And because your drink tastes so refreshing and you're both happy and relaxed after the peaceful Wizard Express, you end up feeling a little bit Super Sexy after all.
Travel guide for a Peak 2 Peak Whistler Experience
About Whistler and Blackcomb
One of top-rated and largest ski resorts in North America, Whistler and Blackcomb Mountains cover 3,036 hectares (8,171 acres) of terrain. They're big with hikers, mountain bikers, skiers, people who like to breathe actual air and not pollution, and people on the lookout for photo ops.
Where to buy your PEAK 2 PEAK 360 Experience Ticket
Get them at the base of either Whistler Mountain in Whistler Village or in the Upper Village at the base of Blackcomb Mountain. Discounts available for early purchase. You can also buy Peak 2 Peak 360 tickets online at Whistler.com
Hiking on Blackcomb and Whistler
You have 18 hiking and walking trails to choose from and more than 50 km of paths.
What to wear
Do not do what I did and wear cute little sandals. Runners, walking or hiking shoes are better. Bring a jacket – it can get cold up there. Sunscreen!
How Long Does the PEAK 2 PEAK 360 Experience Take?
The fastest you could do it is 1.5 hours, and that's if you just took the Whistler Village Gondola, went straight over to the Peak to Peak Gondola and then took the Wizard Express down, skipping the Peak Express. What's the point? We went up mid afternoon, which wasn't enough time, and one of the reasons we weren't as relaxed as we should have been.
Where to Eat
The Roundhouse Lodge on Whistler Mountain – Located at the top of the Whis­tler Village Gondola and near the PEAK 2 PEAK Gondola station, the Roundhouse Lodge offers the most choice.
The Rendezvous Lodge on Blackcomb serves breakfast and lunch.
Facilities
Don't worry. You'll find bathrooms, gift shops and even Wifi up there.
How Many Times Can You Ride the Peak 2 Peak Gondola With Your Day Pass?
As many as you want.
For more information on Whistler visit Whistler.com or call 1-800-Whistler. Whistler Tourism graciously provided our lift tickets. Obviously, all views are my own (and definitely not my husband's).
Hotels in Whistler
We loved Nita Lake Lodge, a few km outside Whistler Village.
Read more: Top places to visit in Canada
This was a stop on our Rocky Mountaineer adventure in Western Canada: