This post may contain affiliate links.
"You don't want to go do a Lake Minnewanka cruise?" I asked my husband as we sat in the Bow Valley Grill at the Fairmont Banff Springs hotel in the mountain town of Banff, Alberta, having just finished a buffet breakfast the size of 3,000 alpine lakes. "It's a boat tour. It's scenic! We'll have fun!"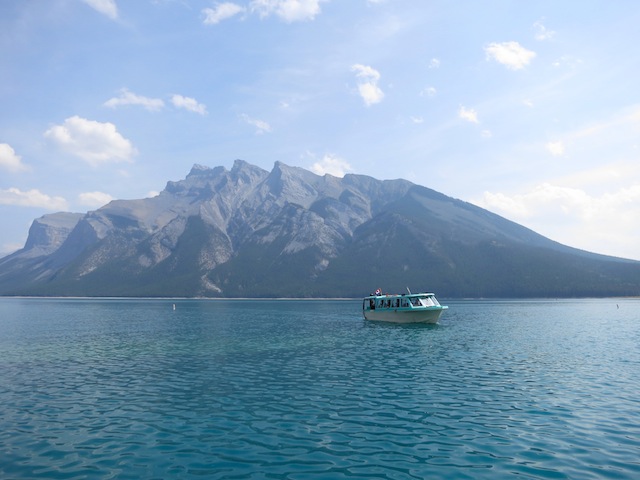 Clearly Mark would rather go to the outdoor jacuzzi in the Fairmont Banff Springs spa than undergo the dreaded overload of tourist sights, which I always occasionally subject him to, and even I have to admit the Fairmont Banff Springs, a Scottish Castle-ish, French Chateau-esque historic hotel in the Canadian Rockies is a hard place to drag yourself away from.
But Banff National Park has plenty of other attractions such as this one-hour boat tour, and eventually I managed to guilt Mark into catching the shuttle from downtown Banff to Lake Minnewanka.
Lake Minnewanka in Banff
Just five km from the town of Banff, Lake Minnewanka is 21 km (13 miles) long, the longest lake in Banff National Park. It's also much deeper than it was before a hydro dam raised the water level some 25 feet, submerging the fledgling resort village of Minnewanka Landing established in 1886. Today it's an outdoor destination, with hiking trails, picnic areas, dive sites, fishing and boat rentals, and in the winter, snowshoeing and cross country skiing.
Lake Minnewanka is also a place of legend and mystery, which of course is why I want to go.
For other great places to visit in the province, check out Wild Junket's Best Outdoor Things to do in Alberta.
Lake Minnewanka Cruise
The Lake Minnewanka tour boat, the Daughter of the Peaks II, was smaller than I'd expected, and there were no tourist hordes to speak of. A faint haze from a forest fire at Snarl Creek hung across the surrounding Rocky Mountains.
"It's not from smoke," Mark said, "because you can't smell it."
I still thought it was, but whatever the source of the haze, it only added to the otherworldly picture as our guide, a lanky young Canadian told us that human habitation at Lake Minnewanka dates back 13,000 years, and that 9,000 year-old artifacts such as Clovis points, hearth rocks and cooking bones have been found on its shores.
The Stoney people who lived here called it Minn-waki, Lake of the Water Spirits.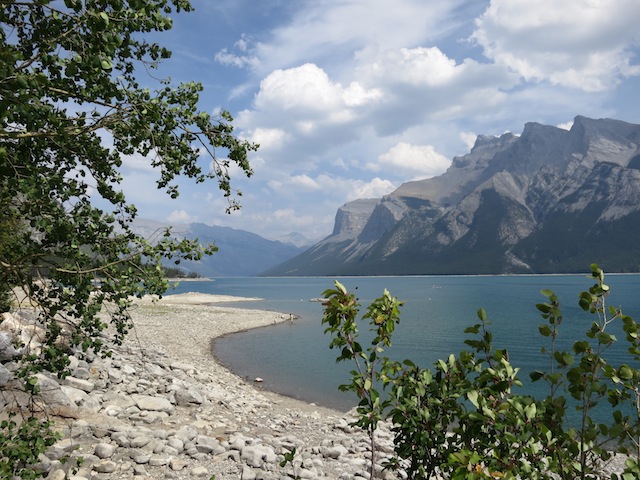 Lake of the (possibly evil) Water Spirits
As the boat neared the east side of the lake I stared out mesmerized at a glacier-carved gap between mountains that the Stoney people referred to as Place of the Dark Spirits, a name that early European explorers somewhat erroneously translated as Devil's Gap.
For the Stoney people, our guide explained, spirits were in everything: the trees, stones and mountains. 'Spirit' was an energy, something to be respected and feared, but not disliked. It wasn't as clear cut as good and evil, but simply something to be accepted as part of the world as they knew it.
"Really, it's just that the gap between the mountains creates a weather system and storms can often spring up," he added, but as I stared out over the water, I wasn't so sure.
Banff activities for the restless soul
Back in Banff, I felt restless. I blamed it on the dark spirits, stirring up a storm inside me. "Let's hike to Bow Falls!" I said to Mark. "Do you want to go shopping? Take the gondola up Sulphur Mountain? What about the Via Ferrata on Mount Norquay, the climb I couldn't do last year because I'd hurt my arm?"
Mark got that look in his eyes, that one that says, "Danger! Manic wife alert!" Now that he'd done the requisite sightseeing activity, he seemed to feel he was entitled to sit on the patio of the Wild Flour: Banff's Artisan Bakery Cafe, reading the paper and soaking up the bright energy of Banff on a sunny afternoon.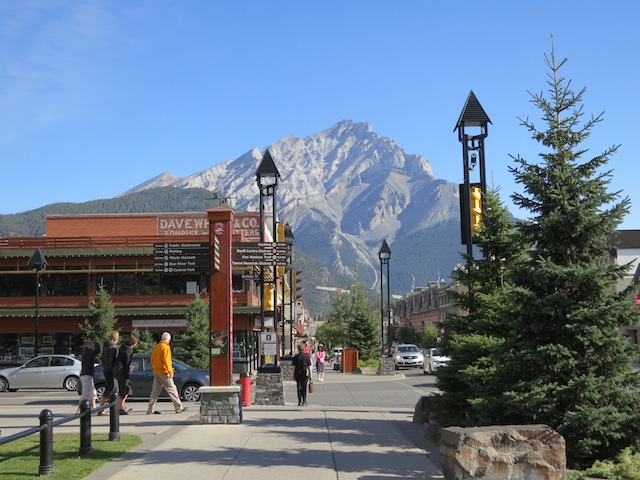 Is Banff for couples, or for being alone?
I knew Mark needed some downtime. He hadn't had a holiday in a year, and, after all, it was the first day of our Rocky Mountain vacation (and the first leg of our Rocky Mountaineer train trip, hurrah!). So reluctantly I set off alone, pausing every few steps to throw glances back at him like Lassie in full rescue dog mode, trying to get someone's attention because a person out there was in dire need of saving.
Only I wasn't sure which one of us needed saving.
Bring back Independent Carol
As I strode up Banff Avenue, pausing only briefly to look in shop windows filled with fur jackets, stone carvings and sports gear, I had to admit that if anyone needed saving it was probably me. Mark and I are both independent people. We don't even live together (long story) even though we're married, and I've been happily travelling solo for years.
Travelling together alters the brain
So why, when I travel as a couple do I feel the need for TOGETHERNESS AT ALL TIMES? I swear, it's some kind of chemical reaction that happens when two people get on a plane. There should be studies done on this – the weird separation anxiety that occurs when a couple on vacation briefly go their separate ways.
Furthering my chemical reaction theory, within five minutes of being out of sight of Mark, I'd (ahem) forgotten him altogether. My body slowed to strolling speed as I circled around to the paved trail along the teal-toned Bow River. I followed it through the park, then over the pedestrian bridge and up to Bow Falls.
At the falls, I leaned over the wooden rail, watching the water thunder down into Bow Valley, taking my restlessness with it.
The Fairmont Banff Springs spa
Good riddance to restlessness, I thought. It was time for the Fairmont Banff Springs spa. I followed a pine-needled path up a hill to the Fairmont Banff Springs and caught up with Mark in the blue-tiled mineral pool in the spa.
A high dome over the pool brought in the late afternoon light, smaller waterfall pools of different temperatures spilled down around us and a bank of floor to ceiling windows overlooked the Bow Valley.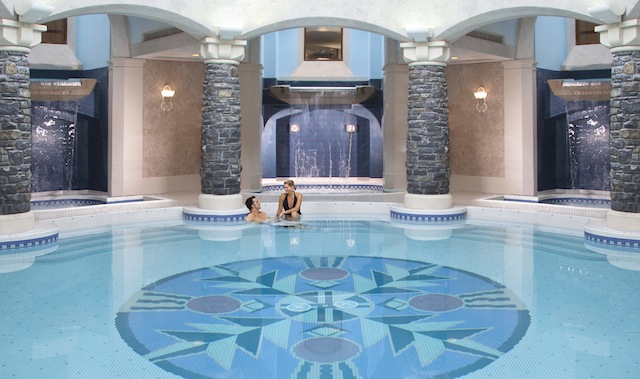 After soaking, we padded outside and lay in deck chairs by the jacuzzi. This is pure mountain bliss, I thought, ready to launch into catatonic mode just as Mark decided to feel completely rejuvenated.
"Let's go back to the mineral pool," he said. "But first I'm going to cool down in the waterfall pools. Maybe I'll go for a swim. Or take a sauna."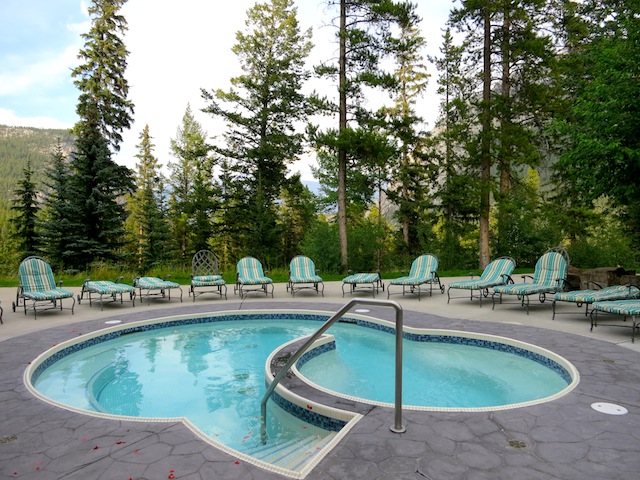 "Mmmmphrph," I replied not moving, content to lie in the sunshine and breathe in that pine-saturated air (which, I had to agree with Mark, did not smell of smoke). As I lay there the daintiest of deers clip clopped up to the wrought iron fence and peered in, while a chipmunk sat on a rock eating a seed.
It was dusk by the time I went back in and joined Mark in the mineral pool, where the blue reflections off the water and splashing from the waterfalls felt as mesmerizing as the view of Devil's Gap on Lake Minnewanka.
Can pale blue be an energy, I wondered lazily, thinking that the Fairmont Banff Springs spa was like a parallel version of Banff, a recreated one where the frenetic sightseeing pace and crowds had been sifted out, with only the tranquility and beauty of the Rockies left behind.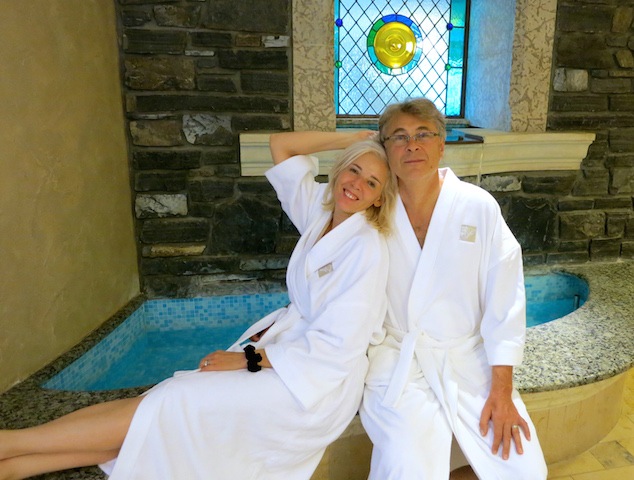 The warm water, infused with mineral salts from South Africa, made me buoyant and I floated over to Mark, thinking that if Devil's Gap on Lake Minnewanka is the Place of Dark Spirits, the Fairmont Banff Springs spa is the Place of Calm.
Travel tips Lake Minnewanka Boat Tour
The Lake Minnewanka Cruise is actually called the Banff Lake Cruise, which is odd because there is no Banff Lake, but this is the state of affairs anyway.
How to get to Lake Minnewanka for the Banff Lake Cruise (which is really the Lake Minnewanka Cruise).
By car: Lake Minnewanka is a 15-minute drive from the town of Banff along the Minnewanka Loop Drive, in Banff National Park, Alberta, Canada.
By shuttle: If you buy a ticket for the Lake Minnewanka Cruise, I mean, the Banff Lake Cruise, complimentary shuttle service between the Banff International Hotel downtown and Lake Minnewanka is available. Shuttle operates daily from early June to mid September.
Where to catch the Banff Lake Cruise shuttle: The shuttle van for Lake Minnewanka departs from the Banff International Hotel every hour (on the half hour) from 11:30 a.m. to 5:30 p.m.
You should pre-book by calling the Minnewanka Boat House directly at 403-762-3473 or online at Brewster.ca. You can also arrange it through your hotel, we got the concierge at the Fairmont Banff Springs to book ours.
Price for the Lake Minnewanka Boat Tour: Adults $54.95, children $27.50.
Travel tips for the Fairmont Banff Springs hotel
The Fairmont Banff Springs hotel is the finest luxury accommodation in Banff (second would probably be the Rimrock). A landmark in the Banff National Park, and an easy 10-minute walk across the Bow River from downtown Banff, the Fairmont Banff Springs has been hosting guests for more than 125 years.
Open year round, the Banff Springs has a championship golf course during the summer, skiing in the winter, fine dining, horse riding and of course, the lovely Willow Stream Spa. Staying at the hotel is a splurge, but worth it.
Visit the Fairmont website for specials. The Fairmont Banff Springs is located at 405 Spray Ave. 866-540-4406
Travel tips for the Fairmont Banff Springs Spa – the Willow Stream Spa
For a more comprehensive review of the spa read my Willow Stream Spa blog post.
On this trip Mark and I didn't do spa treatments, we just used the spa facilities (2 days in a row). I've had treatments here many times before, however, and it's one of the best spas in Canada (and my favourite).
The 38,000 square foot spa has 23 treatment rooms, a mineral pool, steam, sauna, eucalyptus inhalation room (it's the warm one before the hot sauna), relaxation lounges (with tea and fruit) and indoor and outdoor jacuzzis. You can also access the hotel's indoor and outdoor pools.
Access to the spa facilities is included with most spa treatments, so if you're not a guest at the hotel this is the way to do it – it's popular with locals who want to unwind in an upscale setting. ("It's the best thing to do in Banff," one man told me.)
If you are a hotel guest, spa access without a treatment is $69 while access (after 4:00 p.m.) costs $49. Members of the Fairmont President's Club receive access for $49 Monday's to Friday's and $59 weekends. And there is no reason not to be a member because signing up is free.
Travel tips for touring the Canadian Rockies
This was stop zero on our Rocky Mountaineer Rainforest to Goldrush train adventure through the Rockies. For a bigger look at Rocky Mountaineer trips read my travel blog post on Rocky Mountaineer Scenic Routes, and to learn about all of their various tours visit RockyMountaineer.com.
Rocky Mountaineer works closely with Brewster, a company that offers bus tours and sightseeing packages, and runs the Banff Lake Cruise (which, of course, is really the Minnewanka Lake Cruise). Visit them at Brewster.ca.
For more information: on Banff visit Banff Lake Louise Tourism