This post may contain affiliate links.
Have you been to Banff in the Canadian Rockies? Have you ever seen so many outdoorsy-looking people wearing lululemon stretchy pants and North Face windbreakers in your life? I will never be that person. I don't even know how to be that person. I'd rather spend my time channeling Marilyn Monroe on Mt Norquay.
However, I'm convinced everyone else in the vibrant tourist town of Banff is that type of person, and that's why, as I tromped over to meet Kymberley Hill from Banff Lake Louise Tourism at the pickup spot for the free shuttle up to Mt Norquay, I was cursing my inappropriate shoes.
Kymberley's going to hate me because of my shoes. I should never meet people wearing inappropriate shoes! It will give them a bad (although accurate) first impression of me.
Let's pause a minute to discuss my shoes. Platformed beige suede shoe boots made by Fly London, they're as soft as the clouds themselves, and are the shoes my feet demanded I wear even though my brain was wringing its hands (of course my brain has hands, doesn't yours?) and screeching, "Wear the ugly black runners, Stupid."
My feet, being a much more powerful force than my logical brain, got their way. It's not like platform shoe boots aren't comfortable … if you're going to the mall. But possibly not what the average fit and hearty type would choose to wear up a mountain.
So when British-born Kymberley showed up wearing a skirt (a skirt!) I knew I had found a kindred spirit and I knew she wouldn't think I was crazy because I was planning on channeling Marilyn Monroe on Mt Norquay.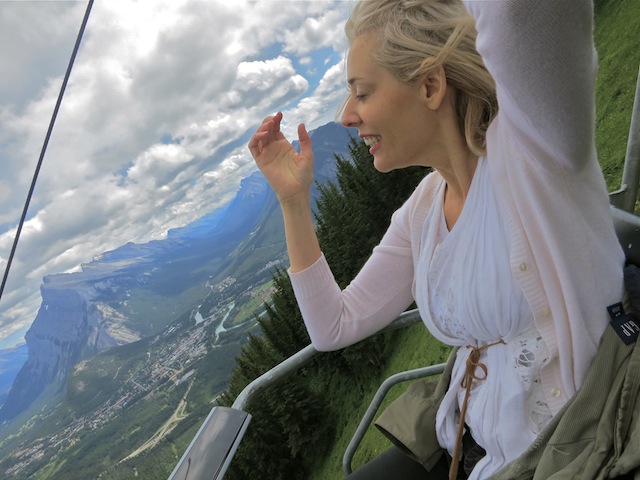 Let's talk about Marilyn Monroe on Mt Norquay, which is even more interesting than my shoes!
Marilyn Monroe came to Banff to film River of No Return, directed by Otto Preminger and costarring Robert Mitchum in 1953.  There is a terrific photo of Marilyn Monroe on Mt Norquay – she's riding the chairlift to go up to the teahouse there.
And I'll tell you right now she wasn't wearing hiking boots and a fleece-lined jacket either.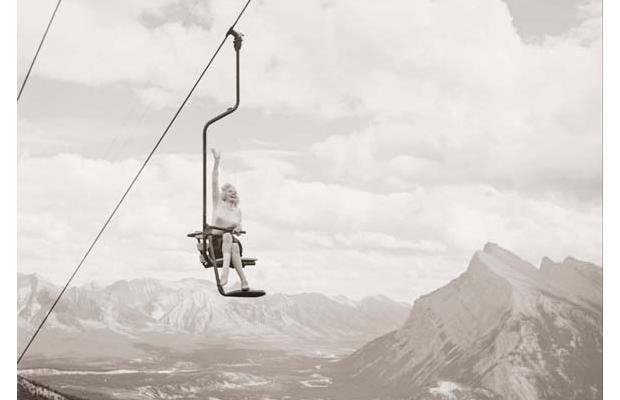 The photo Marilyn on Mt Norquay in 1953 was taken by John Vachon and published in the book Marilyn, August 1953: The Lost LOOK Photos. (Photo provided by the Estate of John Vachon/Dover Publications, Inc via Banff Lake Tourism.)
Where is Mount Norquay?
Norquay is 6 km from Banff. It's the closest ski resort to town and it now offers summer activities as well.
Interesting Mt Norquay fact
Mt Norquay was named for the premier of Manitoba, John Norquay, who climbed it in 1888. (I would have named it John, but that's just me.) Imagine it. A whole mountain range with names like Flossie, Bob and Petunia. It has a ring.
There are some reports that John Norquay didn't actually reach the summit, which gives me hope someone will name a mountain after me yet.
Another interesting fact about Mt Norquay
Norquay was the first ski resort in the Canadian Rockies. It opened in 1926.
Another probably not so interesting fact about Mt Norquay
I skied Mount Norquay a few years ago. I'd heard it didn't any green runs so I was scared, but it does, and it was an excellent day of skiing all around (meaning I didn't fall down).
Back to our story about channeling Marilyn Monroe on Mt Norquay
Since ski season at Mt Norquay doesn't start until November, Kymberley and I were taking the chairlift up to have lunch at the refurbished Cliffhouse Bistro. One of the reasons I  wanted to go there, aside from the view, was because before the Cliffhouse was the Cliffhouse it was the teahouse where Marilyn Monroe went in 1953! Could you get a better destination for channelling Marilyn Monroe on Mt Norquay!
Oh, wait. Scratch that.  After some industrious research (ie I read the website) I have learned that the building that houses the Cliffhouse Bistro was built in 1959. Since Marilyn Monroe was in Banff in '53, it must have been a different teahouse.
But still, think of it. I was about to eat in the restaurant that used to be the teahouse that was probably built on the site of the original teahouse where Marilyn Monroe went in 1953! It was almost as if I were having lunch with Marilyn Monroe herself.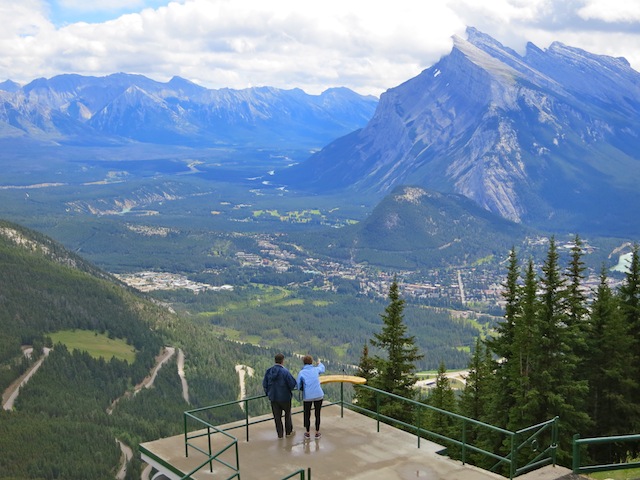 Exciting Marilyn Monroe River of No Return gossip facts
River of No Return was a Western filmed in both Banff National Park and Jasper National Park. There was some debate as to whether the Canadian Rockies or Marilyn Monroe was the bigger attraction, but both got better reviews than the film.
The director, Otto Preminger, hated working with Marilyn Monroe and he especially hated her acting coach, Natasha Lytess. He also hated working with Robert Mitchum, who drank too much. One might glean he hated a lot of people.
More Marilyn Monroe River of No Return gossip facts
Robert Mitchum was convinced River of No Return would be a flop, calling it the "Picture of No Return."
Marilyn Monroe hated River of No Return calling it "a Z cowboy movie."
There seemed to be a lot of hate surrounding this movie.
No one hated Mount Norquay or Banff
More Marilyn Monroe River of No Return gossip facts
While in Banff, Marilyn Monroe injured her ankle filming a scene in the river. Rumour has it she wasn't badly hurt but still insisted on wearing a cast. (Some say this was so the director would feel sorry for her and be nicer, an intriguing ploy I'm considering using myself.)
Marilyn Monroe on Mt Norquay and how everything is just, like, sooo connected
This whole 'Marilyn Monroe on Mt Norquay with an ankle injury' thing is fate because I too, had a leg injury going up Mt Norquay, which I got from falling off a bicycle in Toronto.
The injury is an extremely vital point in this blog post (yes, there is a point to this blog post), because if I hadn't hurt my hip I would have been going up Mt Norquay to climb the Via Ferrata, Banff's newest attraction.
What is the Via Ferrata?
The Via Ferrata on Mt Norquay is an assisted climb that offers two routes, the 2-hour Explorer Route ($139) and the 4-hour Ridgewalker Route ($169). Accompanied by a guide you get to climb ladders, have a fright crossing a 30 metre suspension bridge and see amazing Banff vistas.
Let's pause for some deep philosophical thoughts about the Via Ferrata on Mt Norquay
If I can fall off a bicycle in Toronto, I should possibly stay away from perilous mountainous climbs where the potential drop is much farther.
But the Via Ferrata is safe because you're all hooked up with ropes and anchors and things.
The Via Ferrata's tagline is The climb of a lifetime – it's not as hard as it sounds, which is my kind of tagline because it gives uncoordinated people hope and is much better than, say, Challenge of a lifetime or Defying the Elements or You're Probably Going to Die!
If I had climbed the Via Ferrata, I would have done the Ridgewalker because the name is so Game of Thrones-y and then I could have pretended to be John Snow (as soon as I'd finished channeling Marilyn Monroe on Mt Norquay).
Outdoor adventure on the Norquay Chairlift
Instead of climbing the Via Ferrata, Kymberley and I enjoyed our own outdoor adventure practicing Marilyn Monroe poses as we rode up the Norquay chairlift, a 15 minute ride that took us up to 2450 metres (8,040 feet). The same chairlift that Marilyn Monroe rode in 1953! 
Cliffhouse Bistro
Our exercise didn't end there. We also practiced our Marilyn-Monroe-on-Mt-Norquay poses in the Cliffhouse Bistro while eating Roasted Lamb with mint and pea puree and spicy carrot sauce. (Actually, we only practiced the one pose. We're not that imaginative.)
More Norquay adventure
After lunch, we kept up with our strenuous exercise regime by going outside and watching people climb the Via Ferrata above us. (I read somewhere that thinking about exercising actually makes you fitter, so I visualized a very tough climb.)
Maybe we should have worn that fleece
Our challenging activity of watching other people climb Mt Norquay was made easier by the Norquay staff who took pity on us and lent us jackets when it started to rain. And briefly hail. (No word on whether those suckers lucky people climbing the Via Feratta enjoyed the hail or not.
PS: I did too want to do the Via Ferrata on Mt Norquay.
Important Note: Marilyn Monroe didn't climb Mt Norquay either.
PPS: I did too want to do the Via Ferrata on Mt Norquay. And next time I ski Norquay, I'll do nothing but black diamond runs – at least in my head.
PPPS: Yes, I'm aware I do not, and never will, look like Marilyn Monroe, thank you very much.
But neither does he. It just goes to show there's a little bit of Marilyn in all of us.
For more information: on Banff or Mount Norquay visit Banff Lake Louise Tourism
For more about travel to Canada: visit Things to do in Canada