This post may contain affiliate links.
A Banff Guide
Here's a quick and easy guide to the best things to do in Banff, Canada. This gorgeous town and national park in the Canadian Rockies has it all: wildlife, outdoor activities, cultural attractions and breathtaking views.
To help you plan your trip, here's a list of top activities as well as tips on the best Banff restaurants and hotels.
About Banff
Banff is an alpine town idyllically surrounded by snowy peaks in the Canadian Rockies. Whether you're a fitness fanatic, a history buff or just looking out for the best views, you'll find plenty of things to do in Banff.
The infrastructure is great; there are plenty of hotels, motels, restaurants and cafes. Best of all, if you look beyond the tourist jumble on Banff Avenue – the town's main street – it feels like a real town with local cafes, centuries-old trails and family estates that date back more than 100 years.
For pine-fresh air and hulking mountain vistas, this four-season mountain resort town in the Rockies can rival just about anywhere in the world. (Take that, St. Moritz!)
Where Exactly is Banff in Canada?
Banff is located in the Canadian Rockies in the province of Alberta in Western Canada. (No provincial sales tax here! Hurrah.) It is is 138 km (85 miles) west of Calgary, just an hour and a half drive away.
What is the altitude of Banff? At an elevation of 1,383 metres (4,537 feet), Banff is the highest town in Canada. But it's not high enough to give you altitude sickness, which, if you've ever been to Lake Titicaca in Peru, you will know feels like having a machete in your head.
Is Banff a Town or a National Park?
It's both. The town of Banff, population about 9,000, is located inside Banff National Park. Banff National Park was declared a UNESCO World Heritage Site in 1984. Established in 1885, it's the oldest national park in Canada.
Since it's a national park, it means you will pay a park entrance fee – even for a quick visit to town. You can buy a pass at the park entrance if you're driving in. A day pass is $19.60 for a family or group, $9.80 for an adult and under 17s are free.
You'll need to pay for each day you plan to stay in the park. If you plan to stay awhile, it might be cheaper to buy an annual Parks Discovery Pass, which is $136.40 per family or group, or $67.70 per adult.
Getting to Banff from Calgary
To Banff from the Calgary International Airport
You can rent a car at the Calgary airport. It's about a 90-minute drive to Banff on the Trans-Canada Highway.
Or, if you're like me and once got caught in a snow-blinding whiteout driving from the Calgary Airport to Banff, and swore never to drive in the Canadian Rocky Mountains in winter again, you can take the Banff Airporter shuttle from the airport right to your Banff hotel.
Other Gateways
Other common gateways to Banff National Park include the Edmonton International Airport, which is 4.5 hours away, or Vancouver, which allows you to tour both the West Coast and the Canadian Rockies in one spectacular vacation. Driving time from Vancouver to Banff is at least 9 hours.
By train: You can really only get to Banff by train on the Rocky Mountaineer from Vancouver. It's a deluxe rail experience that travels from Vancouver to Banff, Lake Louise or Jasper., or vice versa.
You'll find plenty of Rocky Mountaineer route reviews on this site.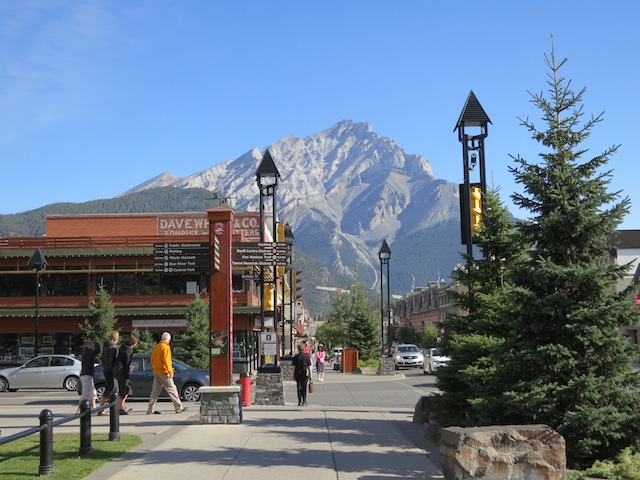 Getting around Banff
Walk: Banff is a very walkable town. Banff Avenue and the streets angling off it towards the Bow River are full of restaurants, boutiques and souvenir shops. My favourite stroll is the Bow River Trail, a paved path along the Bow River, just a couple of blocks west of Banff Avenue.
Another great walk is the Bow River Bridge to Bow Falls trail, a 1.2 km walk along the Bow River. This one has some uphill walking, but is very popular. It takes about 25 minutes and you can access it from the south side of the Bow Bridge.
Hop-on-hop-off bus If you want to pack a lot of sightseeing into one day, a Hop-on-hop-off day bus pass will get you around the top spots from Banff to Lake Louise including Johnston Canyon, Moraine Lake, Lake Louise and the Lake Louise Gondola. Prices from $60. Check availability here.
Local buses: Some of Banff's more local attractions are too far for comfortable walking, but there is also a bus system, Roam Bus, that makes it easy to get around.
Route 1 goes to the Sulphur Mountain Gondola and the Upper Hot Springs.
You can take the Roam Bus Route 6 to Lake Minnewanka – a 25-minute ride. Service on the 6 Route is seasonal and starts mid May.
New for summer 2019 is a Roam Bus Route to Johnston Canyon.
The 8, 8X, and 8S travel to Lake Louise from Banff. The 8 runs year round while the 8X and 8S are summer seasonal.
Wildlife in Banff National Park
Wildlife spotting is always a highlight of a trip to Banff National Park, though in all honesty, I could do without the mosquitoes or aggressive elk. (Just a note, no elk has ever actually threatened me, but I can see the repressed anger in their narrowed who-do-you-think-you-are eyes. Especially during mating season.)
Just because I am not best friends with the elk does NOT mean I don't like animals. I love Bambi and all the little look-alike fawns who frolic through Banff National Park. I'm awed by grizzlies (from a distance) and adore mountain goats, squirrels and butterflies.
I'm more neutral about mountain sheep, impressed by mountain lions and highly in favour of marmots, eagles and all the other animals in the Canadian Rocky Mountains (except worms, because they eat dead people).
Altogether, wildlife spotting in Banff National Park can be a feast for the eyes. It's an unpredictable pleasure and you never know what you'll see. Just remember – these are wild animals. Do not feed them, approach them or tease them.
To go animal spotting for yourself, you can sign up for a 3-hour sightseeing and wildlife minibus tour of Banff. Prices from $74.55.
Fascinated by grizzlies? Check out this full-day Grizzly Bear Refuge Tour with Lunch that leaves from Banff and goes to Yosemite National Park.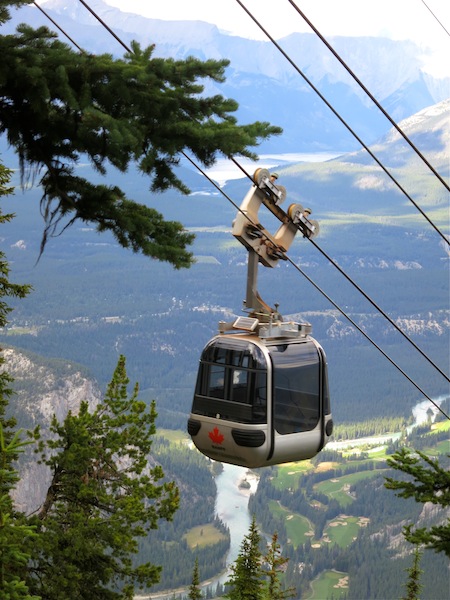 Things to do in Banff
Banff was created for people who love the outdoors, and winter or summer there are plenty of things to do. Surprisingly, it's also a cultural hub of Canada, too, with film festivals, opera and art exhibitions. Here are some of the best things to do in Banff, from hiking to hot springs and more.
Visit Sulphur Mountain
Sulphur Mountain is one of the most popular Banff attractions because of its panoramic views. You can either hike up or down this nearly 8,000-foot-high mountain or take the eight-minute ride up the Banff Gondola. (I won't judge you if you do, even though I recently hiked down Sulphur Mountain. Aren't you impressed? Unless, of course, you recently climbed up Sulphur Mountain, then you're no doubt rolling your eyes.)
The paths are gorgeous. Others say they're monotonous – a series of endless switchback, but however you look at them, wear good walking shoes.
What to do on Sulphur Mountain?
Walk the Boardwalk: Sulphur Mountain has a fabulous walkway up top, with staggeringly-gorgeous views of the Bow Valley and surrounding mountain ranges. The Boardwalk, also called the Banff Skywalk, is an easy 1-kilometre (.6-mile) interpretive trail that takes you to points of interest such as the Sulphur Mountain Cosmic Ray Station National Historic Site and a weather observatory that dates back to 1903.
Eat: There are two restaurants on Sulphur Mountain. The Sky Bistro offers Canadian cuisine focusing on regionally-sourced ingredients, while the market-style Northern Lights restaurant is more casual.
Learn: To get a deeper appreciation of the mountain scenery, you can visit the state-of-the-art Above Banff Interpretive Centre. Their Junior Explorer Program is a Banff Gondola Package that includes an activity book with family-friendly self-guided activities.
Theatre: Along with your Banff Gondola ticket, you will get admission to the Above Banff Theatre, a multi-sensory film shot from the soaring angle of a bald eagle. If you've ever wanted to know what it feels like to fly, this is your chance.
How to get to Sulphur Mountain from Banff: The gondola base is slightly out of town, just past Banff Upper Hot Springs. To get to the gondola from downtown Banff take the Route 1 Roam Bus direction Sulphur Mountain.
Budget tip: During peak season, children ride the Banff Gondola for free before noon. Standard admission for adults during regular hours is $54.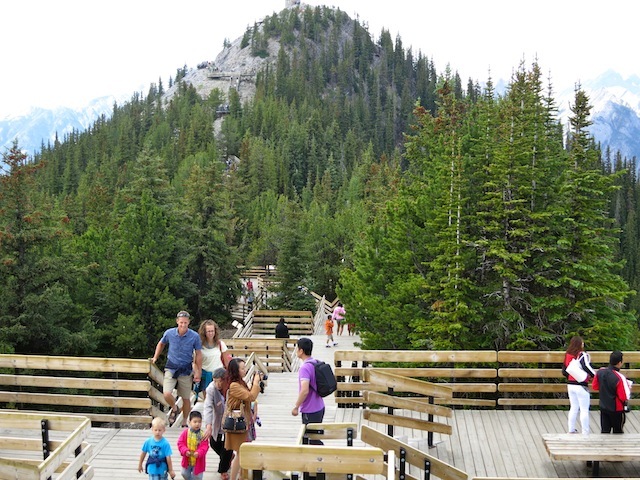 Soak at Banff Upper Hot Springs
A visit to the Upper Hot Springs near the base of Sulphur Mountain (at the end of Mountain Avenue) is an all natural, inexpensive way to soak in minerals, fresh air and the great outdoors. Bonus: It's open year round so you can warm up after skiing or unwind after a day of hiking.
The hot springs in Banff were found in 1883 by railroad workers, and the discovery boosted Banff's tourism enormously. Today, a dip in the hot springs is seen as a fun side excursion on a trip to Banff, but back in the mid 1800s, hot springs were a huge draw for leisure travellers and considered very curative, as they still are in Europe today.
A visit to the Banff Upper Hot Springs is one of the best deals in town at $8.30 for adults. Expect lineups, and while facilities are not upscale – more of the public swimming pool variety – the hot steaming water is divine. If you go early in the morning, you'll avoid the crowds.
Hours for Banff hot springs: Opening hours vary depending on season, but are generally 9 a.m. until at least 10 p.m.
What do you need to take to the hot springs? A bathing suit, deck shoes, a towel and money for a locker. You can also rent a swimsuit for a bargain $1.90, as well as a towel ($1.90) and a locker for $1.
How to get to the Upper Hot Springs from Banff: Located up the mountain from the centre of town, it's a bit far to walk, but you can take the Route 1 Roam Bus towards Sulphur Mountain.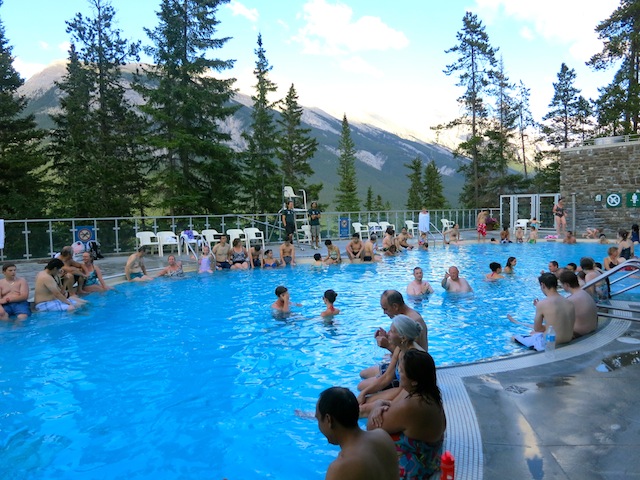 Cave and Basin National Historic Site
Now that you have hot springs on your mind, you can visit the original hot springs at the Cave and Basin National Historic site, one of Banff's most historic points of interest.
While the Indigenous people had known about the hot springs for at least 10,000 years, it was when workers from the railroad found this steamy cave of hot springs that the world began to take notice.
You can no longer swim here, but it's worth a visit for its connection to the past, and for the otherworldly atmosphere as you explore the cave and pool. Discovery tours are free with admission.
One of the more unique things to do in Banff is to take an evening lantern tour of the Cave and Basin on Saturdays during the summer season.
Climb the Via Ferrata on Mount Norquay
The Via Ferrata is an assisted mountain climb on Mount Norquay that even inexperienced hikers can do. Ever since I tried the Via Ferrata at Montmorency Falls in Quebec, I've been a big fan of these guided hike, climb, tour and adventure combos.
The Explorer Route is a 2.5 hour adventure while the more ambitious Ridgewalker is 4 hours.
Participants are harnessed to a steel cable pathway for safety and tours are led by an ACMG-certified guide. The experience involves climbing, scrambling, ladders, suspension bridges, and stunning views away from the crowds.
You can get more info or book the Norquay Via Ferrata experience here.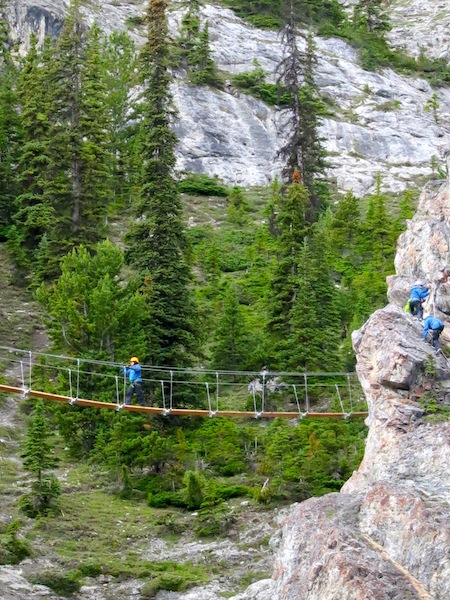 Visit the Whyte Museum of the Canadian Rockies
The Whyte Museum is a great way to learn about mountain culture. From painting shows to historical exhibits of early explorers and mountain climbers, the Whyte Museum is dedicated to preserving and showcasing the heritage of the Rocky Mountains.
The museum is super central, located in the park along the Bow River. Address: 111 Bear Street, Banff, Alberta T1L 1A3. Adult admission $10.
Don't Miss the Historic Fairmont Banff Springs Hotel
First opened in 1888, the Fairmont Banff Springs is 5-star luxury hotel that was built to bring in the railroad crowds. Rebuilt in 1928, this heritage icon in Banff National Park is constructed from rich Rundle limestone, looks like a grand chateau and is located just across the Bow River from central Banff – about a 10-minute walk into town.
Inside the hotel you'll find shops and restaurants … and amazing views of the Bow Valley.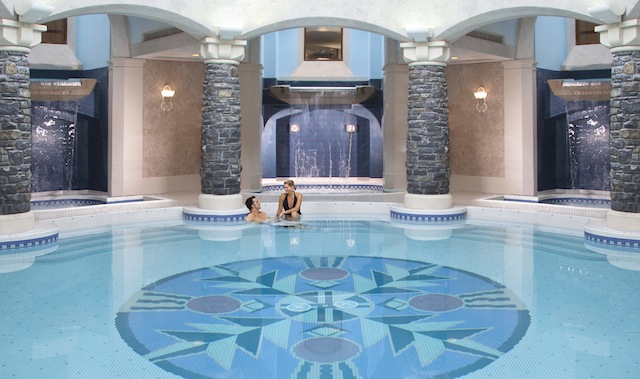 Relax at the Willow Stream Spa
In my opinion, the Willow Stream Spa in the Fairmont Banff Springs Hotel is Canada's top spa. Its centrepiece soaking pool is infused with mineral salts from Europe, it has an outdoor whirlpool and stellar views of the Bow Valley.
To connect with your environment consider a treatment with a local edge, such as a Mountain Hot Stone Massage or a Majestic Blue Body Wrap with mountain lavender.
Visit Bow Falls
Okay, so it's not Niagara Falls but visiting Bow Falls is still one of the best things to do in Banff. Not far from the Banff Springs Hotel, Bow Falls is short, wide and the water twists and churns impressively as it plunges into the river. You get a real sense of how glaciers carved out the sweeping Bow Valley here.
This is also a starting point for gentle rafting tours on the Bow River.
Walk Up To the Banff Centre
A hub for musicians, writers, artists and creative brainiacs from around the world, the Banff Centre is its own cultural universe part way up Tunnel Mountain. It hosts a constant stream of workshops, conferences and events.
You can walk up from town, it takes about 15 minutes, but be warned, it's an uphill climb. Covering 42 acres altogether, this sprawling woodsy 'campus' has a hotel, restaurants, gallery and arts theatre.
I've done workshops at the Banff Centre in both painting and writing, and the atmosphere is international, eclectic and exciting. If you're visiting Banff, it's well worth the trek or drive up to see a film, play, art show or concert. You can check out the latest events here.
Address: The Banff Centre, 107 Tunnel Mountain Drive. Banff, Canada T1L 1H5
What to Do and See at the Banff Centre
The Walter Phillips Gallery is the place to see uber contemporary art shows and the latest in alternative art practices.
The Three Ravens Restaurant & Bar offers high-end dining featuring seasonal dishes, while the Mclab Bistro on the first floor of the Kinnear Centre is much more laidback.
See a show or a concert at the Eric Harvie Theatre.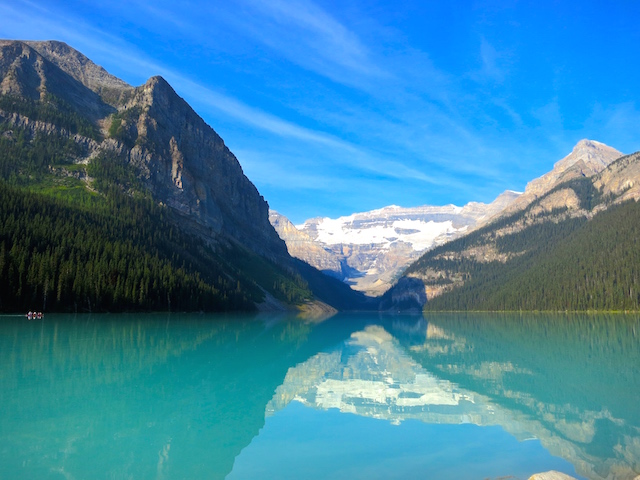 Things to do in Banff National Park and Beyond
Banff makes a great base for a vacation in the Canadian Rocky Mountains. From quick excursions to full day trips, travellers have plenty of tour options. Here are some of the top day trips and excursions outside town:
Take a Boat Tour of Lake Minnewanka
Just a 15-minute drive from Banff, Lake Minnewanka is the largest lake in Banff National Park. Hour-long boat tours take you into some remote alpine scenery and give you a feel for the long history of the area.
Enjoy the Dramatic Views at Johnston Canyon
The stunning drops, plunging falls and steep cliffs of Johnston Canyon make it one of most popular hiking spots in Banff National Park. The well-maintained walkways, paths and viewpoints provide accessibility for a wide range of abilities. In winter, you can try ice walking through the frozen canyon.
See Lake Louise
The 40-minute drive from Banff, Lake Louise is one of those postcard perfect scenes that doesn't even seem real. The lake is a startling green blue and has caused more than one unbelieving tourist to ask a guide if 'they paint the bottom of the lake to make it that turquoise colour.'
Rest assured, it's authentic Canadian nature at its most spectacular. Things to do in Lake Louise include stopping in at the very grand Fairmont Chateau Lake Louise, hiking around the lake, canoeing, kayaking or doing a historic hike up to the Lake Agnes Teahouse.
Visit Moraine Lake
Stunning Moraine Lake is an Instagram celebrity. Just over 45 km (30 miles) from Banff, this pristine turquoise lake is fed by ancient glaciers and so scenic it's featured in a million calendars, postcards and even on the old Canadian $20 bill.
One of the top places to visit in Banff, Moraine Lake is only 14 km (9 miles) from Lake Louise, and set in the majestic Valley of the Ten Peaks.
The Moraine Lake Lakeshore trail is a popular walk because of its relatively flat elevation, while the short Rockpile Trail offers jaw-dropping views of pines, peaks and glassy water.
Two lakes for one. You can combine Lake Louise and Moraine Lake with a half day tour from Banff. Check prices and availability here.
Check out the Ski Resorts in Winter or Summer
Three of Canada's best ski resorts are located near Banff townsite: Sunshine Village, Mount Norquay and Lake Louise.
They're all great ski resorts, but I'm partial to Lake Louise because my favourite ski moment of all time was doing a looong green run there, surrounded by Douglas firs, fresh air and tranquility. Bliss, I say. Bliss. (People who ski well will likely have far different top ski moments of all time.)
In summer the three big ski resorts are great hiking destinations, and the gondolas and chairlifts run in the summer. Think alpine meadows bursting with wild rose, Indian paintbrush, bronze bells and Labrador tea, and – possibly – the odd bear.
You can check out views of Mount Rundle from a chairlift on Mount Norquay, the closest ski resort to Banff town; visit Sunshine Meadows at Sunshine Village; or watch out for grizzlies from the summer gondola at Lake Louise.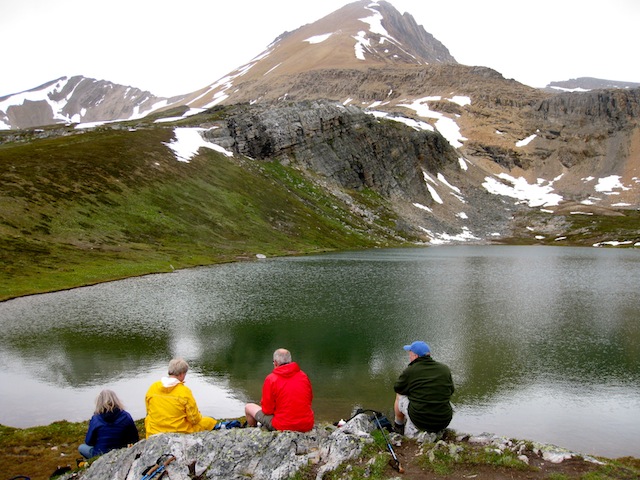 Go Hiking
Still wondering what to do in Banff? Hike! Alpine meadows, waterfalls, pristine blue lakes and amazing views – exploring nature here is an outdoor lover's delight.
There are so many great hikes in and around Banff it's impossible to name them all, but Parks Canada has an extensive list. Hiking is one of the top things to do in Banff National Park. Here are a few of the best:
Tunnel Mountain. An easy hike located right in town, the Tunnel Mountain walk up takes about 30 minutes. It's not as high as Sulphur Mountain and everyone who's anyone in Banff does it daily. They even do it before breakfast. They run up. It's a sickness.
Another local hike on the easy scale is the one hour 3-km (2-mile) hike at Johnson Lake off Lake Minnewanka Road.
Or try the 40-minute Fenland Trail, a 2.1 km interpretive trail off Mount Norquay Road.
More difficult is the Healy Pass hike from Sunshine Village parking lot behind the gondola station, which takes 6 to 7 hours.
A beautifully scenic hike is the 12-km (7.5-mile) hike to Helen Lake. The trailhead starts from the Columbia Icefield Parkway outside Banff. It's steep at first, then you reach an alpine meadow. It's the most ambitious, and probably the most rewarding hike I ever did in Banff.
If you're an inexperienced hiker, it's best to go up with a guide. Check out these Signature Guided Hikes for a selection of day hikes.
For something really exciting, consider a 90-minute Rocky Mountains Helicopter and Exploration Hike to the Twin Falls Waterfall.
Check out my Banff video:
Drive the Fabulous Icefields Parkway
Many people travel the 232 km-long (144 mile) Icefields Valley Parkway en route from Banff to Jasper, but you can visit at least part of this dramatic stretch of the Canadian Rockies on a day trip.
The Columbia Icefield and Athabasca Glacier is the main draw on the Parkway. Located in Jasper National Park, the Columbia Icefield is 195 km from Banff, a 2.5 to 3-hour drive, or you can take a day tour.
Two of the main activities here are taking an Ice Explorer Tour on a specially designed ice-terrain vehicle, and visiting the Skywalk, a glass walkway that curves out over the side of the mountain.
The impossibly pretty Peyto Lake, another Icefields Parkway scenic stop, is just over an hour from Banff.
Banff Hotels – Where to Stay
The good thing is, Banff has a lot of hotels and motels. The bad thing is, they fill up fast, especially in high season when Banff is crammed with camera-toting tourists.
There is a wide range of accommodation types, from grand luxury to basic hostels. In fact, the YWCA and the most luxe hotel of all, the Fairmont Banff Springs are practically next door to each other on Spray Avenue. Here's a quick rundown of where to stay in Banff, divided by area.
Hotels on Banff Avenue
When you drive into Banff, you'll probably come in along Banff Avenue. On the long stretch before reaching the town centre, you'll find rows and rows of mid-range motels. It's convenient if you're traveling by car, and often some of the best value accommodation is here.
I find a lot of the motels pretty similar, but a few options are the Banff Aspen Lodge, the long-standing Banff Ptarmigan Inn or the Banff Caribou Lodge & Spa.
Staying Downtown
I like some of the smaller hotels right downtown, the closer to the Bow River the better. These are good options if you're traveling by public transportation. The Bow View Lodge has a great location in the park, clean basic accommodation, balconies and a low-key vibe. I've also stayed at the Banff Park Lodge on occasion – it's the largest hotel in the downtown area.
Across the Bow River – The Fairmont Banff Springs
The Fairmont Banff Springs is Canada's 'Castle in the Rockies,' a perennial favourite if you want to bring back the good old days of genteel train travel.
It's pricy but it sells out, especially in high season, so book early. Check prices and availability here. Address: Fairmont Banff Springs, 405 Spray Ave, Banff, AB T1L 1J4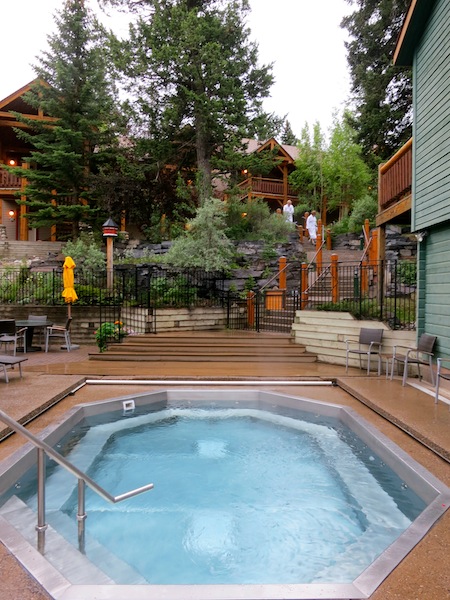 On Tunnel Mountain – Buffalo Mountain Lodge
If you're traveling by car and want to stay apart from the downtown hustle, the Buffalo Mountain Lodge on Tunnel Mountain is a hidden gem in the rustic luxury department. It's very peaceful and rooms have their own wood-burning fireplaces.
The dining room has an excellent curated wine list, a menu that includes roasted wild game, root vegetables and local berries, and a design that focuses on natural materials such as leather and granite.
Check prices and availability for the Buffalo Mountain Lodge here. Address: Buffalo Mountain Lodge, 700 Tunnel Mountain Rd, Banff, AB.
Sulphur Mountain – The Rimrock Resort Hotel
The views alone are enough to recommend it, but the Rimrock Resort Hotel also offers convenient access to the Upper Hot Springs and the Banff Gondola. When it comes to luxury, the Rimrock Hotel is second only to the Fairmont Banff Springs. The 4.5-star hotel has 343 rooms and is perched on the edge of Sulphur Mountain like an elegant hawk.
Its lounges have a dark wood clubby feel, its Primrose Dining Room offers casual sophistication and the hotel has a full-service spa. It's a fair walk to town, though, so best if you don't mind taking the Roam bus, plan on doing mostly tours with hotel pickup or are driving.
Address: The Rimrock Resort Hotel, 300 Mountain Ave, Banff, AB T1L 1J2
Check more hotels and prices here.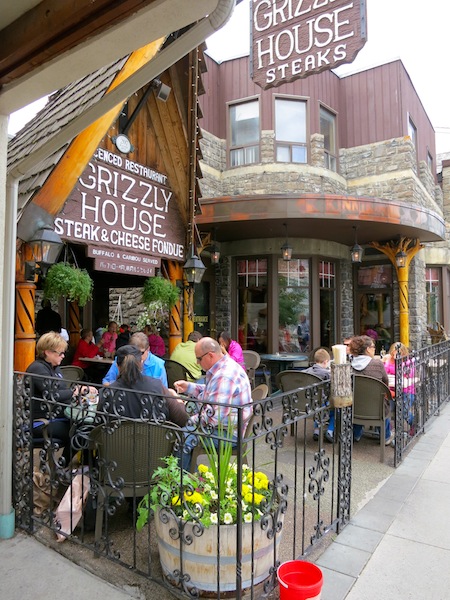 Banff Restaurants
You will be forgiven for going off your diet in Banff. The main street is prime candy and fudge store territory. Do not miss Naked Bear Claws, which are caramel and cashews or, if you insist on a well-balanced meal, opt for a caramel apple covered in peanuts because then you get protein and pectin along with your million grams of sugar.
Aside from the fudge stores? The Grizzly House is a picturesque tourist stop on the main drag, but if you want a serious steak like a Dry Aged Benchmark Farms porterhouse splurge at 1888 Chop House at the Fairmont Banff Springs.
Magpie & Stump The first time I went to Magpie & Stump was more than 20 years ago (eek, I'm so old), but their new rooftop patio will tempt me anew. If you like a casual atmosphere, Mexican food and are craving a margarita this is a good choice just off Banff Avenue at 203 Caribou Street.
Park Distillery + Restaurant Wood-fired, spit roasted and smokey. Those are a few of the flavours you'll find at the Park Distillery + Restaurant on Banff Avenue. From beetroot humous to a Benchmark Brisket Sandwich or Tinfoil Trout, the Park Distillery takes its regionally-sourced produce seriously, and its distillery is known for its small-batch craft spirits. Fancy an Alberta rye with Canadian glacier water?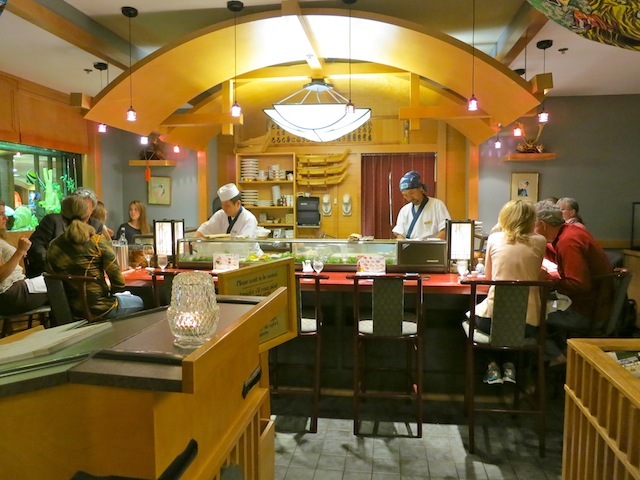 So that about wraps up my list of things to do in Banff. I hope you now have some ideas on where to stay, what to do, how to get around and why it's such a wonderful destination in the Rocky Mountains of Canada. But don't take my word for it. Visit this unique mountain town and fall in love with it for yourself.
Banff, Canada, travel guide resources
Pin me!
For more information on Banff visit Banff Lake Louise Tourism
Read more about Banff: Channeling Marilyn Monroe on Mt Norquay.
If You're visiting Banff on a Rocky Mountaineer Tour, check out my Vancouver to Banff Train Review.
For more about travel to Canada: visit Things to do in Canada