This post may contain affiliate links.
Montmorency Falls, Quebec, is one of Quebec City's top attractions. From a quick sightseeing visit to an extreme adventure such as a via ferrata climb, this Montmorency travel guide explains the best ways to experience Quebec's natural wonder.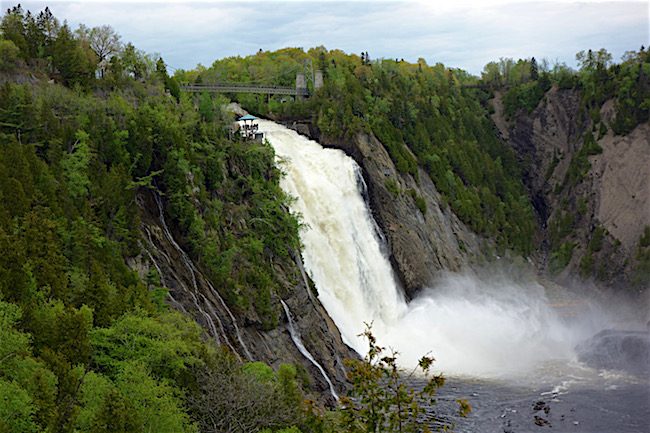 Montmorency Falls Quebec City Adventure
I'm caught between a rock and a high place. Or is that a low place? It's hard to tell when you're hanging off the side of a cliff near the freakishly wild Montmorency Falls just outside Quebec City, a waterfall no one seems to believe is higher than Niagara Falls (but it is).
This is so much fun … I think
Clipped to a cable in the rock wall and tethered by a clamp, I lean back with my arms spread wide.
"Look at me! Look at me!" I want to shout, giddy with excitement before realizing leaning back over a steep drop isn't actually that much fun. Okay, I decide, my death-defying Cirque du Soleil moment is over. Time to get back to climbing the via ferrata.
(PS: My guide told me I could lean back like that, so don't scold me.)
The best things to do at Montmorency Falls
There are many ways to experience the falls and the via ferrata might be the most fun. It's certainly the most adventurous, unless of course, you decide to go over the falls in barrel, which to my knowledge no one has done.
There have been plenty of sightings of people going perilously close to the edge, however, especially in winter when snow and ice create unstable viewing platforms. Can I just add that caution is not an outdated concept?
The Parc de la Chute-Montmorency – Montmorency Falls Park
Montmorency Falls Park is 12 km (about eight miles) from Quebec City and just across from Orléans Island. The falls thunder down from the Montmorency River over a rocky cliff into the St Lawrence River.
The falls were named by Samuel de Champlain who founded Quebec City in 1613. They were named in honour of Henri II, Duc de Montmorency, who became the Viceroy of New France in 1620.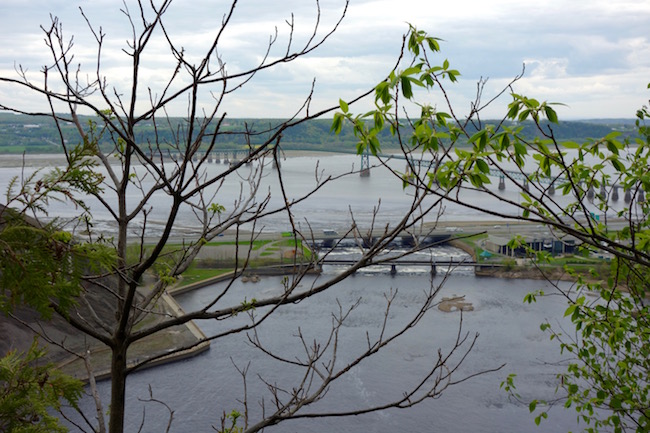 How high are Montmorency Falls?
At 84 meters (275 feet) high, Montmorency Falls are 30 meters higher than Niagara Falls. (See? I told you they were higher!) While they're not nearly as wide as Niagara Falls, they're still one of the top attractions in Quebec City.
Experiencing Quebec's largest waterfall
So. While I'm busy sticking my feet in rocky toeholds and clipping my metal clamps to the sturdy steel cable wedged into the side of the Boischatel Fault, let me tell you exactly how to plan your trip, what to do here and the best ways to visit Montmorency Falls, Quebec.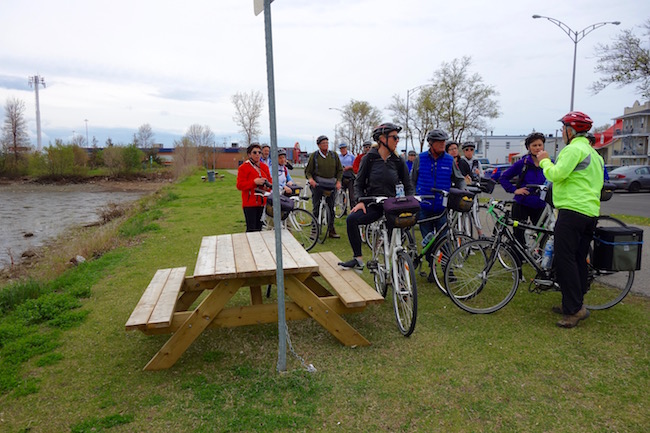 Start with the Cable Car
After I cycled to the park along the Corridor du Littoral bike path from Quebec City to Montmorency Park with a tour group from Cyclo Services, we took the cable car to the top to the top of the falls.
The cable car is an excellent way to start your visit. The cost is $12.10 for an adult round trip, while children under five ride free. A family ticket is $28.10.
Montmorency Manor – Manoir Montmorency
At the top you'll see the lovely but busy Manoir Montmorency, which – and this may surprise you because it surprised me – was the summer home of Prince Edward, Duke of Kent, the father of Queen Victoria.
Built in 1781, the manor was rebuilt after a devastating fire and now has a restaurant, an interpretive centre, a gift shop, the adventure centre for your outdoor activities and – this is important – clean bathrooms.
The dark history of Montmorency Falls
You might think of the falls as a scenic sight and a spectacular force of nature, but it's also a place with a bloody history. In 1759, during the Seven Years' War between the British and French Empires, the British General James Wolfe established a camp about 1.2 km (1 mile) from the falls.
The Battle of Montmorency
Disaster ensued for his troops. On July 31st, during the Battle of Montmorency, also called the Battle of Beauport, the English lost 443 troops while the French lost 60. The French clearly won, but later that year the British forces would go on to win the Battle of the Plains of Abraham, which was a decisive win in the battle for Canada.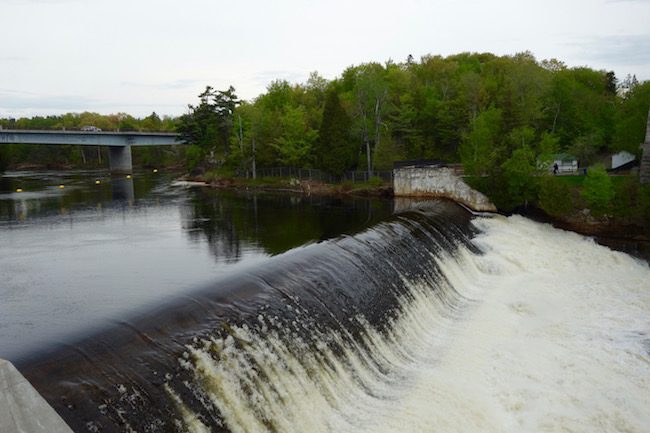 The Lady in White – La Dame Blanche
Since we're on the topic of unhappy history, let me tell you about the Montmorency Falls ghost, whose wails are said to mingle with the rush of the raging torrent of the waterfall. For Mathilde Robin, the Lady in White, Montmorency Falls was a romantic place. It's where she and her fiancé, Louis Tessier, spent many a happy hour.
Tragically Louis died in a battle during the Seven Years' War. Mathilde, beside herself with grief, put on her wedding gown and hurled herself over the falls. So if you see a ghostly figure in white through the cascade of water, it might not be your imagination.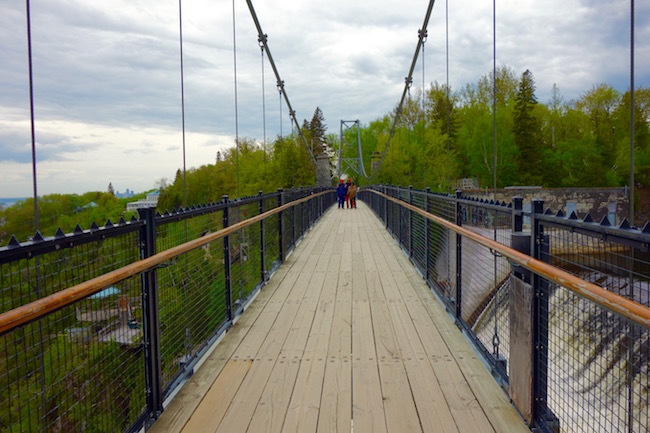 Montmorency Suspension Bridge
But let's get back to things to do at Montmorency Falls. Right near the Manoir Montmorency is a suspension bridge that crosses the falls. I defy you to go there and not take a million pictures. Unless you're scared of heights … then I defy you to cross it at all.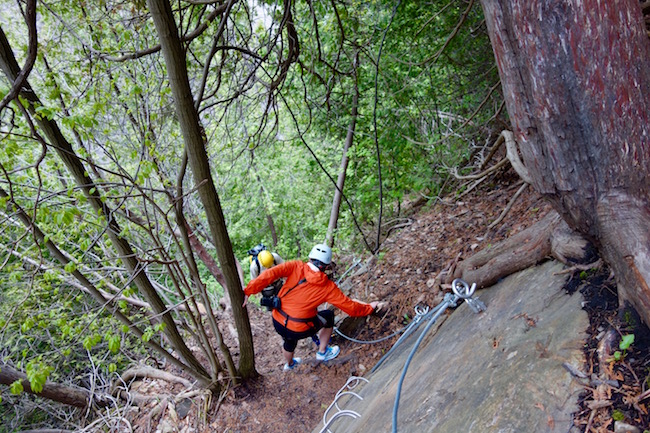 Doing the Via Ferrata
There are two via ferrata routes at Montmorency Falls, plus a third option to combine it with the zipline. I'm on the Explorer Route. It's an hour long, and is supposed to be a cross between hiking and rock climbing, though in my opinion it's all about rock climbing.
The main difference between rock climbing and a via ferrata is that the via ferrata has metal handholds and footholds built in. It's more of an assisted climb so even 'fraidy cats can do it. And of course you're clipped in, so if you fall you won't be tumbling down to doom.
If you have a fear of heights, however, I don't recommend it.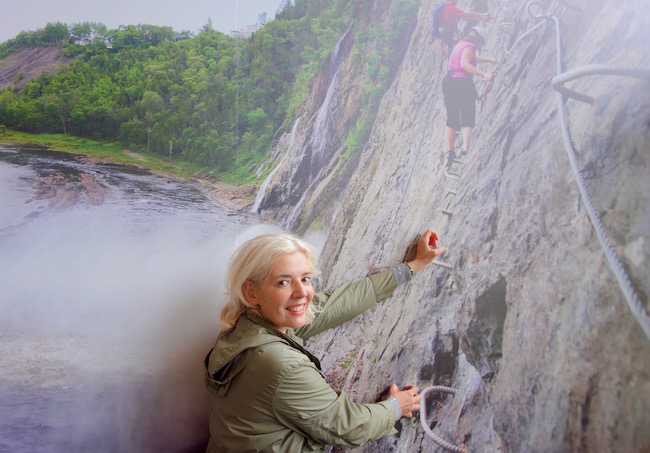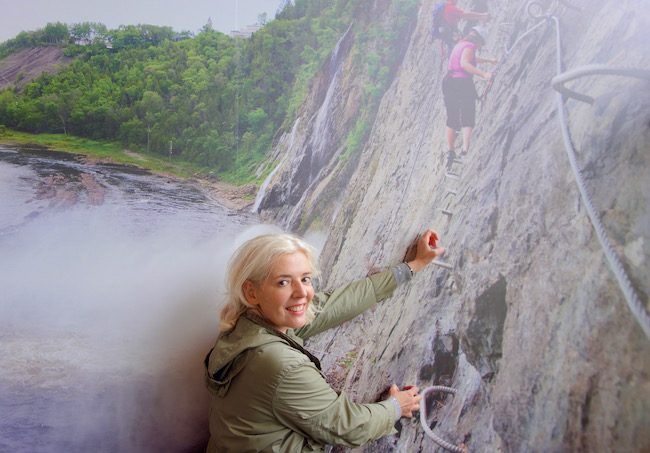 The Torrent of Montmorency
The more adventurous via ferrata is the Torrent of Montmorency, a 270-metre (886-foot) route that runs much closer to the falls. Truthfully, I wish I were on it because the Explorer Via Ferrata is such a rush I can only imagine the adrenaline of doing the Torrent.
Also, while the Explorer Route is near the falls, it's not actually alongside the falls, but if you take the Torrent Via Ferrata you'll be staring the misty void in the face. Can you think of a better outdoor adventure if you're travelling to Quebec City?
The only thing better would be to combine it with ziplining and I thought I'd signed up for that, too, but apparently I hadn't. (Organization has never been my strong point.)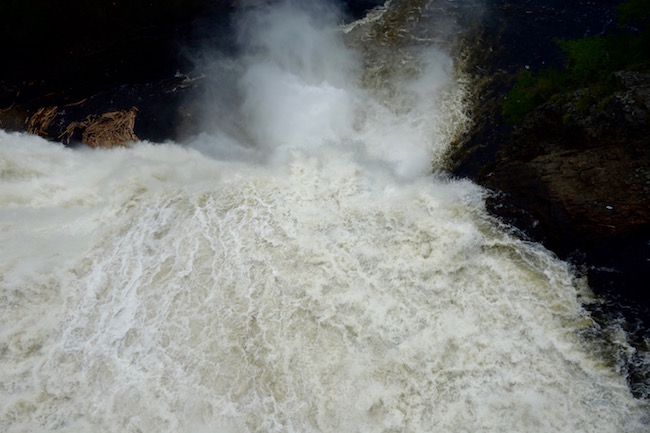 Ziplining at Montmorency
Ziplining is one of the most popular adventures at the falls. It's a double zipline so two people can cross the cove of the falls at the same time. This 300-metre (984-foot) ride offers views of the falls and lands near La Baronne viewpoint. Does that sound like a perfect scene for Bachelor Canada or what?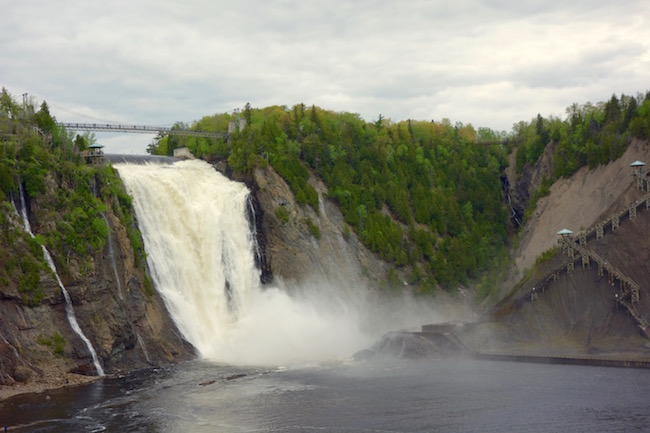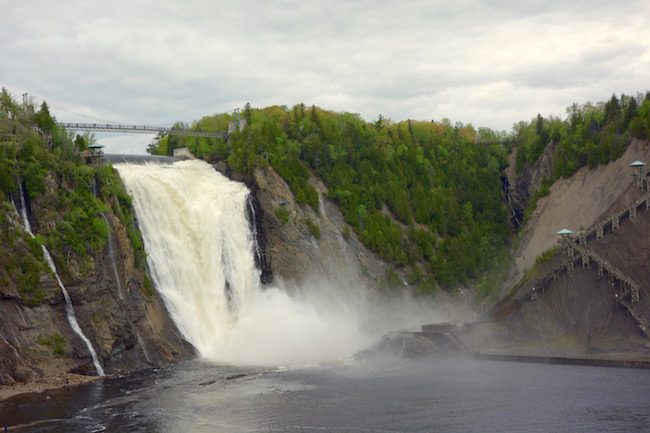 Take the Panoramic Staircase – Otherwise known as the Thigh-trembling Stairs of Agony (I just made that up)
Another way to experience Montmorency is the Panoramic Staircase that crisscrosses its way up the side of the cliff. Just don't blame me if the mist ruins your hairdo. (A via ferrata helmet doesn't exactly help either.)
Montmorency Falls in winter
When the weather gets frosty, the falls get even more spectacular (so I hear). While the falls themselves don't freeze, millions of droplets from the falls do get frozen to create what is called the Sugar Loaf, a mighty cone of ice at the foot of the waterfall.
Since the 1800s people have tobogganed down it and who knows? Maybe one day they'll create a Sugar Loaf Via Ferrata, and I'll be the first to sign up.
Back to my adventure
I hope you haven't forgotten about me, because I've been dangling on a cliff this whole time while telling you about all the adventures you can have at the falls.
I'm actually feeling quite fearless, which is why I'm now avoiding the built-in metal footholds and attempting to rock climb in earnest.
This is causing my guide, Matthew to shout down a thing or two from his perch above me while I'm trying to shout back that I'm channelling my inner mountain goat, and that hooves and metal steps don't mix.
Excuse me?
At the top of the final steep climb, I am flush with triumph. We did it! We completed the Explorer Via Ferrata of Montmorency Falls, which is probably even harder than scaling the Matterhorn. And then, while stepping out of my harness back at the centre, I'm told that the Via Ferrata Explorer route is – and I quote, "Suitable for eight-year-olds and up."
Um, hello? I've just completed an extreme rock scaling adventure, and you're telling me an eight-year old can do it?
Clearly, whoever wrote the rules was not considering my entire day. Not only did I cycle all the way from Quebec City and complete the Explorers Route, I thought I'd signed up for the zipline, which, even if I didn't actually do it, clearly still counts. Not only that, I also thought I'd like to do the Torrent, which almost makes me an Olympic athlete.
So, in my un-humble opinion no eight-year old could tackle the extreme Montmorency Falls Quebec City adventure like I did. That young sportsman would have to be at least nine or ten.
Travel tips for Visiting Montmorency Falls Quebec
Pin me!
Montmorency Parking: There are two parking lots in the Parc de la Chute-Montmorency. One is at the top of the falls allowing easier access to the Manoir Montmorency. The other is at the bottom, which gives you easy access to the cable car.
Price for the Parc de la Chute-Montmorency: Park access is free. Whohoo! There are charges for parking, however, and other things such as the cable car.
Pricing for the Via Ferrata: The Explorer is $29.50 for adults and $22 for children under 17. The Torrent is $45.25 per adult and $33.75 for children 12 to 17. For the Torrent you need to be at least 12.
Travel tips for the Via Ferrata: The Via Ferrata runs from June 10 to early October. For exact prices, schedules and info on other activities such as ziplining visit the Parc du la Chute-Montmorency website.
Getting to Montmorency Falls
Cycle: Considering I've now cycled it twice, this is clearly my top choice. As high season in Quebec City is winter, however, good luck with that, although I guess you could make it with a fat bike.
Bicycle Tours: Cyclo Services offers bike tours.
By bus: Please double check with your hotel or the tourism office but from what I've learned there are two public buses that go from Quebec City to Montmorency Falls. Number 53 and number 50, but Bus Number 50 is also referred to as 800x. Go figure.
Taxi: Of course you can always take a taxi, but that could get pricy.
Tours: Many Quebec City bus tours will take you to the falls. Check with your hotel or the Tourism Office for info and reservations.
Where to eat at Montmorency Falls
The Cable Car Station has a Sandwicherie or you can eat at the Manoir. Their Sunday brunch is a favourite. Reservations would be a good idea. Toll free Tel: 1 844 522-4883. Picnicking is also very popular at the falls.
Morency during winter: Activities include hiking, snowshoeing and ice climbing. For an introductory ice climbing course contact the office at Manoir Montmorency. Tel: 418-663-3330
More to do: This is only one of the many activities available in Quebec. For more, visit Things to do in Quebec City.