This post may contain affiliate links.
If you're planning a trip to Quebec City in Canada, winter or summer, boredom will NOT be on your itinerary. For a list of the top things to do in Quebec City, from active adventures, good restaurants, scenic walks and choice bits of (non boring) history, here's the itinerary we followed.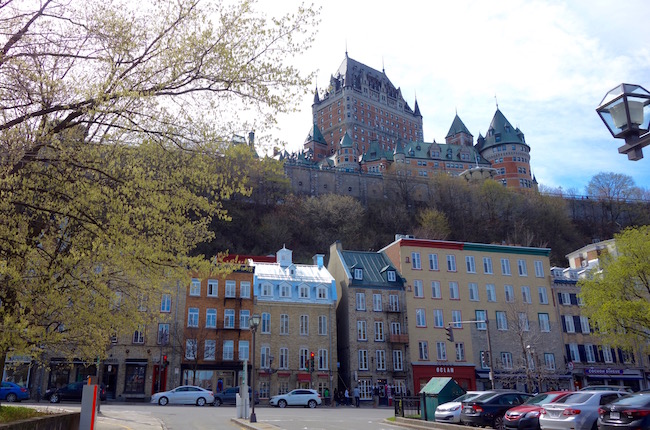 The Battle for New France
It was a fateful 15 minutes. The French commander, the Marquis de Montcalm, should have waited General James Wolfe out.
If he hadn't allowed his troops to leave the fortified walls of Quebec City to fight the British, and if Wolfe hadn't led his troops on a risky nighttime attack up the steep hill that led to the Plains of Abraham, Canadian history might have had a different story.
As it played out, Britain won the Battle of the Plains of Abraham in 1759 and France lost control of New France (the French colonies of North America).
In the end, France did win to a certain degree because no Canadian city is more French than Quebec City, the capital city of Quebec province.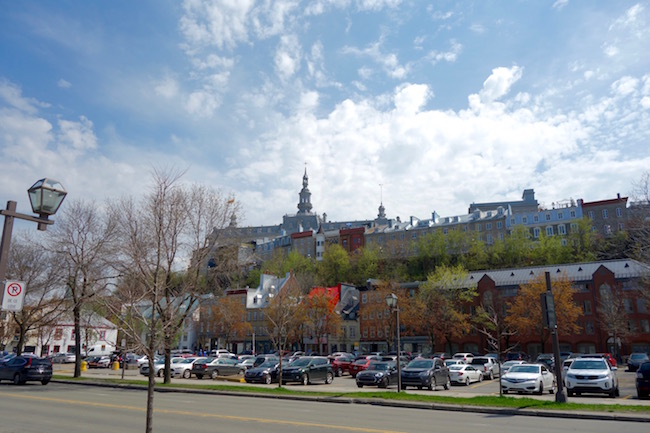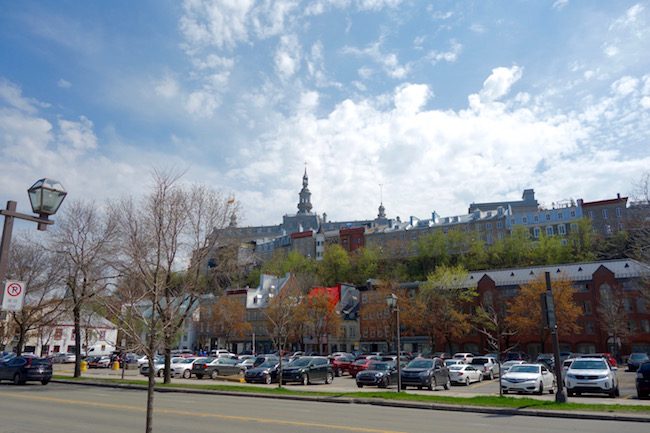 Best Things To Do in Quebec City
There might be no better place to travel to in Canada.
With its artistic flair, excellent cycling trails, festivals, fine restaurants and heritage architecture, this city of 500,000 has a lot to offer. Here is an itinerary that includes the top things to do in Quebec City.
Taking a road trip? Check out my article on driving from Montreal to Quebec City.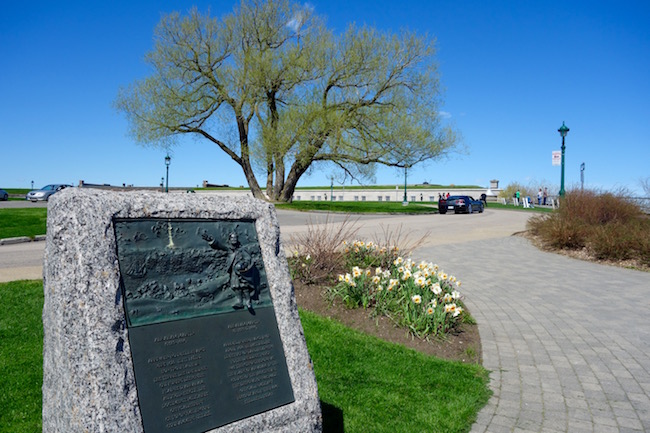 1) Visit the Plains of Abraham
"I can't leave without seeing the Plains of Abraham," my husband said as soon as we arrived in Quebec City.
When we did eventually follow our map to this elevated plateau on Cap Diamant just west of Old Quebec, it turned out he'd been here already while out on a morning walk.
It's easy to mistake the historical site for a park. Because it is a park.
National Battlefields Park includes the plateau known as the Plains of Abraham, a 267-acre stretch of green with panoramic views of the St Lawrence River.
It's also the site of the pivotal battle in what was known as the French and Indian War, which was part of the Seven Years's War between the British and the French empires.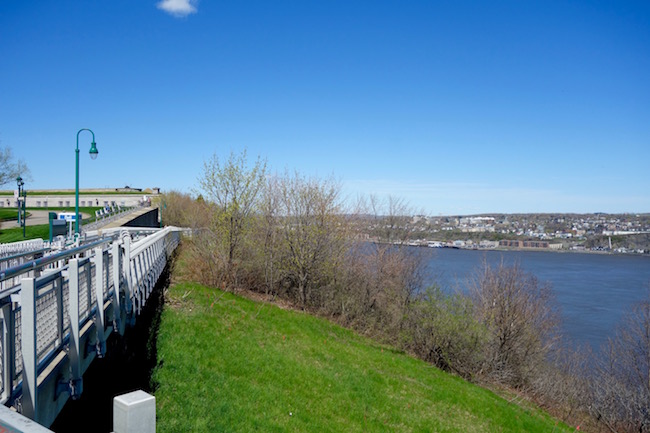 The Battle of the Plains of Abraham
Both leaders, Wolfe and Montcalm died in the Battle of the Plains of Abraham, and if you picture Wolfe's troops as they struggled up this pathless bluff in the dark, and the brief but bloody battle that followed, it will turn your trip to a park into an evocative journey into Canada's very origins.
What can you do at the Plains of Abraham?
Visit the Plains of Abraham Museum.
Walk the new one km interpretive Plains of Abraham Trail.
Or … just relax and play a game of frisbee.
Fun fact: The Plains of Abraham were not, as I'd assumed, named after some wise biblical reference, but after an early French settler, Abraham Martin, who used to pasture his cattle here.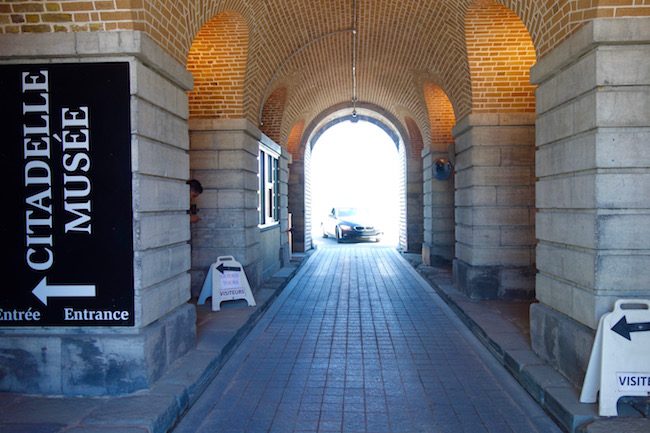 2) Visit the Citadel – the Citadelle of Québec
Right next to the Plains of Abraham is the star shaped Citadel. This formidable fortress on Cap Diamant was built by the British in 1832. It's the largest fortress built by the British in North America.
Today the Citadel is an active garrison, home to Canada's Royal 22 Régiment. It's also the summer home of the Governor General of Canada and a National Historic Site.
What can you do at the Citadel?
Visit the Musée Royal 22e Régiment, take a guided tour or, in the summer (June 25 to Sept 3), go on a night tour with a costumed 19th-century British Corporal who will lead you deep into the Old City's fortress.
3) Follow the Governor's Promenade Down to Dufferin Terrace
Full disclosure: We followed this the other way, up the 308 stairs from Dufferin Terrace. It will be much easier if you start at the Plains of Abraham and walk down, but if you eat too much maple fudge or poutine in town you might just need the exercise anyway.
The Governor's Promenade is a wooden walkway built into the side of the cliff along the Citadel. It connects Dufferin Terrace with the higher Plains of Abraham and Cap Diamant. It's the most scenic way of getting between sights imaginable.
Fun fact: In 1960 the Canadian Prime Minister at the time, the Right Honourable John Diefenbaker, inaugurated the Governor's Promenade.
4) Stroll along Dufferin Terrace
Right outside the Fairmont Chateau Frontenac hotel is one of the most popular walkways in Quebec City.
Dufferin Terrace is a wooden boardwalk that offers yet even more views of the St Lawrence River (if you haven't had enough of them already) and Lower Quebec City.
This lively tourist hub bustles with sightseers, buskers and other street performers. Don't miss the statue of Samuel de Champlain, the early French explorer who founded Quebec City, or the row of cannons that once protected the city.
Fun fact: Since 1884 a toboggan run has hurled thrill-seekers down from Dufferin Terrace at speeds up to 70 km per hour. Yikes. (Mid December until mid March.)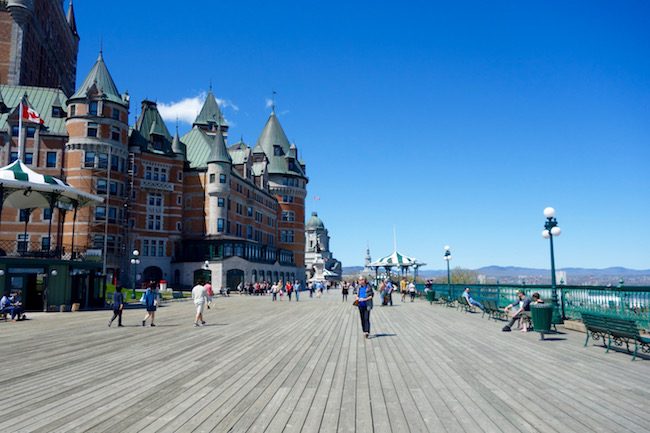 5) Look Down – You're standing on the Saint-Louis Forts and Châteaux Archaeological Site
While you're on Dufferin Terrace, give a thought to what lies beneath you – the archeological remains of several Forts Saint-Louis (four to be exact). The first was built by Champlain in 1636.
The site contained several governors' residences as well: two Chateaux Saint Louis and one Chateau Haldimand.
Fun fact: If you want to do some crypt exploring, Parks Canada offers 45-minute guided tours of the Saint-Louis Forts and Châteaux National Historic Site from May to October.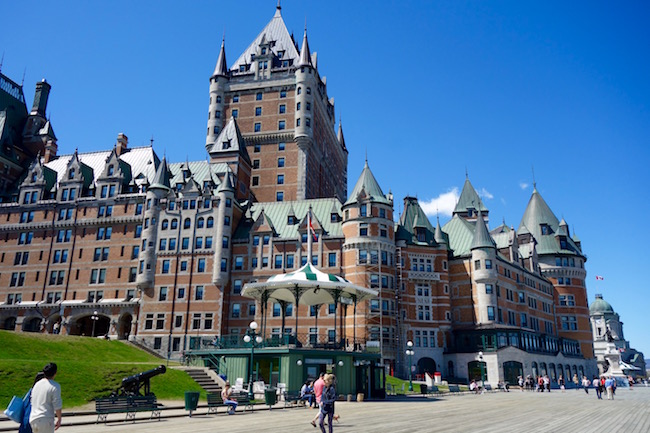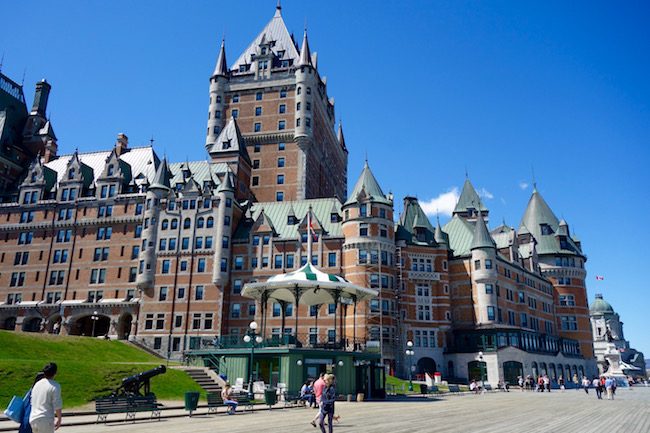 6) Visit the Fairmont Chateau Frontenac Hotel
The gorgeous Fairmont Chateau Frontenac hotel is the city's very own castle, and one of the most photographed hotels in the world. (How they've proved that fact I'm not sure, but I've definitely been taking a lot of photos of it.)
A stop here should be high on your list of things to do in Quebec City as this grand hotel built in 1894 is one of the best known landmarks in the city.
The Chateau Frontenac, complete with towers, turrets and picturesque copper roof, is now operated by the luxury Fairmont brand.
Originally, however, it was one of a series of elite hotels built by the Canadian Pacific Railway across Canada to promote tourism to the well-heeled traveller.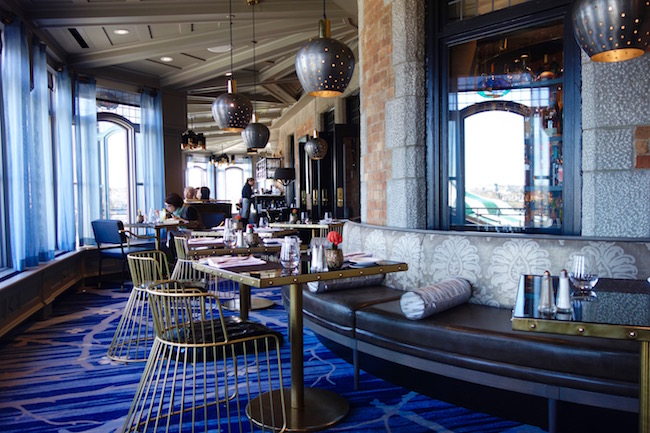 What can you do at the Chateau Frontenac?
Indulge with a meal at the art-deco-ish Bistro Le Sam. (I had the lobster salad. Delish.) We ate in the atrium and had lovely views of the St Lawrence River. Or at least I did – my husband had a not quite so exciting view of me.
Take time to roam the halls as the hotel is a designated National Historic Site of Canada

. On the lower level, a series of informative wall plaques gives you the history of the hotel and the site it stands on.
Fun fact: The Chateau Frontenac was named for the Count of Frontenac who was the Governor General (twice) of New France in the 1600s and lived a lavish lifestyle he couldn't always afford. Scandalously, he married the renowned French beauty, Anne de la Grange-Trianon, against the express wishes of her parents.
The marriage was not successful and while she never followed him to Quebec, a 17th-century portrait of her hangs in the hotel.
7) See Parliament Square
If you have a thing for Second Empire architecture, you'll want to visit Parliament Square on Parliament Hill, home to the National Assembly.
8) Explore Rue Saint-Jean in Old Quebec
One of the best things to do in Quebec City is simply to wander the quaint streets of this Europe-meets-Canada vibrant city.
Vieux Quebec, or Old Quebec, is surrounded by nearly 5 km of fortified stone walls, and is a UNESCO World Heritage site.
What to do on Rue Saint-Jean?
Shop. Rue Saint-Jean is the main commercial street. Here you can browse for Canadiana goods like plaid lumberjack shirts, fur hats, maple syrup, every product known to man that could possibly contain maple syrup, and less-than-inspiring souvenir T-shirts.
Eat. For a casual lunch, Paillard is a bakery and cafeteria-style cafe that serves salads, sandwiches, baguettes and – my husband's personal favourite – chocolate croissants.
Eat more. One of the best restaurants in Quebec City, Chez Boulay Bistro a Boreal

is at 1110 Saint-Jean Street. This upmarket bistro serves cuisine inspired by a Nordic climate and fresh local ingredients. It's a favourite with locals and my husband bonded with the two men beside us who deplored my need to take a photo of my lunch. (Humph.)
9) Stroll the Back Streets of Old Quebec
Don't just stick to the main streets. Old Quebec is one of the best places for exploring and getting lost. There is so much history here you never know what you'll stumble upon.
On Rue des Jardins you can stop into the Cathedral of the Holy Trinity, the first Anglican cathedral built outside the British Isles.
Or try the Ursulines' Museum of Quebec at 12 Rue Donnacona. In 1689 they founded the first girls school in North America here. The museum illustrates the stories of some of these women behind Quebec's history, and is known for its fine silk embroidery.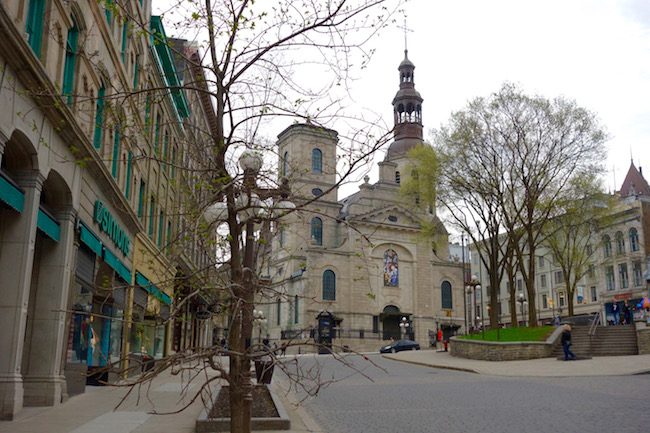 10) Visit Notre-Dame Cathedral – Notre-Dame de Québec Basilica-Cathedral
Notre-Dame Cathedral is yet another designated National Historic Site of Canada.
Built in 1647, it has one of only seven Holy Doors in the world, and the only one in North America. Check it out for yourself. It's in the Chapel of the Sacred Heart. You might have to ask to find it, because it's quite discreet.
What is a Holy Door?
It's a symbol of 'oneness' with the church, a sign of faith and transition, especially for pilgrims. They're generally only opened during Jubilee years.
11) Check Out the Petit Champlain District
This tour of Quebec City is rapidly going downhill, because now it's time to explore Basse-Ville, the Lower Town of Old Quebec.
The Petit Champlain district in particular is fascinating. Once a little port town, home to fur traders, tailors, shops and the wealthy elite, it's now a pedestrian district that is both touristy and fun.
The historic stone buildings with their gabled roofs and dormer windows are wonderfully atmospheric, and many of the shops showcase Quebec designers.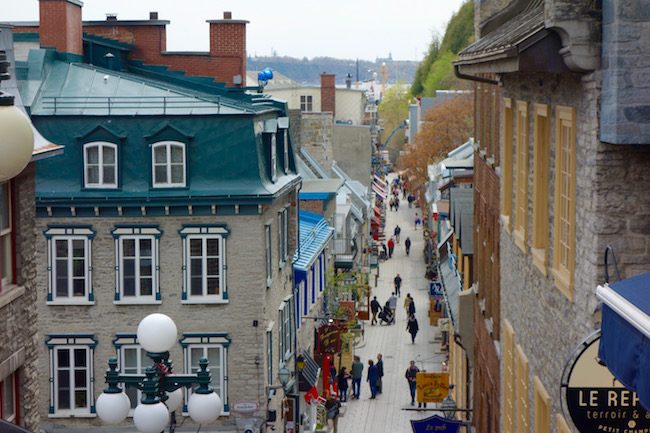 What can you do in Petit Champlain?
Don't miss the Fresque des Québécois mural that illustrates the colourful history of Quebec City.
And if you're hungry, try the fun Le Lapin Sauté at 52 Rue du Petit Champlain for a meal.
How to get to the Petit Champlain district
You can get here from Dufferin Terrace by taking the century-old funicular, the Funiculaire du Vieux-Québec.
Or you can take the Escalier Casse-Cou, the Breakneck Stairs. This is the oldest outdoor staircase in the city and so named for the steep rise of the steps. Just FYI: We took the stairs and easily lived to tell the tale.
Fun fact: Rue du Petit Champlain is one of the oldest commercial streets in North America.
12) See Place Royale
Honestly, my husband never listens to me. While we were in Petit Champlain I had to tell him three times I wanted to find Place Royale and he still didn't remember (because he never heard me in the first place). Then once I got him there, I couldn't get him to leave.
Wanting to linger in this lovely square is understandable because this tiny square packs a punch. It's where Samuel de Champlain founded the city of Quebec back in 1608 and is the oldest French settlement in North America.
What can you do in Place Royale?
Visit the Musée de la Place Royale,
Check out the bust of King Louis XIV. (It's a replica, the original from 1686 went missing).
Visit Notre-Dame-des-Victoires Church. Built in 1688, it's the oldest stone church in North America.
Not so fun fact: Over the years Place Royale has acted as a parade ground, a market … and an execution grounds for criminals.
13) Visit the Museum of Civilization – Musée de la Civilisation
From Place Royale it's not far to 85 Rue Dalhousie where you'll find Quebec City's most visited museum, the ultra modern Museum of Civilization.
Here you can learn everything (and probably more) that you ever wanted to know about Canadian history and the people who made Quebec City what it is today (which is a really great city to visit).
What can you do at the Museum of Civilization?
Don't miss This is Our Story, an exposition that illustrates First Nations and Inuit culture.
You can also learn about tsunamis, dress up as Little Red Riding Hood and see a doll from the 1900s made of squash, feathers and wood. Seriously, though, this museum designed by superstar architect Moshe Safdie gets rave reviews.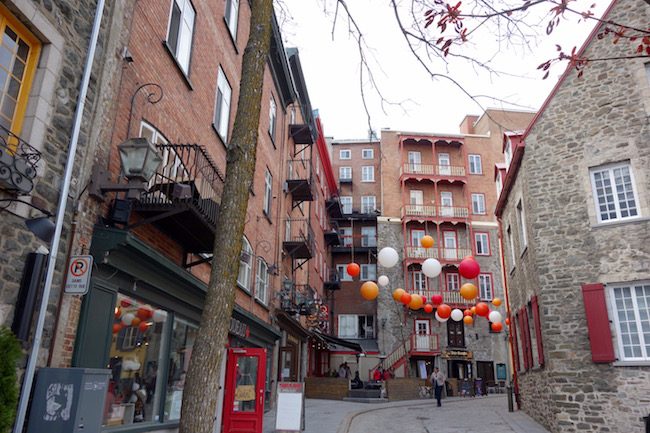 14) Visit the Old Port and Take the Ferry to Levis
From Petit Champlain it's easy to get to the Old Port if you want to take the Québec City-Lévis ferry at 10, rue des Traversiers.
Visitors take this 15-minute ferry ride to get good views of Old Québec and Cap Diamant. At a bargain price of $3.75 for pedestrians and cyclists, it may be the cheapest sightseeing cruise you'll ever do.
15) Browse the Antiques and Art Galleries of Rue Saint-Paul
If you're still up for walking, stroll along Rue Saint-Paul and browse through the antique shops, art galleries and the occasional boutique.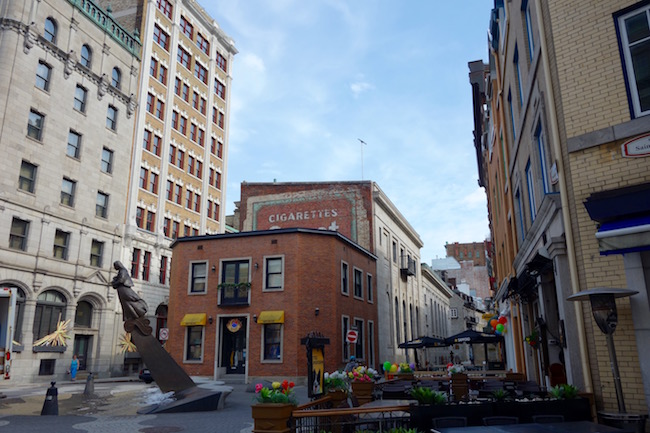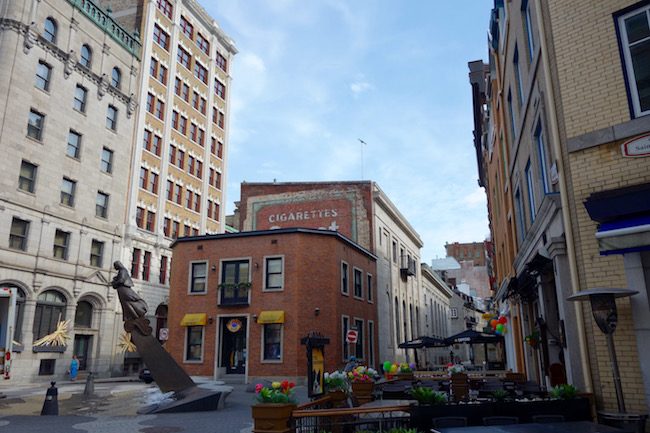 16) Stop at the Old Port Market – the Marché du Vieux-Port de Quebec
From Rue Saint-Paul you'll be heading in the direction of one of my favourite stops, the Marché du Vieux-Port de Quebec.
We made good use of this local artisanal market and spent far too much money indulging in foie gras, Hercule and Riopelle cheese, baguettes, maple fudge, and Quebec red wine. On the healthy side – we also bought cucumbers.
17) Sample the Cuisine in the Saint Roch District
The revitalized Saint Roch District is hip, happening and if you're looking for food-centric things to do in Quebec City, this artsy neighbourhood should be on your itinerary.
For a bistro that sources its ingredients close to home, try Clocher Penché, a favourite for weekend brunch. It's at 203 Rue Saint-Joseph Est.
When all those baguettes and croissants start to weigh heavily on you, like they did on us, seek out a healthy vegetarian meal at Crudessence at 837 rue St-Joseph Est in Nouvo St-Roch.
If you want to stop in at one of Quebec City's microbreweries, Korrigane, established in 2010, is also located in the St Roch district at 380 Rue Dorchester.
18) Cycle
When it comes to outdoor activities, cycling is one of the most fun things to do in Quebec City.
We loved the well-maintained trails along the Saint-Charles River and the St Lawrence. Across the bridge, the trail goes all the way to Montmorency Falls, the Parc de la Chute-Montmorency, about 13 km (8 miles) away.
If you don't have your own bike you can rent a bicycle at Cyclo Services at 289 Rue Saint-Paul.
19) Visit Montmorency Falls – Le Parc de la Chute-Montmorency
Higher than Niagara Falls, Quebec's own Montmorency Falls is 272 feet high and 150 feet across.
Things to do at Montmorency Falls
Take the cable car up.
Walk along the suspension bridge above the falls.
Climb the 487-step staircase on the side of the cliff.
Challenge yourself by ziplining.
Climbing one of the three routes of the Via Ferrata. (I did. Read my Montmorency Falls Quebec guide for the details.)
Where is Montmorency Falls? It's located 13 km (8 miles) east of the city. You can get here by bus, car, or bicycle.
Fun fact: In wintertime the spray from the waterfall creates a massive cone of ice and in the 1800s tobogganing down it became a popular activity.
20) Experience the Quebec Winter Carnival – the Carnival de Quebec
If you're after things to do in Quebec in the frosty winter, attend the Quebec Winter Carnival. From late January to February you can join the biggest festival going.
What can you do at the Quebec Winter Carnival?
Meet Quebec Carnival's debonair snowy mascot, Bonhomme.
See every winter activity imaginable from ice canoe races, ice carvings, snow slides and skating and sledding.
Surprisingly, Quebec's high season is winter, and the Winter Carnival's some 200 activities goes a long way in explaining why.
You've made it!
As you can tell, there's a lot to see in Quebec City. Hopefully it's helped you plan your itinerary and given you some travel ideas.
If you could possibly want any more information on what to do in Quebec City check out Quebec Tourisme. They have a wealth of tourist information in both English and French.
Or, check out my Montreal trip ideas.
Quebec City Hotels
One of the top hotels in Canada is the lovely Fairmont Chateau Frontenac, a heritage hotel in Old Quebec (in fact, it practically rules over Old Quebec). This 5-star heritage hotel offers every comfort you could hope for: indoor pool, hot tub, steam room, fine restaurants, superior rooms, a grand feel and a stellar location.
A cheaper alternative, but still very comfortable (we stayed here for 5 nights) is the Hotel Manoir Victoria. It's a 4-star hotel with an indoor pool, two restaurants and a great location in Old Quebec.
For other hotel options, and to check prices and availability use the map or search box below.


For more on travel to Canada visit Things to do in Canada.
Pin me!