This post may contain affiliate links.
This 3-day itinerary from Montreal to Quebec City will show you a world of spectacular nature, outdoor adventure, great restaurants and places to stay in the gorgeous regions of Lanaudière and Mauricie.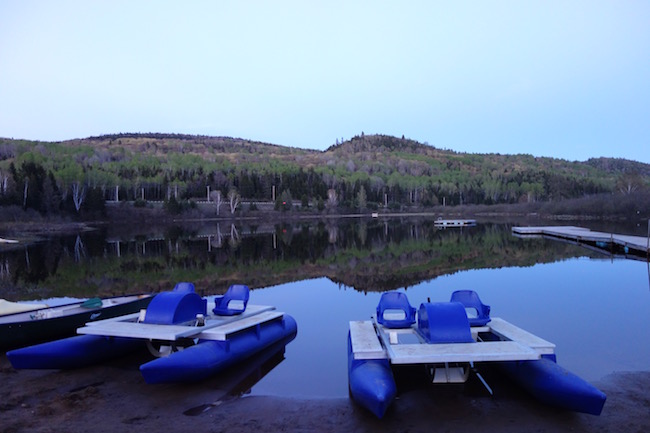 Road trip, Montreal to Quebec City
Sure, Montreal and Quebec City are great destinations, but everyone knows that. What is less known is how rich in natural beauty and local flavour the area between Montreal and Quebec City is, and how fun a Quebec road trip can be.
So slow down. Turn your Quebec vacation into an action-packed adventure with this 3-day itinerary from Montreal to Quebec City – and discover the spectacular regions of Lanaudière and Mauricie.
Lanaudière and Mauricie
With timber lodges, deep blue lakes and rich dense forest, the regions of Lanaudière and Mauricie north of Montreal offer a trip into 'Authentic Quebec.' A road trip from Montreal or Quebec City will give you a taste of real Canadian wilderness – and a scenic drive full of outdoor adventure, exquisite local cuisine and plenty of chances to relax and renew.
What's in this Montreal – Quebec itinerary? Everything. This 3-night itinerary will take you high in the air on a seaplane, out onto the lakes with a fishing rod, into steamy outdoor pools at a nordic spa and into some of the area's best lodges and restaurants.
Pick and choose from the following itinerary, mould it to your personal tastes, and above all, get out and explore.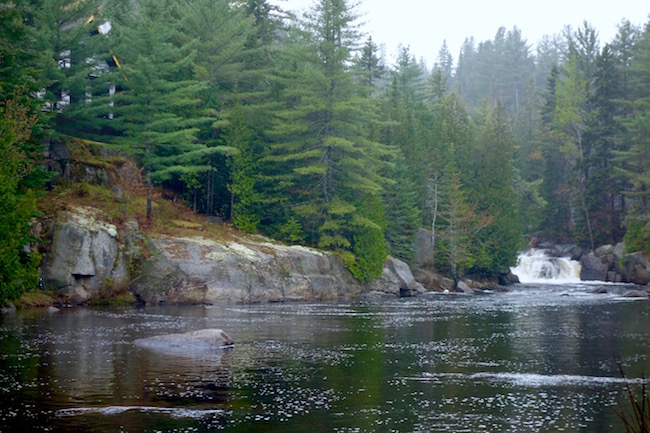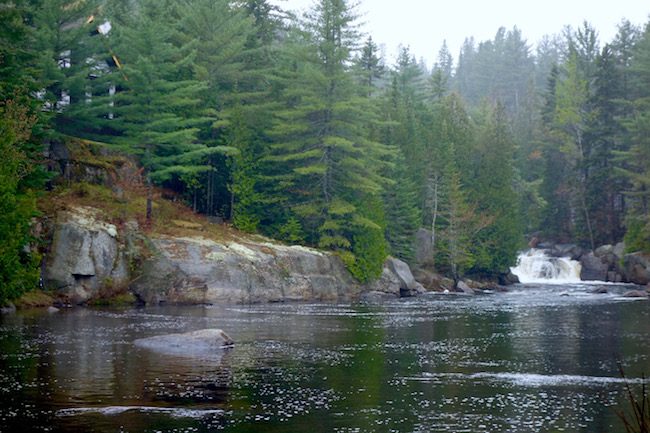 About Lanaudière and Mauricie
Spreading out from the north shore of the Saint Lawrence River and up toward the Laurentian Mountains, Lanaudière and Mauricie together are known as Authentic Quebec, and can be accessed within an hour from either Montreal or Quebec City.
With some 30,000 lakes (yes, you read that right), it's a land where wildlife roams – including bears – through two national parks, 15 regional parks, three wildlife reserves, and 52,000 square kilometres of land.
If you want to avoid urban crowds, a drive from Montreal to Quebec City through Authentic Quebec is the route for you. The region's largest city is Trois-Rivières with a population of about 135,000, but for this itinerary we're focusing on secluded lodges, the woods and the spectacular outdoors.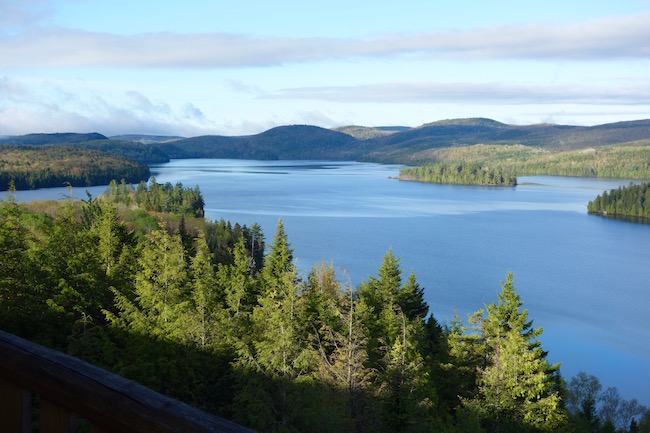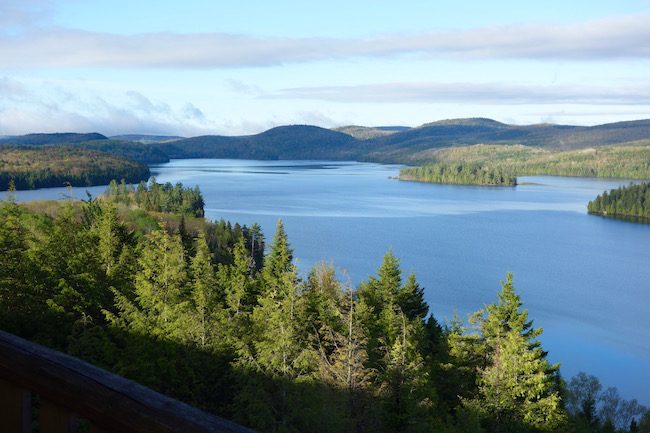 Quebec in winter
By the way, did you know high season in Authentic Quebec is winter? I was surprised, too, but rest assured – if you want to do this Quebec road trip in winter, you'll still find plenty of opportunities to get outside, with cozy lodges offering everything from ice fishing and cross-country skiing to dog sledding, skating and winter hiking.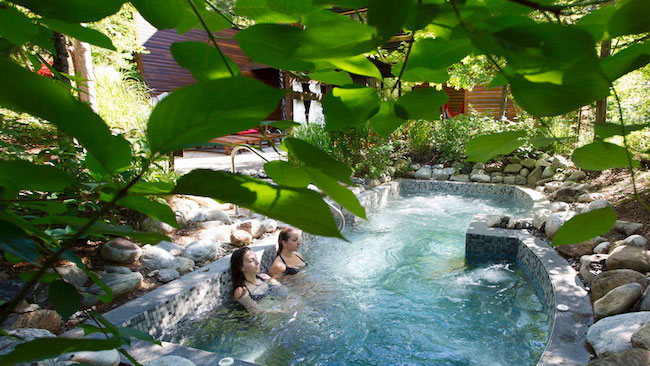 Quebec Road Trip from Montreal to Quebec City – Day 1
Morning – Drive from Montreal to La Source Nordic Spa
The first stop on your road trip from Montreal is La Source Bains Nordiques, about an hour to an hour and a half away. At this soothing outdoor nordic-style spa set deep in the forest, you can sink into blissful heated pools, steam yourself silly in a eucalyptus steam bath, revive your energy under an icy waterfall, and relax in a wooden deck chair by a wood fire.
For lunch why rush? This is a vacation, remember? Take time out for a fresh and healthy meal at the spa's Bistro La Source.
Note: If you want a massage, make reservations in advance. La Source Bains Nordiques is located at 4200, rue Forest Hill, Rawdon, Quebec. J0K 1S0. Want to know what to expect? Read my blog post about La Source Spa.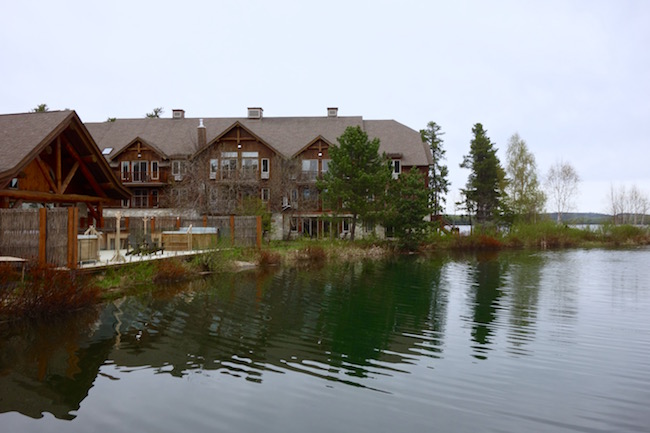 Afternoon and overnight – Option 1 – Drive from La Source to the 4-star Auberge du Lac Taureau
Spend a night surrounded by the wilderness of the Haute-Matawinie region at the upscale Auberge du Lac Taureau. Located on the shores of Lake Taureau, the Auberge du Lac Taureau is a sprawling four-star lodge that is perfectly situated for outdoor activities. Yay! It's time for hiking, kayaking or even driving your own quad (side-by-side) through the wilderness. A valid driver's licence is required.
Have dinner at the lodge, where Chef Michel Goulet combines the unexpected with traditional flavours and fresh local produce to create dishes inspired by the rhythm of the the seasons and Lac Taureau's natural surroundings.
Auberge du Lac Taureau is located at 1200 Chemin de la Baie-du-Milieu, Saint-Michel-des-Saints, Quebec, J0K 3B0.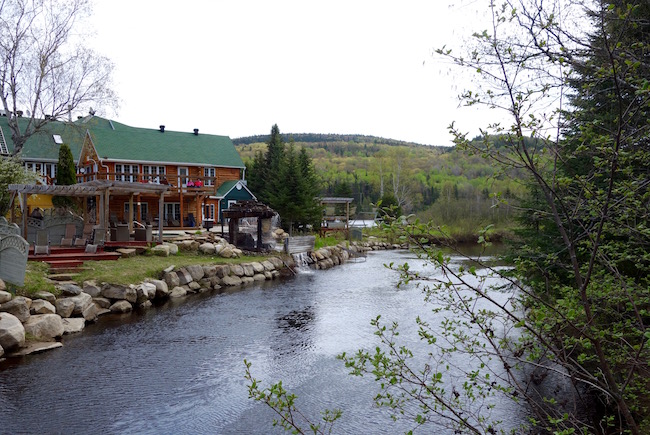 Option 2 – La Source to the 3-star Auberge du Vieux Moulin
Alternatively, you can opt to stay at the Auberge du Vieux Moulin at 200 Chemin du Vieux Moulin, Sainte-Émélie-de-l'Énergie, Quebec. J0K 2K0.
The Auberge du Vieux-Moulin (Inn of the Old Mill) is a family-friendly 3-star log inn on a tiny lake, and is a good option for families. What raises it above the average 3 star is its cozy timber dining room, the recent addition of a small but delightful nordic-style spa, and its indoor swimming pool. The hotel also has a maple sugar shack open in season from about mid March to late April.
Quebec Road Trip Day 2
Morning: Drive from Auberge du Lac Taureau (or Auberge du Vieux Moulin) to Val Notre-Dame Abbey
Set your GPS for Val Notre-Dame Abbey at 250 Chemin de la Montagne-Coupée, Saint-Jean-de-Matha, Quebec. J0K 2S0.
One of the most unique stops on your Montreal to Quebec City drive has to be Val Notre-Dame Abbey. Plan to arrive at this intriguing Trappist monastery with enough time to wander the trails and shop for edible products made on the abbey grounds.
My pick are the acai-filled chocolates, but you'll find everything from edible forest products to wood teas.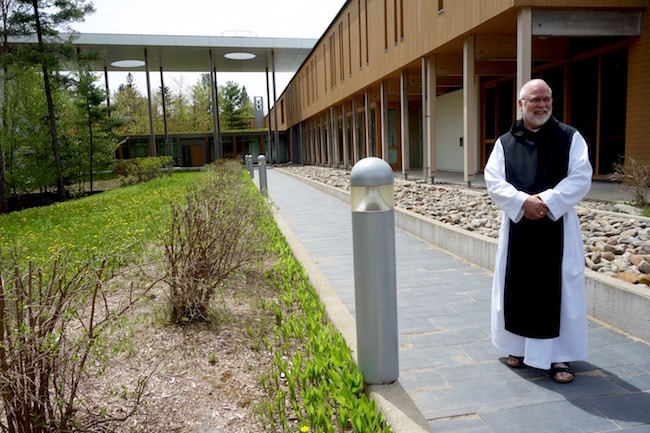 Just don't expect a traditional-looking monastery. Designed by architect Pierre Thibault, Val Notre-Dame Abbey is startlingly contemporary, with clean lines and plenty of windows to bring nature inside. Visit their website to find out additional activities offered by the abbey such as how to cook with edible forest products or how to pick and preserve herbal teas.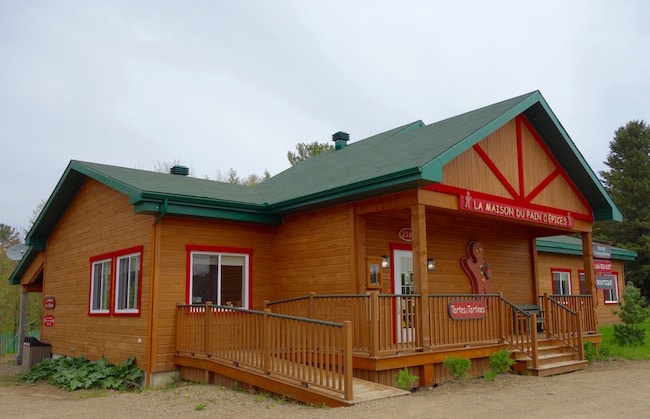 Lunch: La Maison du Pain d'Épices (The Gingerbread House)
From the monastery drive to La Maison du Pain d'Épices (The Gingerbread House) at 2181, Route Louis-Cyr, Saint-Jean-de-Matha, Quebec. J0K 2S0. (Open Wednesday to Sunday in summer.)
Here you'll find food with a conscience. The Gingerbread House is a charitable endeavour, which serves simple but delicious food such as grilled cheese with local cheeses or salads with greens from their own garden. Their purpose is to promote the educational development of children both locally and abroad. And of course it also sells fabulous gingerbread!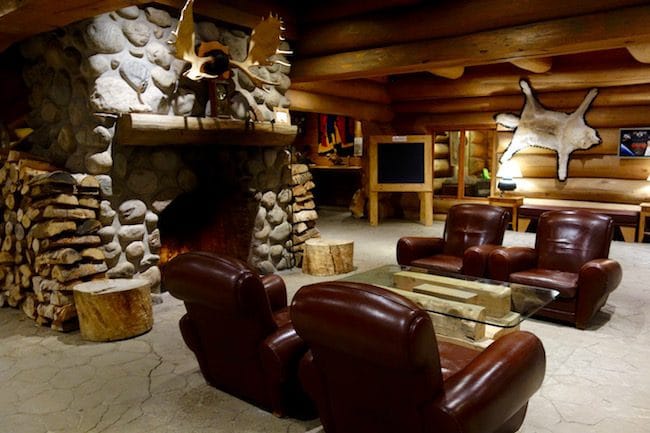 Afternoon – Drive from La Maison du Pain d'Épices to Sacacomie Hotel
Your Quebec road trip now moves from the Lanaudiere region into Mauricie for a stay at one of the region's best known lodges, the Sacacomie Hotel at 4000 Chemin Yvon-Plante, Saint-Alexis-Des-Monts, Quebec, J0K 1V0.
Sitting on the shores of the Mastigouche Wildlife Reserve, Sacacomie Hotel is a seductive white pine log lodge in that luxe rustic tradition Authentic Quebec does so well. Tucked into the heart of the forest, the lodge overlooks the majestic Sacacomie Lake and its 42 km coastline.
One of the things I like best about Sacacomie is their memorable nordic-style spa, the GEOS Spa Sacacomie, which has two outdoor soaking pools with great views of the lake.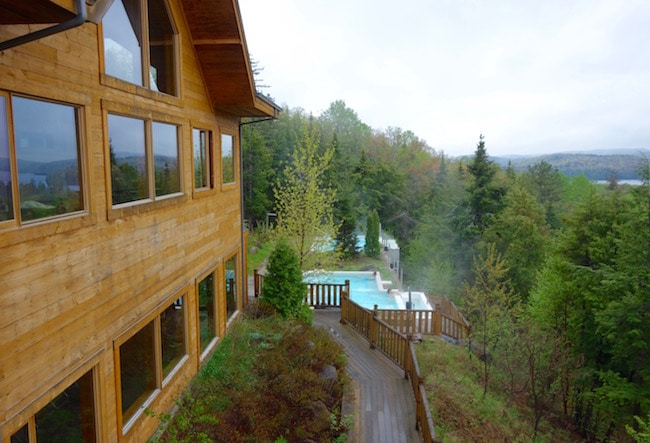 Afternoon activities:
Get out and enjoy the wilderness. Isn't that why you're here? For a different perspective on Quebec, fly over Sacacomie Lake and the region on a 20-minute flight in a seaplane with Hydravion Aventure. It really does give you a bird's eye overview – and a new perspective on Authentic Quebec as a prime nature destination.
Outdoor activities
If you prefer to stay closer to the ground – or the water – step back into the world of the fur traders with a guided paddle on Sacacomie Lake aboard a rabaska, a large First Nations canoe.
Alternatively, you can take out your own canoe or a kayak, enjoy the private beach or soothe your tired muscles at the GEOS Spa Sacacomie. For something really different, sign up for the hotel's bear watching excursion.
Have dinner at the lodge in the main dining room, with its upscale menu focused on local specialties and products.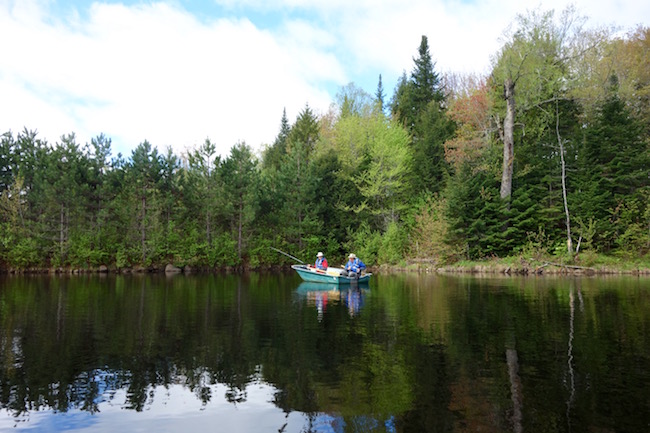 Quebec Road Trip Day 3
Morning – Drive from Sacacomie to Pourvoirie du Lac Blanc for fishing
It's time to go fishing, even if you've never done it before. If I can do it, so can you. For this activity you'll head to Pourvoirie du Lac Blanc at 1000, Domaine Pellerin, Saint-Alexis-des-Monts (Quebec) J0K 1V0.
Pourvoirie du Lac Blanc is both a lodge and one of the most famous outfitters of the region. With one of their fishing guides, you can enjoy the peacefulness of nature while reeling for speckled trout and rainbow trout on one of the many lakes in the area.
Part of your fishing excursion includes a shore lunch by the fire at the outfitter's camp, where you'll eat what you caught and just enjoy being out of doors. (Don't worry, your guide can gut the fish for you, and will cook it up as well.)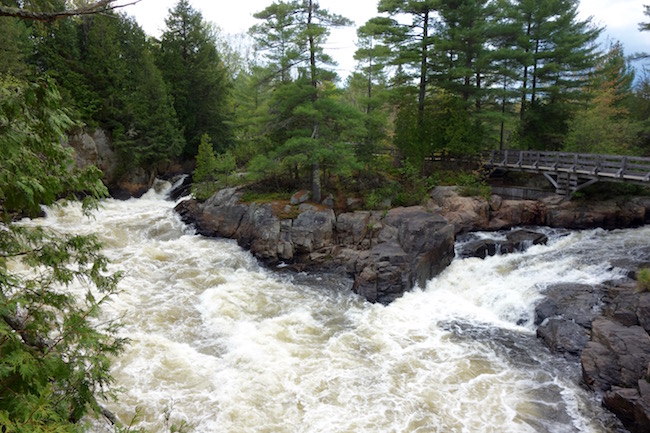 Afternoon and overnight – Drive from Pourvoirie du Lac Blanc to Le Baluchon Eco-Resort
Le Baluchon Eco-Resort at 3550, Chemin des Trembles, Saint-Paulin (Quebec) J0K 3G0 is one of the most scenic places to stop between Montreal and Quebec City. This resort and its 1000-acre property is situated by the fast-moving Rivière du Loup (River of the Wolf), with both forest trails and rolling green fields that look as if they came straight out of Anne of Green Gables.
After you get settled in, take a walk along the riverside trail to Aux Trembles Waterfall or relax before dinner in the resort's small but perfectly-situated spa with its outdoor Jacuzzis and terrace that overlooks the steep river ravine.
Have dinner at the resort. Offering fine cuisine with an emphasis on local products, Le Baluchon has won several major culinary awards.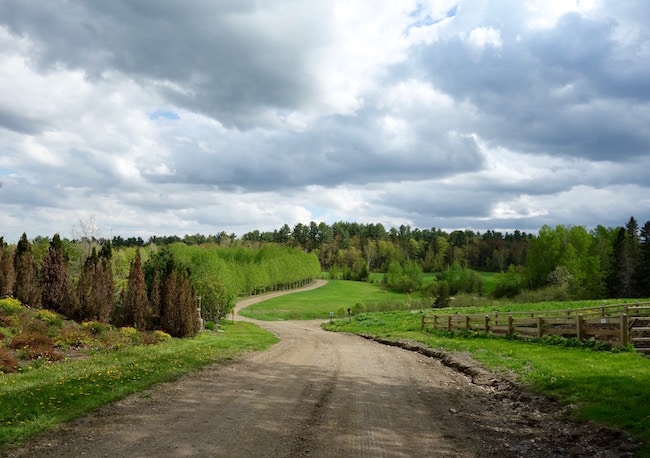 Quebec Road Trip Day 4 – drive from Le Baluchon to Quebec City
Oh, no! Your road trip is coming to an end, but let's make the best of your last day. First, grab breakfast at Le Baluchon's Eco-café Au bout du monde. Before you set off on your final leg of this scenic drive from Montreal to Quebec City, take time to check out Le Baluchon's own stables, L'Écurie du Royal.
If you have time, sign up for a one-hour trail ride in the Sabot de la Vierge Archipelago. It's a gentle pace and a perfect way to start the morning before your Quebec Road trip comes to an end.
Where to Stay in Quebec City
Depart for Quebec City, and wave goodbye to the stunning undiscovered regions of Lanaudière and Mauricie.
Now that you're visiting one of Canada's most scenic cities, with a flavour so French, but so very Canadian, where should you stay? The top hotel is undoubtedly the Fairmont Chateau Frontenac, a historic building with a great location and a castle-like feel. It's beyond wonderful, to be honest, and I loved every second of my stay.
A cheaper alternative, but still very comfortable (we stayed here for 5 nights) is the Hotel Manoir Victoria. It's a 4-star hotel with an indoor pool, two restaurants and a great location in Old Quebec.
Check prices and availability at these and other hotels in Quebec City below.
Travel tips for your Quebec Road trip from Montreal to Quebec City
Pin me!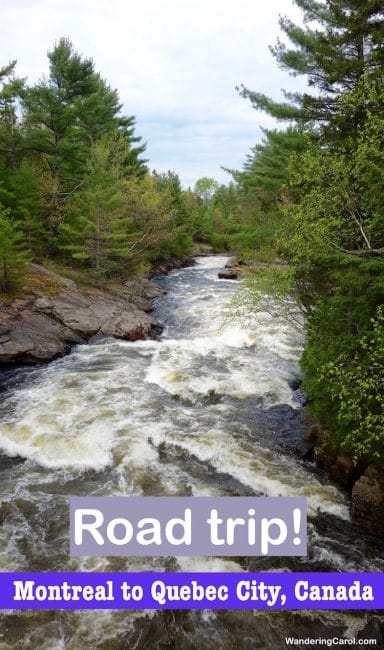 I hope this showed you some of the top things to do between Montreal and Quebec City. Your road trip may be over, but there's plenty more to explore in both cities.
Try One day in Montreal and Things to do in Quebec City for more travel ideas. And visit Authentic Quebec for more about Sacacomie Hotel and Mauricie.
This itinerary was created with the help and expertise of both Lanaudière Tourism and Mauricie Tourism. Their websites are a wealth of travel information and tips.