This post may contain affiliate links.
Looking for a hotel in Evian, France? The French spa town of Evian on the shores of beautiful Lake Geneva is well worth a visit, but where do you sleep? After much online searching I chose to stay at the Hilton, so here's my nuts and bolts Hilton Evian-les-Bains review.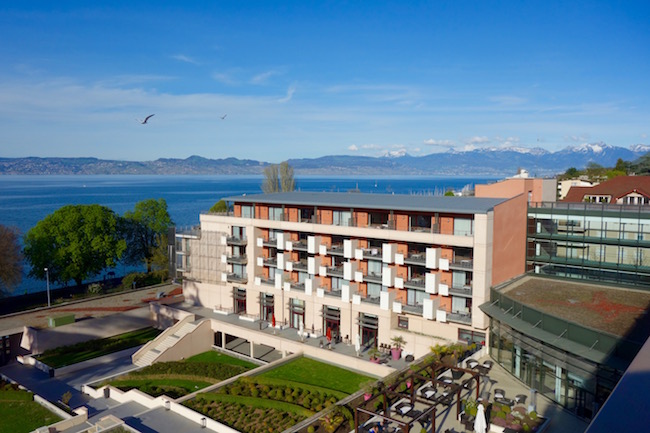 Stars in my eyes
For the life of me I can't figure out why the 4-star Hilton hotel in Evian-les-Bains, France, isn't a 5-star. (Conversely, I can't figure out why the 4-star hotel I stayed at in Avignon isn't a 3-star, but that's another story). The Hilton Evian-les-Bains has panoramic views of Lake Geneva, a sleek and sexy Buddha Bar Spa with an indoor and outdoor pool, and a fabulous central location close to all the sightseeing spots in Evian. What's not to like?
That pretty much sums up this Hilton Evian-les-Bains review, but for details, price tips, highlights, lowlights and my social failures experiences at the hotel, read on.
Evian sightseeing tip: Read What to do in Evian-les-Bains for the town's top attractions and sights.
Modern and Sleek
I'm not saying the Hilton Evian-les-Bains is a total looker, its red brick exterior is pretty blah, but your first impression when you step in the lobby is 'Wow! For once I picked the right hotel.' A waterfall of LED lights hangs over the dark wood reception desk like a curtain of white butterflies, and the overall feeling is chic and contemporary.
Don't judge a hotel by its lobby (except I usually do)
I'm a fan of big lobbies. They add a sense of grandeur to a hotel, not to mention that if your room sucks you can hang out there. (My room didn't suck). The Hilton lobby has a bar off to the side, lofty ceilings and seating clusters with sexy pops of purple and a fun mix of textures and designs. I give the interior designer an 'A.'
Patio love at the Hilton Evians-les-Bains
Beyond the lobby past the reception desk is a vast patio where, weather permitting, you can sit outside, drink a cafe au lait (or a glass of Evian water) and look out at Lake Geneva. Sadly, the weather did not 'permit' when I was there, at least not very often, and when it was nice, I hung out on the rooftop terrace of the executive lounge instead as I was upgraded and had access.
The Hilton Evian's Executive Lounge
If you're on the executive floor of the Hilton, you have 24-hour access to the 6th-floor lounge. It's quite a social place as all the privileged few stop by for free canapés and drinks between 6 and 8. They all seem happy and quick to establish immediate friendships, just not with me. For some reason I didn't meet anyone at all. (I swear I took a shower! Maybe I just have bitchy resting face, like Kristen Stewart.)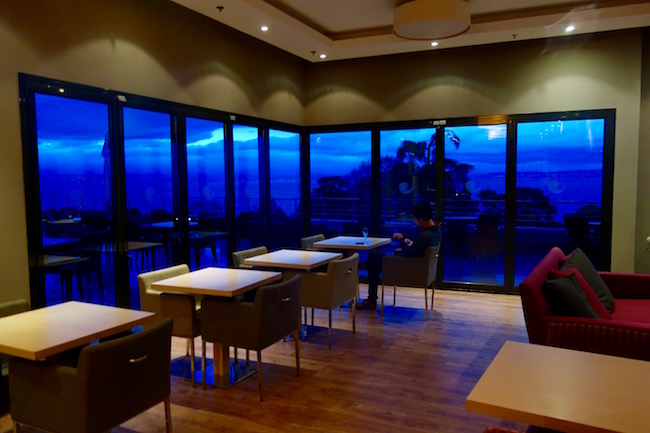 Luckily, the Hilton Evian staff are so friendly, constantly stopping by your table to see if you might want a wee bit more sparkling brut that you forget you have no friends, or at least you no longer care, and instead decide to adopt a 'mysterious stranger' persona. Honestly, there are endless ways you can amuse yourself when you have executive lounge access, no friends and are spending 10 days in Evian-les-Bains!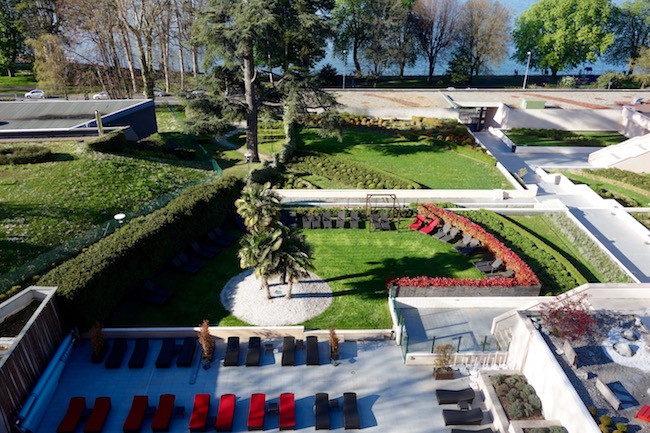 A terrace with a view of Lake Geneva
Attached to the executive lounge is a rooftop terrace where you can sit and watch the sunset. On weekends breakfast is served in the executive lounge for those with access, but I liked the big buffet breakfast downstairs and always ate there instead. (Where I also didn't make any friends.)
Breakfast buffet
The Hilton Evian's buffet is excellent, with regional Savoyard cheeses, fresh fruit, pastries, sausage, bacon, eggs, a small selection of Chinese dim sum, juice, sliced meat, etc. etc etc. As I'm a Hilton Gold member breakfast was included in my stay. Whoot!
The Buddha Bar Spa
The Buddha Bar Spa is a highlight of the hotel (second only to the sparkly lights over the reception desk in the lobby). Befitting the Buddha Bar brand, the spa decor is hip and Zen-like, with dim lighting (good for hiding cellulite), dark wood, red accents, 1800 square metres of space and a great hulking Buddha statue in the reception area.
Group activities at the Hilton Evian-les-Bains
In addition to the indoor and outdoor pools and full menu of spa treatments, the Buddha Bar Spa at the Evian Hilton has a large sauna, a steam room and a full schedule of free fitness classes. I made full use of the amenities, taking part in the last 15 minutes of at least one aqua aerobics class – which clearly puts me in a category of elite athletes.
I'm proud to say that I actually met people in the spa (in case you were thinking I'm a total pariah). In the pool I talked to two young Chinese men travelling around Europe and in the sauna I met a woman who owns a chic clothing store on Rue Nationale, Evian's main shopping street.
Central location in Evian
If you're taking the ferry over from Lausanne, the Hilton Evian-les-Bains is handy because it's just a five-minute walk to the ferry terminal. As the hotel is maybe a two-minute walk to both the Evian-les-Bains Thermes Spa and the lakefront, not to mention the boutiques on Rue Nationale, the Hilton is definitely in the heart of the action, although to be clear, the action in Evian-les-Bains is pretty tame.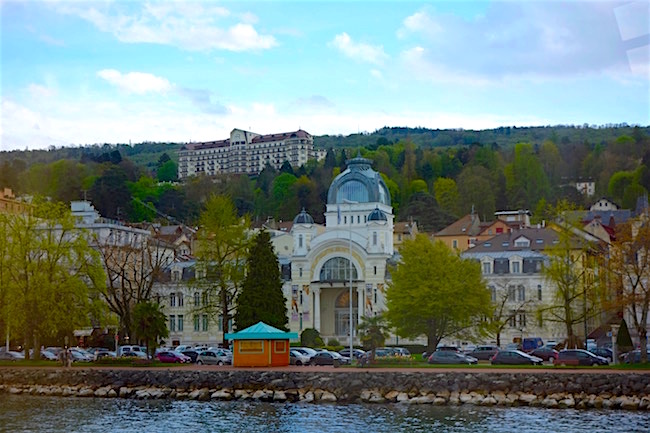 Tour groups
Before you accuse me of making this Hilton-Evian-les-Bains review too flowery and positive, let me advise you that a number of tour groups stay in the hotel. As I never went down to breakfast early, however, the only time I saw them is when I passed a few stragglers waiting with suitcases in the lobby. The moral of the story here is that the early bird gets the worm, but the sleepy bird gets the tranquility.
Summing up my Hilton Evian-les-Bains review
Ultimately, I realize this Hilton Evian-les-Bains review is pretty 'glowy' but I can't help it if I liked it. For amenities, location and decor, I say the Evian Hilton is a 5-star – at least in my heart, if not on TripAdvisor and Booking.com.
Price for the Hilton Evian-les-Bains, France
Well. Let me tell you, trying to get the best price at the Hilton in Evian is like playing roulette in Monaco. First I saw a price online on the Hilton website for 153 Euros, but hesitated too long and the next day the price had shot up to 183 Euros. I gave up, then randomly tried it more than a week later and got it for 136 Euros per night. The next day I checked out of curiosity and it had gone up to 199!
Usually playing the wait-and-hesitate-before-booking-a-rate game means I end up paying the worst price ever, but in this rare case it worked in my favour. My advice to you is to check repeatedly, and when you see a deal you're comfortable with, pounce.
Tips for booking the Hilton Evian-les-Bains
While I check all the discount booking sites such as tripadvisor, booking.com and hotels.com, I always check the hotel website, too. In this case the Hilton website gave me the cheapest option. The other perks of booking on the hotel website itself are that you collect points in their loyalty program.
Seasonal pricing: Expect to pay more for a hotel in France in the summer and during French school holidays (which unexpectedly includes two weeks every April and October).
Note: Sign up for the Hilton loyalty program to get free wifi.
Important note about spa access at the Buddha Bar Spa: If you book a standard room at the Hilton Evian you'll need to pay 20 Euros per person to visit the spa. Any room category above standard includes spa access. You can also get access if you book a spa treatment, whether you're staying at the hotel or not.
Hilton Evian address: Quai Paul Léger, 74500 Évian-les-Bains, France. Hilton website.
Which is better, the Royal Hotel Evian or Hilton Evian-les-Bains?
There aren't a lot of luxury hotels in Evian-les-Bains. The only 5-star hotel is the Royal Hotel Evian. It sits up on a hill overlooking the town and is undoubtedly grander and more old world than the Hilton. Both the Hilton and the Royal have terrific spas and outdoor pools. The Royal is more expensive, which is why I didn't stay there, plus the location isn't as handy. Bottom line: If you want modern, contemporary and convenient opt for the Hilton. If you want elegance, romance and historical charm, choose the Royal Hotel Evian. And there you have it, my Hilton Evian-les-Bains review. Hopefully it will help you plan your trip.
Planning your trip to Europe? Read more What to see in Europe or What to do in the South of France.