This post may contain affiliate links.
Things to do in Evian, France
You've heard of the water, now visit the town. Evian is a relaxing destination on the shores of Lake Geneva. To help you plan your trip, here is a complete guide to Evian-les-Bains.
Location
Evian-les-Bains (Evian for short) is a scenic French spa town in the Haute Savoie region of the Alps, just across the lake from Switzerland.
A Belle Epoque beauty, it's a short ferry ride from Lausanne and just over an hour from Geneva by car.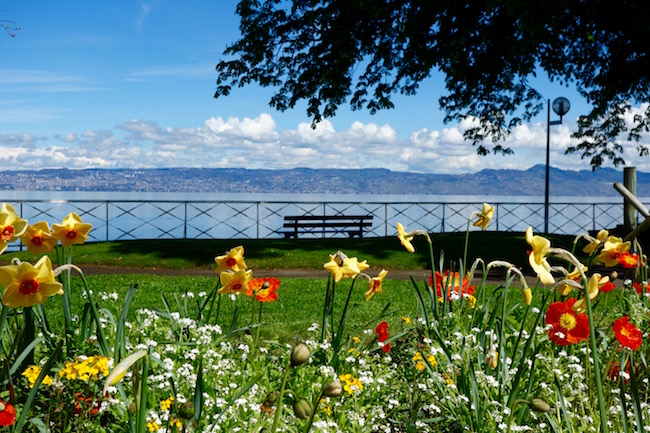 One day in Evian-les-Bains
If you've ever tasted Evian water, in a way you've already visited Evian-les-Bains, a flower-filled spa town on the banks of Lake Geneva (known as Lac Leman in France).
With its turn-of-the-century history, stunning lakeside location and famous mineral springs, the small city of Evian in France has a lot to offer, either on a day trip, a spa trip or for a longer stay.
I spent 10 days here, creating my own spa vacation and touring the sights of Lake Geneva by ferry, but you can see most of Evian's attractions in a day.
How to Tour Evian-les-Bains
You can tour Evian in an orderly way, following the Historic City Tour on the map, or in a haphazard way, jumping from sight to sight like a jack rabbit in a field of lavender.
However you do it, this one day in Evian-les-Bains travel guide should help.

The All-Important Free English-Language Map
First, pick up a free city map from the Tourist Office at Place d'Allinges.
Or, pick it up at the more convenient Palais Lumière, (which for the longest time I thought was the Tourist Office) at Quai Charles Albert Besson.
1. Visit the Source of Evian Water
Once armed with your map, head to the Cachat Springs Point of Emergence, also known as a fountain.
Located on the Avenue des Sources, Cachat Springs is the most famous spring in Evian. While it's small, it's one of the most popular Evian attractions.
Once called the Fountain of Sainte Catherine, it was built in 1903.
This small pastel pink arcade offers a continuous stream of Evian water straight from the source.
Drinking the water is free and, as a bonus, if you hang around long enough you'll see every other tourist in town as well as quite a few locals filling up bottles to go.
🌿 Travel Tip: To taste the fresh Evian water, you need to bring your own cup or bottle. As a last resort, cup your hands and slurp. (Just make sure they're clean.)
About Evian Water
Evian-les-Bains means, quite literally, Evian the Baths, and the mineral-rich water that springs out of the ground is the town's raison d'etre. For decades Evian tourism has revolved around it.
Evian Water Benefits
Rich in minerals such as calcium and magnesium, Evian water is naturally filtered through glacial sand during its 15-year journey from high in the Northern Alps.
The spring water is said to have a smooth buttery taste, though when I tried it, it pretty much tasted like water.
It's also healthy to bathe in Evian water.
The first baths were built in 1824 and Evian-les-Bains rose to the heights of prominence as a spa town, attracting a global elite including King Edward VII, the Aga Kahn and Marcel Proust.
Why is Drinking Fresh Evian Water Better than Drinking It From the Bottle?
Ah. Important question. Apparently there are trace elements in the water that vanish after 23 hours.
(My French isn't that good, I may have got some of the finer points wrong from the woman who was explaining it to me, but I'm clear on the 23 hours.)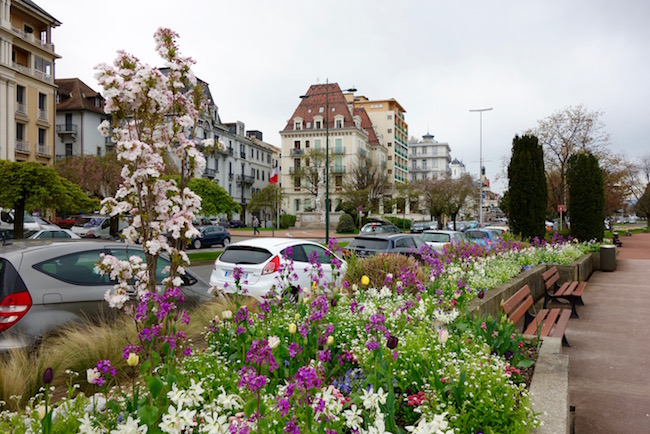 2. Start Your Self-Guided City Tour
Now you must choose: You can take an orderly tour of Evian-les-Bains using the map or an erratic tour, also using the map.
Let me explain. You do an orderly tour by following the brass raindrops embedded into the pavement around town. Or, you can do a disorganized tour like I did, which is just as much fun though I didn't do it on purpose.
For one thing, I spent the longest time thinking the raindrops were tear drops and it seemed like a downer to follow them.
Tour of Evian from Geneva:
My self-guided tour below is free but if you want a private tour from Geneva, you can do a Geneva to Lausanne Olympic Museum, Boat Trip and Evian Tour for about $550 USD for up to four people. Learn more
here
.
Don't Make My Mistake
With my keen eye for detail, I assumed the numbers on the tourist map corresponded to the numbers beside the pictures of the tourist attractions on the back.
They don't, but it seemed like a perfectly reasonable assumption to me.
This is why I could never understand why the Cachat Springs Fountain was, once I got there, the 3-star Hotel Les Cygnes (the Hotel Swan) instead. Or why the Medieval Hospital was the modern and very chic Hilton Hotel.
At that point the tear drops began to make sense because I wanted to cry every time I got somewhere and it wasn't what it was meant to be.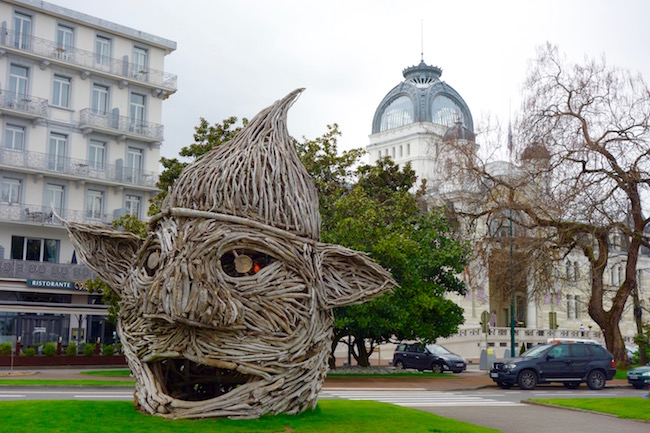 The Correct Way to Follow the Raindrops
To do an orderly tour of Evian-les-Bains know this: The smaller Historical City Tour map in the bottom right corner of the big map is the one that corresponds to the pictures on the back.
It's quite obvious, really, if you look at the map after you've had your morning coffee.
3. Visit the Cachat Pump Room
Either way, have a look at the former Cachat Pump Room on 19 Rue Nationale.
Built in 1903, this former pump room is a striking pavilion with wrought iron, glass and a fancy tiled cupola.
What's a pump room, you ask?
Every spa town worth its mineral salt had a pump room. It's where society spa goers would drink the water, walk around in a stately manner and gossip viciously.
While the Cachat Pump Room is a "masterpiece of Art Nouveau spa resort architecture" according to my guide, it was also closed when I was there in April.
From May to September it hosts an exhibition of Evian products, so if you find your way in let me know what I missed.
Travel Tip: Many people mix up the Cachat Pump Room with the Cachat Springs Point of Emergence. It's easy to do (take it from me), but they're not the same thing.
🌿 Travel Tip: The Cachet Pump Room is a building and the Cachat Springs is an outdoor fountain behind the building.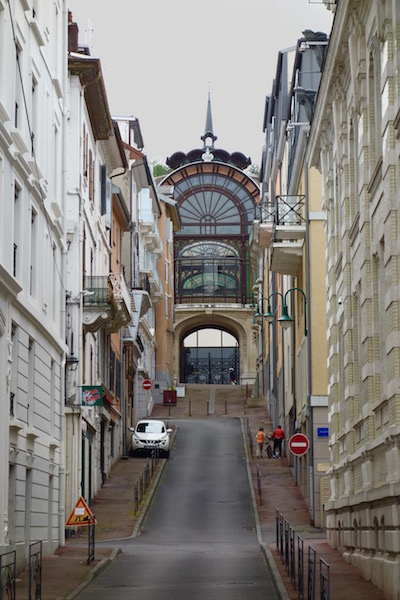 4. Ride the Funicular Railway
If you want to experience the heights of glamour on your 'one day in Evian-les-Bains' tour, head up the historic funicular railway, the Funiculaire d'Evian.
On the ride you'll be reliving a bit of Evian spa history, as it was constructed in order to transport guests from the very posh Evian hotels at the top of the hill down to the spa baths in town.
The lofty hilltop hotels include the 5-star Hotel Royal Evian Resort and the 4-star Ermitage Hotel.
There was also the palatial Hotel Splendide, which no longer exists. At that time the baths were in the Palais Lumière downtown.
The funicular, which opened in the early 1900s, has been completely restored.
Today, it's a fitting way to sail up to the ultra grand Hotel Royal Evian Resort, the luxury hotel that opened in 1909.
🌿 Travel Tip: The funicular is free. You can find it behind the Palais Lumière.
The downside: The funicular only runs from mid May to mid September, but you can also walk up, which is a good idea as it cancels out any pastries eaten later.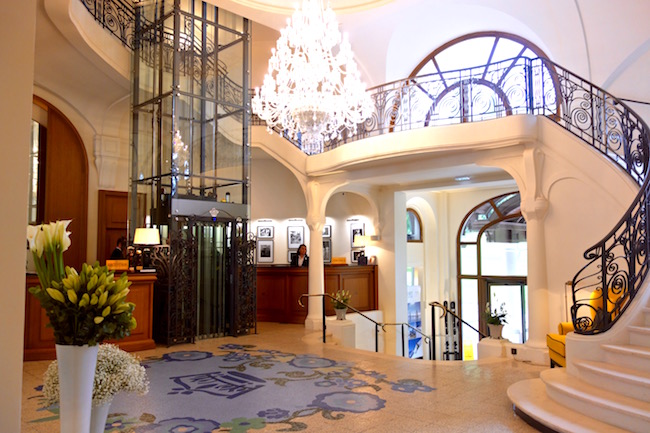 5. Check out the Historic Hotel Royal Evian Resort
Set on 47 acres of parkland, the 5-star Hotel Royal Evian Resort presides over this scenic European spa town like a sparkly tiara.
Its elegant halls have seen a long list of celebrities and nobility come and go – the guest list includes names like Cartier, Nijinsky, Stravinsky and the elusive Greta Garbo.
If it's nice out you can have a cup of coffee on the patio. On Sundays you can do afternoon tea.
Or, you can just have a look around then head down again to the centre of Evian-les-Bains for a scenic walk along the shores of Lake Geneva.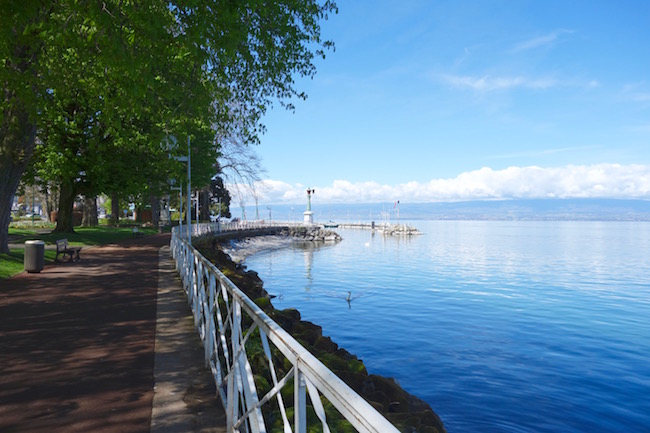 6. Stroll Along the Quai
Once you're back in town, you'll be magnetically drawn to the lake. It's inevitable. Just go with it.
Quite honestly, if you don't feel like sightseeing, a walk along the water is one of the best things to do in Evian les Bains.
If you're ready for lunch, you can eat a casual meal at the Restaurant Brasserie La Voile which overlooks the marina at 2 Quai Paul Léger.
(Scroll down to my Travel Tips for Evian section for more restaurant ideas.)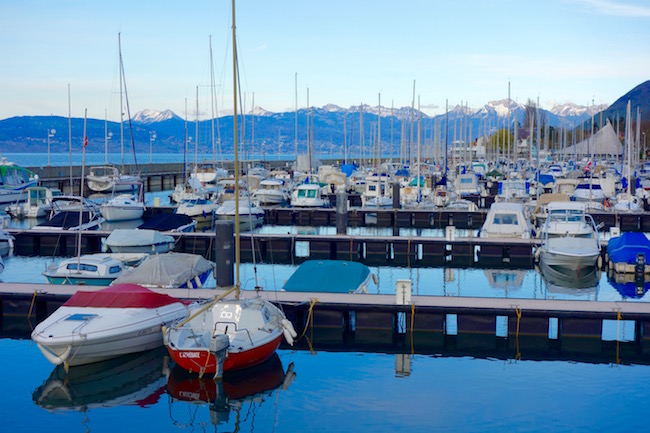 7. Enjoy Summer Activities on the Water
While the main ferries run year round, in summer there are a couple of unique activities you can do on the water.
Take a cruise on Lake Geneva on the restored paddle steamer, La Savoie. (Check with the Evian Tourist Board for times and prices.)
Take a boat tour to the wonderfully-named Pré Curieux Water Gardens, a protected wetland accessed by solar-powered boat. You can only get there on a guided tour. Boats depart from Quai Baron de Blonay, which is in front of the Casino.
Take the year-round ferry over to see the sights on the Switzerland side of Lake Geneva.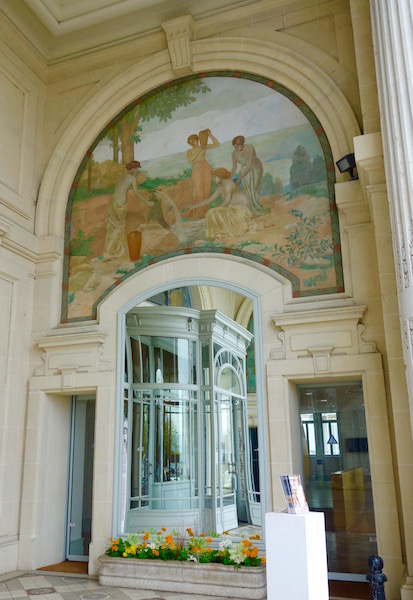 8. See the Palais Lumière
One of the grandest buildings in Evian is the Palais Lumière. Built in 1902, it's a turn-of-the-century building that was a combination spa and pump room.
Now it's a cultural centre, showing various exhibitions.
Walk on in – the reception hall is still eye catching, with graceful statues of white Poitiers stone and period paintings of spa-loving nymphs.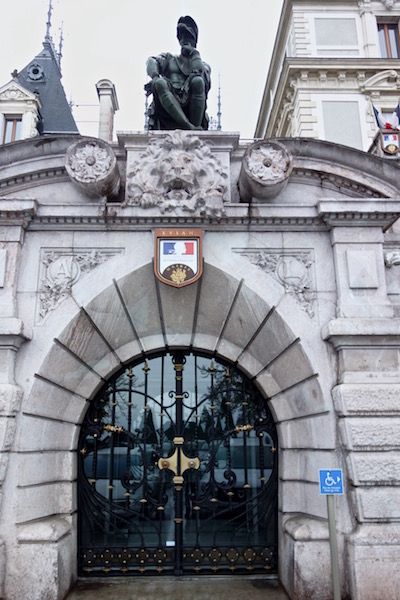 9. Walk By to the Villa Lumière
The Villa Lumière on Rue de la Source de Clermont was the summer home of a wealthy industrialist, Antoine Lumière. Today it's the Town Hall.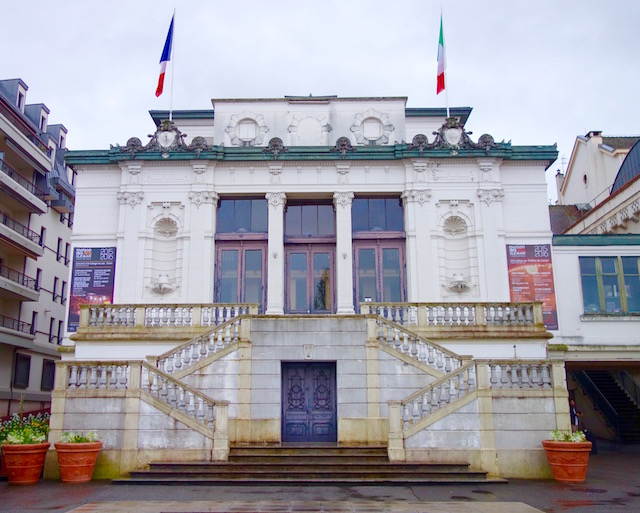 10. Check out the Theatre
The Theatre of Evian-les-Bains is a striking building with fluted columns and a row of lion heads on the cornice.
Attached to the Casino on Quai Besson, and built between 1883 and 1885, it's still running so if you're in Evian overnight, you might be able to catch a performance.
11. Shop and Stroll Through Town
The Rue Nationale is Evian's main commercial street, and the shopping is, er, okay.
Check out some backstreets, such as the tiny Passage de Bonbonnes – because any street named after bon bons has to be worthy of your time.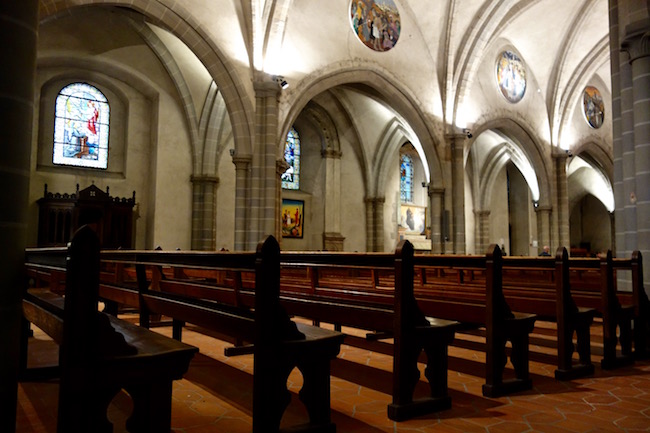 12. Visit Notre-Dame de l'Assomption
To complete your Evian walking tour, you could visit the church.
It was evening and pouring rain when I found my way to the medieval Notre-Dame de l'Assomption.
It might not look like much from the outside, but the interior – if you like stout medieval pillars and that grey gloomy beauty so many 13th-century churches have – is quite glorious.
A Choir of Angels
As I walked in I was immediately hit by a warm blast of incense and beautiful cooing high notes. The choir was practicing.
I wasn't sure if I was allowed to be in there, so I tucked myself behind a pillar and sat all warm and cozy, looking at the early Savoy Gothic architecture while a serenade of angels sang just for me.
It was practically a mystical experience, and would have been a 100% mystical experience if I hadn't been planning to go next to the Casino, which seemed to take the tone down a bit.
13. Try Your Luck at the Evian Casino
Back out in the rain, I managed to miss the 19th-century Casino. This is a rare feat as not only is the Casino the biggest landmark in Evian-les-Bains, it's right next door to the church.
Originally set in a 17th-century castle owned by the Baron Louis Ennemont, it was rebuilt in 1912.
🌿 Travel Tip: To visit the casino in Evian you need to be over 18 and have your passport with you.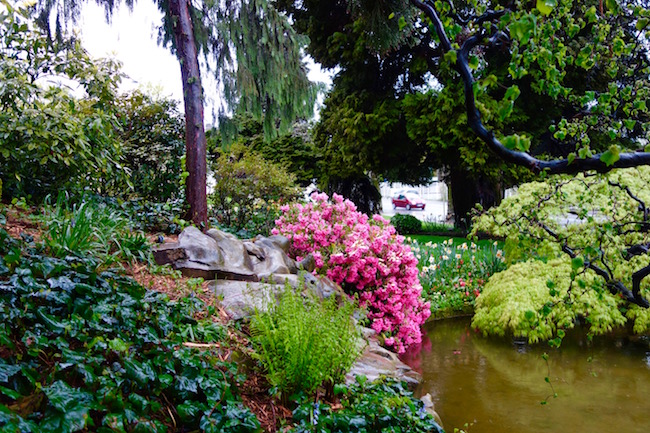 14. Seek Out the Japanese Gardens
If I hadn't gone the wrong way, however, I wouldn't have stumbled on the tiny Japanese Gardens.
It isn't even on the tear drop raindrop map, but was a tumble of pink blossoms on bright green bushes and very atmospheric in the rain – so you see, there is a reason to do an erratic One Day in Evian-les-Bains tour, because you never know what you might see.
Travel Tips for Evian France
Evian Hotels
Evian is a holiday resort town so there are a lot of hotels. If a day trip to Evian isn't enough, here are a few properties that will give you an idea of where to stay.
Affordable and on the Water – Hotel les Cygnes
With old-fashioned charm, a quirky appeal and an outdoor pool, the 3-star Hotel Les Cygnes was built in 1926 and has a prime waterfront location.
Address: Hotel Les Cygnes, 8 Avenue de Grande Rive, 74500 Évian-les-Bains, France.
Check prices and availability for the Hotel les Cygnes here.
Affordable and Central – Savoy Hôtel Evian
Located on Lac Leman (Lake Geneva) near the casino, this is another traditional hotel and a popular 3-star option.
Address: Savoy Hôtel Evian, 17 Quai Charles Albert Besson, 74500 Évian-les-Bains, France.
Check prices and availability for the Savoy here.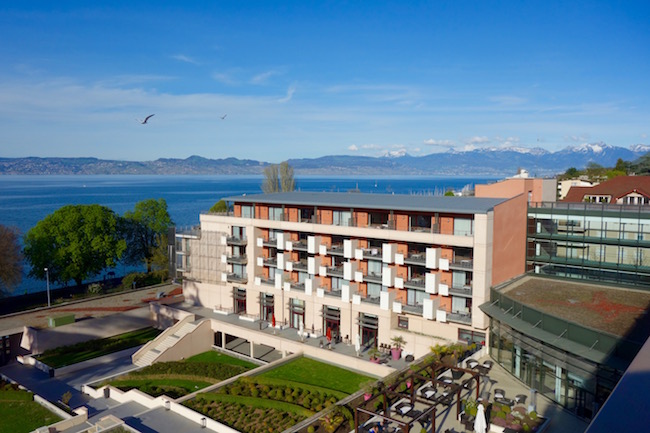 Chic and Stylish – Hilton Evian-les-Bains
I really enjoyed my stay here. The price was slightly higher than mid range, the decor contemporary and the location terrific, close to the ferry for trips to Switzerland. It's very central. Read my full Hilton Evian review.
Address: Hilton Evian-les-Bains, Quai Paul Léger, 74500 Évian-les-Bains, France
Check prices and availability here.
Luxury – the Hotel Royal Evian Resort
The Royal was the top hotel in Evian-les-Bains when it was built and it's the most luxurious hotel in town today. High on the hill, with spacious grounds, it's not so handy if you want to be in the center of town, but the views are unbeatable and it's a member of the Leading Hotels in the World.
If you're staying at the Royal and you don't have a car, you'll need to get their hotel shuttle, or a taxi, or walk or take the funicular.
Its restaurant Les Fresques has a Michelin star, and there is a glamorous Belle Epoque feel throughout the hotel.
Address: Hotel Royal, 13 Avenue des Mateirons, 74500 Évian-les-Bains, France.
Check prices and availability for the Royal Hotel Evian Resort here.
Family Friendly – Hotel Ermitage
A not-quite-so-grand sister to the Hotel Royal, but still deluxe, the 4-star Hotel Ermitage also has a lofty position above Lake Geneva and above the town. With a lot of kid-friendly activities it's a popular hotel option for families on vacation.
Hotel facilities include an indoor and outdoor pool and a spa.
Address: Hotel Ermitage, 1230 Avenue du Léman, 74500 Évian-les-Bains, France.
Check prices and availability for the Ermitage Hotel here.
How to get to Evian-les-Bains
Evian has a small train station, or you can take a 35-minute ferry ride from Lausanne. The ferry terminal is at the Place de Port in Evian-les-Bains and very central.
Geneva to Evian France: Surprisingly, it's not that easy to get to Evian-les-Bains from Geneva by train, as transportation on the south French side of Lake Geneva is not as developed as on the Swiss side.
Conceivably you could get from Geneva to Evian-les-Bains via Bellegarde. If you don't have too much luggage, it might be easier to go from Geneva to Lausanne and take the ferry from there. You can also hire private shuttles from the Geneva airport.
For the ferry schedule from Lausanne to Evian-les-Bains visit the CGN website. Ferries go nearly every hour during the day.
By car from Geneva, Evian-les-Bains is about 1 hour and 20 minutes.
Paris to Evian: From Paris Gare de Lyon to Evian-les-Bains by train takes between 4 and 5 hours but you'll need to change in Lyon part Dieu or Bellgarde or both.
Lyon to Evian: You can get a train direct from Lyon to Evian-les-Bains. If you're visiting Lyon read my article about Things to do in Lyon.
Evian Restaurants
Dining is a key part of any trip to France so here are some restaurant options.
Le Muratore
Le Muratore is a culinary bistro serving fresh local fish and Savoy specialties and opened back in 1870. It also does takeaway meals. Located downtown at 8 Place du Dr Jean Bernex. Reservations recommended.
Au Jardin d'Eden
Au Jardin d'Eden at 1 Avenue Général Dupas is a chef-driven restaurant with a small terrace that prides itself on local cuisine created with fresh ingredients.
Les Fresques
With a Michelin star and a seductive location in the Hotel Royal at the top of the hill, Les Fresques offers expansive views, a glamorous atmosphere and signature dishes such as foie gras mini ravioli, and perch fillets from Lake Geneva.
Dress code in effect.
La Verniaz
Farther afield, another restaurant in the hills is La Verniaz, which offers classic cuisine in a century-old hotel overlooking Lake Geneva. Address is: 1404 Avenue du Léman – Neuvecelle 74500, Evian-les-Bains
Day Trips from Evian
There are so many places to visit around Lake Geneva you can run yourself ragged, especially on the Swiss side. Lausanne is right across the lake. From Lausanne, Vevey and Montreux are a short train ride away.
You can do a day trip to Chaplin's World in Vevey or Chillon Castle, the most visited historic attraction in Switzerland.
I also travelled to the Swiss spa town of Yverdon-les-Bains for a day.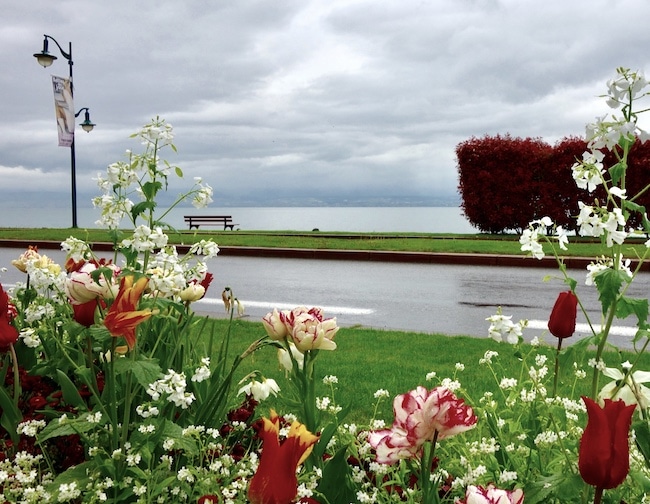 Evian Les Bains Spas
Evian's Spa History
Evian's spa history dates back to 1789, but it was during the 1800s that things really got rolling. Over the decades it has drawn many aristocratic guests such as the British kings George V and Edward VII, and Egypt's King Farouk, and still attracts spa fans today.
I signed myself up for a full-on spa 'cure' package that revolved around mineral baths of Evian water, massage and other treatments. Going to the spa in France can be confusing because there are medical elements and pampering elements and you need to separate the two, so follow my tips below.
There are three main places to spa in Evian, but only one spa offers treatments with the famous Evian water. (Learn about different types of spas.)
Evian Les Thermes – the Only Spa with Thermal Water
For thermal spa treatments and Evian baths, you need to go to Evian Les Thermes, a modern spa facility just up from the Quai, and very near the Hilton. You can do a 20-minute visit to the indoor mineral pool for €26.
You can also sign up for a more medical spa 'cure' package but you have to really beg. At least I did. Still, if you want your fill of 'Cataplasms' – another word for mud packs – and Underwater Showers complete with 'veino-lymphatic drainage and analgesic actions,' you'll have to persevere.
How to Do a Spa Cure at Evian Les Thermes with Mineral Water
Generally you need to see a spa doctor to sign up for a multi-day spa package and it's really geared more towards French citizens.
More tailored to visitors and tourists are single treatments or relaxation packages. I'd advise you to book ahead. The website is in French but they speak English. Use Google Translate to read the website or email the spa directly at [email protected].
Evian Les Thermes (The Baths of Evian) are located at Place de la libération B.P. 8 – 74501 Evian-les-Bains.
The Spa at the 5-star Hôtel Royal
This is more like a luxury hotel spa you'd find in North American, with the addition of buckets of French elegance.
The Spa at the Hôtel Royal, the ritzy hotel at the top of the hill, is a top-of-the-line spa with 24 treatment rooms, a relaxation room, both an indoor and outdoor pool, an outdoor hydro-circuit, jacuzzis, sauna, steam room and cold pool.
If you're after a 5-star wellness vacation in Evian, this is the best – and most expensive – option.
Address: The Hotel Royal is located at 13 Avenue des Mateirons, 74500 Évian-les-Bains.
The Taaj Spa at the Hilton Evian-les-Bains
The spa at the Hilton Evian-les-Bains is called the Spa-Ayurveda TAAJ and has an eastern inspiration. The facilities are chic and hip. There is an outdoor pool in season, an indoor pool, a relaxation room, hammam, fitness room and sauna.
Note: If you're not staying at the hotel, you can do a treatment with access to the hammam and the relaxation room, but you won't have access to the indoor relaxation pool, outdoor pool or fitness center. I'd advise checking beforehand as rules change.
If you are a guest, you can use the facilities for 20€ unless you're in a superior room, then it's free.
For more information on France visit the France Tourism website Atout France.
For more travel ideas visit Places in Europe to Visit.
If you're thinking of visiting the South of France read What to do in the South of France.