This post may contain affiliate links.
If you're wondering what to do in Lyon, search no more. Follow this itinerary (at least the good bits) and you'll get a great overview of France's famed food city.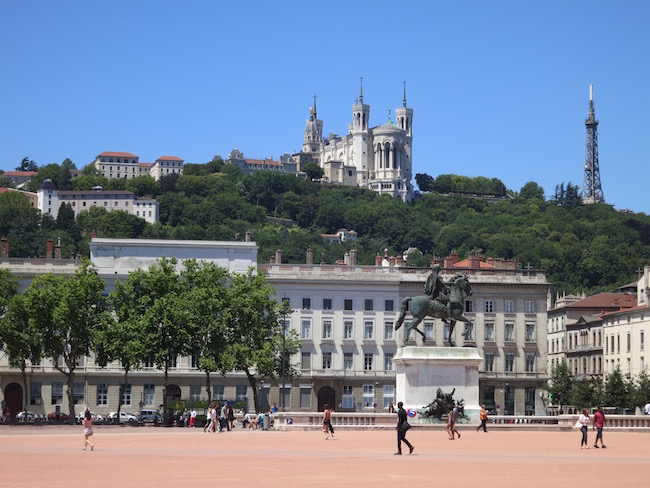 What To Do in Lyon – Let the Fun Begin
"You're so dumb." My husband grinned as I squeezed a blob of foam out of my hair. "Don't you know that when you see a group of teenagers you go around them?"
"They were on the path," I replied as haughtily as one can when wiping white bubbles off her forehead. "How was I to know I was cycling into a foam war?"
Mark was too busy laughing to listen to my reasoning. But I had to admit he was right.
If you see a group of students and a lot of foam flying around the Parc de la Tête d'Or – the largest park in Lyon, France, take a detour.
But don't miss the park. It's one of the top places to visit in Lyon if you like green space and museums.
Visiting Lyon
A top destination in France for cuisine, culture and attractions, France's second largest city (or third, depending on who shouts louder, Marseille or Lyon), is loaded with attractions.
The gastronomical capital of France, it's a city that has everything a traveler could want – rich history, stunning architecture, and of course, mouth-watering cuisine.
With its charming Old Town, winding cobblestone streets, and vibrant cultural scene, it's an ideal destination for those seeking a true taste of French culture.
And if you happen to be a foodie, prepare to be blown away by the city's delectable culinary offerings – from the traditional Lyonnaise bouchons to the city's celebrated Michelin-starred restaurants.
Best Things To Do in Lyon
From top sights like Fourvière Hill and the Renaissance Old Quarter to fascinating legends and tantalizing markets, this guide should help you get a start on exploring this stylish ancient city that founded by the Romans back in 43 BC.
You don't need to follow this itinerary in order. In fact you'll probably want to do the Old Town first, but all these things to do in Lyon can be easily done in one or two days.
1. Visit the Golden Head Park – the Parc de la Tête d'Or
The above-mentioned Parc de la Tête d'Or, or 'Golden Head Park' is one of Lyon's most oxygen-filled attractions. In fact it's the largest urban park in France.
Opened in 1856, this 290-acre park is home to a lake, some 30,000 rose bushes, tropical greenhouses, a zoo, statues and, of course, the requisite stately trees.
2. Discover the Legend of the Golden Head
Exactly why, you may wonder, if you're visiting the Parc de la Tête d'Or, is it named after a golden head?
Let me tell you. The story is that centuries ago the Crusaders buried a golden head of Christ here. (Obviously before the park was officially in existence.)
It's never been found so keep an eye out. Finding a gleaming golden head would be the discovery of the century.
Getting to the Parc de la Tête d'Or
We walked from Lyon city centre. It's northeast, about a 15-minute walk. You could also take a taxi.
Address: Place General Leclerc 69006
3. See the Museum of Contemporary Art of Lyon
Since you're up at the Parc de la Tête d'Or anyway, make a stop at the adjacent Musée d'Art Contemporain de Lyon.
Dedicated to temporary exhibitions, it's a great way to tap into the modern vibe of Lyon.
Bonus: it also has a cafe where you can sit and enjoy the view of the park. (And clean toilets. Whoot!)
Address: The Museum of Contemporary Art of Lyon is located at Cité Internationale; 81, quai Charles de Gaulle. 69006.
4. Visit Old Lyon – Vieux Lyon
If you're wondering what to do in Lyon history-wise, head to the medieval Old Town of Lyon.
Lyon's Old Town, also known as Vieux Lyon, is a wonderful twist of winding cobblestone streets, charming courtyards, and picturesque Renaissance architecture.
It's the kind of place where you can lose yourself for hours, stumbling upon hidden alleyways and quaint cafes, ice cream shops and boutiques.
If you're a history buff, the Old Town has a trove of stories, with its centuries-old buildings and monuments that tell the tale of Lyon's rich past as a center for silk production.
5. Don't miss the Cathedral Saint Jean Baptiste
A key place to visit in Vieux Lyon is the Cathedral Saint Jean Baptiste.
Completed in the 15th century, but started in the 12th century and taking some 300 years to build, the Cathedral Saint Jean Baptiste is on the UNESCO World Heritage List.
(Mind you, a full 10% of Lyon is a UNESCO World Heritage Site, reason enough to visit.)
The Cathedral is a mix of Romanesque and Gothic architecture, and has spectacular stained glass – particularly the rose window.
Also of note is its rare Astronomical Clock that dates back to the 1300s.
Address: 8 place Saint-Jean 69005
6. Seek Out the Traboules
Honestly, exploring traboules are one of the most fun things to do in Lyon.
What's a traboule, you ask?
It's a shortcut, like a secret narrow passage (which really isn't all that secret because you can get a brochure about traboules at the tourist office).
Traboules cut through various buildings in Old Lyon and in Croix-Rousse, the historic silk weavers' neighbourhood.
How Do I Find Traboules in Lyon?
Here's a couple to start you off. The longest traboule in Lyon runs between 54 Rue Saint-Jean and 27 Rue du Boeuf, and cuts through three courtyards and four buildings.
There's another winding one at 9 Place Colbert.
Altogether there are hundreds of traboules, though many are closed to the public.
Why Do Traboules Exist?
Quick history lesson: Lyon was a major centre for the silk trade. Traboules gave silk workers, also known as canuts, quick and easy passage to the town wells.
Why they had to be 'secret' I'm not sure, and I guess they're not really, but you'd never see them if you didn't know they were there, and I'm sure they came in handy when the underpaid canuts staged large scale revolts in the 1830s.
The Canut Revolts of Lyon
The Canut Revolts were brutally suppressed, with thousands of arrests and hundreds of deaths, but their motto "live free working or die fighting" inspired other workers for years to come.
Traboule Tours
The City of Lyon offers two traboule walking tours, an Old Lyon Renaissance District and its Traboules Tour and a Traboules of the Croix Rousse Hill and the Silk Printing Workshop Tour.
7. Take the Funicular Up to Fourvière Hill
From the Old Town of Lyon (or anywhere else in the city) you can hardly miss the large hill looming overhead. This is Fourvière Hill, the 'Praying Hill,' so called because of the mammoth basilica that sits on top of it.
Back in 43 BCE, Fourvière was the Roman settlement of Lugdunum. These are the origins of Lyon, though there are traces of inhabitants in the area that go right back to Neolithic times.
You can catch the Fourvière funicular from the Vieux-Lyon – Cathédrale de Saint-Jean Station. The funicular started running in 1900 and still works well today, so enjoy the 2-minute ride.
8. Visit the Basilica Notre-Dame de Fourvière
The mighty (and mighty impressive) Basilica Notre-Dame de Fourvière built in the 1800s, was erected over the site of the old Roman forum.
Compared to Lyon's many Renaissance buildings, it's just a newborn, but it's one of the most striking landmarks in Lyon, and it's not hard to see why.
Overlooking the city, it has a stunning neo-Byzantine facade and the interior is a world of glittering gold, soaring arches and intricate mosaics.
But the Basilica Notre-Dame de Fourvière isn't just a feast for the eyes – it's a place of pilgrimage, with some 2.5 million visitors a year coming to pay their respects to the Virgin Mary, to whom the basilica is dedicated.
On a clear day, you'll be rewarded with sweeping views of the city below, stretching out to the horizon in a sea of red-tiled roofs and green trees.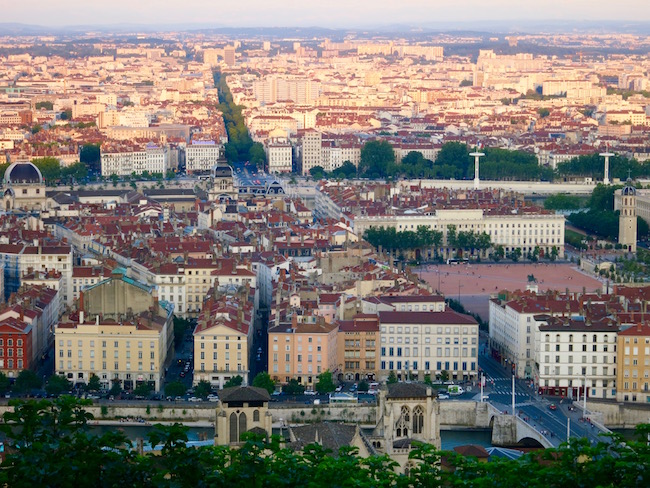 9. Give a Glance to the Metallic Tower of Fourvière
While you're up on Fourvière Hill, in addition to Roman ruins and the basilica, you may notice the Eiffel Tower.
Only in Lyon it's called the Tour Métallique de Fourvière, the Metallic Tower of Fourvière, and was built three years after the real Eiffel Tower.
Because it's perched high on the hill it is, according to the good people of Lyon, higher than the Eiffel Tower at 372 metres. (Even though it's actually 85.9 metres tall.)
10. Walk Down Fourvière Hill
Getting up Fourvière Hill by funicular is, of course, ever so enjoyable, but if you're looking for active things to do in Lyon I highly recommend you walk down. It's especially lovely at sunset, because the path is lovely and romantic.
It's quite a long walk with a lot of steps, so if you have mobility issues, this is one activity to skip.
The Things You Learn When Travelling
It's while walking down Fourvière Hill I learned my husband is attractive. (I mean, obviously I suspected it before, but I thought it might have been just my opinion.)
I learned he was attractive because an American girl kept giving him the eye all the way down the hill (until I finally managed to lose her).
After that incident I kept an eagle eye out, and to my great indignation I noticed that many women in Lyon were giving my husband the whole double glance thing.
As you can imagine, once I pointed it out my husband began to really like Lyon.
Until the boat cruise.
11. River Cruises in Lyon
Depending on who you ask, taking a river cruise can be a delightful way to explore Lyon or the worst tourist outing ever. So listen and learn.
It was a brilliantly sunny day when Mark and I boarded the boat, and seats were filling up fast.
I didn't see two seats together so I grabbed an aisle seat near the front of the boat and motioned frantically at Mark to take the opposite aisle seat one row behind.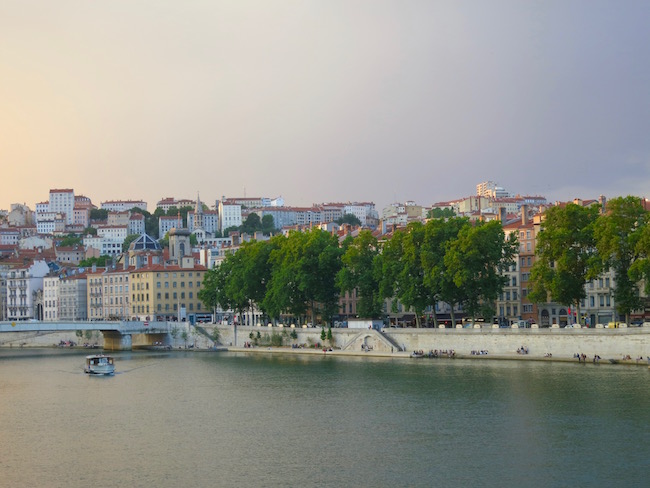 My husband Never Listens
To this day Mark swears he didn't bypass the seat just because I told him to sit there. (Ahem.) Whatever his reasoning he waltzed on by and I lost him in the crush of sightseers.
As the boat sailed off I was able to catch the fresh breeze from the open door at the front of the boat, listen to the commentary and hop up to go to the outside deck at the back.
Then I saw my husband. He was squished into a window seat, unable to get out because of the two substantially-sized women with walkers who had wedged him in.
The sun was pouring in through the windows, the rays seemed to be focused directly on him. Sweat was dripping down his forehead, and he gave me the most forlorn look you can imagine on a 6'3″ tall man.
My initial reaction was pity. Then I remembered him laughing at the me during the infamous foam incident at the Parc de la Tête d'Or and felt a wee bit of satisfaction in thinking, "You're so dumb."
Boat cruises: There are a few different options for cruises. We did a one-hour Confluence Cruise, which explores both the Saône and the Rhone Rivers.
Catch the boat at the Célestins Quay, near Bellecour. They're popular, so line up early. (And I still say they're one of the best things to do in Lyon.)
12. Head to Les Halles Paul Bocuse Market to Graze
Finally, to cheer your husband up, you should eat.
Les Halles de Lyon Paul Bocuse Market is a food lover's paradise – a veritable wonderland of culinary delights that will leave you salivating at the mere sight of it.
As you wander through the stalls, you'll be greeted by a dizzying array of fresh produce, artisanal cheeses, charcuterie, and baked goods, all of which are sure to make your taste buds sing with happiness.
And if you're a meat lover (and it helps to be one in Lyon), the selection of meats at Les Halles is second to none. From succulent steaks to juicy sausages you'll find everything you need to satisfy your carnivorous cravings. Or, at least your carnivore-loving husband will.
Location: Les Halles is a 5 minute walk from Part-Dieu Train Station at the intersection of streets Garibaldi, Lafayette and Bonnel. 102 cours Lafayette. 69003.
Travel guide for Lyon
First, visit the Lyon Tourism Office on the southeast corner of Place Bellecour. Mark and I rented headsets with an audioguide there, which we then had to return, which was a bit of a pain but the headsets are great way to get a tour at your own pace.
What to do in Lyon and how to do it
How to rent a bike in Lyon: We rented Velos. They're cheap, handy and a great way to explore (until you panic because you're tired and there's too much traffic and you can't find a station to return the bike to so your husband has to forge ahead, find the station, return his bike then come back to get yours. PS: That only happened once.) You can buy either a 1-day ticket or a 7-day ticket.
What is the best time to visit France? With its exciting food scene, Lyon is a year round destination.
Lyon Hotels – where to stay
We stayed at the Hotel Carlton Lyon, which my husband adored because of its old-fashioned cage elevator and modern-meets-old-world-ish charm.
I spent most of my time wishing I'd booked us into the Hotel le Royal Lyon instead, until we finally went there for a drink then I decided I preferred the Hotel Carlton after all.
About the Hotel Carlton – Built in 1894, it's centrally located between the Rhône and Saône rivers, near some good shopping areas. It's quite elegant, with a Haussmann facade and forged iron balconies. Rooms start around $200. Location: 4 rue Jussieu 69002 – Lyon, France.
Also looking very grand, and ideally located in Lyon's Old Town (but out of our price range) was the Cour des Loges 2,4,6,8 rue du Boeuf, 69005, Lyon, France.
Where to eat in Lyon
Most tourists go to Lyon for the cuisine. If it's food you're after, visit my Restaurants in Lyon blog post.
Getting to Lyon
Canada to Lyon: With Lyon becoming the place to visit in France, kudos to Air Canada to start flying direct from Montreal 5 times a week. If you're flying from Toronto you'll have to change planes in Montreal. Flights start June 16, 2016, but you can book now. Visit the Air Canada website for prices and bookings.
Paris to Lyon: You can get to Lyon in two hours by train from Paris.
More about travelling to Lyon and France
For more info on what to do in Lyon and where to go in France visit the France Tourism website Atout France, and Only Lyon, the city of Lyon's website.
For more places to visit in Europe visit my travel blog post Places in Europe You Should See.
If you're thinking of visiting the South of France read Things to do in the South of France or visit my France Travel category page.