This post may contain affiliate links.
There are plenty of things to do in Narbonne, France. This appealing city of 50,000 in the Languedoc Roussillon region of southern France has a Roman heritage, a 13th-century Archbishop's Palace and makes a great day trip if you're cruising on the Canal du Midi.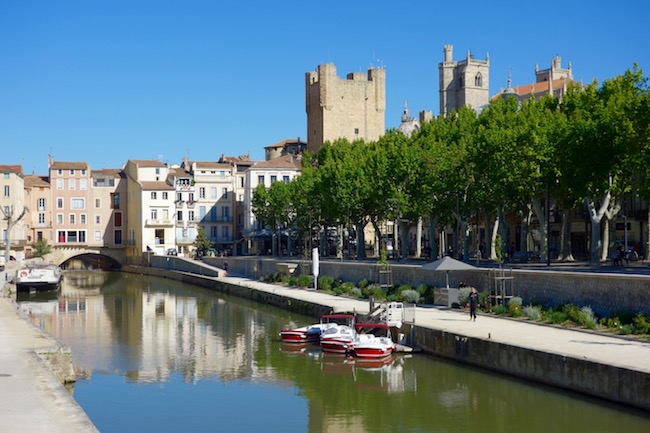 Narbonne day trip
There's no way you can see everything when you travel so why do I feel like my day trip to Narbonne is a failure? I have unfinished business here, that's why! You probably will, too. While a visit to Narbonne isn't on everyone's France travel itinerary, this attractive city in the Languedoc Roussillon region has a surprising amount to see.
Why Narbonne will confuse you
So let's get to all the wonderful things to do in Narbonne. This is a city of layers that go back (at least) to the Romans in 118 BCE, and you can never be sure what level you're at. You think you're at street level then you look down and there's a chunk of the Via Domitia, an excavated section of an ancient Roman road, at least six feet below.
Stand on the Via Domitia
The Via Domitia was the first Roman road in France (except that France didn't exist yet) and was built to connect Rome to Spain.
You can go right down and stand on the Via Domitia (or take it a step further and sit yourself down because how many times in your life can you sit on a 2,000 year old Roman road and not be run over by a chariot?). Go ahead. Feel the grooves in the stone worn by centuries of wheels.
I could have happily sat here for hours but I was visiting Narbonne with a group from our hotel barge, the Athos, on a cruise down the Canal du Midi, and people were starting to look at me oddly.
Explore Roman history in Narbonne
Back when Narbonne was the capital of the province of Gallia Narbonensis, and the first Roman colony in France, it was an important port.
Then Rome fell, and in the 14th century the Aude River silted up, the Christians expelled the Jews (which really screwed things up as they lost loads of important tradesmen) and the plague came and, oh yes, the Black Prince invaded and things went downhill from there, but never mind – let's get back to the Romans.
Where to see Roman Narbonne
Most Roman sights in Narbonne and central. You can find Roman artifacts in the Archeological Museum; in the Horreum, an ancient underground warehouse; and in the deconsecrated Notre-Dame-de-Lamourguier Church, which is filled with 2,000 Roman stone blocks.
I immediately put the church-filled-with-blocks on my list of things to do in Narbonne because I couldn't imagine what it must look like. I'd heard of churches built over Roman ruins but never one filled up with them and thought it was an interesting twist on history.
Don't miss the Merchan'ts Bridge
I could have sworn I was on a shopping street paved with pink marble then Matthieu, our guide from the Athos, told our little group we were actually on the Merchants Bridge that crosses the Canal de la Robine, a flower-lined canal that bisects the city.
(And it wasn't until I walked north and saw the bridge from a distance that I truly believed him.)
The Merchants Bridge connects the west bank to the main square, the Place de l'Hotel de Ville, which is a wonderful place to start your Narbonne tour.
The Place de l'Hotel de Ville
Narbonne had a real heyday in the 13th century. Today, the facade of the Archbishop's Palace still lords over the Place de l'Hotel de Ville just like the archbishop Gilles Aycelin himself must have done when he ruled over the region in the late 1200s.
On one side of the palace is a fierce-looking defensive tower, the Donjon Gilles Aycelin. In those times the church was the super power of the region, and not above a fight or two to defend itself.
Visit the Archbishop's Palace
I don't want to be impolite but the Archbishop's Palace is a rambling mass of confusion (though very eye catching). It houses the Donjon, two museums, the Jardins des Archeveques (Archeological Gardens) and somehow also manages to be the entrance to the half-built gem of the city, the imposing Cathedral of St-Just and St-Pasteur, which is one of the top things to see in Narbonne.
Saint-Just and Saint-Pasteur Cathedral of Narbonne
The Saint-Just and Saint-Pasteur Cathedral was built in a pure Gothic style, and once you're inside you'll be struck dumb by the high vaulted ceilings, higher even than the vaulted ceilings of Paris's Notre-Dame.
The problem with Narbonne Cathedral
There's only one small issue: The cathedral has no tail (officially known as a nave). Not only was money an issue, but to build the lengthy nave as planned Narbonne's fortified wall behind it would have had to be knocked down, and with invasions and what not, it was decided the plans for the nave should be abandoned.
(I did wonder why they didn't think of this before they spent 50 years building the cathedral, but of course I don't understand urban planning.)
Exploring Narbonne Cathedral
Stumpy or not, The Saint-Just and Saint-Pasteur Cathedral has one of the most glorious interiors you can imagine, with a mammoth organ that reaches practically to heaven, wonderful Gobelin and Aubusson tapestries, and a rare and superb, yet very battered, 14th-century retable, which is sort of like a relief, and in its centre is an alabaster statue of Our Lady of Bethlehem.
The mystery of the Retable
The retable of the Saint-Just and Saint-Pasteur Cathedral was lost for centuries and in the 1950s it was found behind a wall of stucco. This just goes to show there's a upside side to losing things. They might be even more valuable and rare when you find them, which should be a huge relief to people who lose their keys on a daily basis.
Also very serene is the cloister, even though all the statues have their heads hacked off or faces battered in as a result of the French Revolution. The cloister was built, Matthieu says, as a consolation prize to the archbishop for not getting his nave.
More things to do in Narbonne
After our Narbonne guided tour I still had things I wanted to see, so I headed toward Notre-Dame-de-Lamourguier. This, you may remember, is the deconsecrated church full of stones. However the bridge that masquerades as a pink-marble street, the Merechant's Bridge, lured me into its shops and I had difficulty extricating myself.
Note: Shopping is Narbonne is excellent.
Narbonne Market
By the time I finished shopping, I had to hurry to the historic covered market of Narbonne, Les Halles, to meet our group for lunch, so I didn't get to the cathedral. Matthieu had promised that the meal, while simple, was to be served in a unique and riveting manner. The only clue he would give was that the restaurant is owned by a famous former rugby player, Gilles Belzons.
I'll eat fast, I thought, because no matter how riveting the meal, how can it be more riveting than a church filled with stones?
Restaurant Chez Bebelle
I found Chez Bebelle in the bustling market and saw our group sitting on stools at a table. I heard a loud whistle and a package of meat came flying through the air. A tall muscular man behind the counter whipped his arm up over his head and caught it, which is indeed a unique and riveting way of serving food and one of the main draws of Narbonne Market.
Here's how Chez Bebelle works
It's has to be one of the most fun places to eat in Narbonne. When someone orders horse meat (I didn't create the menu, I'm just telling you what's on it) or beef or duck, Gilles shouts the order out to the horse butcher or the beef butcher, or whistles to the duck merchant (whose booth is around the corner and therefore out of sight). Then the butcher lobs a package of meat back at him.
Gilles never missed, and packages came whizzing through the air nonstop.
I meant to hurry through the meal but it was too entertaining, and then I needed a photo with the butcher and with Gilles, the famous rugby player, and then I decided I needed an autographed paper placement, too. It was only when I looked at my watch and remembered that I wanted to see the 2,000 Roman stones that I started to panic.
Notre-Dame-de-Lamourguier
While Mattieu settled the bill, I raced over to Notre-Dame-de-Lamourguier practically with my hands in the air, and well, I couldn't find the door. I ran around three sides of the large building, but of course it must have been on the fourth side. I'd run out of time, however, and would have to leave without completing my tour.
Clearly, there are too many things to do in Narbonne and I wished my day trip could have been longer.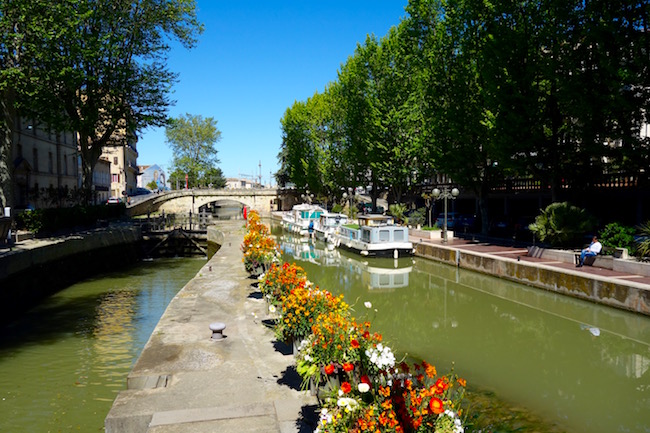 Unfinished business
As I sat in the van on the way back to the Athos, Matthieu and I talked about the stunning Narbonne Cathedral that was never completed.
"It wouldn't be the same if it was finished," he said. "It would be still be beautiful, of course, but because it's not finished it makes the story."
Maybe it's the same for sightseeing, I thought. Maybe it doesn't matter if you don't see everything, because you can't see everything in a day trip to Narbonne, and sometimes the unfinished stories are the best.
Travel Guide for Narbonne
On the horizon for Roman Narbonne: In the planning stages is a large Roman Museum designed to put Narbonne on the Roman tourist trail in France – look for it to open in 2020.
Where to eat in Narbonne
If you're a meat eater the Restaurant Chez Bebelle is an affordable and fun way to eat lunch during your Narbonne day trip. The menu is pretty much beef steak, horse, chicken or duck and ranges from €11 to €19.
Cultural sights and more things to do in Narbonne
Both the Archeological Museum and the Art and History Museum are located in the Archbishop's Palace. So is the Narbonne Cathedral.
The Horreum Museum at 7, rue Rouget de Lisle, is a prime example of Gallo-Roman underground warehouses.
Notre-Dame-de-Lamourguier, the church of 2,000 Roman stones, is behind the covered market. If you visit, send me a photo of the stones.
Visit the Abbaye Fontfroide – Sofie at WunderfulWanderings.com has an excellent post about this historic abbey that dates back to the 11th century.
Barging
The Canal de la Robine in Narbonne is an off-shoot of  the Canal du Midi, which is a mecca for barge trips. I cruised on the Athos du Midi, a first class hotel barge and this was a day trip. Read about my 6-night trip Canal du Midi cruise on the Athos.
Getting to Narbonne
While barging and boating are popular ways to travel in the region, Narbonne is also on the train line and lies between Perpignon and Beziers. It's a 50-minute high speed train ride from Montpellier on the TGV, and 15 km from the Mediterranean. You can also get here by train from Barcelona or Avignon. A TGV train from Paris gets you to Narbonne in less than five hours.
Narbonne Plage
Don't show up in the city of Narbonne wearing a bikini. The beach, Narbonne Plage, is not right in town but about 15 km away and is a popular seaside resort.
Another great day trip from the Canal du Midi in the Languedoc region is Pezenas. Read: What to do in Pezenas, France.
Learn more:
For more info on France visit the official French Tourism website.
Read more Europe travel blog posts: Top European destinations to visit or What to do in the South of France.