This post may contain affiliate links.
Pezenas is a honey-hued town in the Languedoc-Roussillon region of the South of France. Once considered the Versailles of Languedoc, it's filled with historic mansions, winding lanes and one-of-a-kind shops – and if you're wondering what to do in Pezenas, France, you can follow the Moliere trail.
Pezenas, France – the Moliere town
"Pezenas is the Moliere town," said our guide, Matthieu, as our group from the Athos barge cruise stood in front of the Moliere Brasserie, just down from the closed-for-renovations Moliere Hotel. "They say if you stand still long enough in Pezenas, someone will hang a Moliere sign around your neck."
Who was Moliere?
France's answer to Shakespeare, Jean-Baptiste Molière was a 17th-century playwright and actor who excelled at comedy and farce – and wasn't above poking fun at society or the church, to their horror.
Moliere in Pezenas
While Moliere only spent three summers in Pezenas, the town is inordinately proud of this connection. This is despite the fact that Moliere was, for all intents and purposes, chased out of town after his patron, the licentious Prince of Conti, who was also the governor of Languedoc, turned to religion.
(Some say the Prince turned to religion after he contracted syphilis from a courtesan, but of course I wouldn't want to pass on unconfirmed gossip like that.)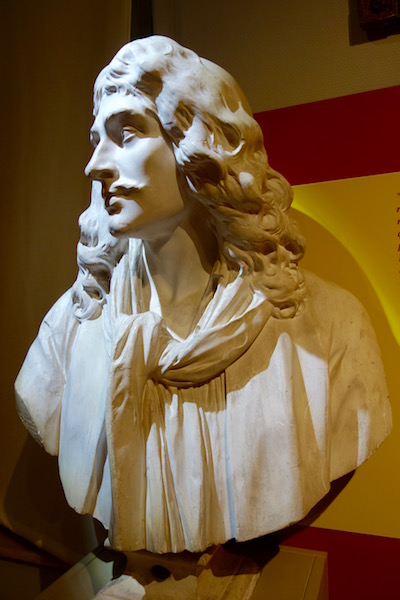 Following the Moliere-in-Pezenas Trail
If you're wondering what to do in Pezenas, you can't go wrong with a self-guided Moliere tour, a tour, I hasten to add, of my own creation. I decided to check out as many Moliere sites as I could because I'd read Dr Faustus in university, and it affected me deeply.
Scenovision Molière
My first stop after Matthieu's tour was the Tourism Office to see the Scenovision Molière, an interactive multi-media show of the playwright's life.
"The first one doesn't run until 2 p.m. today," said the very nice man behind the counter.
Rats, I thought. By then I'd be leaving town. Oh, well. There are plenty of other Moliere sights to see in Pezenas, and searching for them would give me a chance to explore the town in more depth.
Exploring Pezenas
Pezenas is a wonderful town to wander in, full of cobbled lanes, atmospheric old doors and wrought iron balconies. The highlight, however, are the elegant medieval mansions called hôtel particuliers.
We interrupt this Moliere in Pezenas broadcast to talk about hotel particuliers
Hotel particuliers are not hotels, but they are particularly interesting, especially in Pezenas, which was once the capital of the Languedoc region and therefore very wealthy.
You can walk on into the courtyards. One not to miss is the Hôtel de Lacoste at 8, rue François-Oustrin, where the medieval arches and 17th-century carved stone staircase are so atmospheric I half expected unicorns and troubadours to glide out of the shadows.
Moliere at the Hotel d'Alfonce
At another hotel particulier, the Hotel d'Alfonce on rue Conti, Moliere debuted his play Le Médecin Volant (The Flying Doctor) for the Prince of Conti in 1655. Of course this was before the Prince, and I quote from my tourist brochure, 'turned to bigotry.'
The Moliere Monument
Next I aimed for the river where, according to my map, the Moliere Monument sits on a grassy riverside promenade. I ended up on a bridge looking down at a dry cement bed.
"Er, where's the river?" I asked a young woman passing by. "Ou est la rivière?"
She said something in French then switched to English. "There was innovation. You understand innovation? And then it became dangerous, you know?"
"Ah," I said, nodding as if I understood anything at all. "I'm searching for the Moliere Monument."
"Oh, yes. It's by the bus station, just there." She pointed. "And I live across the road from it if you want to have tea," she added, laughing, which made me like Pezenas very much, even if I wasn't having much luck with Moliere.
The scandalous history of Moliere
As I walked toward the bus station I tried to recall what I knew about Moliere. Something was bothering me about the play, Dr Faustus, but I couldn't quite bring it to light.
Moliere was no stranger to scandal, I knew that. In 1662, long after he'd left Pezenas, he married 18-year old Armande Bejart, the younger 'sister' of his former mistress, Madeleine. His enemies (who might have been right) insisted Armande wasn't Madeleine's sister at all, but her illegitimate daughter.
The plot darkens
Armande's father was rumoured to be the Duke of Modena or worse, Moliere himself, which would have made Moliere his own father-in-law. It's quite unbelievable, frankly, but since when do enemies stick to the truth?
Luckily, Moliere also had plenty of fans, the most important being the King of France whose patronage saved him time and time again.
The Moliere trail continues
When Moliere was in Pezenas, however, he was still an unknown and moderately scandal free (though he had spent a night in jail when his Illustrious Theatre company went bankrupt).
The monument does him justice. Carved by the Béziers-born artist, Jean Antoine Injalbert in 1897, it's got a satyr crouched on one side, and Lucette, a Languedoc peasant girl from one of Moliere's comedies, on the other. She's holding up a bust of Moliere, who was evidently very handsome and had long curly hair – and I began to understand why both Madeleine and her 'sister' fell for him.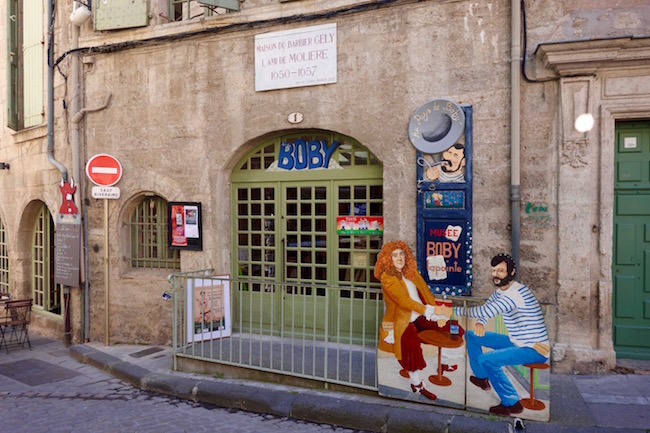 Place Gambetta
After I'd admired the Moliere Monument sufficiently, I went to the Place Gambetta. Here I found a plaque marking the site of the barbershop run by Moliere's friend, the barber Gelys. Apparently Moliere would sit in the barbershop making character sketches of the patrons to use for his plays (until, a secret source tells me, people got annoyed and told the barber to make him stop – but that's just more unconfirmed gossip so never mind).
The site is now a museum. Not, oddly enough, to Moliere but to Boby Lapointe, a popular French singer and comedian.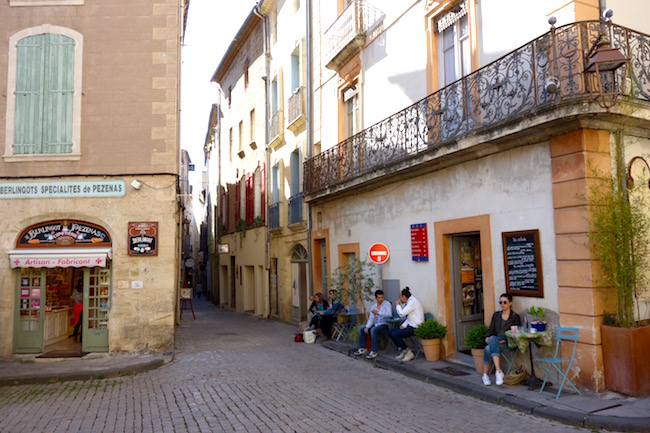 Moliere's Chair
The barbershop story led me to track down the biggest prize on the Moliere-in-Pezenas trail. The wooden chair Moliere used to sit on in the barbershop.
My brochure said the chair was in a Pezenas museum, but not which museum. The Door Museum was closed so I tried the Musée de Vulliod Saint Germain, a 16th-century mansion filled with period costumes, furniture and striking Aubusson tapestries. And if you're wondering what to do in Pezenas, I highly recommend this particular hotel particulier.
The Musée de Vulliod Saint Germain
"I'm searching for Moliere's chair," I told the woman behind the desk, expecting her to send me somewhere else like another dry river bed.
"First floor," she said.
Score! I marched up the stairs, into the Moliere Room and there it was, the chair owned by Moliere's friend the barber. It was as if I were seeing Moliere himself, or at least a ghostly impression of his buttocks. And as I was looking at it, it suddenly struck me that it wasn't Moliere who wrote Dr Faustus, but Christopher Marlowe, who wasn't even French.
In the future, I told my brain, it would be helpful if you could recall things more accurately. Then again, maybe I had read something by Moliere. The Misanthrope? 
Yes, I'm quite sure I did, and I'm sure it affected me as deeply as Dr Faustus, only possibly so deeply it lies buried in my subconscious, just as entrenched in my psyche as Moliere is in the wonderful town of Pezenas, France.
Travel guide for what to do in Pezenas
The Pézenas-Val Tourist Office of Hérault and the Scénovision Molière are located in the the Hotel de Peyrat in the Place des Etats du Languedoc. There are plenty of signs on the street that will take you there.
The Scénovision Molière normally runs all day, but it was a holiday when I was there, so I assume that's why it didn't run until the afternoon. This interactive show takes place in different rooms of the Hotel de Peyrat and lasts for 55 minutes, and if you're lucky enough to see it, please report back. Adults 7 Euros, children 6 Euros.
The Musée de Vulliod Saint Germain is at 3 rue Albert Paul Allies. Entrance fee is only 1 Euro.
The Moliere Festival. Each June Pezenas holds a Moliere Festival, officially called Molière, Theater in all its Glory. Check the Pezanas Tourism website for dates.
Where is Pezenas, France?
Pezenas is located in the Herault department of the Languedoc-Roussillon region in the South of France. It's about an hour's drive from Montpellier, and 20 km northeast of the town of Beziers. The nearest train station is at Beziers.
A good cruise stop
Pezenas makes a great day trip if you're cruising the Canal du Midi. I was on a hosted trip on the Athos hotel barge, and we stopped in Carcassonne, Minerve and Narbonne, all great day trips. Check out the Athos website for tour ideas and barging info.
Visiting the South of France? Read my travel blog post on What to do in the South of France.