This post may contain affiliate links.
If you love slow travel and are considering a barging holiday, a first class Canal du Midi cruise in the Languedoc region of France is an exceptional way to experience the area's cuisine, culture and natural beauty.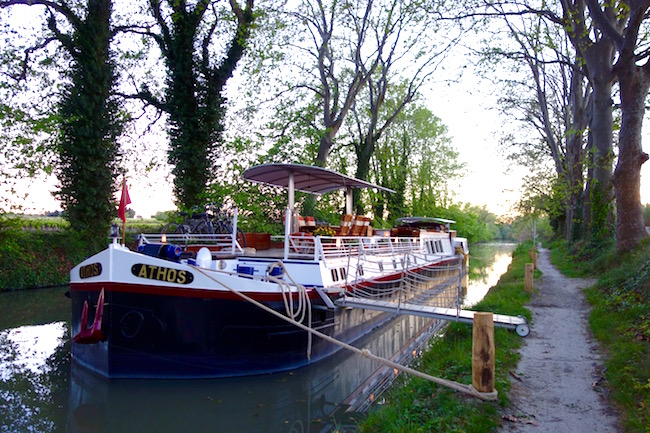 Canal du Midi cruise on the Athos hotel barge
Going through the 17th-century Neuf Ecluses, the Staircase Locks, on the Canal du Midi in the South of France is exciting. I should be standing at the front of the barge watching closely, but I'm having trouble moving out of my chair.
The Languedoc sun is warming my face, the sides of the lock blocking the crisp spring breeze, and I'm temporarily comatose after a three-course meal of Eggplant with feta, honey & mint; Seared tuna with quinoa, olive & tomato salad; and St Maure de Touraine cheese. Accompanied by a local Pierre Cros Partouse rosé, of course.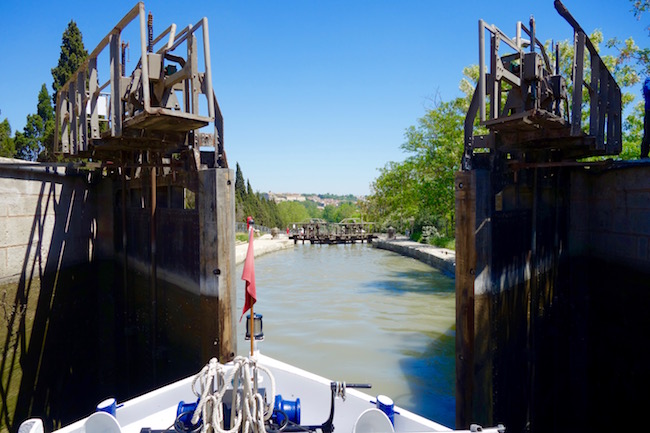 An active cruise
In the name of making this an active vacation, however, I raise my hand and give a queenly wave to the people gathered on shore. Everyone, it seems, is curious about the Athos, the largest (and surely the best) hotel barge on the Canal du Midi.
Full disclosure: I've been bribed with too much Reblochon de Savoie cheese, too many pains au chocolate and too many glasses of wine from local vineyards like Chateau Ollieux Romanis and Chateau de la Negly to be remotely objective.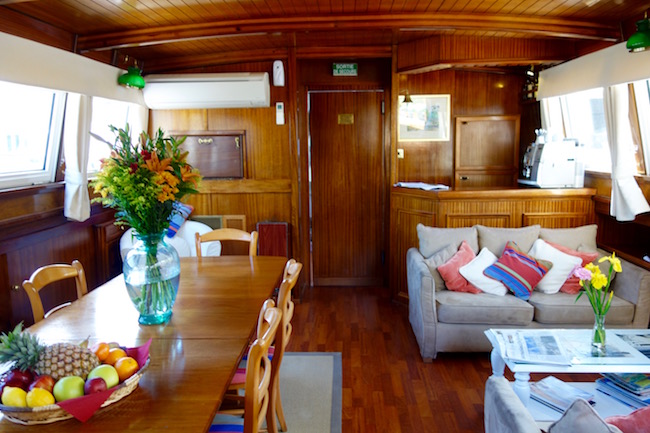 What is hotel barging?
The only thing I knew about hotel barging before setting off on this 6-night Canal du Midi cruise on the Athos was that hotel barges are the latest trend in the how-to-be-spoiled-while-floating mode of luxury travel. The relatively small size of a barge offers a way of connecting with a region's culture, landscape and cuisine more intimately than on a large cruise ship or even a riverboat. The Athos, for example, has a grand total of 5 guest bedrooms for a maximum of ten passengers per cruise.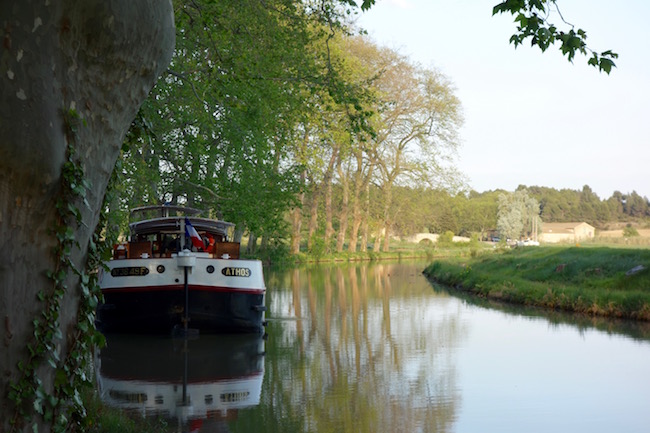 What do you do on a hotel barge trip?
There were only five passengers on our early spring cruise through the Langudoc region of France and we quickly fell into a happy routine: Breakfast, tour local sites, lunch onboard, sit on the deck, watch the world go by, wave to strangers while thinking about dinner, cycle if you feel like it, drink cocktails, enjoy a four-course fabulous meal. Repeat.
Where does a hotel barge cruise on the Canal du Midi go?
The Canal du Midi itself stretches from Toulouse down to the open waters of the Etang de Thau, a string of lagoons near the Mediterranean. Week-long Canal du Midi cruises don't travel that far, especially as the speed limit on the canal is a whopping 8 km an hour. Our cruise covered about 60 km, though if you judge by experience rather than distance, we crossed great swaths of France.
From Argeliers to Marseillan
You can do this Canal du Midi cruise on the Athos hotel barge in either direction, but we went from Argeliers to Marseillan. And if that means nothing to you, don't worry, it meant nothing to me either. Put it this way, you can either go up the Canal du Midi or down the Canal du Midi.
Whichever route you sign up for you'll be picked up in the town of Beziers on a Sunday afternoon (I took the train from Marseille), and taken to the barge where you'll start off the trip with a fine Languedoc brut and canapes.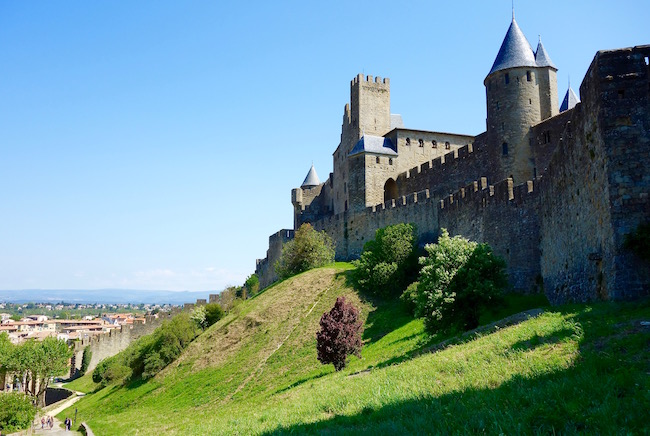 What sights can you visit on a Canal du Midi cruise?
Usually we toured in the morning by van, chauffeured by Matthieu, our ever upbeat resident guide. On our first day of the cruise we toured the walled city of Carcassonne. Here you can see every tourist known to France as well as medieval walls that swallowed up Roman walls whole but never digested them so you can still view the stones.
In Narbonne we stood on the Via Domatia, a 2,000 year-old Roman road, toured an impressive half -finished cathedral and enjoyed a lunch of flying meat at the city's historic food hall. (Read a blog post about what do in Narbonne.)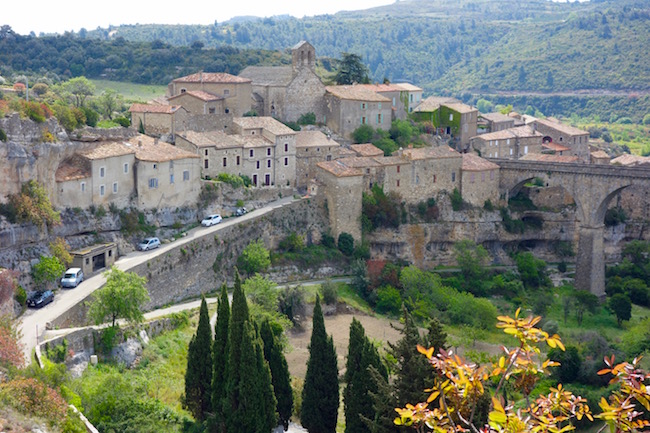 Historic towns
In pretty Minerve we learned about the Cathars in the only crusade that pit Christians against Christians, and in Pezenas (which rhymes with mayonnaise and sounds like it starts with a 'b' when Matthieu pronounces it), we visited historic mansions and then I followed the Moliere in Pezenas trail. (Or at least I tried to, I didn't have the greatest luck. If you're the least bit interested you can read my blog post about Pezenas.)
Gastronomic tours
You may begin to wonder how we had any time on the barge at all, because we also did various gastronomic tours of the Languedoc region. At L'Oulibo, a large olive oil pressoir, we did an olive oil tasting, sampling light nutty Picholine olives and buttery Lucques, known as the 'green diamonds of Languedoc.'
From wine to vermouth
At the family-run Vanho Winery, where all the grapes are picked by hand, we tasted a fresh Armatus, a rustic Gregarius and a vanilla-and-leather-noted Vanellus. During our VIP tour at the Noilly Prat Vermouth Distillery we learned that creating vermouth is an alchemic process involving oak casks, white wine, mistelle and exotic spices such as saffron, cloves and gentian root.
The most exciting thing about a Canal du Midi cruise on the Athos barge, however, are the meals.
Best cuisine on a hotel barging trip
Meals take on a grave importance on a hotel barging cruise in France. Every evening after Matthieu gave us a rundown on the next day's program, either Mariana or Joueja, one of our two onboard hostesses, would talk about the Languedoc wines we'd be having with dinner. As Languedoc is the largest and oldest wine-growing region in France, with the first vineyards being planted by the Romans, there were new and novel choices each night (and day).
Then the Athos' chef, Emma, would come in to tell us about the meal she'd prepared, her words sprinkled with drool-worthy phrases such as lamb with courgette & mint fritters, honey-spiced duck breast with sweet potato gratin, crème brûlée with lavender sable, and crepes aumoniere.
The food highlight
For me, the highlight of this French food odyssey took place on our last evening. We were bobbing on the open waters of Etang de Thau, eating fresh oysters prepared three different ways. The oyster beds were in sight of the barge, the tang of lemon was tart on my tongue and, as I sipped a crisp Beauvignac Picpoul de Pinet, I wondered if there could ever be a better way to experience the flavour of Languedoc and the famous Canal du Midi.
Travel guide for a Canal du Midi Cruise
Here is everything you need to know about planning your own holiday barge trip:
About the Athos hotel barge
The 30-metre long Athos was purpose built in 1964 to carry sand, grain and wine on the Canal du Midi. This explains why it fits under low stone bridges with inches to spare and why it always looks as if you'll never squeeze into the next lock but, thanks to some slick maneuvering by captain Julian Farrant, who's been piloting the Athos for 17 years, it always does.
The problem with planning a hotel barging trip
The problem with planning a barge trip is that it's almost impossible to get a real grasp of a luxury barge experience through photographs. The bedrooms are small – it's a barge, after all, not an ocean liner – so they don't really shine in photos, and the only public spaces to showcase are the salon/dining room inside and the made-for-lounging deck up on top.
What you don't get is Emma the chef racing through the dining room with the sudden conviction a champagne jelly is the necessary accompaniment for the foie gras pate with pears, or Matthieu, our guide and chauffeur, pretending to be a pink flamingo for us when no wild ones showed up as hoped in the Petit Camargue (although he didn't wear pink tights as promised).
You don't get that deeply satisfying we're moving! feeling when the barge sets off at its stately pace (and when I say stately I mean slow), that wonderful feeling of moving through time, territory and terroir. (Which, ahem, is why you need to read travel blogs about Canal du Midi cruises.)
Why choose a Canal du Midi cruise?
France is one of the most popular destinations for barge cruises and the Canal du Midi is said to be one of the most lovely waterways in Europe.
About the Canal du Midi
A UNESCO World Heritage Site, the 350-year old Canal du Midi was built to connect the Mediterranean to the Atlantic. Designed by the forward-thinking Paul Richet and built on the orders of King Louis XIV, it's a marvel of 17th-century engineering, a 240-km waterway complete with bridges, locks and tunnels that travels past vineyards (many many vineyards), poppy fields and ancient towns under a canopy of plane trees (except for the diseased ones that have sadly been cut down).
In short, barging on the Canal du Midi is slow travel at it's finest and most, er, slow.
Happy 350th birthday, Canal du Midi
The Canal du Midi was a long time in the making, constructed between 1667 and 1694, so I'm sure it plans to celebrate its 350th birthday for decades to come, but 2016 is the year to start as the edict pronouncing its construction was signed by Louis XIV on October 7th, 1666.
But don't worry if you miss the 350th birthday celebration this year. You can always celebrate the 350th anniversary of the first shovelful of dirt been dug, or the last shovelful, or the first plane tree planted for shade. In fact, I feel quite confident that with a little imagination you'll be able to celebrate the Canal du Midi's 350th birthday right up until it's 400th.
Why choose a hotel barge cruise over a DIY boat rental?
The Canal du Midi gets crowded in the summer and commercial barges like the Athos have reserved times (and priority) over other boats going into the locks. This will make you feel very smug as you sail past all the other impatient boaters, and possibly guilty, but you didn't make the rules so just enjoy it.
Some people can't park a boat. Captain Julian can.
What can I say? The absolute luxury of being served lunch on the deck as you drift along without a care is seductively indulgent. In fact, it's quite a shock to leave the boat and not have people care about your every whim and desire – and you suddenly understand what celebrities go through when they're not famous anymore.
The crew: You can tell the crew of the Athos all get along and it makes for a happy environment. They're all so good at what they do and seem so genuinely motivated to provide the best luxury barge holiday possible you can't help but adore them all.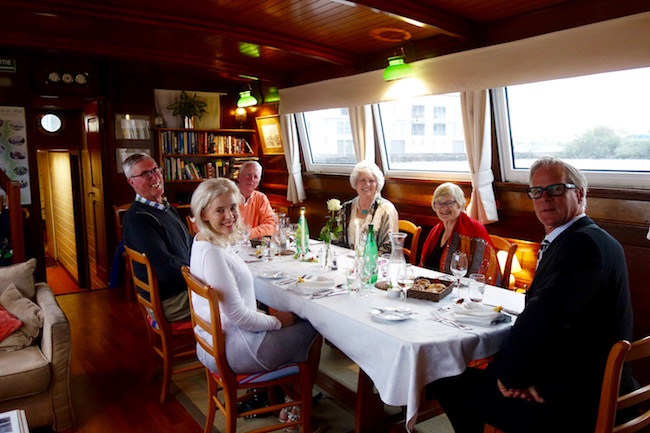 The Athos cruise passengers
First class hotel barging trips tend to attract a more mature crowd, and you'll get to know your travel companions well. (Hopefully this is a good thing. It was in mine, although I can't speak for the passengers who were stuck with me.) A wonderful camaraderie develops when you eat so much good food together, cycle (but not as often as you should have), tour and travel with the same group of people for a week. So hello, Cindy, Rick, Dave and Andrea! I hope we meet again someday soon.
Hotel barge trips are also popular with groups and families – the Athos barge can be rented out to groups of six or more. Contact the manager of the Athos, Dannielle Farrant-Belsham, (who happens to be married to Captain Julian Farrant, and together they own the Athos). She can answer any questions you might have. [email protected]
Rooms on the Athos
While the guest rooms are small, mine was cozy and well designed, with storage under the bed for suitcases, a modest-sized closet with cupboards, port holes to peek out of, teak floors and Egyptian cotton linens. You'll find extra touches such as fresh flowers and L'Occitane toiletries. Each room has heating, air conditioning and an ensuite bathroom with shower and hairdryer.
Need to know: the beds are fairly high. I had no problem with it, but if you're mobility challenged, you might want a step stool.
Price of a 1st class hotel barge trip 2016
An Athos Canal du Midi cruise is $4330 USD per person based on a double stateroom for trips departing between April 3 and 30, or between October 9 and 29. It's $4770 USD per person between May 1 and October 8. Single supplement is $1200 to $1400.
What is included on your Athos luxury barge holiday: Everything except tips and travel to the starting point of Beziers. A suggested gratuity is between 5% and 10%.
Visit the Athos website for more info on Canal du Midi cruises.
About the Languedoc region of France
Languedoc, in the southwestern part of France, is a wild and wonderful area to explore. Encompassing the mountains of the Cevennes, the Larzac Plateau and the Black Mountains, it stretches from the marshes of the Camargue in the east to Cathar country in the west. Visit www.visit-languedoc.fr for more information.
Read more about travel in France: Where to go in the South of France