This post may contain affiliate links.
Travelling around Lake Geneva? Visit Switzerland's newest attraction, Chaplin's World, an interactive Chaplin museum in Vevey. For all the travel facts you'll need, scroll down to the fact box below. For my experience, read on.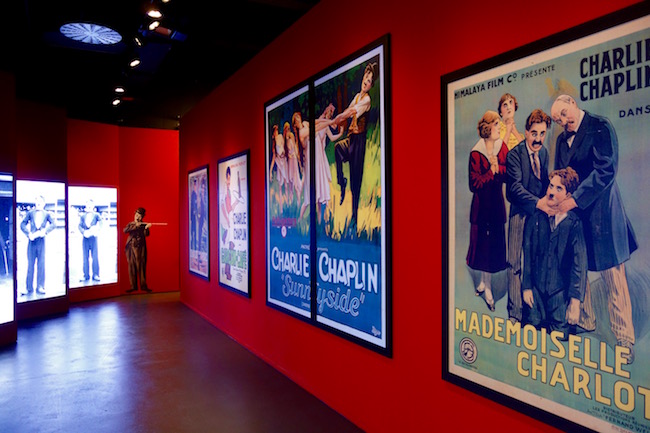 Let the Charlie Chaplin experience begin
"A day without laughter is a day wasted," says a big Chaplin quote on the wall of the gift shop of Chaplin's World, the new Charlie Chaplin Museum in Vevey, Switzerland.
Oh, no! I bit my lip. I probably haven't laughed in four days. Travelling alone will do that to you, especially if you don't want people to move away from you on the train. Was I wasting my vacation?
Touring Chaplin's World – the new Chaplin Museum in Vevey
It wasn't the best way to start my tour of the museum, which is only a few days old. (Whoot! I was one of the first to see it). As I stood around a wee bit glumly (also somewhat confused about where to start), a staffer at the ticket entrance told me I should go to the Studio as the 'Spectacle,' a 10-minute film, was going to run shortly and it was the last one of the day.
"Is the 'spectacle' just clips of Chaplin's films or is it a film about him?" I asked.
Don't rush the Chaplin Museum
The problem was I hadn't given myself enough time. Chaplin's World should be taken at a leisurely pace, with a 20-minute stroll through the tranquil grounds of his estate in Corsier-sur-Vevey; a sentimental tour of his white-and-green neoclassical home, the Manoir de Ban; and a visit to the Hollywood-style Studio.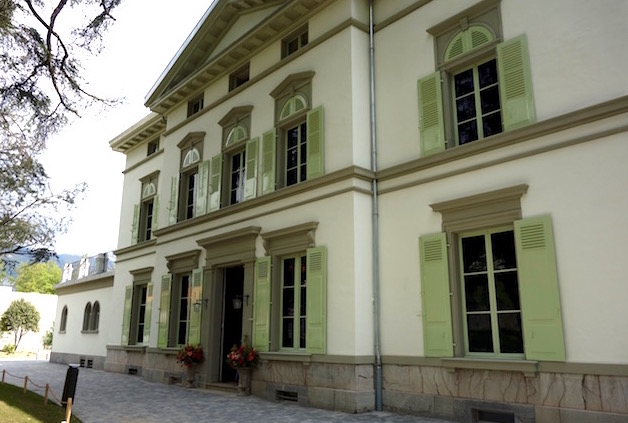 I, however, had a train to catch and was thinking of skipping the Chaplin Studio altogether, especially if the 'Spectacle' was just going to be movie clips. After all I could always watch Chaplin movies at home.
Important note to those wanting to visit Chaplin's World – DO NOT SKIP THE STUDIO.
(And if you want to see Charlie Chaplin Moonwalking, watch the video at the bottom.)
Pardon my French
The staffer didn't understand my question. This was for the best as it would have sounded almost sacrilegious asking someone at the brand new Chaplin Museum in Vevey if they were just showing Chaplin movie clips.
Chaplin's World was 15 long years in the making, and it's dedicated heart, soul and belly laughs to this much-beloved comedian who, for 25 years, made his home here high on a hill overlooking the shores of Lake Geneva.
Sparing some time for Chaplin
It's only 10 minutes out of my life, I told myself, heading into the theatre as the lights dimmed and Chaplin started spouting off as Hitler. Within seconds I burst out laughing as the scene switched and he kicked a man in the pants. I laughed again when a monkey jumped on his face. I even laughed at a war scene – and if Charlie Chaplin can make you laugh about war, he can make you laugh at anything.
I laughed. I cried.
Yes, I got teary. Twice! Once at another scene about the war, a real scene this time with Chaplin speaking (as himself), and then again when news clips were shown of him getting barred from the United States as a suspected communist sympathizer.
That's a lot of emotion in 10 minutes, and there was nothing 'just' about it.
The Studio at Chaplin's World
Now I don't want to spoil your surprise, except I'm going to, so if you don't want to know what happens in this brand new recreated Studio I'm giving you a spoiler alert right now.
A universe of Chaplin
Okay, you asked for it. After the film ends the screen lifts up and suddenly you're walking into an entire universe of Charlie Chaplin, like really walking through his streets and film sets and movie reels and multi-media displays and half the time you don't know if the dummies you're passing are real or fake.
(I'm tempted to make a dummy joke here, but shall refrain.)
Tense times in Chaplin's World
Something was bothering me though. It was Chaplin's quote about how a day without laughter is a day wasted. By my calculations I'd laughed 3 times in the 'Spectacle,' but before that I hadn't laughed in at least four days. If I wanted to catch up I'd need to laugh at least one more time.
But it was too late, the spectacle was over.
Oh, well, I thought. Maybe some local Swiss person will tell me a joke on the bus back.
Chaplin's Studio
Resigned, I wandered through the maze of recreated film sets, my eyes whipping back and forth and practically around my head as I tried to take everything in. I passed the replica restaurant of the one Chaplin ate in in The Immigrant; the barber shop from The Great Dictator, and a jail set where a serious-looking group of Chaplin devotees were watching a film screen.
The path led me into a small prison cell. Through the bars I could look out onto the backs of the Chaplin fans watching the screen on the wall.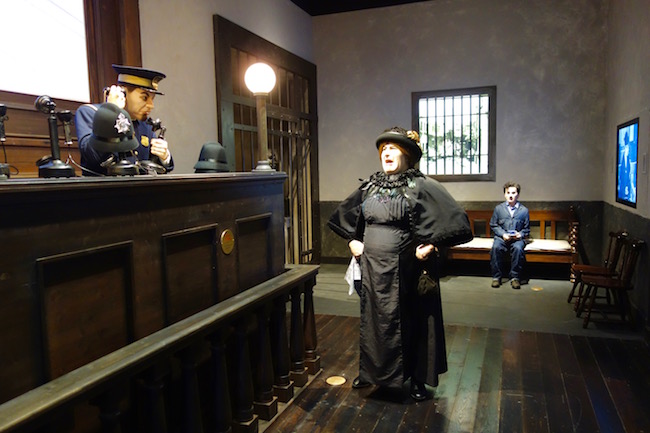 Everybody wants to be a comedian
How could I resist? I grabbed the bars and yelled, "Help me, help me! Let me out!"
No one shrieked (like I was hoping for) but they all swivelled around in a hurry. Ha ha! If I could steal a scene from Charlie Chaplin even for a nanosecond my journey was complete – and I laughed (at least inwardly) all the way to the bus.
Charlie Chaplin fascinating fact:
It's said Michael Jackson got the idea of Moonwalking from Charlie Chaplin, who he called his inspiration. Decide for yourself in this hilarious YouTube video.
So? What did you think? Don't you want to visit the Chaplin museum in Vevey now? Or at least watch a Chaplin film?
And now on to the necessary, how to's.
Travel Guide for visiting Chaplin's World – the Charlie Chaplin Museum in Vevey
How do you get to Chaplin's World?
First you have to get to the town of Vevey. Trains run frequently from Geneva, Lausanne (about 25 km away, less than half hour by train) and from nearby Montreux. Once there take bus 212 (destination Fenil) to Corsier-sur-Vevey from either the Place Marche down by the lake or from a bus station in front of Vevey Gare (the train station). Ask around, the stop can be a little hard to find.
Get off at the Chaplin bus stop. The bus goes to the Chaplin's World every half an hour. From Place Marche it leaves at 8 minutes past the hour and at 38 minutes past the hour. From the train station a couple of minutes later.
Getting back:
The bus stop back to go back to Vevey is right across the street from Chaplin's World and returns every 7 minutes past the hour and every 37 minutes.
By foot: It's a long uphill walk but possible. About 3 km (about 40 minutes). Get directions from the Vevey Tourist Information Centre in the Place Marche.
Where is Chaplin's World?
The Chaplin museum is at Route de Fenil 2, 1804 Corsier-sur-Vevey.
Chaplin Museum hours:
Chaplin's World is open every day except New Years and Christmas from 10 a.m. to 6 p.m.
Price:
Adults 23 CHF (Swiss Frances, which is about equal to 23 USD) ; Children 17 CHF; Age 6 and under free. Family ticket 68 CHF. If you have a Montreux Riviera Card Adults are 11.50, Children 8.50. You can buy tickets online or at the door.
How much time do you need at the Chaplin's World Museum?
Give yourself 2 hours, there really is a lot to see.
The grounds: which were much cherished by Chaplin take you on a path of sequoia and spruce and no end of century-old trees, with a stunning view over Lake Geneva and some surprise dummies loitering around, though those may have been real people. (Okay, sorry. I made a dummy joke.)
Manoir de Ban: As fun and crazy as the Studio is, Charlie Chaplin's home, where he lived for so many years with his 4th wife Oona and their 8 children is a sentimental journey through a place he lived, loved and created.
Studio: Well, I've pretty much told you about this.
Boutique: Don't you want to take home a Charlie Chaplin bowler hat? Or perhaps a cane? Why not wear it on the bus ride back to Vevey? I dare you. Make someone laugh so their life isn't a waste.
Restaurant: The Tramp restaurant is a brasserie-style restaurant with s Chaplin-esque atmosphere.
Things not to miss at Chaplin Museum in Vevey
A certificate signed by Queen Elizabeth II when Chaplin was knighted in 1975. Take that United States McCarthy-era paranoia! What were you thinking not allowing Chaplin back into the USA in 1952? FYI: Chaplin didn't return to the USA until 1972, when he received an honorary Academy Award.
Look for his iconic bowler hat and cane from his Little Tramp era in the Studio.
The wax dummy of Woody Allen. He was a fan. (So was Michael Jackson and rumour has it, his Moonwalk was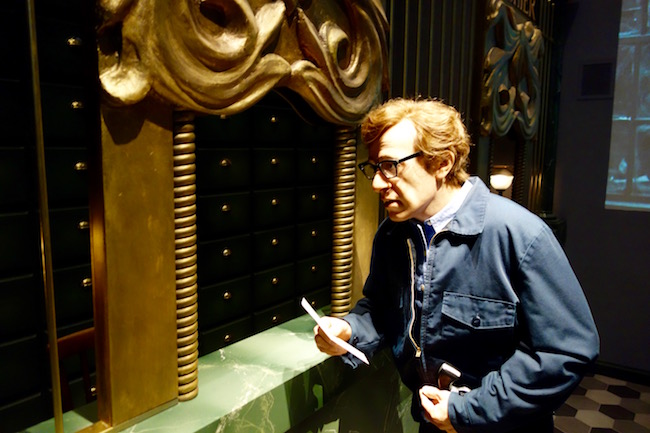 For more information on visiting the Chaplin Museum visit the website.
PS: I liked Chaplin's Museum so much I went back the next day (partly because I'd forgotten to bring my camera the first time) and laughed at least twice more, so now I'm a laugh ahead.
Where to stay in Lake Geneva
There are so many great destinations around Lake Geneva. If you want to visit the Chaplin Museum I recommend staying in Vevey, Montreux or Lausanne. You can search for hotel deals here:


For more info on travelling in Switzerland visit the Switzerland Tourism website. And thanks to the Swiss Travel System for providing me with a rail pass so I could tour around and, as luck would have it, be one of the first people to visit the Chaplin Museum in Vevey. All opinions and jail-cell reenactments are my own.
Sightseeing around Lake Geneva? Visit the Chateau de Chillon, Switzerland's most famous castle.
Love Europe? Read my Where to Go in Europe blog post.