This post may contain affiliate links.
A Camelback Mountain hike is a unique way to experience Scottsdale, Arizona. Combine it with a stay at the nearby Sanctuary Resort for the perfect desert adventure. Here's my experience.
I padded out to the patio of our cool white casita at Sanctuary on Camelback Mountain Resort & Spa just outside Scottsdale, Arizona. The birds sounded delirious with happiness, cacti were bursting with red and white blossoms and the Praying Monk, a rock formation on Camelback Mountain knelt in his perpetual frozen pose, whispering in my ear: 'If you don't do a Camelback Mountain hike, you'll regret it.'
Mark, my husband, stumbled out in his robe. He stretched happily, clearly looking forward to  a relaxed morning by the pool.
"Let's go for a Camelback Mountain hike!" I said.
Several expressions crossed his face: none of them cheerful.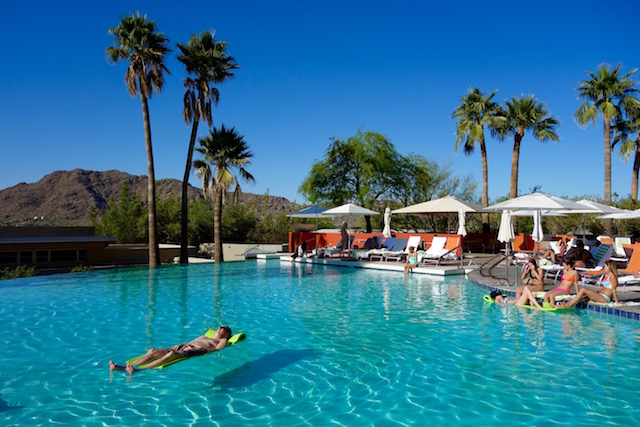 One of the most popular activities in Scottsdale and Phoenix
"It's a famous mountain to hike!" I said. "Everyone does it. And our resort is close to the Echo Canyon Trailhead. It will only take a minute to drive there. Can I get you a cup of coffee?"
I ran inside, popped a coffee pod in the machine and it exploded. Barista I am not. I wiped the grounds off the cup handle with my sleeve and took the coffee outside.
As Mark took a sip, I sat across from him with an expectant look on my face. "Can I get you another cup of exploding coffee? Maybe to go?"
Staying at Sanctuary and hiking Camelback, a dynamic duo
Here's the issue. Last time I visited Scottsdale, Arizona, there were two things I didn't do and always regretted. One was to stay at Sanctuary on Camelback Mountain Resort, where Beyonce and Jay-Z honeymooned.
The other thing I didn't do was go on a Camelback Mountain hike. And because I missed out, both the resort and the hike have reached mythic proportions in my mind.
An oasis in the desert
Now that I was actually staying at Sanctuary, a tranquil desert retreat in Paradise Valley with a divine spa and a sleepy seductive pool, and which is terraced up the foot of Camelback Mountain itself, I figured that if I could also do the Camelback Mountain hike I'd combine my two big Scottsdale ambitions into one fabulous Arizona vacation.
And, lucky man that my husband is, he would be forced able to share my Scottsdale desert dreams.
Let the Camelback Mountain hike begin. Or not.
Although possibly Mark wasn't feeling quite as lucky as he should have been when we drove up to the entrance of the parking lot at the Echo Canyon Recreational Area on Camelback but had to keep going because a sign saying 'Lot Full' was blocking the gate.
Parking at Echo Canyon Recreational Area
To put it bluntly, parking at Echo Canyon is a nightmare. There are two trails up to the Camelback Mountain summit, the Cholla Trail on Cholla Drive and the Echo Canyon Trail in Echo Canyon Recreational Area.
Both of them are as popular as mojitos on a Saturday night, with some 300,000 people hiking up Camelback Mountain each year.
After we'd driven by a few times, I hopped out of our rented Mazda and talked to the park ranger while Mark kept driving around.
"He says they're going to open the parking lot soon," I told Mark on my cell. "Maybe you could just keep going around the roundabout."
Yes, I could hear him thinking. This is how I want to spend my weekend getaway in Scottsdale. Driving around a roundabout all day.
"The ranger has opened the lot!" I shrieked, waving at Mark as he circled around. Suddenly cars from all over descended on the lot. "He's not going to get in!" I cried to the park ranger, panicking because my Camelback Mountain hike ambitions were about to be thwarted.
"He'll get in," the ranger said, who kindly waited until Mark had nudged his way in before closing the lot again.
Once we were in we couldn't find a parking spot. All the other cars had zipped into the available spots before us.
"You go ahead," Mark finally said. "I'll catch up when I get a spot."
Just me and the camel
"Only if you're sure," I replied. After all, for me this was a mythic adventure. For him, it was a shut-my-wife-up adventure.
So while he enjoyed some relaxation time in the rental car, which of course is almost as good as relaxing by the pool at Sanctuary, I started up the trail. And as I did, I thought about the mountain.
Camelback Mountain got its name because it's said to resemble a kneeling camel (although if you ask me you have to use your imagination quite a lot to see it – especially if you're up close, but I'm assuming I was always at the wrong angle).
Camelback, a sacred mountain
For the Hohokum people who lived in the Salt River Valley, the mountain was a sacred site. The Ceremonial Grotto just south of the Echo Canyon Trail is a 50-foot high natural shrine, where offerings set in hollow reeds were left to the gods.
As old as the hills … and the canyons
As I started up the camel, I thought about walking over Precambrian granite a billion and a half years old, which is as old as the rock at the bottom of the Grand Canyon.
Although technically it's the camel hump that's so ancient, and I was on the camel head, which is a mere 25 million years old, and which in rock years is nothing more than a newborn double-humped camel calf.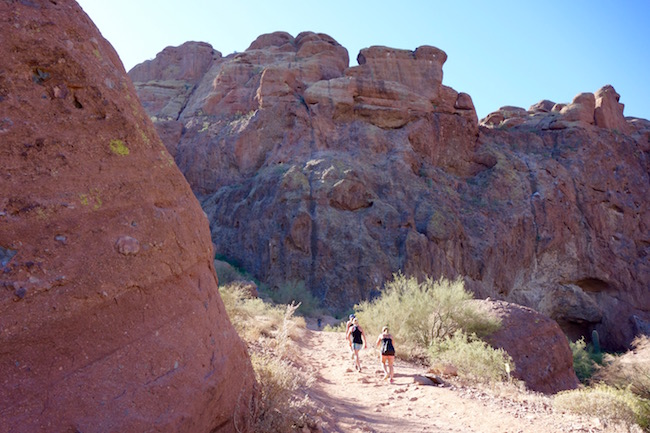 Camelback is for sporty people
Echo Canyon Trail is quite steep, a 1.23-mile hike to the summit that rises up 1,280 feet. So when Mark called to say he was on his way, I was secretly glad of a chance to get my breath back and by the time he caught up, I was able to pretend I wasn't tired at all.
He arrived just as I was digging into the white plastic bag I was carrying, searching for my camera.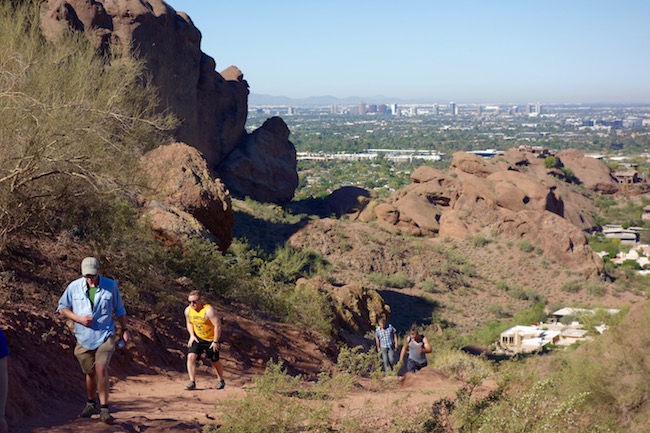 "Do you want me to carry that?" he asked, not even questioning why I was hiking with a white plastic bag (and for which I didn't have a good reason except that it was lighter than my backpack), and I could tell that getting out into some Arizona nature was having a good effect on him already.
The plot thickens, I mean the trail steepens
After the first saddle the trail up Camelback got steeper, with a metal rail that ran up the middle, so that you could use your arms to help hoist yourself up. There are two sections like this on the Echo Canyon Trail and if you ask me they're the most fun part of all.
"This is great," Mark said, from behind me as we came to a smooth stretch.
I turned around to agree. "Watch your head!" I yelled just as he looked up and cracked his skull on an overhanging rock.
"I'm okay," he said, rubbing his forehead. I wanted to do something to make it better, but other than kissing the top of his head and telling him that if you're 6'3″ you should really be looking overhead when you hike, I was right out of options. Although in retrospect, I suppose I could have offered to carry the plastic bag.
Desert beauty
We were at the last stretch when we stopped to look out over the valley. In the distance, the hills faded into blue waves. A saguaro cactus raised its arms like a cowboy in the desert.
"I love this," Mark said, as I allowed myself a discreet self-satisfied smile because I'd known all along he would.
"I bet the view is incredible from the top," he said, totally into it now as he aimed for the summit.
"I'm sure it is, only, er, we have to go back to Sanctuary now," I called out after him. "I have a facial booked at the spa."
Once again, several expressions crossed Mark's face: disbelief, disappointment, an attempt to be gracious and finally, resignation.
"I didn't know it would take so long to park," I said.
And while I'm sure he was disappointed not to make it to the top, at least he could now get his pool time and, best of all, we'd shared an (almost entire) Camelback Mountain adventure of mythic proportions.
Travel guide for a Camelback Mountain hike
Of the two trails up to the Camelback summit, Cholla and Echo Canyon, the Echo Canyon Trail is steeper. If you're in good shape it should take about 45 minutes to hike up to the summit, and the same time to come down. Just don't forget to add in extra time for parking. If you're staying at a nearby resort consider asking if there is any kind of shuttle.
Early afternoon during weekdays is the least crowded time to hike (and park).
Echo Canyon Trailhead is at located at 4925  East McDonald Drive and is open sunrise to sunset. Dogs aren't allowed, though they are on the Cholla Trail.
Bring water. And don't, like me, finish it before you're halfway up (unless you have a husband who hasn't finished his.)
No matter how fast you hike you'll feel useless because people will jog past you. Trail running is evidently a thing here.
For more information on parking etc, visit the Phoenix Parks and Recreation website.
About Sanctuary Camelback Mountain Resort & Spa
Sanctuary Resort & Spa is a AAA Four Diamond luxury Scottsdale resort overlooking Paradise Valley with great sunset views. And yes, Beyonce and Jay-Z really did stay here on their honeymoon.
Ranked the Top Resort in Arizona by Travel + Leisure Magazine in 2014, Sanctuary Resort & Spa is an art-filled spa-loving boutique resort set over 53 acres, with a variety of casitas, suites and private estates.
Dining is also top notch and comes with sunset views of the valley. A variety of packages can be booked, from wellness retreats to B&Bs. Visit the resort's website for more info and check their Special Offers page for deals.
Location: Sanctuary Resort & Spa is 8 miles north of Phoenix Sky Harbor International Airport and a 5-minute drive from downtown Scottsdale at 5700 East McDonald Drive, Paradise Valley, AZ 85253.
As it's just down the road from the Echo Canyon Recreational Area, it's a great place to stay if you're interested in combining some upscale relaxation with a Camelback Mountain hike.
Disclosure: My Camelback Mountain adventure of mythic proportions was made possible with the help of the Scottsdale CVB and Sanctuary on Camelback. All cajoling-husband-into-hiking enthusiasm and opinions are my own.
Read more: For an urban desert combo, add a couple of days in downtown Scottsdale at the Hotel Valley Ho.