This post may contain affiliate links.
For an urban retreat with retro flair, it's hard to beat the Hotel Valley Ho in Scottsdale, Arizona. This Hotel Valley Ho blog review tells you why I'm a ho ho hotel fan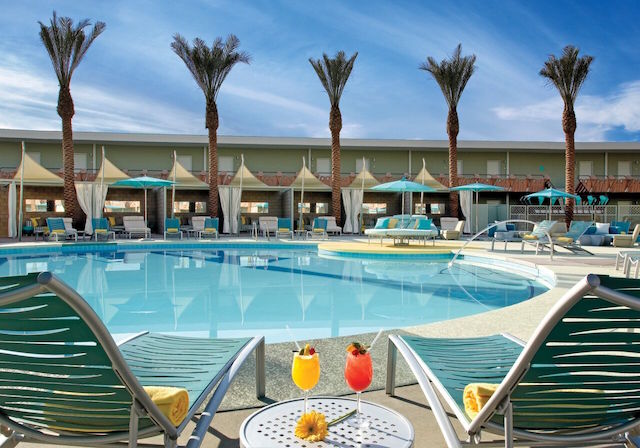 The Hotel Valley Ho blog review begins with a time warp
I've been time warped into the Dick Van Dyke Show. Now I need to find capris, get my Laura Petrie bouffant flip hair style going, and go back to a time when 'ho' didn't have quite the same kind of meaning it does today.
"You've heard the term 'Westward Ho?" asks our hotel guide, Ace Bailey, who is not the famous hockey player of the 30s my husband said it was going to be, even though the athlete would be 112 years old by now. Ace is a she, a blond architectural buff who leads the Magical History Tour of the retro-fabulous Hotel Valley Ho in Scottsdale, Arizona.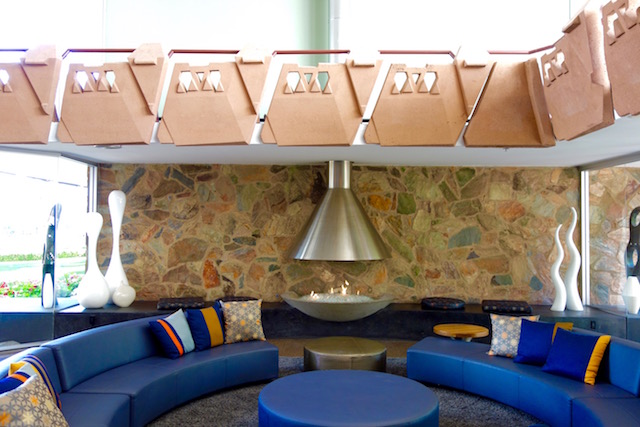 What's in a name?
"In 1956 a contest was held to name the hotel. Hotel Valley Ho won because not only was it related to its sister property the Westward Ho Hotel in Phoenix, it referenced Scottsdale's location at the edge of Paradise Valley," Ace explains when I tentatively broach the name issue.
Okay. That makes sense. Now that we have that settled, my husband can stop amusing himself by calling me a Hotel Valley Ho, I can stop saying 'ho ho ho' in return and we can get on with this Hotel Valley Ho blog review.
The property is definitely unique, a frozen-in-time-only-better example of mid-century modern architecture and a history as a Hollywood hotspot that started the minute it opened in 1956.
A Hollywood hideaway in the Desert
"The Valley Ho was a Palm Springs alternative," Ace says. "Known as the West's most Western Town, it was a getaway the paparazzi couldn't easily get to. And the Foehls, who managed it, had a lot of Hollywood friends."
I'll say. The list of celebrities who travelled down to the Hotel Valley Ho in sunny Scottsdale, Arizona, is lengthy. Natalie Wood and Robert Wagner had their wedding reception here in '57, Jimmy Durante played piano, Tony Curtis and Janet Leigh posed for photographs and Zsa Zsa Gabor swanned around like the glam starlet she was.
Absolutely no Hollywood hanky-panky went on at the Hotel Valley Ho
Just so you can be sure that absolutely nothing untoward was engaged in, because these were the 50s and people, at least on the Dick Van Dyke Show, slept in separate beds, let me quickly mention that the dividers between balconies and patios in the original motel-style hotel wings swivelled so that they could double as privacy walls, and who knows what doorways might have been discreetly opened late at night?
Still a celebrity draw
Unofficially – because trying to get any juicy celeb gossip out of any of the staff members is no stroll through a cactus-filled desert – I can confidently, but possibly erroneously, tell you that Mathew Perry has stayed here as has John Travolta and Billy Bob Thornton, and that Kelsey Grammar once drove up unannounced with his family in tow.
Why stay at the Hotel Valley Ho
"Why do celebrities choose to stay here?" I ask Ace, because in all honesty, Scottsdale, Arizona is not lacking in luxury hotels.
"They love the mid-century modern architecture." She motions around at the long curved bar off the lobby, the reddish cast-concrete pillars and a seating area with groovy orange and blue stools. "The attention to detail is incredible."
Let's pause to discuss mid-century modern architecture
When it comes to mid-century modern think retro, think walls of glass, plenty of poured and cast concrete and a whole lot of indoor/outdoor space. The Hotel Valley Ho, which some consider the best preserved example of mid-century modern hotel architecture in the States, was designed by Edward Varney, a student of Frank Lloyd Wright, and combines mid-century modern with a bit of Southwestern detailing.
The Valley Ho was a costly extravagance for the time, with low horizontal wings that hugged a central swimming pool, air conditioning (a first for Scottsdale) and – an unusual addition for the time – a parking lot.
Hotel Valley Ho history
After its Hollywood heyday, the hotel went through some rocky times and was eventually threatened with demolition. Happily, it was instead restored by Westroc Hospitality, and in 2005 the Valley Ho Hotel emerged phoenix-style from the ashes (even though this is Scottsdale, not Phoenix, which is right next door) with slick and funky design elements and plenty of cool Mad Men style.
In 2008 a 7-story luxury tower opened with 50 suites and rooms, each with its own balcony – our suite had a full size kitchen plus, not least, a washer and dryer. (And if I'd known I wouldn't have bothered doing my laundry beforehand.)
An urban resort in downtown Scottsdale
The resort's location, just a finger's breath away (if fingers could breathe) from picture pretty Old Scottsdale, is a major draw.
"You could never build this kind of property today," says the hotel's Director of PR & Communications, Kristin Heggli, when my husband and I meet her for breakfast in the hotel's ZuZu Cafe the next day. "Can you imagine? Eight acres, right in downtown Scottsdale."
You also likely wouldn't get permission to build a 7-story tower, but forward-thinking Edward Varney had secured the permits back in the 50s, and Westroc built the tower to seamlessly fit in with the original design. The result? An overall revamp that maintained, as one reporter put it, its "Jetsons-in-the-desert flavor."
Should I stay or should I go, a Scottsdale hotel dilemma?
The central location certainly makes it easy for Mark and me to go out to explore, although I can tell you right now, as I write this from my 6th-floor balcony, with a view of the rusty red Camelback Mountain in the distance, I'm tempted not to budge.
After all, what's the point in staying in an architectural gem if you don't soak up the chic vintage vibe? With this in mind, I work out my back kinks with a Rock and Roll Massage at the hotel's VH Spa, then it's retro pool time for Mark and me – so go ahead, call me a Hotel Valley Ho. I'll ho-heartedly agree.
Travel guide for this Hotel Valley Ho blog review
Pin me!
About the Valley Ho Scottsdale Pool
The OH Pool at the Valley Ho was named one of the World's Coolest Pools by Travel & Leisure. If you want a quieter space you can retreat to the sleepier OHasis Pool, but the OH Pool is the heart of the hotel and hard to resist. If it's fun and fiesta you crave, the Saturday afternoon 'cool pool vibes' at the OH Pool offer music, bar service and a young-ish clientele. (Pool access is limited to hotel guests on Saturdays and holiday weekends May-Sept.)
The hotel crowd
The Hotel Valley Ho attracts more of an adult crowd than families, though there is a kid-perfect soda fountain at the bar. The hotel sees a mix of architectural fans, couple's craving an urban resort atmosphere and a fair few groups of singles. You're not going to feel out of place, whoever you are.
The VH Spa
The 8,000-square-foot VH Spa at the Valley Ho has 8 treatment rooms, a spa deck, fitness centre and the coolest most retro glass reception counter I've ever seen at a spa. My 60-minute Rock and Roll massage combined heated basalt and Guasha stones (the 'rock') with birch sticks (for the 'roll') and was ideal after a morning flight to Arizona. Highly recommended.
Bonus: 60-minute or longer spa treatments include pool access, so if you're not staying on property, it's a great way to spend the day at the hotel. Check out the spa specials on the hotel website for deals.
Tour the Hotel Valley Ho
The 90-minute Magical History Tour of the hotel is a fun and informative way to learn more about mid-century modern architecture. Contact Ace at Tel: 602 826 3155 or at Ultimate Art Tours.
Where to eat in Scottsdale
With the Valley Ho's central location and Scottsdale's quality restaurants and love for local produce, you'll be spoiled for choice.
The hotel's ZuZu Cafe serves a seasonal modern twist on classic American cuisine.
Half a block away, the House Brasserie is located in the second oldest building in Old Town Scottsdale. The patio is intimate, surrounded by a white picket fence, and the restaurant is known for its grilled meat. (You won't go wrong with the ribeye and a buttered asparagus side.) 6936 E. Main Street, Scottsdale, AZ. Tel: 480-634-1600
What you need to know about the Hotel Valley Ho (Hey, that rhymes!)
The hotel is a luxury hotle located in Scottsdale's historic district at the corner of 69th and Main Street. Address: 6850 E. Main Street, Scottsdale, AZ. Visit the Valley Ho website for more info.
Bonus perk: Complimentary valet parking.
Disclosure: My Hotel Valley Ho blog review was made possible with the help of the Hotel Valley Ho and the Scottsdale Convention & Visitors Bureau. Yay. Thanks! All opinions and lame jokes are my own.