This post may contain affiliate links.
Spas in Tuscany
Tuscany, a bewitching region in central Italy, is bursting with hot springs, natural pools and thermal spa resorts, but how do you know where to go?
Search no more.
Over several years I've visited as many of the best Tuscany spas, resorts and natural hot springs as I could find. Now let me pass the info on to you. Whether you're looking for steamy mineral springs in the wild or 5-star resorts you'll find plenty of options in this guide.
First, let's take a look at the spa tradition in Italy. It's fascinating.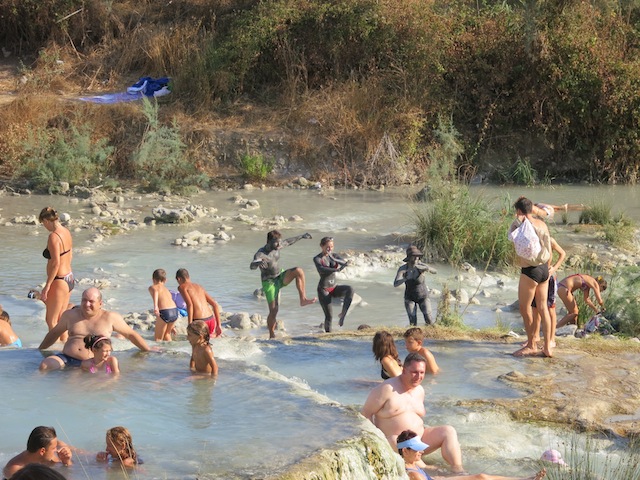 The Tradition of Thermal Springs in Tuscany
The Etruscans Believed Hot Springs Were Sacred
The spa culture in Tuscany goes back even before the Romans to the ancient Etruscans, a mysterious people who built temples to their gods around the area's thermal springs. The hot springs were considered sacred, and were often used as settings for religious ceremonies.
The Romans Built Great Thermal Baths
The Romans were enthusiastic believers in the power of spas, and built elaborate bathing complexes to harness the power of the the area's hot springs.
You can see remnants of these thermal baths in places such as Petriolo Terme, one of the Tuscan hot springs I'll mention below.
The Medicis Elevated Thermal Water to Luxury Levels
The powerful Medici family not only patronized spas in Tuscany, one of the most beautiful areas in Italy, but built grand villas to enjoy them in style. Today, the original Medici portico at the spa resort of Fonteverde still stands.
Medieval Pilgrims Rested at the Hot Springs
It wasn't only aristocrats who made use of the abundant hot springs in Tuscany. Medieval pilgrims, following the Via Francigena path to Rome, stopped at thermal springs such as Gambassi Terme and Bagno Vignoni to rest and soak their weary bodies before continuing on.
Today, Thermal Spas in Italy are Considered Therapeutic
Long considered healing, hot springs in Italy are still used to treat various illnesses. Spa doctors abound in wellness hotels and clinics, and the Italian government subsidizes spa stays for particular ailments for their citizens.
Where the spa patients go depends on their health issues as well as the mineral content, temperature and location of a particular springs.
Best Spas in Tuscany for Leisure and Fun
Most travelers today seek out spas in Tuscany to unwind and enjoy the thermal baths amidst a landscape of cypress trees, olive groves and rolling hills.
Fortunately for visitors, there are a number of hot springs spas and thermal pools to choose from. In fact, Tuscany has more hot springs than any other region in Italy.
Here are some of the best, from luxury spa resorts to Tuscany day spas and free natural springs.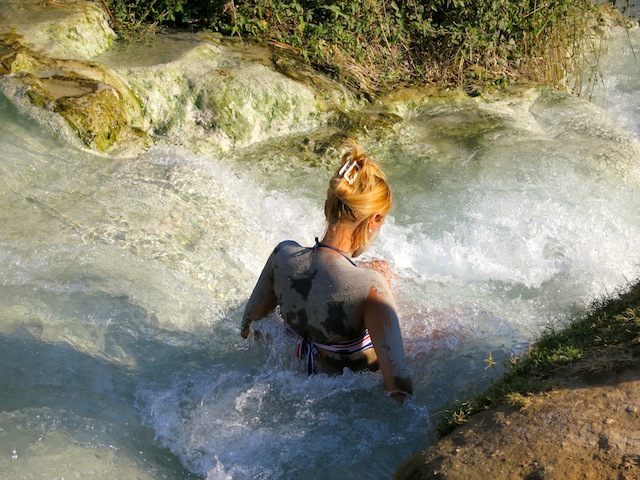 Best Tuscany Spas and Hot Springs to Visit
Saturnia Hot Springs Italy
The best known hot springs in Tuscany is located in Saturnia, a spa town 190 km (120 miles) south of Florence. Located in the Maremma area, it's a part of southern Tuscany where few first-time-to-Italy tourists go.
Here you can have a luxe experience at one of Tuscany's finest spa resorts, the Terme di Saturnia Hotel and Thermal Resort Spa.
There are also free natural hot springs outside town where you can mingle with locals and tourists alike without spending a euro.
Terme Di Saturnia Resort
Located a couple of km outside town, Terme di Saturnia is a 5-star spa hotel that comes complete with outdoor pools, deluxe accommodation and a full-service spa.
The coolest (or hottest) thing about the pools at the resort is that you're soaking right over the volcanic crater that the springs emerge from. Now that is a fresh thermal water experience.
Saturnia Day Spa
You don't need to be staying at Terme di Saturnia to use the outdoor thermal pools. They have a large section for day visitors.
Free Natural Hot Springs in Saturnia
There are also open-air hot springs about six km (4 miles) outside Saturnia called the Cascate del Mulino. It's an amazing sight, a rush of thermal water cascading down the hill filling natural terraces that you can bathe in.
Warning: These free mineral springs in Saturnia can get crowded. They're also fun, with a casual local vibe.
Getting to Saturnia
Saturnia hot springs is 180 km from Rome. Driving is by far the best option, but it's possible to take a train to Orbetello and then a bus to Manciano and then another bus from there.
Read more at my Terme di Saturnia Review.
Terme di Saturnia is one of the top spas in Tuscany. Check prices and availability here.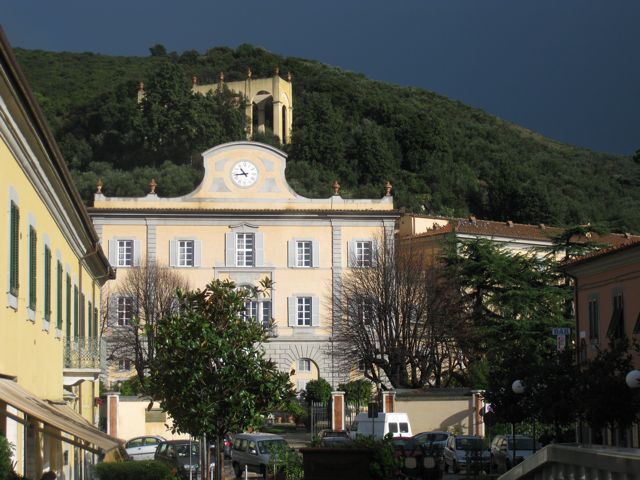 Bagni di Pisa in San Guiliano Terme
Bagni di Pisa is a historic luxury spa hotel worthy of Frankenstein – because even hideous beasts like to get pampered.
Okay, it was actually Mary Shelley, the author of Frankenstein who stayed at Bagni di Pisa in the village of San Giuliano Terme, along with her husband, Percy Shelley, and Lord Byron. Back then, it was a sumptuous villa owned by the Duke of Tuscany and an exclusive invite was required.
Today, Bagni di Pisa is a ritzy Tuscany hot springs hotel and spa with indoor and outdoor thermal pools, lavish architecture and a setting in the hills just a stone's throw from Pisa.
It's an intimate Pisa resort worth a visit as the architecture and history make Bagni di Pisa Natural Spa Resort stand out.
Going to the spa is always a treat for me, but to this day, my suite (Room 215 in the 'Noblemen's Hall'), with its high ceilings and 18th-century ceiling fresco wins the award for my favourite hotel room of all time.
Note: You'll definitely pay a premium for one of these suites.
Also of note: the Shelley Bar at the resort is sumptuous.

Bagni di Pisa spa is also well known for its weight loss programs, and is conveniently located near the Tuscan cities of Pisa and Lucca. In fact, you can practically see the Leaning Tower of Pisa from your room.
Where is Bagni di Pisa spa resort? It's located at Largo Shelley, 18. San Giuliano Terme 56017 Pisa Tel.: +39 050 8850.
Getting to Bagni di Pisa: If you're not driving, take a taxi or train from Pisa. That's what I did.
The 5-star Bagni di Pisa is a Leading Hotel of the World.
Check prices and availability
here
.
Grotta Giusti Natural Spa Resort in Monsummano Terme
Grotta Giusti Natural Spa Resort is a Tuscan spa resort set in a restored 19th-century villa, and has excellent thermal water facilities.
It's a romantic hotel and an ideal couples' spa. If you're looking for a hot springs near Florence, this might be a good choice as it's only 40 km (30 miles) away.
The hotel is very traditional, with excellent service and fine dining. For diversion you can hike into the hills behind the spa or into the town of Monsummano Terme below.
In the spa section of Grotta Giusti Resort (pronounced chiusti), a unique thing to do is to visit the steamy grotto that offers natural detoxifying treatments in a 1,000 year-old otherworldly cave.
The cave is quite ghostly and atmospheric. All the guests wear special hemp robes as they pad through the four different levels – Paradise, Purgatory, Limbo and Hell, which get hotter as they go.
The humid air, enriched with steam from the springs, accompanies you on a subterranean path to wellness – though I liked the experience more than my husband did. He preferred the outdoor pools.
In one of the most unusual spa packages I've ever heard of, guests can combine a spa sojourn with a diving expedition in the cave's thermal lake.
Grotta Giusti Day Spa Near Florence
While the cave makes an unusual spa experience, it's the hot springs themselves that draw most visitors, and yes, you can visit the hotel spa and pools for the day – a great excursion from Pisa.
Grotta Giusti has fabulous outdoor pools fed by the local hot springs. One pool is for hotel guests only and a larger one is for both hotel guests and day trippers.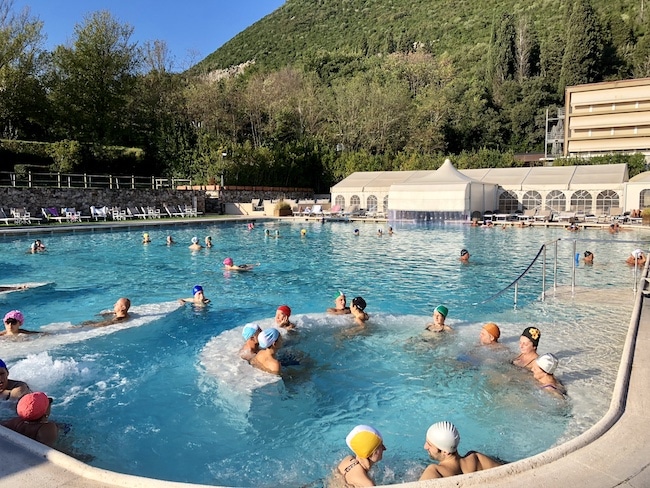 Getting to Grotta Giusti Spa
This popular Tuscany wellness resort is located at Via Grottagiusti, 1411—51015—Monsummano Terme, Toscana Tel.: +39 0572 90771. It's right beside the larger spa town of Montecatini.
If you're not driving you can take the train from Florence to Montecatini, then take a taxi from the Montecatini Terme train station, about four kilometres away.
Grotta Giusti is a luxury spa hotel about 60 km from Florence.
Check prices and availability
here
.
Fonteverde – San Casciano dei Bagni
Fonteverde Natural Spa Resort is one of the most glamorous hot springs spas in Tuscany. Scenically set in the hills of Siena midway between Florence and Rome, this 5-star resort attracts a sophisticated clientele seeking a relaxed country getaway.
Rumour has it Penelope Cruze and Michael J. Fox have both been here. True or not, I don't know.
Once a renaissance palace owned by the Grand Duke Ferdinando I de' Medici, Fonteverde spa hotel offers panoramic views of the gentle hills beyond, and its extensive spa has an airy contemporary feel, with a number of pools, sauna facilities, treatment rooms and relaxation areas.
The mineral springs here were a sacred to the Etruscans (ask at the front desk to be let into the church that was formerly a pagan temple).
Fonteverde Day Spa
You can visit the pools at Fonteverde for the day, or arrange for a treatment with use of the pools and spa facilities.
Getting to Fonteverde Spa Resort Tuscany
Fonteverde is located at Localita' Terme 1—53040 San Casciano Dei Bagni, Tuscany Tel.: +39 0578 57241. If you're not driving the spa can arrange a private transfer from Chiusi Train Station about 20 minutes away.
Fonteverde is one of the top 5-star spa resorts in Tuscany.
Check prices and availability
here
.
Montecatini Spa Town
Just five km away from Monsummano Terme and Grotta Giusti is the famous spa town of Montecatini, one of the largest thermal spa towns in Italy.
Here the focus is on drinking the water rather than soaking in it, and there are no outdoor pools for day visitors. If you're determined to have a thermal bath in Tuscany and this is your only chance, you can try the indoor pool at Redi Spa.
The big thing to do in Montecatini is to visit the impressive water drinking pavilion, Tettuccio Terme. It's an ornate Art Nouveau spa building where you can sample the mineral-rich thermal springs.
I've written an entire article on Montecatini, Italy (which, I say, humbly, won for Best Wellness Article in the Travel Media Association of Canada Awards), so you can read more than you ever wanted to know about this intense spa experience.
Montecatini Hotels
Montecatini is line with hotels, from the sleek LHP Hotel Montecatini Palace & Spa and the elegant Grand Hotel & Le Pace Spa, where Audrey Hepburn once stayed, to the more affordable but nice-looking Ercolini & Savi.
Is Montecatini the Best Tuscany Spa Experience for Visitors?
Er, possibly not. As Montecatini doesn't focus on soaking in the hot springs or have any outdoor thermal pools, it's not the best Tuscany spa for the casual spa goer, but geared more towards those interested in a longer medical spa experience.
It's still a great place for a day trip from Florence. with some stunning architecture, and if you're looking for a base between Florence and Lucca conveniently on the train line, and much cheaper than Florence, it may work for you.
Bagno Vignoni Hot Springs – Val d'Orcia
Located in the lovely Val d'Orcia, Bagno Vignoni is one of my favourite spas in Tuscany, mainly because of its casual low-key charm.
Once a pilgrimage stop on the Canterbury to Rome route, the town of Bagno Vignoni has an eye-catching pool in the main square where pilgrims once bathed their feet. The urge to jump in is almost overwhelming, but hold yourself back. It's not in use today. There are other places for your mineral baths.
Hot Springs at the Hotel Posta Marucucci
To spa and relax in these steamy Tuscan springs you have a couple of options. We loved the Piscina Val di Sole, which are the outdoor pools at the 3-star Hotel Posta Marcucci (closed from Jan to April), even though it's more laid back than luxurious.
Day Spa at Bagno Vignoni
You can get a day pass, and many people do.
We stayed the night at the hotel so we had free pool access. While our room was plain, the hotel had a dining room with a view and gets great reviews.
Check prices and availability at the Hotel Posta Marucucci here.
The LuxuryAdler Thermae Spa and Resort at Bagno Vignoni
Another way to spa in Bagno Vignoni is to go luxe at the upscale Adler Thermae Spa and Resort. Popular with North American spa guests, Adler rivals Fonteverde in the top luxury spa hotel in Tuscany category.
Located just outside town, it looks divine. I wandered in, but never stayed, though I have a friend who has raved about it for years.
Check prices for Adler Thermae Spa and Relax Resort here.
Albergo Le Terme
One other hotel in Bagno Vignoni that offers thermal baths is Albergo Le Terme. It has a central location in town, but doesn't have the outdoor pools or extensive grounds like the Hotel Posta Marcucci.
Get info on prices and availability for the 3-star Albergo Le Terme here.
Free Hot Springs at Bagno Vignoni
Since Mark and I had access to the pools at the Hotel Posta Marcucci, we didn't go searching for the free natural hot springs at the Natural Park of the Mills (Parco Naturale dei Mulini).
Apparently they're tricky to find. For the intrepid traveler, the park is at Via del Gorello, 53027 Bagno Vignoni SI, Italy.
Getting to Bagno Vignoni
The town is about 133 km from Florence in the province of Siena. Like most thermal spas in Tuscany, driving is the easiest way to get here.
By public transportation you can take a train to Buonconvento Station which is 22 km away. There is bus service from there.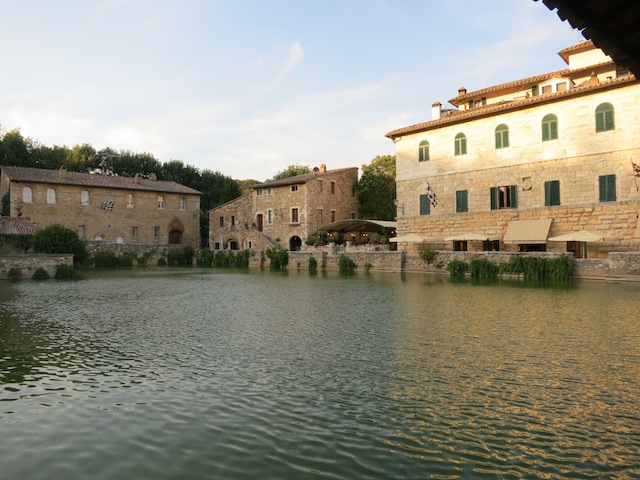 Bagni San Filippo
It's only a 30-minute drive to Bagni San Filippo from Bagno Vignoni, a Tuscany hot springs situated between the Val d'Orcia and Mount Amiata. It's about a 15-minute drive from San Quirico d'Orcia and Pienza.
The outdoor public thermal pool is basic but large, but the grounds are minimal so we didn't linger all day.
After soaking we tried to find the wild natural springs and waterfalls in the woods that I've heard so much about, especially the calcium-encrusted waterfall called the 'White Whale.'
Free Natural Springs at Bagni San Filippo
The White Whale is a spectacular natural formation created by the calcium in the water that gets left behind as the springs flow downstream.
Word has it there is an easy path along the river, but we missed it. Instead, we tramped through the forest for an hour before giving up and driving to Bagno di Vignoni, which, since we ended up liking it so much, worked out fine.
Would I give Bagni San Filippo another try? Absolutely, but we'd either arrive earlier or book a room ahead, because the spa hotel was booked full when we tried to stay the night.
The hotel connected to the hot springs is Hotel Terme San Filippo & Spa.
Check prices and availability for the Hotel Terme San Filippos and Spa here.
Petriolo Spa Resort – Hot Springs Near Siena
Even though my husband and I were renting an apartment in Umbria, we decided to take off and spend a luxurious weekend at a Tuscany wellness hotel called Petriolo Spa Resort. If you're looking for a hot springs near Siena, this is a solid option.
Our weekend will go down in history as one of our top spa getaways of all time. My husband and I still talk about our room. It was flooded with light, had an ornate chandelier, hints of gilt and a glam red marble bathroom.
Petriolo Spa Resort sits just off the highway. This could be off-putting except once you're in the hotel you don't notice it. At least we didn't.
We were too busy facing the other way enjoying the view of the Tuscan scenery; lounging in the to-die-for outdoor pools at the hotel, which are so full of calcium powder you can scoop it up by the handful.
Free Natural Hot Springs at Petriolo
We also wandered down the hillside through the forest to the natural springs on the banks of the Farma River. These free natural springs are a bit New-Age-y where, in addition to Italian hippies, you can also see the ruins of ancient Roman baths.
Petriolo Day Spa
A third option to experience the hot springs at Petriolo is at the public spa, the Terme di Petriolo. This has cheaper spa treatments than the deluxe Petriolo Spa Resort where we stayed, but the pool isn't huge and it's not nearly as upscale. It's not the type of place I'd want to spend the whole day.
Where is Terme di Petriolo?
Petriolo thermal springs are near the town of Monticiano, 30-minutes south of Siena on the road between Siena and Grosseto.
Check prices and availability for the Petriolo Spa Resort here.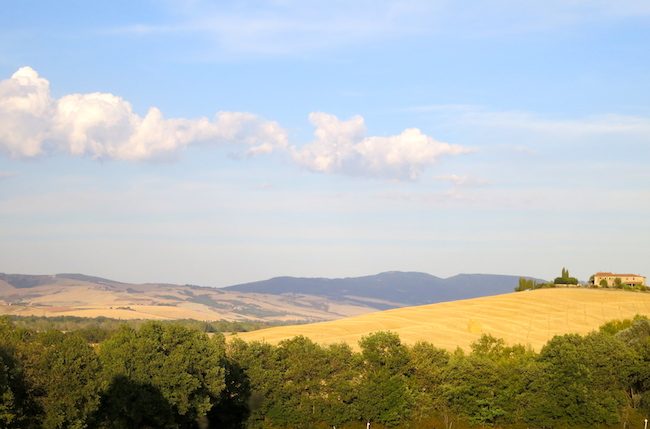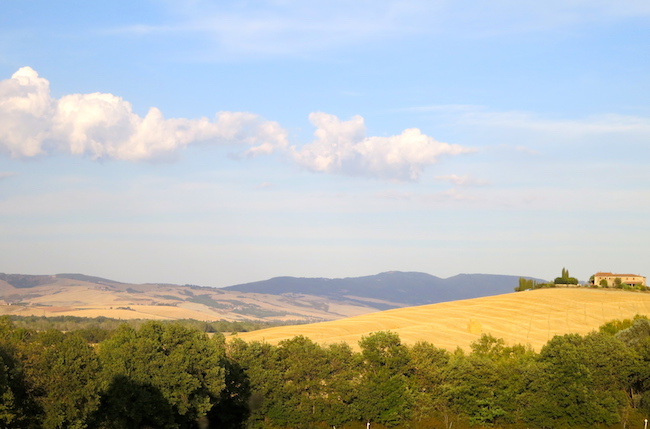 Why Visit the Thermal Springs of Tuscany
Mineral baths and thermal springs are a great way to connect with the region – in the most liquid dreamy way – so why not give one a try? In my opinion, it's one of the best things to do in Tuscany.
Read more: Read about the different types of spas at What is a Spa? Or, try How to choose a spa in Italy. You can also read more about Spa Travel.