This post may contain affiliate links.
There are so many wonderful things to do in Tuscany, a seductive region of Italy that will steal your heart and put a stamp on your soul. Read on to learn what to do in Tuscany: If Tuscany was a woman and you were dating her. (Seriously.)
It's a fact. Tuscany just keeps getting more popular. Unlike those popular girls in high school, however, who looked down on you because you were lame at sports, Tuscany welcomes you with plump open arms, an open bottle of Chianti Classico and tantalizing scents of basil and lavender.
(Take that, popular high school girls, because you will never age as well as the Leaning Tower of Pisa or a Super Tuscan wine like Ornellaia.)
And if you're wondering what to do in Tuscany on vacation, read on.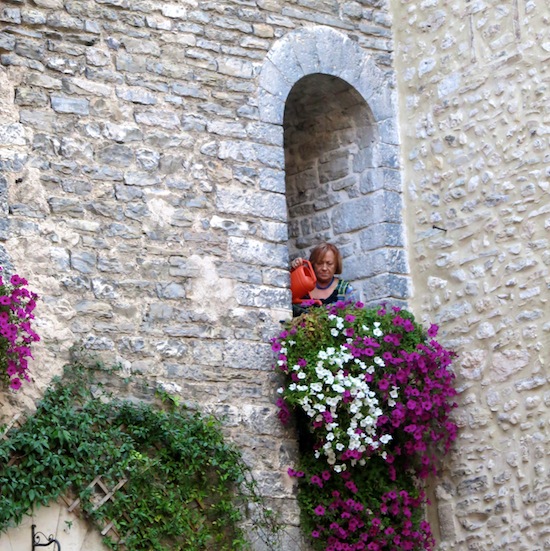 First you need to forgive Tuscany for being more beautiful than you, and more eternally captivating, then you need to figure out how to spend your time here. So imagine you are a man (if you are already a man, that shouldn't be a stretch) and that Tuscany is a woman. And here's what you would do on a date.
What to do in Tuscany activity 1: Drink red wine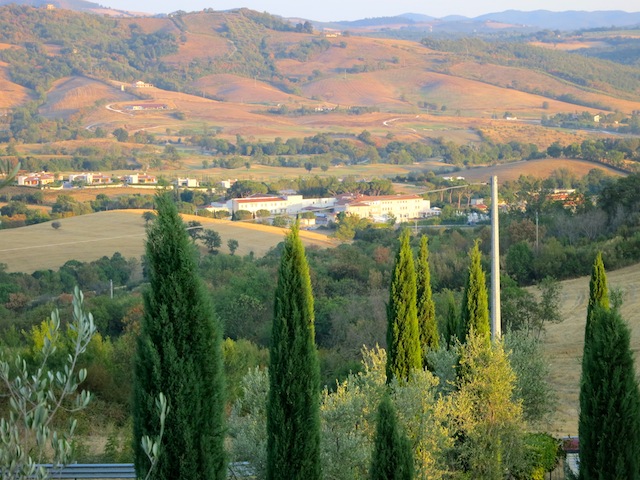 Doesn't everyone drink on a first date? How better to get over those nervous jitters? You'll find plenty of opportunity to drink delicious reds in the hill town of Montepulciano, but be forewarned, you may also be fighting the crowds of American tourists who come here in search of an authentic Tuscan experience.
This is what you should do in Montepulciano: Not only should you buy a bottle of Vino Nobile di Montepulciano, a red wine with layers of cherry and plum that's been topping wine-tasting charts since at least the 15th century, you should wander into a few of the medieval-looking shops to eat all the free samples of salami, bread drenched in olive oil and pecorino cheese the shops so willingly give out.
Tuscany travel tip warning #1 – you will feel guilty about eating all those free samples and ending up spending huge amounts on artisanal sliced meat and cheese.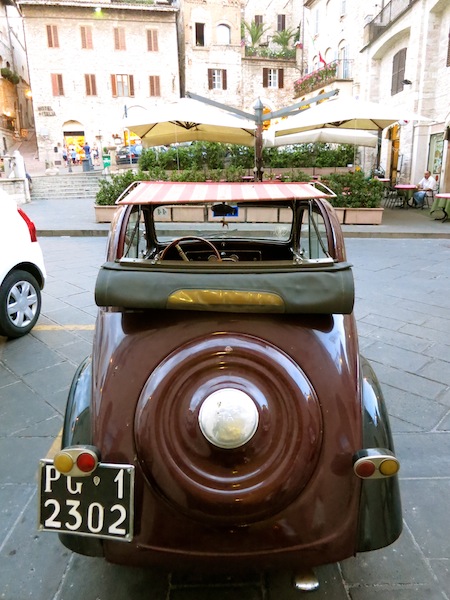 Tuscany travel tip warning #2 – do NOT park by a sign outside the old walls of Montepulciano that says '30 minute baggage unloading zone', thinking that you can wander around Montepulciano happily for 30 minutes pretending you are taking your bags through the cobbled pedestrian lanes to your hotel. Tuscany is all-seeing. It knows you're just after free samples of cured meat.
You will get a parking ticket, not know how to pay it and it will follow you back to Canada and cost you lots of money. Not that that happened to us. (Except it did.) The moral of the story is: Parking illegally is not one of the best things to do in Tuscany.
What to do in Tuscany activity 2: Drink some more red wine
Doesn't everyone drink on a second date? How else do you get over those … oh, never mind. Luckily I'm married now and can give my liver a break. But here's a confession. My boyfriend (now husband) and I both prefer the smaller town of Montalcino to eye-catching Montepulciano, mainly because there are fewer crowds, it's easy to find a (legal) parking spot and because this is the home of Brunello di Montalcino, possibly the very best Italian wine in … um, Italy.
What to do in Montalcino: Along with the Museo Civico e Diocesano d'Arte Sacra and the 14th-century castle, I recommend going to a pharmacy, at least that's what I did after being bitten on the bum by a bee on the drive there. (Seriously, who get's bitten on the bum by a bee?)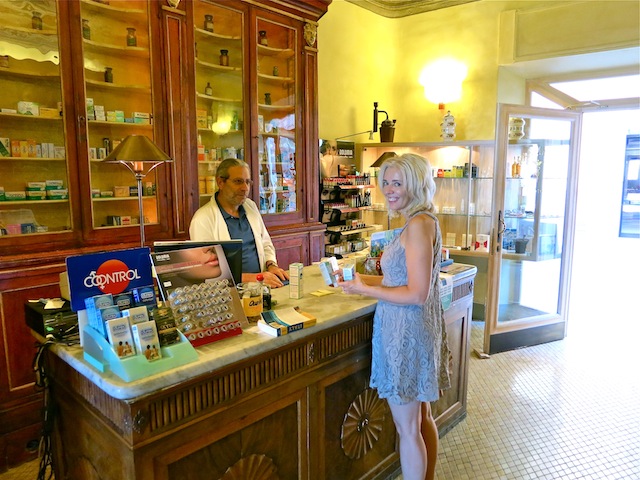 Even though my posterior was throbbing painfully, I wasn't too distracted to notice that the pharmacy was a time capsule with rich wooden cabinetry, the pharmacist was as charming as Tuscany itself, and the view of the Tuscan fields from the window a classic scene of rippling hills.
Overall it was a pharmaceutical experience that almost, but not quite, made it worth being stung in the bum by a black and white Tuscan bee.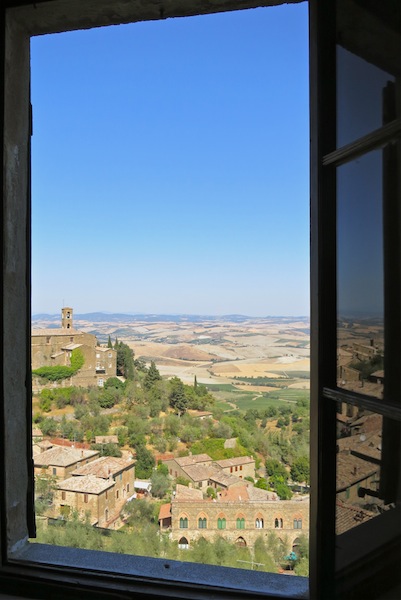 Tuscany travel warning #3 – If you go to Montalcino with your boyfriend or husband, you're in terrible trouble because he will taste Brunello wine and from then on, will love it more than he loves you, and you will have lost him to Tuscany forever.
What to do in Tuscany activity 3: Go to the hot springs
Nothing says romance like soaking in a pool of hot water. If you're near Montalcino anyway, you should keep on going to the gorgeous spa at Terme de Saturnia, where hot springs fill a vast swimming pool built over a volcanic crater before dripping down the Tuscan hillside.
There are so many wonderful thermal spas in Tuscany, you can pretty much get yourself into hot water no matter what corner of the region you're in.
If you're Penelope Cruz, I'd suggest Fonteverde Spa Resort. More down to earth is the former pilgrimage hot springs stop, Bagno Vignoni.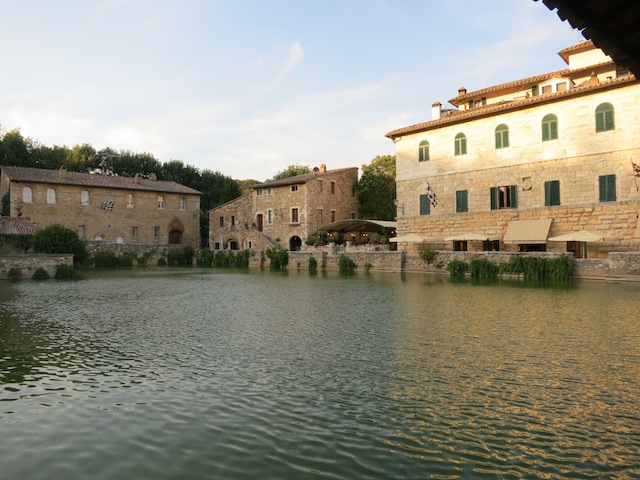 And if you're a hip gorgeous Italian couple on a weekend break from your job in advertising, you might think about Terme di Petriolo near Siena.
What to do in Tuscany activity 4: Rent a villa or better yet, move there
Renting a villa or even buying a house (if you really want to get Under the Tuscan Sun) is the stuff holiday dreams – and movies – are made of, because you can spend lazy days lying around the pool, shop for local produce in atmospheric hilltop villages and cook endless dishes of pasta al pomodoro and/or fall in love with the handsome local handyman who comes to clean your pool or unclog your 400-year old drains.
Need I say more?
What to do in Tuscany activity 5: Sightsee
Let's just run through a few of the top sights of Tuscany, shall we, because once you've seen them you can go back to lying by the pool?
In Florence, one of the best things to do is to visit the Uffizi Gallery to see Botticelli's Birth of Venus – even though Venus is so exquisitely beautiful it will bring up all your deep-seated insecurities caused by those popular girls in high school. But then you won't care, remembering that the handsome local handyman at your villa has declared undying amore.
In Florence you must also see the famous Ponte Vecchio Bridge, a shop-encrusted medieval bridge that spans the River Arno. Walk back and forth looking at all the shops selling gold, but do not, under any circumstances, lock a padlock onto the Ponte Vecchio like all those other dumb couples who believe that this will unite them forever, because by now your boyfriend/husband is in love with: a) Tuscany b) a bottle of Brunello and c) Botticelli's Venus, so you're sort of wondering if your relationship will last.
And, because the handsome local handyman is still haunting your dreams, you're wondering if you even want it to.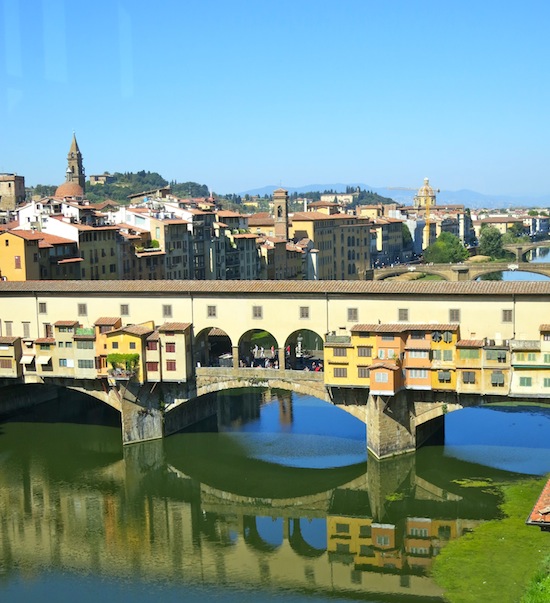 Not one of the best things to do in Tuscany: Do NOT put a love lock on the Ponte Vecchio Bridge because the authorities have a terrible time getting them off and you don't want to be that kind of tourist now, do you?
What to do in Pisa: In Pisa, of course you want to see the Leaning Tower (and if you're taking me up on my hot springs recommendation, you can stay at Bagni di Pisa Spa Resort, which is only 5 km away)
What to do in Siena: Gaze happily at the Piazza del Campo, the stunning town square where a medieval horse race called the Palio de Siena is held twice every summer (July 2 and August 16). In this centuries-old tradition riders risk life and limb to careen around the piazza bareback while wearing the colours of their contrade (the neighbourhood they are representing).
Whosever horse gets around the Piazza del Campo 3 times first wins – whether the rider is still on it or not. (And, if you you agree that one of the top things to do in Tuscany is visit a hot springs resort, you can stay at Terme di Petriolo, which is about 20 kilometres south.)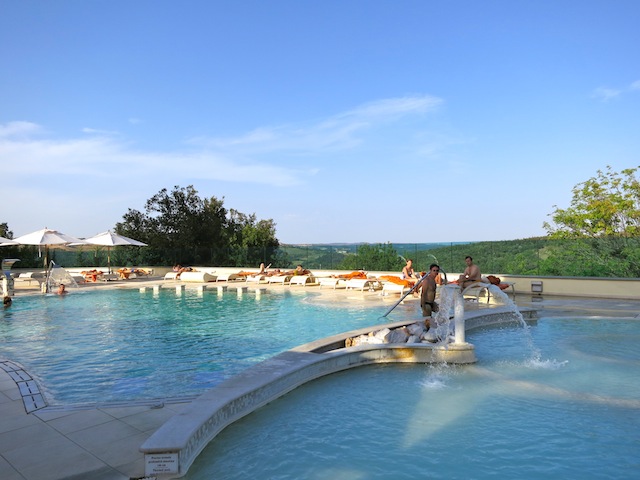 What to do in Tuscany activity 5: Cycle
If bucolic images of riding along quiet country roads past olive groves and cypress trees make you think more of getting clipped by a speeding car or chased by a snarling Tuscan dog (and let's not even get started on bees) then I'd say you might just be a wee bit phobic. But don't worry, many of us are. That's why, if you're wondering what to do in Tuscany, and wondering how you can cycle safely, there is a solution.
The solution is to go to the lovely walled city of Lucca, where you can rent a bicycle and ride around on top of the city's Renaissance walls. Cycling the walls of Lucca is so much fun and one of the top things to do there, and just thinking about it makes me fall in love with Tuscany all over again … you know, if I were a man and Tuscany was a woman and I was dating her.
So go to Tuscany and fall in love with it for yourself – it will be the start of a beautiful relationship (and possibly the end of your old one).
Get more Italy travel ideas at Cities in Italy and how to fight with your husband in all of them.
Bet more Europe travel ideas at Top Destinations in Europe to Visit.