This post may contain affiliate links.
Let's talk about my legs. They're long – so long that if you imagined a giraffe with no neck you'd pretty much have my proportions. They're shapely, at least my husband says so under duress. They are not, however, firm. In fact, if you imagined the aforementioned giraffe as a twisty balloon animal, each appendage filled with adorable squirming rats, you'd understand the tone of my thighs.
Flabby thighs, will travel
Just this morning I read that the more you say, "I hate my flabby thighs!" the more you are reinforcing your negative self image. So stop. Right now. And know what I know, that flabby thighs can take you places.
Leg-themed travel has propelled me around the world – and I don't mean hiking. From the very first spa town I visited, Bad Bertrich in Germany – which turned out to be one of the vein capitals of Europe – to the PEAKS OF SLIMNESS treatment I just had at the 5-star Hazelton Hotel in Toronto, my flabby thighs have given purpose to my life and meaning to my travels.
So stop bemoaning your thunder thighs and ask them where you should travel to next.
Unsightly veins? Embrace phlebology in Germany!
Ah, the plight of varicose veins. At the The Capio Mosel-Eifel-Klinik in Bad Bertrich you can have them stripped right out of your legs. Can you think of anything more fun?
When I spent a week in Bad Bertrich some years ago on a much gentler 'Put Your Best Leg Forward' package (which sadly, seems no longer to exist but was really quite fun, with lots of doctor-ordered soaking in the hot springs pool, massages and something called 'vein walking,' which meant a nice walk around the park), I met an Italian woman who had just had her varicose veins pulled out with an implement that resembled a crochet hook.
**IMPORTANT NOTE SO NO ONE YELLS AT ME: Having your varicose veins stripped is much more technical than sticking a crochet hook in your leg. German clinics are very proper, clean and advanced, but we were communicating between English and Italian with the help of another saggy-thighed vein walker whose first language was German, and 'crochet hook' was as precise as we could get.
The Italian woman was, for obvious reasons, walking gingerly, but seemed happy with her varicose-vein-vanishing results.
During my week at Bad Bertrich I learned something about my flabby thighs. I learned that I don't have varicose veins or even cellulite. The doctor informed me I have Soft Spongy Skin That Only Looks Like Cellulite. How exciting is that!
Flabby thighs go to London
Since that first spa in Bad Bertrich my travels have included plenty of spongy-skin-mimicking-cellulite adventures. When I was in London doing a summer course in theatre criticism (not my calling, though to crow just a bit, I did get an 'A'), I was regularly sneaking out of my student residence in Islington for Endermologie treatments.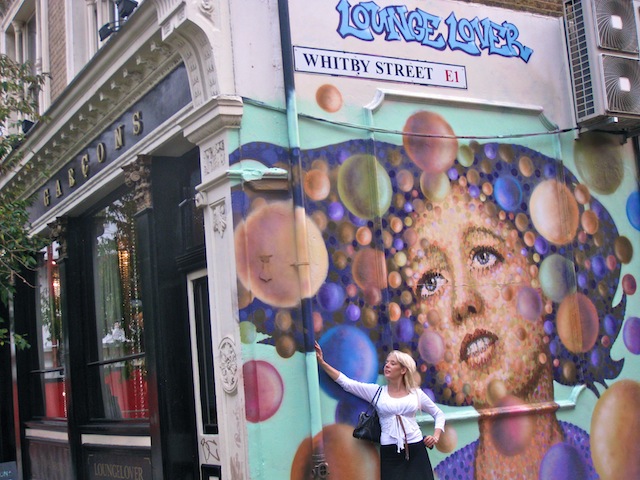 Endermologie is an expensive cellulite busting treatment. It's almost as expensive as taking a theatre course, and consists of (to paraphrase loosely) having the skin of your thighs suctioned between two rollers until all the cellulite is beaten to death.
The downside was that – possibly because I have spongy skin rather than cellulite – the treatments did no good at all.
The upside was that my Spanish therapist was a delight, a petite girl with black hair and tiny perfect teeth, and we ended up comparing our cellulite under a UV lamp, drinking in Soho pubs, at a party in Arsenal and for some odd reason that is a story in itself, at a Japanese hostess bar.
So you see, if I hadn't been worried about the state of my flabby thighs, I would never have explored this unique and multicultural side of London.
Flabby thighs enjoy seaweed treatments in Cannes
France is the epicentre of seaweed spas. If you're fighting flabby thighs this is need-to-know information. The most famous seaweed comes from Brittany and it's used regularly in detoxing and slimming spa treatments. And this, my friends, is your introduction to thalassotherapy.
Of course my love for flabby-thighs travel (also known as restless flabby legs syndrome) took me to France to enjoy a seaweed day at a posh spa in Cannes called Les Thermes des Marins.
I was happy at Les Thermes des Marins, soaking in seawater and thinking about all the starlets who would be toning their thighs here during the Cannes Film Festival. It made me feel like a jet setter and I had only my soft thighs to thank for this moment of international luxury.
Exploring the Camargue with wobbly thighs
When my boyfriend (now my husband) and I rented a villa in the wild hills of the Cevennes, somewhere north of Marseilles, I made him drive me back down to the coast, to a flat windswept region called the Camargue, because I wanted to visit a seaweed spa at the Hotel Les Bains.
Once we got to the Camargue, Mark and I rented bicycles and rode a few kilometres to the Hotel Les Bains. If I'd been alone I would have checked into the hotel on the spot, but since Mark was waiting at a cafe I could only tour the spa and plot future husband-free visits.
The spa was very clinical looking and quite crowded with French slim-thigh seekers. There were seawater pools and seawater baths, and I'm sure that if I could have stayed there longer I would have discovered the French woman's secret to style.
Unfortunately, my departure from the spa coincided with a downpour so I had to cycle with a plastic bag on my head, and then, when I was handing my bicycle over to my boyfriend to hold while I adjusted my plastic-bag hat, the bike fell on me. It landed on my foot, and I started to cry and wouldn't get back on the bike so then we were late returning our rented bicycles.
This was a problem because the rental man had made us promise to get the bikes back on time because he wanted to go home, so then we had to tip him a lot of money before he cheered up.
On the whole, it wasn't the greatest excursion, but it was another thigh-fuelled adventure and I did get to see the Carmargue, a fascinating marshy region with pink flamingoes, wild horses and the crusader-era walled town of Aigue-Mortes.
**IMPORTANT NOTE SO NO ONE YELLS AT ME: Before all of Ireland rises up in protest, I'll hastily add that Ireland has excellent seaweed, too, and that my thighs appreciated very much being slathered with hand-harvested Irish seaweed from Sligo at the Cliff House Hotel on the southeast coast of Ireland.
Yes, yes. Ireland has good seaweed, too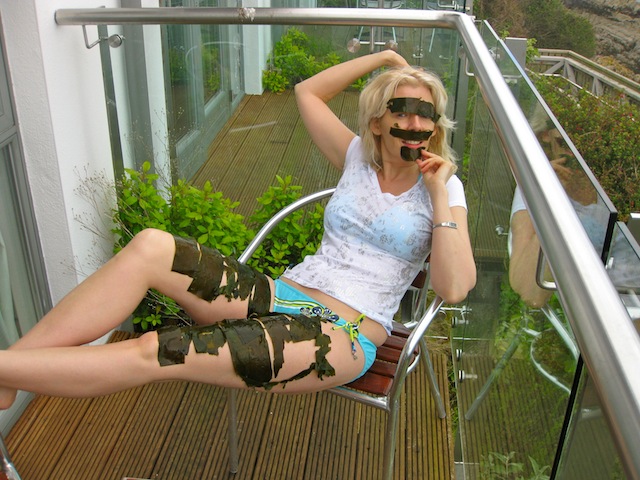 A flabby thigh treatments in Toronto
This brings me up to the Hazelton Hotel spa in Toronto, where the very smashing Valmont line from Switzerland has come out with an entire flabby-thigh-busting regime, and a signature treatment called the PEAKS OF SLIMNESS. The Hazelton Hotel is very deluxe and so is the PEAKS OF SLIMNESS treatment, although it's a bit daunting when you pad into your treatment room and the therapist warns you, "This is not a relaxing treatment, it's intensive."
She wasn't kidding. The PEAKS OF SLIMNESS involves various stages such as a scrub, shower, serum application and booster, and entails a lot of meticulous pinching, prodding and massaging, which, while it feels very effective, makes you ask your flabby thighs what they did in a past life to deserve this.
Firm thighs is a commitment
If you really want firm thighs, Valmont can help you get them, but it's a serious commitment. You should do a series of 10 PEAKS OF SLIMNESS treatments, and buy all the products and slap them on correctly, and let's just say upfront it's not cheap. (One treatment costs $320 for 90 minutes.)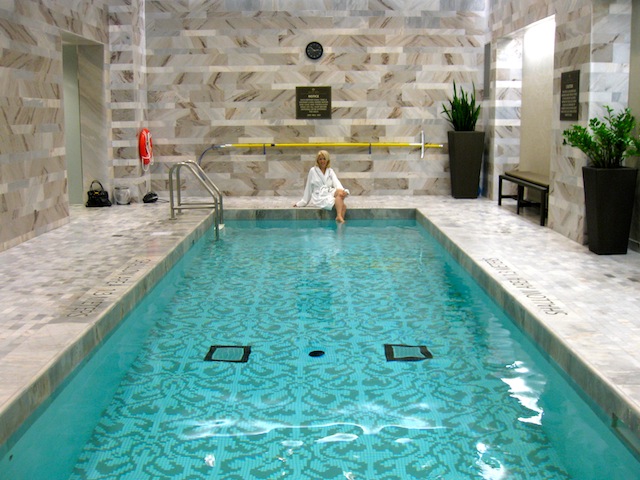 But still, lying on the treatment table I dwelled on this miracle for a moment. An actual path to firm thighs! It's the holy grail of toned thigh solutions, I thought, my legs getting all tingly and cold from the booster. Finally I can pinch my flabby thighs into submission.
I got even more excited when I considered all the spas around the globe that offer the Valmont PEAKS OF SLIMNESS treatment, thinking I could have a treatment at each one: the Hotel Plaza Athénée Spa in New York, the Conrad Maldives, Langdon Hall … and then what, said a small voice inside me. What happens when the flabby thigh problem is gone?
A misty gloom descended on me. Without my flabby thighs to guide me where would I travel? Would the thrill of visiting a European spa town be ruined for life? And just what, I wondered, is life as a person with firm thighs really like? Where do firm-thighed travellers go? (I mean, besides the beach obviously, but anyone can go there.)
People blessed with firm thighs probably don't ever end up at state-run spas in Germany just off the Moselle River or at seaweed spas in the Camargue. People with firm thighs probably don't even have any goals in life because their dreams have already come true!
I felt all plastic-perfect and vapid just contemplating it. After a minute, however, I cheered up. If I get my wobbly thighs fixed up, I thought, I can really get to work on those jowls.
Read more about Going to the Spa and Spa Travel