This post may contain affiliate links.
Oh, sure. The uber-famous Toronto International Film Festival may have a new home, the Tiff Bell Lightbox downtown at King and John, but don't let that fool you. There's no way that Yorkville has lost its glam, not with its mega-buck condos and high concentration of 5-star hotels, see-and-be-seen restaurants and pricey boutiques. Things may be in transition but for this year, at least, Toronto's chicest urban neighbourhood is still celebrity central. And while you may not be able to fork out hundreds of dollars for a hotel room – and good luck getting a reservation anyway – to make the big push and get close to your favourite stars, a collagen facial or hot stone massage at a top Yorkville spa just may get you past closed doors.
If you're hoping to rub shoulders with one of the celebs coming to Toronto like Jennifer Garner or Colin Firth, both spotted in Yorkville already (but, um, no word if they went to the spa), why not make an appointment at one of these tried and true venues?
Stillwater Spa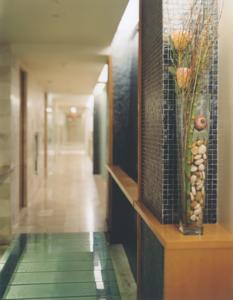 Located in the Park Hyatt Hotel at the corner of Bloor and Avenue Road, Stillwater Spa consistently rates as one of Toronto's best spas. The soothing neutral tones, aqua accents and sleek water walls give it a posh uptown vibe. What to opt for: A Hungarian Mineral Facial, a decadent Omorovicza re-mineralizing facial to get your skin glowing and red-carpet ready for all those chic film fest parties going on around town.
Where you can hope to meet the stars: The whirlpool and steam room in the change rooms or the relaxing central lounge.
The Park Hyatt is at 4 Avenue Road. Tel: 416 926 2389
Hazelton Spa & Health Club at the Hazelton Hotel
One of the newer players on the Yorkville scene, the Hazelton is a hotel with film festival cachet. Didn't Brad Pitt stay here last year? In fact, didn't he famously drive the wrong way down Yorkville Ave? Oh, come on, Brad – do it again! The Hazelton spa is small and exclusive, with marble walls and hand-painted lacquer panels.
What to opt for: try a Warm Contouring Mud Wrap – an anti-cellulite treatment that includes a copper scrub and slimming mud wrap – ideal for fitting into the little black cocktail dress.
Where you can hope to meet the stars: the indoor hand-tiled lap pool accessed by private elevator.
The Hazelton Hotel is located at 118 Yorkville Avenue. Tel: 416 963 6300 or 1 866 4736301
Novo Spa
Further down on Avenue Road, Novo Spa is a 5,000 foot facility and a popular Yorkville standby. Opt for: One of their good-value Film Festival package specials like the Oscar Award Packagewhich includes a massage, organic facial and sauna for $192. That way, you'll be all chilled and relaxed when you run into Lord Darcy, I mean, Colin Firth. Did I mention I love him? Except only when he's in period Jane-Austen-ish wear.
Where you can hope to see the stars: in Novo Spa's unique Aroma Color Therapy Sauna in the change area – a combination sauna, steam and colour therapy. But be forewarned – Novo Spa therapists are often called out to serve the stars in their nearby Yorkville hotel rooms so there's no star-spotting guarantee. (Rumour has it that a Novo Spa therapist prettied up Cate Blanchett's fingernails at the Four Seasons last year.)
Novo Spa is at 66 Avenue Road Tel: 416 926 9303 or toll Free 1 866 926 9303
Hi, I'm a huge fan! Not sure what to do or say if you run into a celebrity at the spa? Check out my spa etiquette article. Bonus: you can learn what to do with your disposable underwear, too.
For more info about spas read The Spa and Spa Travel