This post may contain affiliate links.
When it comes to Toronto spas, the city has come a long way. Here are a few Toronto spa reviews, and a round up of the best pools and saunas and the low down on the best Toronto spas for couples.
It used to be a woman's domain but these days more and more couples are going to the spa. Finally! We've convinced men of the glory of spa-ing, a feat accomplished by incorporating words like sports massage, reflexology and sauna into our spa-speak along with girly terms such as facial, beauty and cellulite.
This brings us to an important question regarding Toronto spa reviews: Where the heck are the co-ed whirlpools and saunas?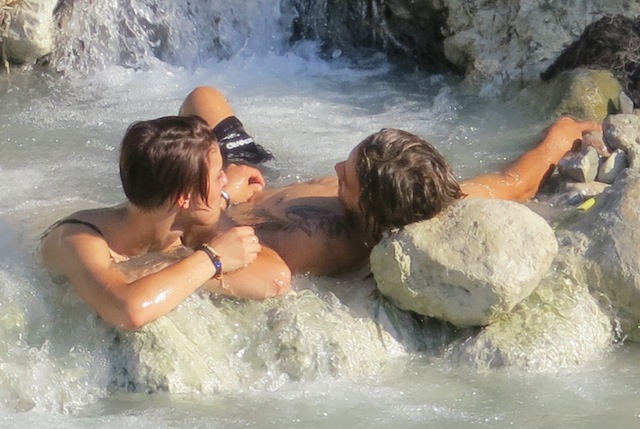 While there are a couple of spas for females only like Verity Spa and Body Blitz, here are the best Toronto spas for couples.
Choosing a Toronto spa for couples
When choosing a spa to foster togetherness, it involves more than picking a spa treatment. Stellar spa facilities mean that you can make an afternoon of it and there are certain criteria that rate high:
What makes a good couples spa?
1) Lounge chairs to relax in, hopefully by a pool
2) Jacuzzi/whirlpool (preferably outside but good luck with that in Toronto)
3) Swimming pool
4) Sauna (because I can always get my sauna-loving husband to go to the spa if he can sweat). A dry sauna is preferable, though to each his own, and infrared saunas are divine, but I suppose a steam room will do – though so much for that hairdo.
5) Relaxation lounge where you can laze, drink tea and eat snacks, especially if you're looking for romantic things to do in Toronto in winter.
6) And yes, of course spa treatments should be topnotch. You don't want to spend all that money for nothing.
Toronto spas reviews – we've come a long way
In the last couple of years the spa scene in Toronto has gone from lame to lavish. When I first started writing Toronto spa reviews, one of the only spas with co-ed facilities in downtown Toronto was the Elmwood Spa.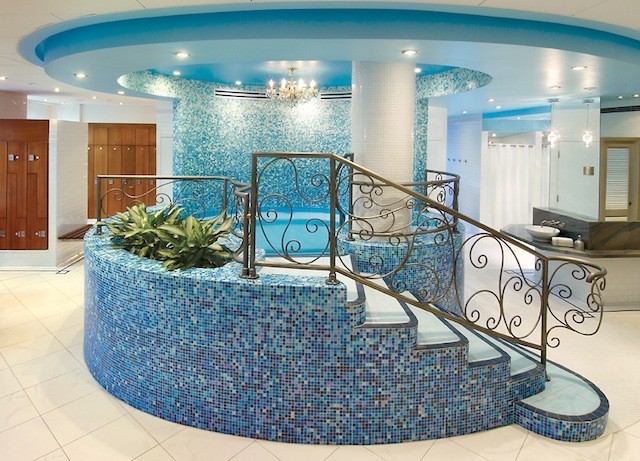 I'm very fond of the Elmwood Spa, it's big, central, more affordable than many of the newer spas. It has a decent co-ed indoor pool and whirlpool, and it can't be beat for its spa restaurant, but it's tough to compete with the swanky facilities at some of Toronto's new luxury hotel spas.
The best Toronto spas for couples in the hotel category
The Spa at Toronto Four Seasons Hotel
Okay, you'll love this 2,787-square-metre spa for its sheer elegance alone. It ranks as one of the best Toronto spas for couples because of its expensive-looking neutral decor and luxe finishings. Think pale-grey limestone, fawn-coloured wood from West Africa and calming neutrals in the spacious lounge areas.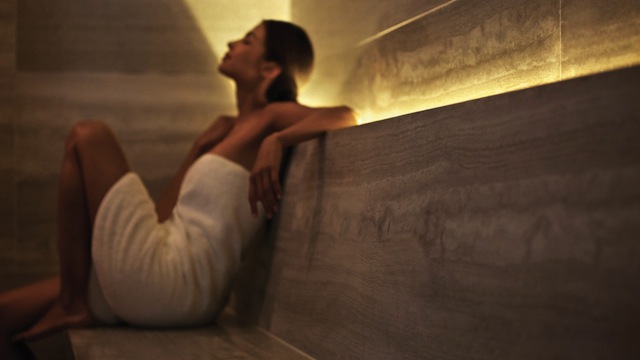 The downside of The Spa at Four Seasons Hotel Toronto: The lounge areas are segregated as are the steam rooms. Plus there is no dry sauna. So why does it rate as such a top luxury spa for couples, you ask? What saves the Spa at the Four Seasons Toronto, and in fact propels it into the stratosphere is the co-ed pool area that resembles a Japanese rock garden.
There is plenty of slate, a large square whirlpool and, in season, an outdoor terrace. To top it off there are – a rarity for Toronto spas – plenty of lounge chairs.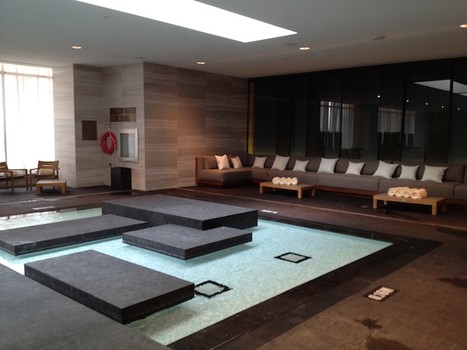 Tip for The Spa at Four Seasons Toronto Hotel: Phone ahead and make sure you can get pool access with your treatments, otherwise your couples bonding time will be limited to the check-in desk.
The Spa, Four Seasons Toronto is at 60 Yorkville Avenue. Tel: 416-964-0411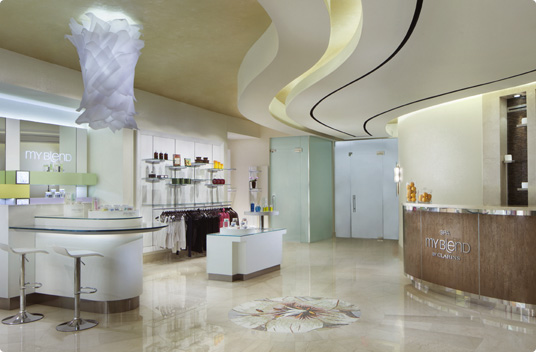 My Blend Spa by Clarins in The Ritz-Carlton Hotel
The My Blend Spa at the Ritz is one of the very best Toronto spas for couples because of its vast airy Urban Sanctuary Sunroom co-ed lounge. The cream and burnt orange colour scheme with its swirly leaf motif on the carpet feels both tranquil and cosmopolitan. The bubbly glass art installation hanging from the cathedral-like ceiling gives it a chic I'm-so-urban edge.
Need to know about the Ritz-Carlton Spa Toronto: At the Ritz-Carlton spa you'll be going back and forth between togetherness and I-want-to-be-alone-ness. The steam, sauna and green-tea-infused vitality pool are segregated but pad across the hall and you'll find a large indoor pool and whirlpool, albeit with a distinct lack of lounge chairs – but then you can always go back to that gorgeous lounge.
Spa My Blend at the Ritz-Carlton is at 181 Wellington St. W., 416-572-8000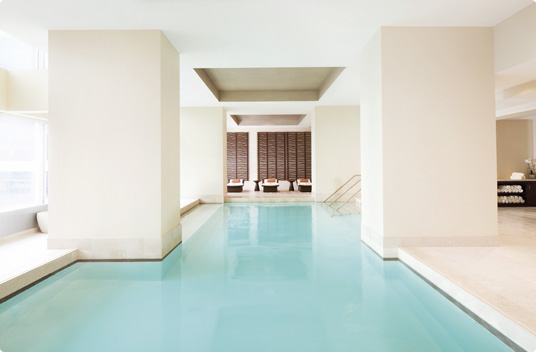 Miraj Hammam Spa by Caudalie Paris in the Shangri-la Hotel
The Miraj Hammam Spa by Caudalie Paris is a dark and sultry spa that merges middle eastern steam treatments with vinotherapy (wine-based treatments) using products from the famous Les Sources de Caudalie Spa in Bordeaux – the spa that started the whole vinotherapy craze.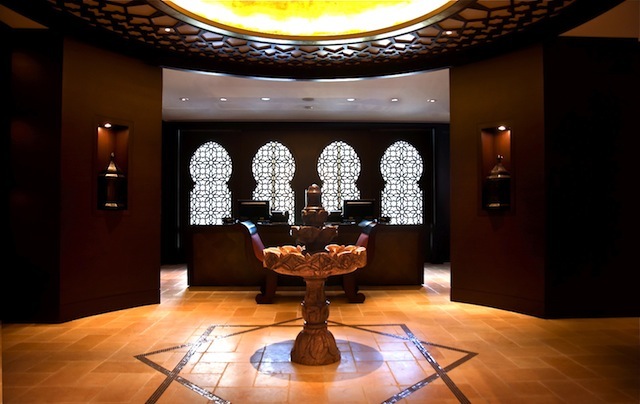 The modest-sized co-ed lounge at the Miraj Hammam Spa at the Shangri-La Toronto is very intimate and cozy, all dark wood latticework, deep reds and huge lounge beds. Imagine a sultan's-tent-meets-harem sort of feel.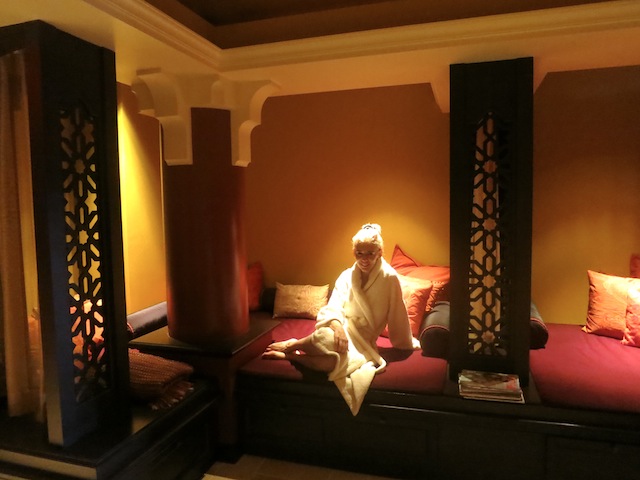 For an exotic (and partially-in-the-buff) treatment, their signature Hammam and Gommage (steam room and exfoliation) experience in a private steam suite with gold Jerusalem marble (30 min., $125) is sensual and sensory and will leave you so scrubbed and exfoliated that you may well lose 10 pounds in sloughed skin. Warning: be very wary of doing this on a first date.
What couples will love about the Miraj Hammam Spa by Caudalie in Toronto: The Miraj Hammam spa's couples treatment room may be the most beautiful in Toronto – with rich tiger-coloured marble and a glamorous barrel bath where you can soak in water infused with red wine extracts.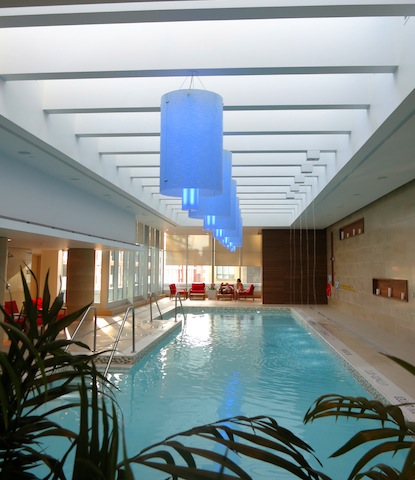 But let's get down to the important things for a couples day at the spa. The hotel facilities at the Shangri-La Toronto Hotel are a major draw. Down the hall from the Miraj Hammam Spa, the indoor swimming pool has a row of oversized coloured lights running above it, there is an infrared sauna and the sexy pool cabanas are the perfect place to curl up together. Check with the spa reception beforehand whether or not you can use it. You may have to pay an additional fee of $25 (which I find disappointing).
Toronto spa reviews verdict: Miraj Hammam Spa by Caudalie is definitely high on the list of the best Toronto spas for couples, but goes down a notch if you can't use the pools.
The Miraj Hammam Spa by Caudalie Paris in the Shangri-la Hotel is at 188 University Ave. Tel: 647-253-5770.
The Spa at the St. Regis Toronto
Update: When I was there it was the Quartz Crystal Spa, which was then rebranded as Pure Beauty and is now the Iridium Spa at the St. Regis Toronto so I have yet to check it out. The lounge areas at the Quartz Crystal Spa when it was the Trump Hotel were tiny and not conducive to snuggling up with a loved one, so let's hope that's been bumped up.
As the former Trump Hotel Toronto is now a St Regis, a fantastic brand with a keen appreciation for the art of a good spa, so I have high hopes. I'll keep you filled in.
What originally saved this luxury hotel spa in the best Toronto spas for couples department was the dramatic pool one floor up from the spa, and thankfully it remains the same.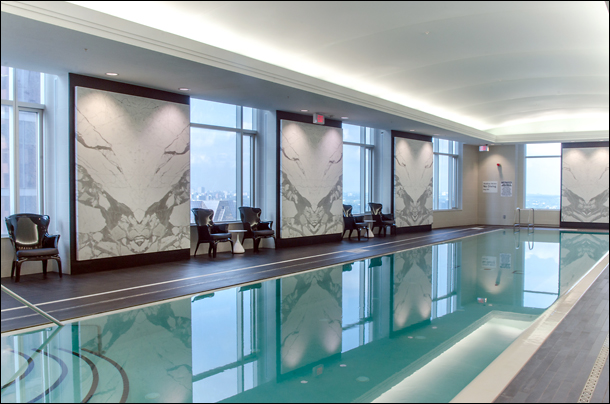 Up here in the pool area you'll find massive marble slabs on the wall that look like abstract paintings, floor-to-ceiling windows and a whirlpool. Like the Ritz-Carlton, however, there is a distinct lack of lounge chairs – why on earth not? Don't hotel spas want us to stay forever?
The new Iridium Spa at the St Regis is at 325 Bay Street.
Please note: When I first wrote this Toronto spa reviews post in 2010, none of these top Toronto spas for couples even existed except for the Elmwood! Can you believe how far we've come? Therefore, I have completely rewritten it, all the remains of the original post is the Elmwood, which is still going strong.
Read more Toronto spas reviews: