When it comes to good Toronto Spas, Elmwood Spa ranks high for affordability, location and facilities
It's never been a better time to spa in Toronto. With new luxury hotels like the Ritz-Carlton, Shangri-La, Trump Hotel and the Toronto Four Seasons springing up through the city like sunflowers in a Tuscan field, it's an exciting time to be an urban wellness junkie – especially when these properties come with 5-star spas.
At the same time, it's reassuring to know that what we've had and loved for years – the Elmwood Spa on Elm Street – isn't getting lost in the shuffle.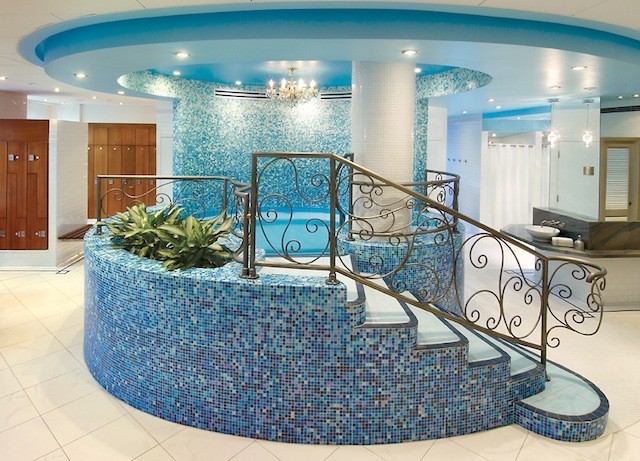 Toronto Spas: Elmwood Spa Review
Elmwood spa is more than 30 years old and this tried-and-true downtown spa has four spacious floors; an airy pool area with whirlpool, indoor swimming pool, steam bath and relaxation area. There is a restaurant, a fresh juice bar and a blue-tiled vision of a whirlpool in the women's change room. (Sorry men, I couldn't get in there to see your section.)
Even older than the Elmwood Spa itself is the building. Set in a large red-brick heritage building with cupolas, high ceilings and terraces, the Elmwood property was built in 1889. It was the city's original Y.W.C.A. before becoming a 'women's hotel' for unmarried ladies, and the history and landmark architecture make it a uniquely local experience.
Spa Cuisine at the Elmwood
Many Elmwood spa packages include a three-course lunch at the Terrace, where robes are the fashion statement of choice and if weather permits, you can eat on the outdoor patio. There is also a Thai restaurant on the ground floor, so there is no excuse for going hungry.
It's affordable
Another reason the Elmwood Spa is not losing its lustre is because it's one of Toronto's most affordable full service spas. You can get a facial for just over $100. An Elmline Essential Spa Facial, for example, is $110.
Although, after having had a 75-minute Virtual Surgery Swiss Line Facial with a peel and collagen masque for $195, I'd find it hard to opt for anything else – especially if it helps me age as gracefully as the Elmwood.
Travel Guide for Toronto Spas: Elmwood Spa Review
The Elmwood Spa is located at 18 Elm Street, two streets north of Dundas, between Yonge and Bay. It's very near the Delta Chelsea Hotel and close to the Eaton Centre.
For reservations telephone the Elmwood at: 416 977 6751 or book online.
Check their Specials page for monthly deals.
Water Therapy at the Elmwood Spa
Most treatments include access to the hydrotherapy area. This includes the use of the whirlpool, steam room, swimming pool and poolside relaxation area. It's recommended that you arrive one hour early for your treatment so that you can unwind at the pool.
From Monday to Friday the Water Therapy circuit can be purchased without a treatment for $30. It's one of the few spas in Toronto that offers this option and is great if you just want to relax.
For more Toronto Spa Reviews check out my Toronto Spa Page