This post may contain affiliate links.
It's that weird week between December 25th and New Year's – that last hurrah of the holidays before it's all downhill until spring, with nothing to look forward to except taxes. Unless you're going to the Caribbean. And okay, Valentine's Day gets a nod, but the point is, celebrate now because future happy times are slim on the ground for the next four months.
So smile up, imagine where you'd rather be for the holidays and I'll tell you a Christmas story about what really happened in Zurich, on the way to the Dolder Grand Hotel in Switzerland.
You think being a luxury travel blogger is all glamour, glamour, glamour, right? Well, here's a story that never made it into any of my travel articles, but I'm in a confiding mood, so here it is. It was the Christmas season and I was in Zurich. I'd had a private city tour with a guide named Sandra Claus (no, seriously. I am not making this up). She was imminently ready to have a baby, a son, and wanted to name him Noel, but her husband wouldn't let her so they had settled on Noah.
That's actually not part of the story, but I thought it would set a holiday mood. The story of what really happened in Zurich on the way to the Dolder Grand Hotel in Switzerland took place the next day.
The historic Dolder Grand Hotel
The Dolder Grand is a legend in the world of luxury travel, a historic hotel with pale walls and dark pointy steeples that makes one think of things such as Eleanor of Aquitaine and chivalrous knights on white chargers. (Well, at least it does me.) The Dolder Grand hotel opened in 1899 as a 'curhouse' (a traditional European health spa), so it has a long spa history.
The contemporary Dolder Grand Hotel
In 2008 the Dolder Grand Hotel in Switzerland underwent a modern transformation and became all designer-y, with lots of glass and clean lines in the two new wings, yet it still manages to keep its original old-world grandeur, compliments of savvy architect Lord Norman Foster.
Get to the point of the story
Yes, yes, I'm getting there. I had to set the scene, to show you how magnificent the hotel is so you would understand how badly I wanted to visit.  The Dolder Grand Hotel sits outside central Zurich ( that part is key to this story) with stunning views of Lake Zurich.
Its 43,000 square foot spa, designed by world-renowned spa diva Sylvia Sepielli, was getting tons of buzz. I'd heard that the walls of the spa evoked a feeling of the Grand Canyon, and this I had to see.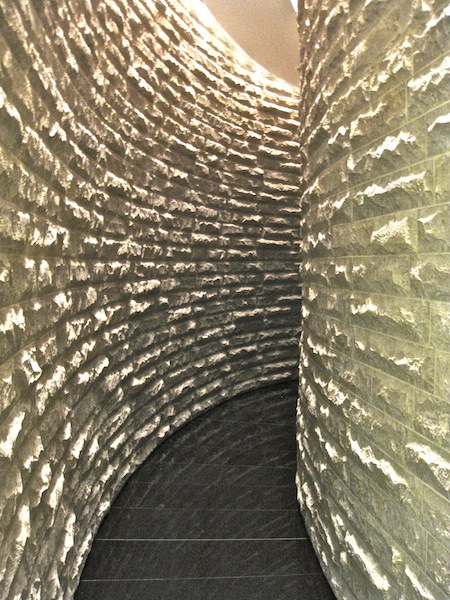 Thank you Swiss National Tourist Office
The Swiss Tourist Office had kindly arranged for me to have a tour and a spa treatment at the Dolder Grand Spa as I was happily trotting around Switzerland reviewing spas (I know, I know – hate me later) and this was one spa I couldn't miss.
Now if we were talking about a total luxury dream trip I would tell you that I was staying at the Dolder Grand Hotel and that all I had to do to reach the spa was take the elevator down. The reality was that I was staying in the up-and-coming, slightly edgy and very trendy area of Zurich West. It was not close to the Dolder Grand Hotel.
J
ourney to the Dolder Grand Spa begins
No way was I going to be late for my spa day, so I asked the front desk clerk at my hotel for directions the evening before. She looked it up on a map and told me which bus to take. The next morning I caught the bus, sailed through Zurich … and continued on and on until there was nowhere else to go and the bus stopped in a sort of bus-depot wasteland.
"Uh, Dolder Grand?" I asked a few people standing around.
Lost in Zurich
Obviously I was nowhere near the vicinity because they looked at me as if I were a very stupid child and shook their heads. Finally a bus driver who spoke English told me the number of another bus that went in the right direction, but said it would take a long time to get there because it took a roundabout route through the hills.
No, no, no, no! I couldn't be late for spa at the Dolder Grand Hotel! I looked around for a cab but there weren't any. In reality it was probably a perfectly fine setting for an end-of-the-line bus stop, but in my mind, it was a dusty outpost in the desert where people went to exchange camels. That's how far away I felt.
The bus driver suggested I walk. "It will take about 20 minutes," he said. He grimaced."At least."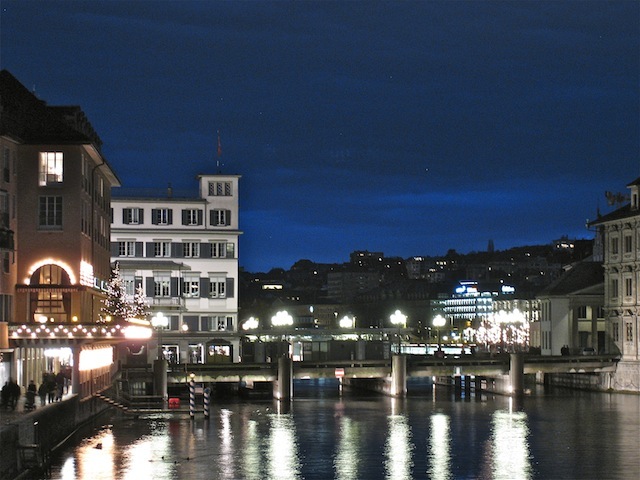 Journey to the Dolder Grand Hotel continues
Blast and damnation. Now I really was going to be late. Swearing furiously in my head (and probably partially out loud) at all desk clerks who don't read maps carefully, I hustled up a road into the forested hills.
Half an hour passed and I was still trundling uphill as fast as I could, sweating in the crisp December air. I was pretty sure I wasn't even in Zurich anymore. Vainly I kept my eyes out for cabs but there wasn't one to be had. I came to a T-section, with a big green hill sat smack in front of me, and I had no idea which way to go.
Now what?
So I did what I would advise anyone not to do, especially a lone female traveller. I stuck out my thumb.
I was terrified I was going to fall prey to some mass murderer cruising through the outskirts of Zurich, but I was almost equally upset about being late for my appointment at the Dolder Grand Spa.
Going to a spa is supposed to be a calming activity, but I was a mess. My face was red, I was practically in tears and my legs were trembling because a mass murderer was going to pluck me off the road any seconds. But what were my options?
And here's the sorry thing. No one picked me up at all. Out of the scant few cars that passed by, not one slowed down. Not only was I terrified and lost, I felt like an outcast, convinced people were driving by thinking I was the dirt of the dung heap. Hitchhiking is not good for the ego.
A lonely march through the forest outside Zurich
Why do I always end up in these situations, I wondered, as I trudged on? Why can't I have a star to guide me, like the wise men had on their way to Bethlehem? Finally, finally, a cab swung by, picked me up and deposited me at the Dolder Grand Hotel, where I wiped the sweat off my upper lip and apologized profusely to the PR person who'd been waiting for me. But I was too embarrassed to admit the truth, that I'd just tried to hitchhike to Zurich's most elegant luxury hotel. If ever a person needed a spa treatment, it was me.
So there you have it, the story of what really happened in Zurich on the way to the Dolder Grand Hotel. May your Christmas trips run more smoothly and may a shining star guide you every step of the way.
About the Dolder Grand Spa
The imposing rock walls do look like the Grand Canyon! But don't think America, think global. The hotel has Japanese influences throughout, from a Kotatsu Footbath to Sunburos, egg-shaped loungers filled with black pebbles that were inspired by the Japanese wellness tradition of being buried in warm volcanic sand.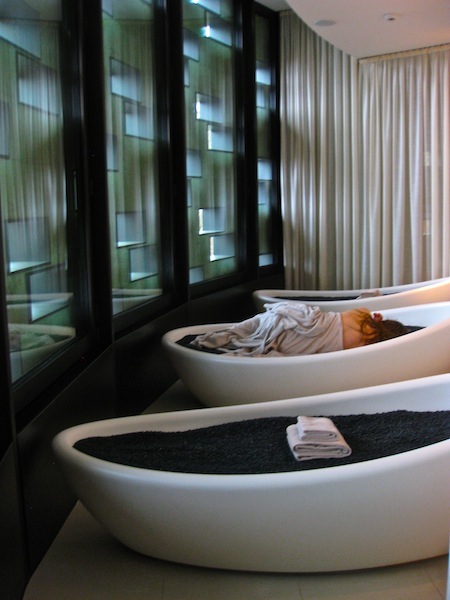 Facilities at the Dolder Grand Spa include an indoor pool, solarium, a frosty Snow Paradise room, steam room, sauna and an interesting assortment of teas. And, importantly, spa robes that actually fit.
I'm not finished. The spa has 19 treatment rooms, a medical wellness section, a salon, cafe, workout studios and wellness library, but the very best part of the Dolder Grand Spa is the outdoor whirlpool overlooking the forest at the edge of Zurich, the same forest I'd been wandering around lost in like an aimless Red Riding Hood.
Oh, how happy I was to be up on the terrace soaking in the whirlpool and basking in hot water instead of getting myself into hot water by being late and potentially kidnapped. From now on, I will always verify directions for myself.
Getting to the Dolder Grand Hotel, Switzerland
If only I'd researched this before I'd gone looking for the Dolder Grand Spa. Sigh. Visitors can take a little railway car (it looks like a cable car) called the Dolderbahn right up to the hotel from the Römerhof station. To get there take a tramway from central Zurich. The Dolder Grand Hotel is at Kurhausstrasse 65, 8032 Zurich, Switzerland Tel: +41 (0) 44 456 60 00.
Read more about Spas and Spa Travel