This post may contain affiliate links.
Things to Do in Toronto in the Winter
Winter in Toronto is frosty, but that doesn't mean it's not fun. Stay warm by visiting some of the city's top attractions.
Or, face it like a fearless Canadian and get outside for some fresh-air fuelled excitement.
To help you plan your urban explorations, here are the best things to do in Toronto in winter.
From the coolest festivals and light shows to classic attractions, here are some top activities from a warm-blooded local's point of view.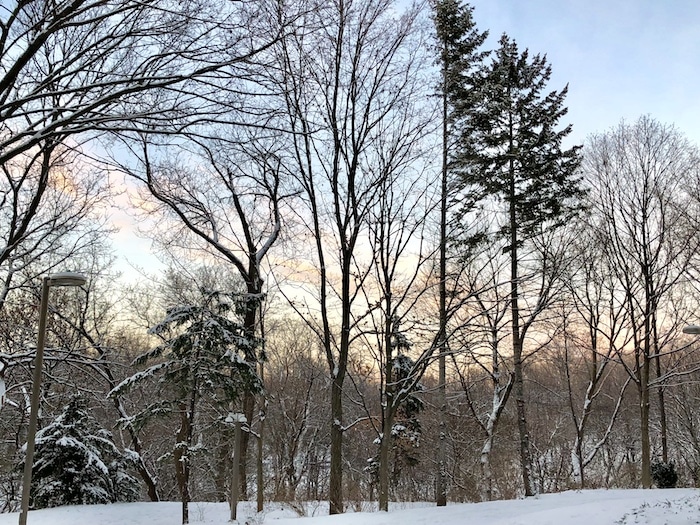 Toronto Winter Temperature
While the temperature in Toronto in winter can dive down to a piercing -20C (-4F) or lower, don't worry. The average winter temp is more like -4C (25F).
So bundle up and get outside. Or, bound from art gallery to shopping mall and explore underground paths without the tips of your ears ever going red. It's all good.
Whether you're in Toronto for one day or you live here year round, these top Toronto attractions, winter festivals and activities will help you discover the best of it.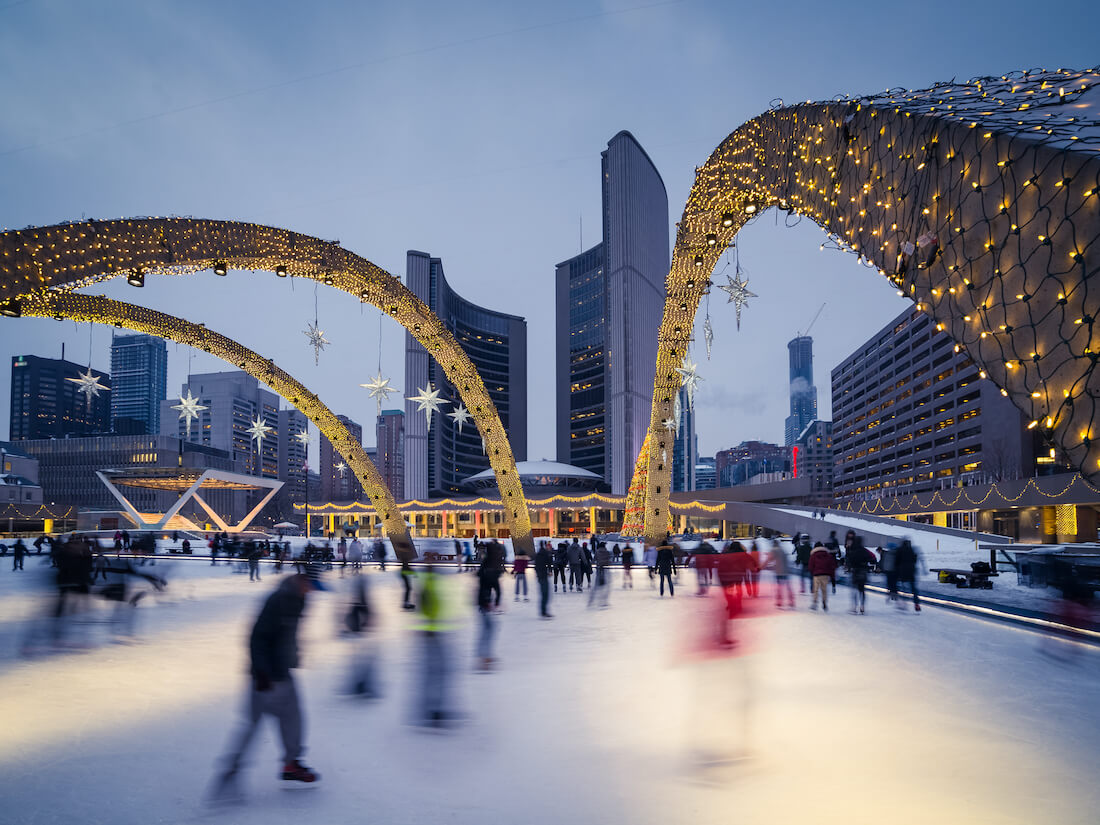 A Toronto Winter Means Skating
Due to my husband's obsession with hockey and all things ice, we go skating. A lot.
I'm still always the worst skater on the ice, but on the plus side I get to spend time outdoors and explore different areas of Toronto as we check out different rinks.
Skating at Nathan Phillips Square – Toronto's Answer to the Rockefeller Center
The most popular rink with leisure skaters is the rink at Nathan Phillips Square, a bustling skating venue with music and a carnival atmosphere.
It's great for visitors to Toronto as skate rentals are available, and it has a central location right at City Hall on Queen Street.
It opened Nov 25, 2023, for the Toronto winter season.
The Bentway Trail – The Coolest Place to Skate
The more recently built Bentway Trail, a 1.75 km figure eight skating path under the Gardiner Expressway, is the place getting all the buzz these days, and we hesitated before checking it out.
"Who wants to skate under an expressway?" asked my husband when I badgered him into going, but this urban chic hotspot (or should I say cold spot?) is actually really fun.
Located right by the Fort York National Historic Site, the Bentway runs east of the Fort York Visitor Centre at 250 Fort York Blvd. Open from Dec 16, 2023 to Feb 19, 2024. Check the website for times.
Don't have skates? You can rent them here, too.
Harbourfront – Oh, no! The Rink is Closed for Winter 23/24
Give this iconic Toronto winter attraction a miss this year. This popular Toronto rink at Harbourfront overlooking Lake Ontario is being turned into a plaza.
Looks like Nathan Phillips Square will be even more crowded.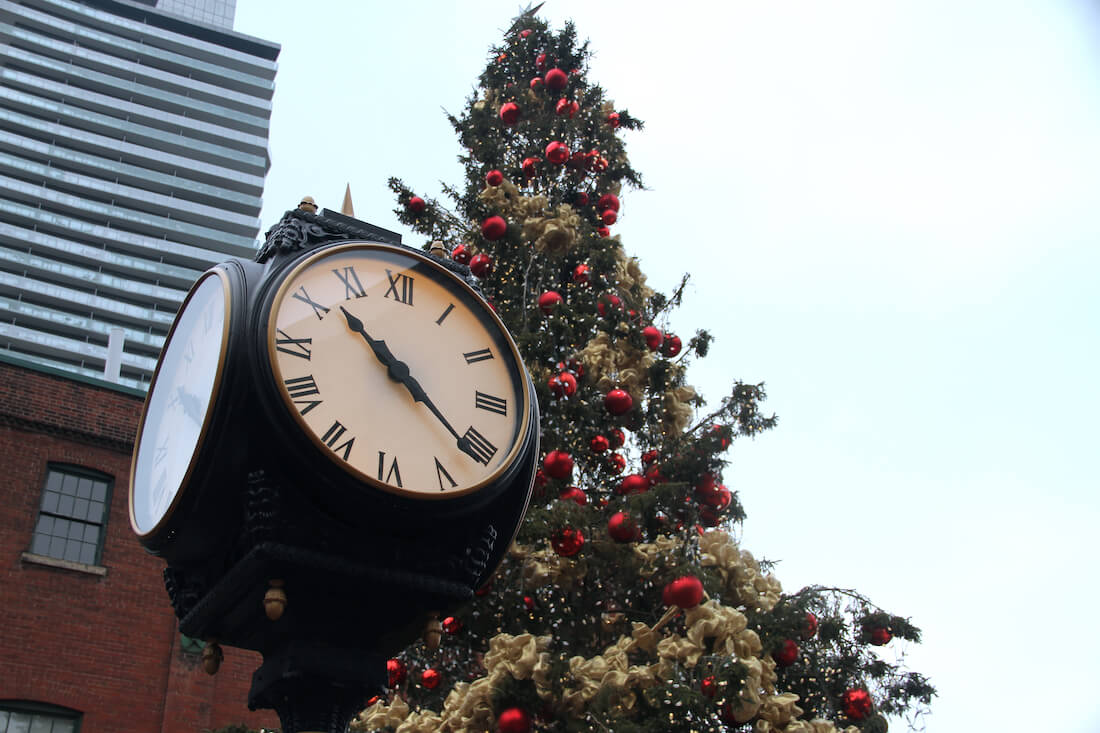 Get Your Santa Fix at the Distillery Winter Village
About the Distillery District
The Distillery District, if you don't know it, is a cobblestoned collection of Victorian industrial buildings including a historic distillery and plenty of brick facades.
These days it's a pedestrian leisure destination filled with galleries, artsy boutiques and restaurants.
It really ramps up during the winter with the Christmas Market, but even if you miss the holiday festivities, the Distillery is still a fun place to go on a chilly day.
Distillery Has Toronto's Most Popular Christmas Market
While the Distillery Winter Village is no longer called a Christmas Market, that's exactly what it is.
Word has it the rebrand aimed for a more sophisticated 'intimate' vibe rather than the buzzy festive free-for-all it's been known for. You decide. Maybe it should be no surprise that Dior is a sponsor.
With a 56-foot White Fir Christmas Tree, festive silvery lights and swanky food cabins (is that the sophisticated term for food stall?), the Distillery Winter Village is a fitting place to celebrate the holiday season.
It's definitely one of the top things to do in Toronto in December.
Of course holiday shopping plays a big part in a Distillery winter visit.
You'll find an array of artisanal gifts to buy for your nearest and dearest at the market stalls (sorry, I mean cabins) as well as in the chic shops that are located at the Distillery District year round.
And don't worry: Santa and his elves will be roaming around. There is also a Candy Cane Forest. I told you this is still a Christmas market!
The Distillery Winter Village is open to Jan 7, 2024.
Is the Distillery Winter Village free?
You can go to this popular Toronto Christmas market for free sometimes.
On weekends after 4 p.m. and from Dec 18 to 31 after 4 p.m. you need a ticket and you need to buy it beforehand on the Distillery Winter Village website. After New Years it's free.
Winter Wonderland Spectacular at the Illuminarium
Also running during the Distillery Winter Village is the immersive Winter Wonderland Spectacular at the Illuminarium.
This light-filled extravaganza promises a "futuristic fantasyland of nutcrackers" and "candy cane carousels" so what more do you need? How about free hot chocolate?
The Wonderland Spectacular runs until Jan 7, 2024.
You can get tickets on the Illuminarium website here.
Other Things To Do at the Distillery
If you miss the Christmas Market, the Distillery is still a fun place to be on a chilly afternoon.
Grab some artisanal chocolate at SOMA (we need our sugar energy in the winter!) or a Hot Date Latte at Arvo.
Check out the latest contemporary photography at Jane Corkin Gallery then get crafty with a scented candle workshop at YUMMI Candles.
You can also stock up on warm winter clothing and bags at Hoi Bo – a sustainable fashion company that made the Distillery its first home.
Getting to the Distillery District
While the Distillery District is not right downtown, it's not hard to get to by public transportation.
I usually take the King Street streetcar east from downtown to Parliament, then walk south to Mill Street. Or it's a twenty minute walk east along the Esplanade from Union Station.
Turn Up the Heat in Toronto with a Spicy Hot Chocolate
Not all of the top things to do in Toronto in winter take place outside. In a sub zero city like ours, hot chocolate has been elevated to an art, and there are some great places to try it.
Soma Chocolate
Mayan hot chocolate with cayenne, ginger and orange peel is one of the drinking chocolate offerings at Soma Chocolate, and a sure way to keep away the winter chills.
Soma has two locations, at 443 King Street West and the Distillery District.
Prefer a caffeine fix? Go Italian with their Bicerin, a hot drink layered in dark chocolate, espresso and semi-whip cream.
Sweet Jesus
Another artisanal hot chocolate destination in Toronto is the hipster-happy Sweet Jesus at 106 John Street.
Opt for an Oh Hungry Hot Chocolate if peanut butter and caramel is your game, or maybe a Hella Hazelnut?
Looking for the best places to eat? Check out my Toronto restaurants article.
See Classic Winter Landscapes at the Art Gallery of Ontario
Get a different perspective on winter in Toronto, and see how Canada's snowy scenes have inspired artists over the years at the Art Gallery of Ontario on Dundas Street.
The AGO is one of the top Toronto tourist attractions and their Thomson Collection is a fab collection of Canadian landscapes.
Seeing some of the AGO's winter-themed artwork will help you (at least it helps me) see winter in a more positive light.
And I need as much positive light on winter in TO as I can get, otherwise I wouldn't leave my apartment until spring.
Check out classics such as Paul Kane's Scene in the Northwest – A Portrait from 1845, or one of the glacial mountainous scenes by superstar Lawren Harris.
Celebrity Alert: Lawren Harris is part of the Group of Seven, Canada's most famous group of landscape painters. His work is a big favourite with actor Steve Martin, which puts Harris firmly on the celeb artist hot list.
Check Out the Dinosaurs at the Royal Ontario Museum
Ah, back before the glaciers covered the earth, tropical forests covered much of the land we now call Canada and dinosaurs roamed.
Harken back to those warmer eons with a trip to the Royal Ontario Museum, one of the most popular Toronto points of interest.
The ROM has one of the most comprehensive collections of dinosaur skulls in the world, including a triceratops and a helmet-crested Corythosaurus.
And who doesn't want to see a helmet-crested Corythosaurus?
If you're looking for things to do in winter in Toronto with kids, this is your place.
The big draw, (I mean, really big), is Gordo, a massive Barosaurus skeleton, one of only three complete Barosaurus skeletons on display in the world.
Other dino highlights to give you the Jurassic shivers are duck-billed dinosaurs, a flying Quetzalcoatlus and the museum's most famous fossil skeleton, the tube-crested Parasaurolophus walkeri.
Bonus points if you can spell any one of those.
Tramp Out To Some Top Toronto Nature Spots
Getting out in nature is when the beauty of a Toronto winter really shines. Here are a couple of top destinations to wander through.
Toronto Islands
While the Toronto Islands are a much-loved destination in summer, they're great for winter excursions, too. Frozen lagoons, waterfront walks and skyline views – what more do you need? The ferries go year round.
High Park
High Park is one of my main go-to nature destinations when the temperature drops.
Take a walk along Grenadier Pond. If the ice is frozen you can watch the skaters, or stroll the trails along the pond to marvel at the plucky duck families somehow staying warm.
Steam Up At a Spa
When the bitter winds get too much, sometimes you need to soak out the shivers. A good place for this is at one of Toronto's top spas that has amenities such as a steam room, hot tub or pool.
If you're going with your significant other, the co-ed lounge at the oddly-named Spa My Blend by Clarins spa at the Ritz-Carlton Toronto is a tranquil way to cozy up.
It's as ritzy as the Ritz can get, with (segregated) amenities such as an aroma-infused hot tub, sauna and eucalyptus steam room.
There are plenty of other options for Toronto spas with jacuzzis and saunas, including the more affordable Elmwood Spa, a long running spa that's been a fixture on Elm Street just off Yonge Street forever.
Ice Ice Baby – Bloor-Yorkville Icefest
Year-round, the swanky area of Yorkville is a hot destination for visitors to Toronto.
It's my 'hood so I'm biased, but it really is a great place to hang out and people watch. You'll find lots of la-de-dah art galleries, the high-end Hazelton Village Mall and the most urban of urban parks.
When it comes to things to do in Toronto in winter, however, the time to head to Yorkville is in February when the free two-day Bloor-Yorkville Icefest takes place.
This historic neighbourhood livens up (not to mention freezes up) with ice sculptures and ice-carving demonstrations.
(And by the way, I had to learn how to ice carve for a TV show once, and it truly is an impossible art form – at least for me).
For winter 2023 dates were Feb 18th and 19th but for 2024 they haven't been announced yet. You can watch the ice sculptures melt into oblivion for much longer.
Winterlicious – Eat Well For Less
One of the most satisfying things to do in Toronto in winter is to eat. After all, without fat stores in our body how would we stay warm?
The solution? Winterlicious.
Taking place from January 26 to February 8, 2024, Winterlicious is a long-running food fest that gives hungry patrons a chance to fuel up at some of the city's best restaurants at a reasonable price.
Meals are prix fixe, meaning you pay a set price for a set menu, and many restaurants offer both lunch and dinner.
The top restaurants fill up fast, so book as early as you can. But with some 200 restaurants participating you're sure to find something.
Want to go hyper local? Dive into Canadian cuisine with restaurants that focus on local ingredients like Bosk at the Shangri-La Hotel or Luma in the TIFF Bell Lightbox building.
Once booking opens you'll be able to reserve your Winterlicious table here.
Cheer On the Maple Leafs At a Hockey Game
My husband says I have to include this so I am. For a truly iconic winter in Toronto experience you can check out a Maple Leafs game at the Scotiabank Arena at 40 Bay Street.
If you can't get tickets you can stand around and freeze amidst the lively communal sports spirit at Maple Leaf Square, the outdoor public square where games are broadcast live on the 80 by 50 foot screen.
My husband says I have to include this, too: For a less-crowded more affordable experience you can check out a AHL game with the Toronto Marlies.
He started telling me about other leagues as well, but I got tired of writing about hockey.
See the Stanley Cup at the Hockey Hall of Fame
Okay, since we're on a roll, here's one more hockey-themed thing to do in Toronto.
Why not head down to the Hockey Hall of Fame on Front Street, where you can learn everything you ever wanted to know about Canada's most beloved sport, and see where the Stanley Cup lives when it's not on tour.
See the Winter Views From the Top of the CN Tower
Sometimes I think winter is best viewed from a distance.
(My preference would be from a Bahamas-style distance but hey, this is an article about great Toronto winter activities, so let's ignore the desperate visions of palm trees in my head.)
After all, a Toronto-sized distance can be fun, too. Soaring up the 1,815-foot (553-metre) CN Tower, the ninth tallest building in the world, will give you a new perspective on all this cold weather.
Things To Do at the CN Tower
There are several ways to experience winter at its best up here in the clouds.
You can ride up a glass-fronted elevator, stand on a glass floor, look out panoramic glass windows and go glassy eyed looking out over our icy Ontario landscape.
CN Tower's 360 Restaurant
You can also dine in style. Canadian cuisine is on the menu at the revolving 360 Restaurant. The winter menu includes many of Canadian's finest products and dishes such as Ontario Half Rack of Lamb, East Coast Poached Lobster and Arctic Char Crudo.
Edge Walk
If a Toronto outdoor adventure is more your style you can boost the chill factor by tackling the CN Tower's Edge Walk, a hands-free walk on the ledge that encircles the tower at a mere 116 stories up.
The Edge Walk is one of the most adrenalin-inducing things to do in Toronto during winter I can think of. But I still really want to do it. The fear alone is guaranteed to heat up your blood.
Toronto Indoor Activities – Get Lost In the Path
I know I should be all stalwart and proud to embrace winter but I really hate being cold. This may be one of the most unsung places to visit in Toronto in winter, but when I need exercise and can't face wind, snow or sleet, I head to the Path.
What is the Path?
The Path is a pedestrian walkway that snakes underneath downtown and the Financial District.
Covering some 30 km of underground passageways, it's a labyrinth of shops, restaurants and connects to office buildings, hotels (the Sheraton, for one), subway stations and Maple Leaf Square.
With 125 access and exit points, you can always pop up an escalator to see where you are, which is probably nowhere near where you think.
Best Route for the Path
I usually start at Union Station subway station and amuse myself by trying to find my way to the Eaton's Centre through the extensive underground paths that burrow under the financial district.
It took me a year to figure out how to make it successfully from Union Station to the Eaton's Centre, a toasty warm downtown mall, but now I've forgotten, so I have that exciting challenge facing me again this year.
Do I know how to have fun during winter or what?
Canada's Wonderland WinterFest
Right, so it's a smidge outside Toronto, but close enough to include in our winter things to do in Toronto list anyway.
Canada's Wonderland – which is a hulking big amusement park in Vaughan – celebrates WinterFest from November until Jan 6.
It's a .. wait for it … winter Wonderland indeed.
Where else can you skate on Snow Flake Lake, cruise International Street to watch the two 50-foot Christmas trees get lit up (5:30 pm daily), and you know, go on rides and stuff?
And even after WinterFest is over, you can still go on rides and stuff.
Winter in Toronto Wrap Up
That's only the tip of the city-berg. There are new restaurants, intriguing museums, and world-class events to explore.
Hopefully the popular winter activities in Toronto listed here will kickstart your enjoyment of the season and help your celebrate, rather than slog through, the snowy season.