This post may contain affiliate links.
These are the top ten places to hang out in Toronto according to me, which means (sorry) no nightclubs because I get sleepy. However. You will find places to eat, drink, sit and then … eat some more, because they're mostly restaurants and lounges.
Pick a category, any category: You'll find hipster joints, places where Real Housewives of Anywhere would be proud to flaunt their Valentinos and places I've included just because I like them.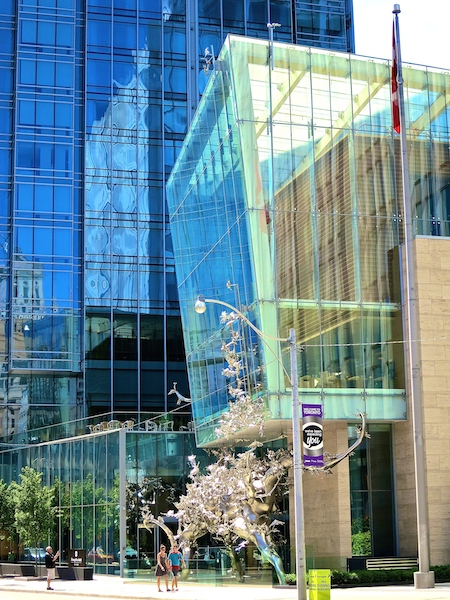 For travellers not from Toronto, these suggestions on where to hang out break down into four main areas:
Yorkville: The flashy upscale gallery/haute fashion area just north of Bloor Street between Yonge Street and Avenue Road
Ossington: That heaven of trend on the Toronto's hip west side between Queen West and Dundas West
Downtown: Basically south of College Street and east of Spadina Avenue, includes the financial district
East end: East of the Don Valley
So here it is, my recently updated Top 10 Places to Hang Out in Toronto List. Let me know your own favourites, because there are so many more hoods to haunt. SO many more.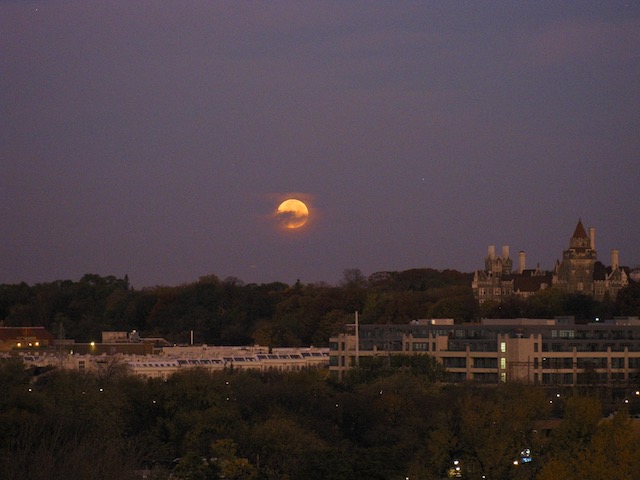 Where to hang out in Toronto #1 – Café Boulud
Category: Where air kissing and don't-flaunt-your-wealth collide
Daniel Boulud's revamped restaurant in the luxe Four Seasons Toronto Hotel is the latest place to be seen. I do miss the in-your-face graffiti art that used to glitz up the walls but not the vaguely sterile atmosphere, and there is something irresistibly chummy and inviting about the posh brasserie's new look. Rotisserie chicken recommended (but not necessarily by me because I had a steak).
Area: Yorkville
Café Boulud, Four Seasons Hotel, Toronto. 60 Yorkville Ave. Tel: (416) 963-6000
FYI: Not in the mood for food but still want the upscale buzz? dBar in the Four Seasons Hotel Toronto is another of my go-to spots in Yorkville.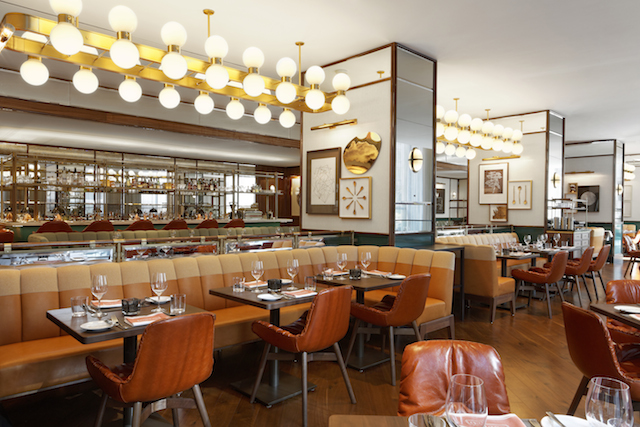 Where to hang out in Toronto #2 – Drake 150
Category: Hipster meets finance guy at diner
Hipster west moves east to the financial district with the latest outpost from the ultra cool Drake Hotel on Queen West. Drake 150 is sort of diner-y, sort of upscale, and definitely lively. I was tempted to try their beef tartare but opted for the One Fifty Burger made with 30-day aged short ribs from Cumbrae's Butchers. Yes. Delicious. But not cheap. PS: Don't do what I did and when someone says let's meet at Drake 150 go on autopilot to the Drake Hotel instead.
Area: Downtown
Drake 150 150 York Street. Tel: (416) 363-6150
Where to hang out in Toronto #3 – Bellwoods Brewery
Category: Geek chic is alive and well and drinking beer
Ever since I tried their side of grilled asparagus one warm summer afternoon I've been a fan of Bellwoods Brewery. (I know, I know, you're supposed to go for the beer, but I was hungry.) With a great street front patio (which we won't be sitting on again for the next 8 months thanks to Mr Winter); a selection of craft beer like Monogamy, a single hop pale ale or the hoppy IPA Cat Lady; and a menu that includes in-house cured salumi and Canadian cheeses (though not currently grilled asparagus, which is tragic), the Bellwoods Brewery is a comfortable place to call home. If, that is, you don't have a home already.
Area: Ossington
Bellwoods Brewery 124 Ossington Ave. Tel:(416) 535-4586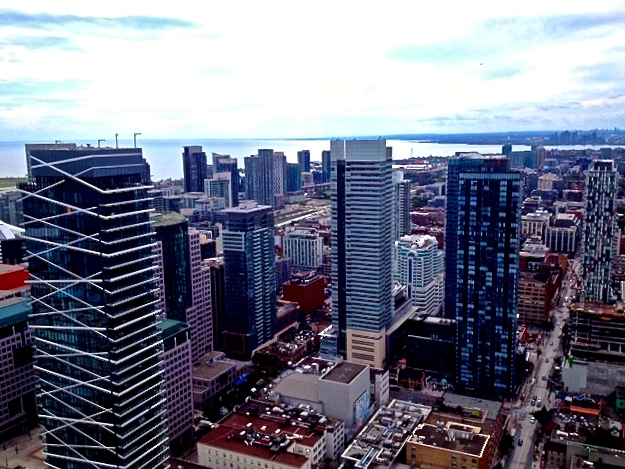 Best place to hang out in Toronto #4 – Communist's Daughter
Category: Dive with a heart, but play the wrong song on the jukebox and people will yell at you
It's hip, dingy and friendly in an I'm-normally-too-cool-to-talk-to-you-but-I'm-drunk kind of way. When to go? When you're feeling nostalgic for your bad-girl past (oh, wait, that's me) or you have loonies to spare for the jukebox. Although I liked it a lot better before they removed David Bowie's Heroes. (Yes, I'm aware that was years ago, thank you.)
Area: Ossington
Communist's Daughter. 1149 Dundas Street West. Tel: (647) 435-0103
Best place to hang out in Toronto #5 – Terroni Restaurant
Category: Been around too long to count as hipster but has really good carpaccio
In addition to an impressive location in the former York County Court House, Terroni has the best Carpaccio di Manzo I've had in Toronto – recommended if you're a carnivore and like your meat raw. Focusing on simplicity and prime ingredients, Terroni also serves a great thin pizza and has an interesting selection of Italian wines, many not offered elsewhere.
Area: Downtown
Terroni Restaurant 57 Adelaide St East. Tel: (416) 203-3093
Top ten places to hang in Toronto #6 – Toronto Reference Library
Category: Where you can always pretend you have friends
Don't diss the library. Where else can you curl up with a book, see a cross-section of society (some good, some bizarre) and ask a librarian any question at all. And they have to help you find the answer – they get paid for it. (But be wary of the ones who try to squirm out of it by telling you to check the Internet.)
When to go? Whenever you feel like expanding your mind or hearing one of the top-rated authors they bring for readings. Talks are free, but very popular so book ahead.
Area: Yorkville
Toronto Reference Library 789 Yonge St. Tel: (416) 395-5577
Places to hang out in Toronto #7 – Dynasty Chinese Cuisine
Category: Craving Chinese but don't want to walk to Chinatown in high heels
If you're in the mood for dim sum, the Chinese version of a dumpling-heavy brunchy breakfast, this upscale Yorkville restaurant is one of my favourites. In addition to the standard dim sum fare , they offer a nice bok choy broth that adds a healthy pop of green vegetable to your meal.
Area: Yorkville
Dynasty Chinese Cuisine69 Yorkville Ave. Tel: (416) 923-3323
Top ten places to hang out in Toronto #8 – Pizza Libretto and Foxley Bistro
Category: Where to eat if you can't force yourself to leave Ossington
Dude, get a life. Explore a little. But, if you must stick to Ossington, any of the happening restaurants on this uber hip stretch in Toronto's West side are worth checking out. Only I can't get past the mouth-watering wood-fired Neapolitan-style pizza at Pizza Libretto.
Pizza Libretto.221 Ossington Ave, Toronto.Tel: 416 532-8000.
And okay, the vaguely South-Asian-marries-Canada shared plates at Foxley Bistro at 207 Ossington are finger-kissing good, too. Tel: 416-534-8520
Area: Ossington (obviously).
Top ten places to hang out in Toronto #9 – Broadview Hotel
Category: You love Leslieville
From stripper seedy to contempo-Victorian – it's amazing what a $25 million overhaul will do. Formerly Jilly's strip club, the Broadview Hotel has reopened and is set to be a cult hit with local eastsiders. Even back when it was a strip joint it got admiring looks – I'm talking about the architecture, not the dancers) – a red brick landmark at the corner of Broadview and Queen.
Now this Romanesque Revival building has been reborn as a 58-room hotel with a fair share of brass, wood, now-meets-then wallpaper and nods to the past tastefully overlaid with a layer of cool.
You can dine at their pricey Civic Restaurant on the ground floor, eat under a pink neon halo at the ground floor Cafe+Bar or go straight to the heart of things, the Broadview Rooftop Bar to feast on the downtown views, sip a craft cocktail and snack on blistered shishito peppers or a pork and bacon terrine.
Area: East End/Leslieville
Broadview Hotel. 106 Broadview Avenue. Tel: (416) 362-8439
Top ten places to hang out in Toronto #10 – Shangri-La Hotel, Toronto, Lobby Bar
Category: Jetsetter
Yes, there's;a major hotel trend towards small lobbies that evoke the feeling of;walking into your living room, but thankfully not so with the Shangri-La Hotel, Toronto, where the spacious;high-ceilinged lobby bar has elegant;Asian overtones, monumental art and an international vibe.
If you want something younger and livelier, veer off to Momofuko, also in the Shangri-La. When to go to the lobby bar? When you're wearing your Louboutins or after you've seen the latest James Bond movie and are feeling that jet-setting vibe.
Area: Downtown
Shangri-La Hotel, Toronto, Lobby Bar188 University Ave Tel: (647) 788-8888
Want more Toronto?
If you're just stopping by, check out one day in Toronto and here's how to spend winter in Toronto and make it fabulous (or at least bearable).
What about Toronto top spas? Read:Where the heck are the co-ed whirlpools and saunas?
Looking for tourist sights in TO? Try Romance at Ripleys Toronto Aquarium
Don't miss Yorkville (and this really stupid video) Leopard Chicks go to Yorkville, Toronto Travel Video