This post may contain hotel affiliate links. This means that if you book a hotel through this site I may earn a (dreadfully small but much appreciated) commission at no extra cost to you.
When you have two free Ripley's Aquarium Toronto tickets (I won them!) and no one will go with you, it's 1) a sign you have no friends or 2) that everyone you know has something better to do on a Thursday afternoon – like work. But I refused to wait for the weekend, even though I'm sure I would have had at least 100,000 friends to go with then, because Ripley's Aquarium is Toronto's newest attraction.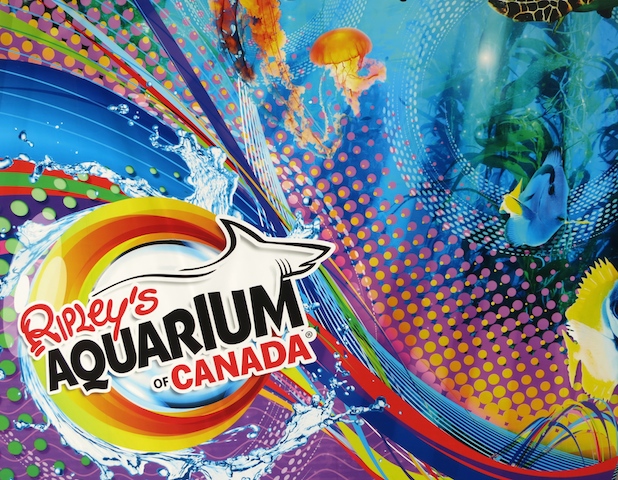 I'll just make a friend in the lineup, I thought. I'll find someone travelling solo and offer them a free ticket. They'll be my best friend for life.
Having read about the crowds flocking to Ripley's, I arrived all geared up to shout: "Who's here alone? I've got an extra Ripley's Aquarium Toronto ticket!" This way I'd break the ice, the whole lineup would start talking and a sense of warm community would result.
Except I was the only one in line.
Note to Toronto tourists: To avoid crowds visiting Ripley's Aquarium Toronto at 5:30 on a weeknight seems to work pretty well.
Toronto Aquarium tickets
I can't say I was disappointed because, like the rest of the world, I hate lineups. Still, I hesitated at the entrance. "But I have a ticket to give away," I told a staffer at the door.
"Maybe you'll find someone on the way out," she said cheerfully.
What good would that do, I thought, heading inside. I won't need a friend by then.
What to see at Ripley's Aquarium Toronto
I knew that the Aquarium was big – 12,500 square metres in size and some 5.7 million litres of water. Other than that I wasn't sure what to expect – except fish, obviously, so I began with an educational approach. I learned about the Xiphactinus, a frightening fanged predator that once swam in North America's inland sea.
What else did I learn? Let me tell you!
I learned about sea anemones. They are more riveting than you think and come in more varieties than there are, er, fish in the sea. For example:
You've got your Christmas Anemones, which are red and green – but in no way resemble watery floating Santas, which was slightly disappointing.
Brooding Anemones, which sound very moody and no doubt write poetry in their spare time.
Leather Anemones – and who knows what they're into when the lights go out?
Strawberry Anemones – good enough to eat. Not!
Fish-eating Anemones (At first I thought the sign said flesh-eating anemones and took a big step back.)
My personal favourite, Plumrose Anemones, which may look like miniature palm trees but when they retract, and I quote, "they look like a puck of gooey jelly." As this is pretty much how I look without lipstick, I felt a kinship right away.
I'd hardly begun to explore Ripley's Aquarium Toronto and was already learning things! So let's talk about starfish.
When ready to spawn, female Rainbow Starfish "stand up on the ends of their arms, raising their centre disk and pushing out a stream of tiny eggs."
Talk about an attention-getting trick. If I could do that I'd stand up and announce it, too.
"Wow! Spawning starfish!" I said, looking around with a friendly smile to see if there was anyone I could share starfish jokes with, but oddly enough, people seemed to be backing away. They must be afraid of starfish, I thought. People have the strangest phobias.
Ripley's Aquarium Toronto and the Hazardous Lagoon
I came to a dark tunnel called the Hazardous Lagoon. "Why is it Hazardous?" I asked the young man at the tunnel entrance. Since he was wearing a bright red Ripley's Aquarium T-shirt, I assumed this meant he had to talk to me.
"Because there are sharks in there," he said. "And stingrays. And lots of dangerous fish."
"Cool," I said. "And a moving sidewalk, too!" If there's a better sightseeing combination than dangerous sea creatures and moving sidewalks, I can't imagine what it could be, except possibly raspberry and chocolate gelato.
Ripley's Hazardous Lagoon is dark with eerie mood music, and the sidewalk moves at the pace of evolution. But this is a good thing when you're busy looking for Nurse Sharks, Sandbar Sharks, Sand Tiger Sharks and/or Roughtail Stingrays. Granted, Pork Fish, French Grunts, Potato Cods and Cleaning Goby's, aren't quite as exciting but they all have a place in the sea.
Shark spotting at Ripleys
The moving sidewalk hugs the left side of the Hazardous Lagoon and I was so busy looking through the glass I didn't realize there was a shark on my head.
"Carumba!" I yelled when I looked up and came face-to-belly with the underside of a shark. I hadn't realized the lagoon went over my head and down the other side and that the tunnel was completely surrounded by water (not to mention perilous sea creatures).
Ha ha, people!
So then I amused myself by watching people who were watching the fish while not realizing there was an 8-foot Green Sawtooth or stingray on their head. And then I felt sorry for myself because I had no one to take a photo of me pretending not to notice I was wearing a stingray like a halo.
"Can you take my photo?" I asked a man with two women. Of course he was nice about it, but I couldn't exactly ask him to wait until a deadly sea creature was hovering over my head. And it wasn't the same as being with someone who understands why you need a photo with your head in the mouth of a giant plastic shark in the gift shop.
Never mind, I thought, reminding myself that I would have had at least 100,000 friends to visit Ripley's Aquarium with if I'd waited until the weekend.
Perils of the deep
Then, as I continued to drift ever so slowly along the Hazardous Lagoon, I sensed a presence behind me. I turned. We stared into each other's eyes. The attraction was magnetic. He slowed his pace to match mine.
"Hello," I whispered, drawn to his muscular physique and unblinking gaze.
His jaw slowly moved up and down, as if he were trying to say something.
I tried to read his lips only he didn't have any. "Maw, maw, maw," he seemed to be saying.
Love in the deep blue sea Hazardous Lagoon
I knew nothing about him or where he was from. Was he a Sandbar Shark? A Nurse Shark? Or – be still, my beating heart – a Sand Tiger Shark?
But his background didn't matter, nor the fact that he possibly wanted to tear into my flesh. I hadn't made a new friend by giving my Ripley's Aquarium ticket away, but I'd had a primal connection in the Hazardous Lagoon … and I no longer felt alone.
Visiting Ripley's Aquarium Toronto
Ripley's Aquarium of Canada has 9 galleries, 16,000 fish and a variety of exhibits. Of course my favourite was the Hazardous Lagoon but don't let the smaller exhibits pass you by. The Canadian Waters exhibit highlights different fish habitats in this country and Planet Jellies is weirdly wonderful and looks like a living art installation. Plus, how can you go wrong with a poisonous Lionfish or two?
How do you buy Ripley's Aquarium Tickets?
Buy your aquarium tickets at the door or online at the Ripley's Aquarium of Canada website.
How much do Ripley's Aquarium Toronto tickets cost?
Regular Express tickets are $29.98 for adults and $9.98 child. Timed tickets are $26.98 adult and $6.98 child.
Ripley's Aquarium Toronto Ticket Discount
Save with a Sharks After Dark ticket: $24.98 adults and $4.98 child. Entrance after 7 p.m. Rise and Shine Saturdays: from 8 a.m. to 10 a.m. $24.98 adults and $4.98 child. Senior Savings Day: Tuesdays between 2-5 p.m. $5 off regular entry. Check the website for other specials.
When is the aquarium the most crowded?
The most popular times to visit Ripley's Aquarium are weekends and holidays from 11:00 a.m. to 4:00 p.m. and during the week from 11:00 a.m. to 2 p.m. Plan accordingly.
How much time should you plan for at Ripleys?
I was in the aquarium for about 2 hours.
How to get to Ripley's Aquarium Toronto
Ripley's Aquarium of Canada is located next to the Rogers Centre at the bottom of the CN Tower. To get there take the subway to Union Station and follow signs for the Skywalk. From there you should see signs for Ripley's Aquarium Canada.
Seriously?
Yes, you can have a sleepover at Ripley's Aquarium of Canada. Email sleepovers@ripleysaquariumofcanada.com You can also do yoga and/or have a birthday party. Whohoo!
Where is Ripley's Aquarium of Canada located: at 288 Bremner Boulevard, Toronto. Telephone: (647) 351-FISH (3474)
The Ripley's Aquarium Experience: My shark experience really was intense. The shark stayed for quite awhile and no, I don't think he wanted to eat me. I think he was curious. I also don't take animal tourism lightly (though I may seem to). I definitely found the Ripley's Aquarium of Canada experience educational, much more than I'd expected to, and I think programs and/or exhibits that help us respect and be more comfortable with sharks and other sea life serve a purpose. That said, I respect people's right to disagree. And by the way, sea anemones really are interesting.