This post may contain affiliate links.
Get ready to visit the Maritime Provinces on the Atlantic Coast. Here are the top things to do in Saint John, New Brunswick, Canada's oldest city.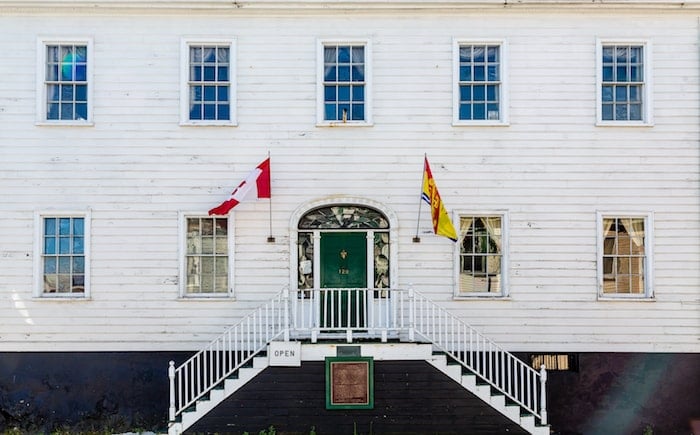 About Saint John
A laid back port city on the famous Bay of Fundy, Saint John, New Brunswick, has a quirky side, gorgeous nature, art, more art, restaurants overflowing with fresh seafood and a history that dates back to 1604, when Samuel de Champlain first landed here.
If you're visiting this vibrant Canadian city for yourself, here are some of the top Saint John tourist attractions, and a fun route to explore.
A City of Art and Culture
Obviously the main thing to do in Saint John is to eat lobster, although scallops go down well, too. Once you've eaten lobster rolls for breakfast, lunch and dinner, you'll probably want to look at the harbour since the maritime city of Saint John, population 70,000, is considered the Gateway to the Bay of Fundy.
But don't stop there … the city has plenty of other attractions.
Things to Do in Saint John New Brunswick
In addition to lobster and water, you should check out the art in Saint John. Actually, even if you're not an art lover you'll be checking it out anyway because sculptures and installations are everywhere in this walkable heritage town, so you couldn't miss it if you tried.
Handily, the Discover Saint John tourism board provides a free art map/walking tour pamphlet so you can wander around outside, stop for lobster breaks, take a few shopping side expeditions and enjoy the harbour views while soaking up some of the public art that dots Saint John's downtown core.
Did you know? Saint John was founded in the late 1700s by Loyalists escaping the American Revolution.
1) Look at Weird Unfriendly People
Fortunately, these stoney-faced figures I ran into turned out to be wood, which is why they weren't very talkative. This is in contrast to the real people I met in Saint John who were very friendly.
And it's a lucky thing that this crowd didn't prove to be real flesh and blood, but an installation by John Hooper called People Waiting, because one of the guys has three arms.
Note to the curious: you have to walk around it and it takes some time to find the third arm attached to the guy in the green suit.
3) See More Grumpy People in a Really Cool Clock
Also by John Hooper, this carved sculpture and working clock stands across the street from People Waiting at the Market Square Entrance, the entry to a mall that happens to have great shopping and where I spent too much money on a jacket and skirt.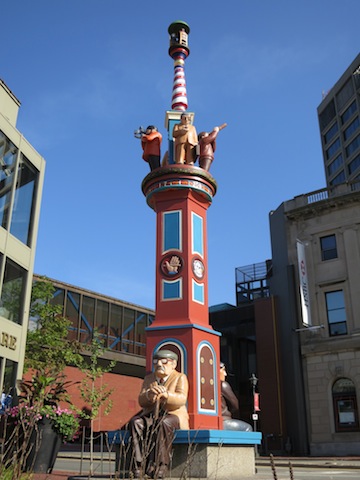 3) Commune with Nature
You don't come to the Maritimes and the Bay of Fundy not to check out the wild rugged forests and great swaths of trees. Of course you also want to see animals. So cross the street again to the Market Square Boardwalk and look at a moose.
The big bronze beast was done by Forest Hart, and commissioned not by nature lovers, but by Moosehead Breweries Ltd.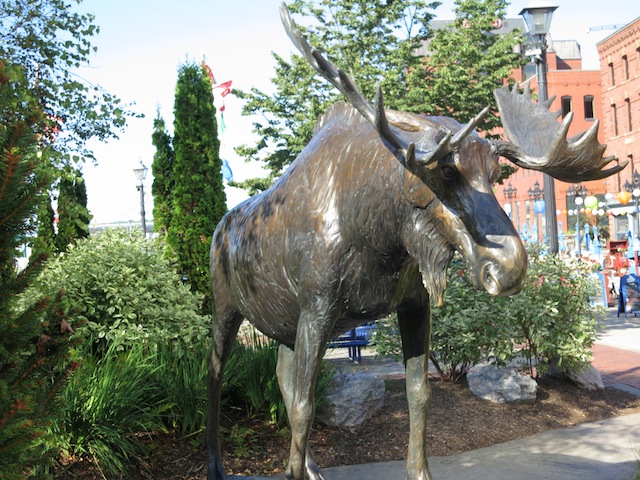 4) Take a Break at Saint John City Market
Now let's take a snack break. The photo below, which admittedly is a crappy shot, shows the entrance of Saint John City Market. What's interesting about it is that it includes Figurehead (look up at the top) by Carol Taylor, which was inspired by the figureheads on bygone wooden ships.
I told you art was everywhere you look in this town.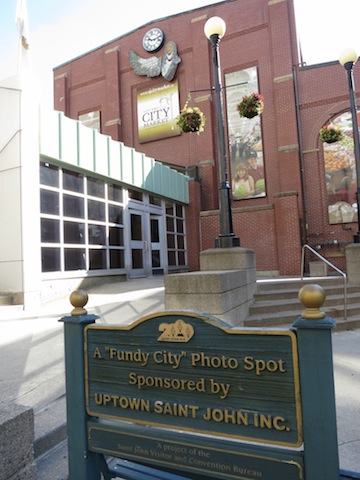 Now let's go inside the market. Aren't food halls the most fun thing ever? While they're particularly handy if it's raining, foggy or if you're craving a snack, the Saint John City Market also has a rich heritage to delve into.
Designated a National Historic Site of Canada, this much-loved market dates back to 1876 and is a fine example of Second Empire Loyalist architecture. That's all very exciting, but let's admit we're mostly here for the food.
Aside from popular eats at Slocum & Ferris or coffee at Java Moose, what is especially special (yes, I said especially special, sue me) about Saint John City Market is that if you're here on a Saturday you might stumble across a vendor from the Cape Breton Oat Cake Society, and you can't get much more local than that.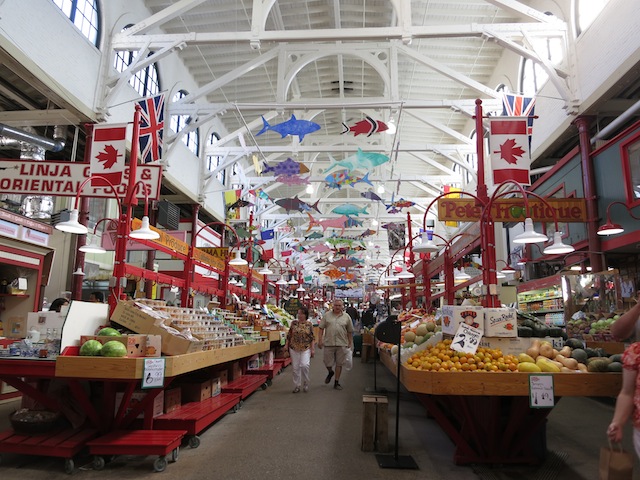 6) Walk Over to the Saint John Arts Centre in Peel Plaza
Only about a two minute walk away from the market is the Saint John Arts Centre. Outside is a stone sculpture titled Fiddlehead by James Boyd.
Be forewarned, you will find fiddleheads everywhere in New Brunswick. It's practically a New Brunswick mascot. In fact, I saw a booth at a market where every piece of jewelry the woman made had a fiddlehead design.
You will also find them on your plate in a restaurant and now you can see this one etched in stone.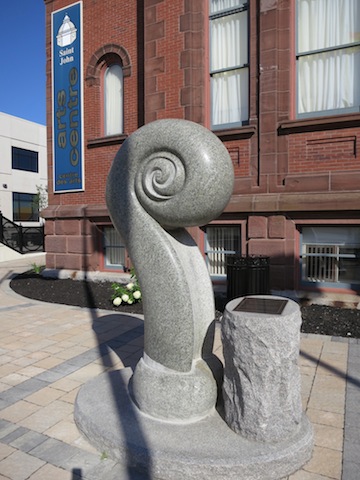 7) Pop into the Saint John Arts Centre
The art centre may be the coolest building you'll see in Saint John. It used to be a library and the architecture is old world grand.
DeLancey's Brigade mural is not to be missed, unless of course you do miss it, and then you'll lose out.This community art centre offers art classes and exhibitions and fits well into any artistic walking theme.
8) Do a Themed Tour of Saint John
There are a number of other themed walks you can do in Saint John: The Loyalist Trail, the Victorian Stroll and the Prince William Walk.
Pick up a brochure at one of the Visitor Information Centres or download a brochure online and you're well on your way to exploring – just as Samuel de Champlain must have done when he landed here in 1604.
Although, obviously, he had to do it without a brochure, since it wasn't officially a city until 1785, after the Loyalists had settled it, which, by the way, makes it the oldest incorporated city in Canada.
If you want to learn more about the Loyalists check out the Loyalist House, a National Historic Site built in 1817. Located at 120 Union Street, Saint John, NB, E2L 1A3.
Take a Guided Tour of Saint John
I explored on my own but you can sign up for a Small Group City Tour that includes the Saint John City Market, the Reversing Falls, the SKYWALK observation decks, Carleton Martello Tower and Fort Howe Historical Site. Check prices and availability here.
9) Discover Maritime History at the New Brunswick Museum
With more than 300,000 natural history specimens alone, the New Brunswick Museum at Market Square will keep you busy as you take a deep dive into the marine world of New Brunswick.
Speaking of diving, look above you in the Hall of Great Whales and you'll see a skeleton of a North Atlantic Great Whale.
Other things you'll find include exhibits on military and marine history, geology and the 19th-century decorative arts.
10) Eat Seafood and Drink Beer
For Market Fresh Chowder or Molasses Marinated Salmon (depending on a changing menu), Saint John Alehouse is a top choice for locals and visitors craving seafood. Add in a Foghorn Winchester IPA or one of the many other ales on tap, and you've found a relaxing way to enjoy your cultural exploration of Saint John.
Saint John Alehouse is located on the boardwalk at 1 Market Square.
Still hungry? Read about my lobster tour of the Bay of Fundy.
Outdoor Activities in Saint John
With parks, nature retreats and coastal views galore, the area has some great ways to get your outdoor thrills.
1) Visit Rockwood Park
One of the best places to find nature in the city is Rockwood Park. More than 55 trails crisscross this large urban park, and when you're stepping over these ancient rocks, know that you're passing over a billion years of our planet's past.
Rock formations, fossils, caves, a lake and waterfalls are all part of this four seasons park that has been recognized by UNESCO as having an exceptional geological heritage. Things to do here include canoeing, camping, hiking, swimming, and skating in the winter.
You can find the Rockwood Park Interpretation Centre at 10 Fisher Lakes Drive, about a 10-minute taxi ride from downtown.
2) Explore Irving Park
Just outside the city is another nature zone that's a huge draw for sightseers. Irving Park, established in 1992, is an environmentally-friendly haven that showcases six different ecosystems of the Southern New Brunswick coastline.
Walk the boardwalks, spot seals and explore forest, beach and marsh along eight different walking trails – all for free.
Irving Park is located at 1379 Sand Cove Road, Saint John, NB, E2M 4Z9.
3) Check out the Reversing Rapids and the Skywalk Saint John
To explain the Reversing Falls Rapids we need to talk about the high tides of the Bay of Fundy. They are so powerful – like ninja powerful – that, aided by the pull of the moon, they force the Saint John River to flow backwards twice a day.
The best way to see this phenomenon is by gingerly stepping out onto the Skywalk, a steel and glass platform that hangs out over the Reversing Rapids' biggest whirlpool.
You'll want to go at certain times. Visit the Skywalk at low tide for the whirlpools, and high tide for the reversing of the rapids. You can find the tide chart and more information about a visit on the Reversing Rapids website here.
The Skywalk is located at 200 Bridge Road, Saint John, NB, E2M 7Y9.
Day Trips from Saint John
Drive the Fundy Trail Parkway
What a gorgeous stretch of coastal scenery. This 30 km (19 mile) parkway is a top New Brunswick attraction and has 20 scenic stops, a 10-km cycling trail, footpaths, beaches, waterfalls, suspension bridge and interpretive centre.
A popular sight is Flowerpot Rock, accessed from the Flowerpot Scenic trail at Fownes Head.
Along with the Columbia Icefields Parkway in Alberta, I'd say the Fundy Trail Parkway is one of Canada's most impressive drives.
Visit Hopewell Rocks
Two hours away from Saint John, the Hopewell Rocks is probably the top attraction in New Brunswick, and the best way to experience the highest tides in the world, which top out at 46 feet during the full moon.
You need to time your trip right to be able to wander around these incredible rock formations, which have been slowly carved by the relentless forces of the Atlantic.
The window for walking here is three hours before and after low tide, so be sure to visit the Hopewell Rocks website to find information on when the daily tides are.
Driving directions: Leaving Saint John take Highway 1 to Exit 211, and then Route 114 through Fundy National Park to Hopewell Cape.
Tours to Hopewell Rocks from Saint John
If you don't have a car, you can take a Bay of Fundy and Hopewell Rocks day trip from Saint John on a guided tour. Check prices and availability here for a full day excursion that includes visits to Fundy National Park, Hopewell Rocks, and Cape Enrage Nature Preserve. A packed lunch is included.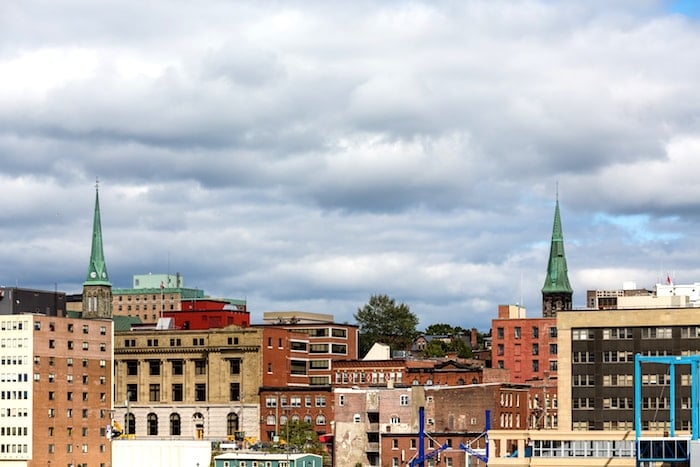 More Things to Do in Saint John
That was my tour but just in case you want to squeeze in a few more things to do in Saint John, check out:
The Carleton Martello Tower National Historic Site. Built to defend the city during the War of 1812, this cliffside landmark is a good place to admire harbour views and get your history fix from the award-winning interactive displays.
Fort Howe National Historic Site. Built by the British in 1777, Fort Howe, at the mouth of the Saint John River, was there to protect the settlement during both the American Revolutionary War and the War of 1812.
Imperial Theatre. This lavish theatre has been lovingly restored to its original 1913 character, and has a long showbiz history. See a show or do a quick – and I mean really quick, like 15 minutes – tour.
Where to Stay in Saint John
I stayed at the 4-star Hilton Saint John. Conveniently located at 1 Market Square, it has a swimming pool, bistro pub and harbour views.
Also central is the Delta Hotels by Marriott Saint John, a 4-star hotel in uptown Saint John, with a pool and restaurant.
For more about travel to Canada: visit Things to do in Canada