This post may contain affiliate links.
I don't want to scare you shellfish lovers but lobsters, those tasty clawed crustaceans, are from the same family as spiders and cockroaches. (That would be phylum Anrthropodia.) Yum!
Then again, consider some illustrious politicians' disreputable family members – having bad relatives doesn't seem to hurt their reputation any and so, being a fair minded lobster lover, while travelling through New Brunswick around the Bay of Fundy with a handful of journalists, I didn't let the lobsters' poor relations affect me. In fact, I ate those tasty critters (lobsters, not cockroaches) everyday, and sometimes twice.
Helpful lobster hints
With my new found experience, here are some helpful tips on eating lobster in New Brunswick: where to eat it, how many ways you can eat it and a few things to do between shellfish meals.
Lobster in Saint John
My taxi driver told me about Saint John Ale House. It didn't sound like a likely lobster destination to me, but from the look on writer Liz Fleming's face you can see that the lobster rolls rock. (Rock and roll, get it?)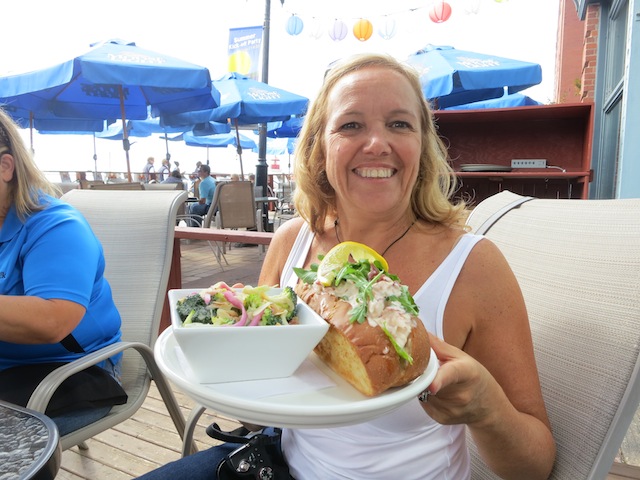 Lobster in St. Andrews-by-the-sea
Okay, big loss here. I didn't go with the rest of the journalists to the Rossmount Inn just outside the touristy town of St. Andrews for a late dinner because I was stuffed from eating smoked salmon with sturgeon caviar canapes at the Algonquin Resort, Canada's first Autograph property by Marriott.
This, in layman's terms, means it will be very fancy. But my bad. The Rossmount is one of the best restaurants in New Brunswick, and I'm sick of hearing everyone rave about what an amazing meal I missed.
Lobster at Kingsbrae Horticultural Garden
Located in St Andrews, the extensive Kingsbrae Gardens has 50,000 perennials, themed gardens, sculptures and a path through an old-growth forest that I had to do alone because everyone else was too busy eating dessert.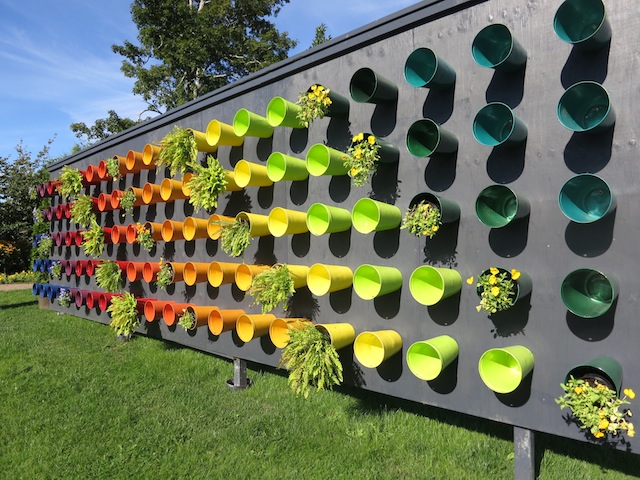 Best thing of all, the restaurant at the Kingsbrae Gardens serves lobster! Who knew you could eat a Cobb Salad with lobster instead of chicken? A vast improvement I must say.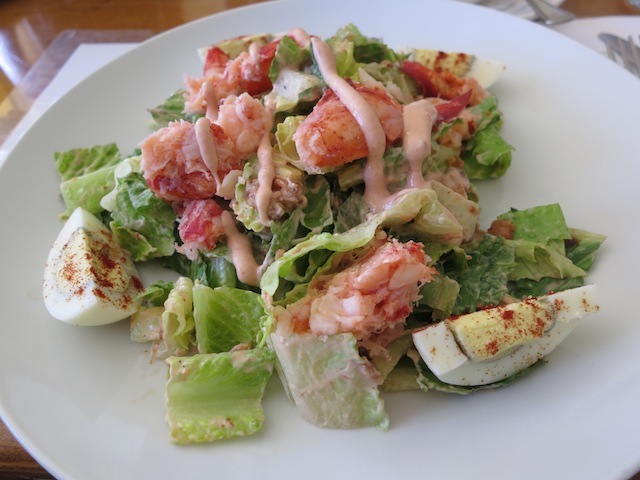 Lobster in St Martins
Just before the Fundy Trail Parkway is a little shack-y looking restaurant that is packed with hungry seafood lovers. Casual, cheerful and quick, it's better than it looks.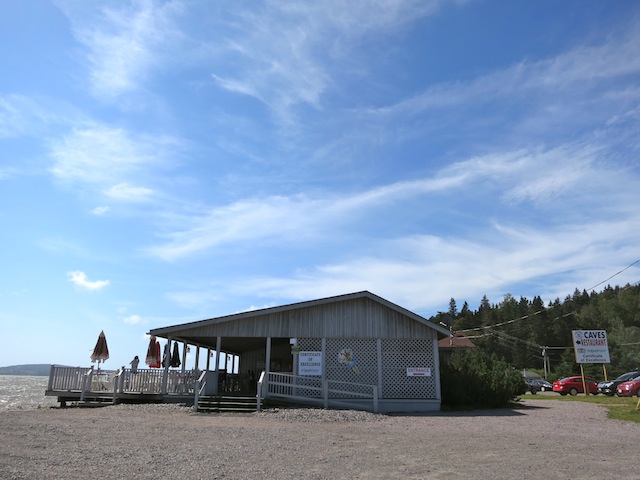 And it's hard to go wrong with a lobster roll like this.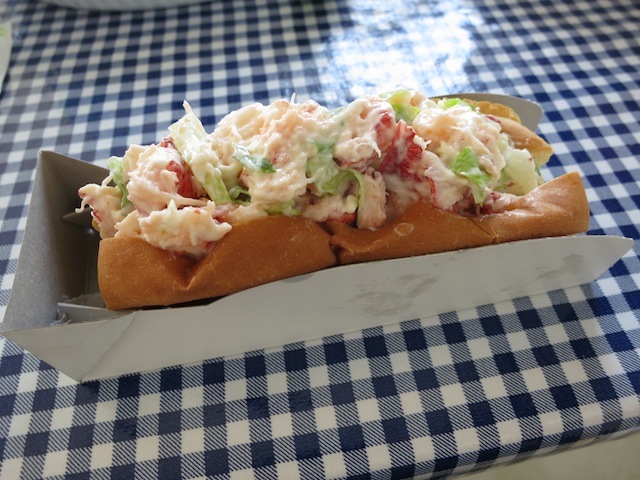 The Hopewell Rocks
Continuing on, our group went to the Hopewell Rocks. Really this is the star of the Bay of Fundy Parkway. The Hopewell Rocks are also known as the Flowerpot Rocks, which seems a bit stupid to me, but since I wasn't the one who discovered them, I didn't get a say. They look more like bizarro magnificent rocks to me, strange formations formed by tidal erosion. And they make for great photo ops.
There is a handy interpretive centre there that explains all that tidal moon waxing and waning gravitational pull stuff, which is why the Bay of Fundy has the highest tides in the world. It also has a cafeteria that serves – wait for it – lobster! Only this time I had a lobster club sandwich as did our tourism rep, Alison Aiton, because if a local like Alison was ordering it, I assumed it must be good. Oh, it so was. The interpretive centre bakes their bread fresh onsite everyday.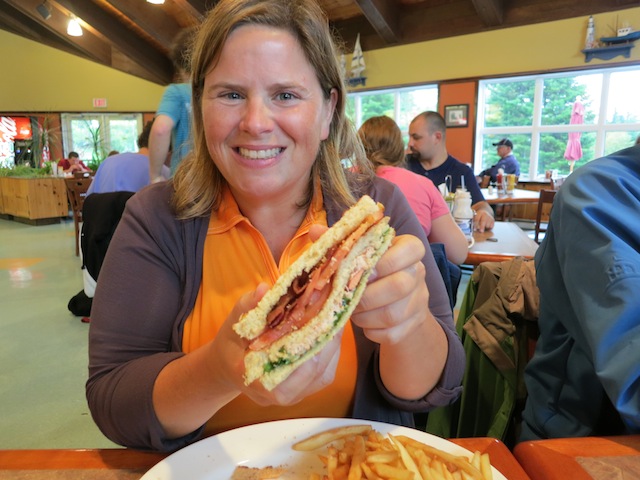 Finally we ended our unofficial Lobster Tour of the Bay of Fundy in Moncton, where all the happy but fairly sleepy journalists went for a final dinner at Catch 22. Moncton has a appealing blend of Acadian and Loyalist culture with a touch of everything else. With the World Wine and Food Festival coming up on November 8th, you can be sure more lobster delicacies will be on the menu.
And thank you Via Rail for sponsoring our dinner and telling me that there is a train from Montreal to Moncton, because who knew? I'll need it when I come back to New Brunswick for more lobster.
The final lobster verdict
I thought I'd seen it all but I discovered a new lobster dish on the menu. Lobster Jambalaya. As you can see, blogger Ian Mallory is eating twice his weight in shellfish. Look at that plate! It's the same circumference as his chest.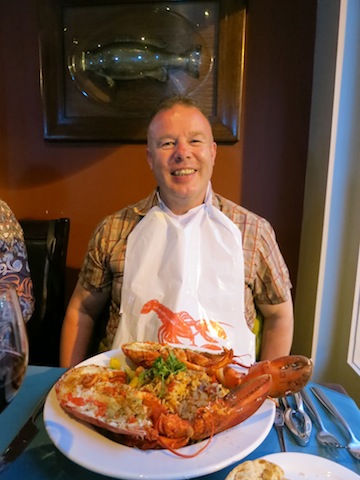 And I discovered something else. The best lobster doesn't need fancy fixings, or mayo or even fresh bread. It's the one that's sitting on your plate.
For more information on New Brunswick visit www.TourismNewBrunswick.ca

Read more Maritime posts:
What to do in Sain John, New Brunswick
Cycling Confederation Trail in PEI
For more about travel to Canada: visit Things to do in Canada