This post may contain affiliate links.
Cycling Confederation Trail in PEI, Canada, seemed like an excellent excursion from Charlottetown. Little did I know disaster was lurking. And I confess it wasn't my first choice of Prince Edward Island activities when I was in Charlottetown for a travel conference but I took too long to decide what to do.
By the time I got around to choosing the Cycling Cavendish Tour it was full, as was kayaking. Determined to do something outdoorsy, I went downstairs to the lobby and tried to hone in on the lobster fishing tour, but got shunted out as they were full, too.
"Waaah," I said.
Whining pays off almost as well as procrastination. Within minutes of me standing in the lobby like a loser while all the boaty-y people went off, the Prince Edward Island Tourist Board had arranged a bike rental for me just down the street at the visitor's centre and I was off to cycle the Confederation Trail.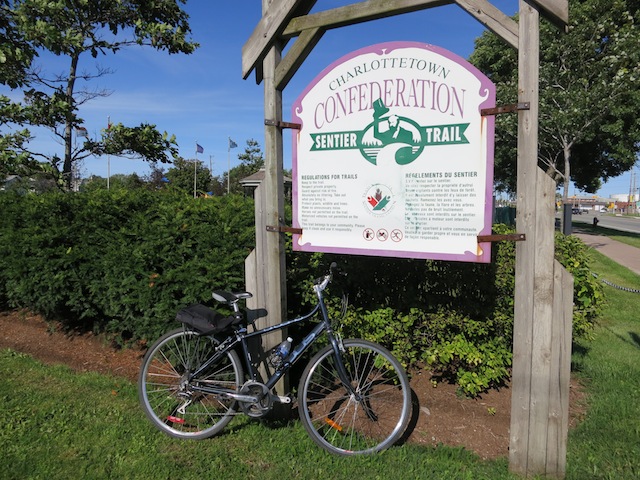 The History of Prince Edward Island's Confederation Trail
In 1989 the Prince Edward Island railway was abandoned, and a 435 km tip-to-tip walking and cycling trail of this Canadian maritime province was born. Whohoo! Of course I intended to do all the 435 km in one day, because I'm fast like that. (Other, non super humans might want to take 5 or 6 days.)
The Confederation Trail itself, called the Main Trail, is 273 km long. Beginning in Tignish, PEI, at kilometre 0 and ending in Elmira at kilometre 273, the Confederation Trail also consists of numerous branches, one of which extends into Charlottetown.
The Branches of the Confederation Trail
Branches run to the waterside communities of Souris, Georgetown, Montague, Wood Islands, Murray River and Murray Harbour, plus there is a link to the Confederation Bridge in Borden-Carleton.
While cycling through Charlottetown is probably not the most scenic part of the Confederation Trail, there is still plenty to see, especially once you got out into the groomed wilds of PEI.
What can you see when cycling Confederation Trail in PEI?
On the Charlottetown branch of the Confederation Trail you can see leaves getting ready for fall, reminding us that life goes on and we are all aging and eventually will be nothing but carbon. (Unless you're cycling in spring, then you can be much more optimistic.)
Ravenwood
You can see farmland and fields and houses where you are sure that Anne of Green Gables once lived, or at least where her cousin's mother's stepfather's son probably did. Actually, the property is called Ravenwood. It was built in the 1820s and is a heritage property.
You can see pretty scenery …
And then I spotted the real draw. Target! It was a bit unexpected on a nature trail, but resisting temptation I road on.
Back to nature on the Confederation Trail
Ah, being back outside felt good. I had successfully resisted the lure of the shopping stop. Who has time for shopping when you're cycling 435 km in one day?
Cycling the Confederation Trail in PEI should be about history and scenic locales. I should be thinking about things such as the Canadian Confederation, which is when Canada became a nation, the Dominion of Canada, in 1867.
Before that, British North America was a hodgepodge of provinces, the North-Western territory and large tracts of land owned by the Hudson's Bay Company.
What does Charlottetown have to do with Canadian Confederation?
After years and years of bickering and debate three historic meetings with various important delegates, who would become known as the Fathers of Confederation, were held. One in Quebec City, one in Charlottetown and one in London, England. Out of these meetings the fledgling nation of Canada emerged.
Cycling in PEI
I should have been thinking of how lovely Prince Edward Island is, and how it has so many cycling trails and how, because the island is relatively flat, it's my kind of cycling.
You can do the 75 km Cabot Route, from Cabot Beach Provincial Park to Kensington and French River.
The 68 km Charlottetown-Mt. Stewart Loop from downtown Charlottetown's Victoria Row to the village of Mt. Stewart.
2 different loops of a Lord Selkirk Campground Route
The 58 km St. Peters Loop or the 20 km Greenwich Day Trip
And the 42 km Tyne Valley Route from Green Park
How about a shopping route?
But I couldn't get that stupid Target out of my mind. Maybe they should create a cycling shopping expedition on the Confederation Trail. Think of the possibilities, you could buy crafts, and Anne of Green Gable's souvenirs. There could be kiosks selling Cows Creamery ice cream and trailside restaurants serving nothing but PEI oysters. It could be a whole new tourist industry.
I turned around. And once I had parked my bike, and gone into the mall I learned that Target was closed.
Shameful advertising
So back to Charlottetown I went, only once I got to the Visitor's Centre, it was such a beautiful day I couldn't stop. Just a wee ride along the harbour I thought. After all, I had planned on cycling the entire 435 kilometres of the Confederation Trail in PEI and not just an hour's worth.
The harbour at Charlottetown is a fun place to hang out. It's well developed with boardwalks, parks and shops, and was all very pleasant and photo worthy.
And then I fell down.
I tried to bounce up, saying "I'm okay I'm okay," because I really was, but 1) no one was around to hear me or help me up and 2) I was too tangled up in my bike. Finally I twisted my way out and I'm sure there is a moral to this story. Something about if I hadn't procrastinated in the first place when choosing a Prince Edward Island tour, I would have been cycling in Cavendish or kayaking or out catching lobsters, and not falling off my bike.
Then again, I wouldn't have had the experience of cycling Confederation Trail. So here are my tips: don't veer off without knowing what you're getting into (and don't try to take a photograph while riding) because unexpected adventures await at every turn.
And PS. If I have time on Thursday I plan to rent a bike again. Bike rentals are available at the Visitor's Centre. $20 for 4 hours, $30 after that. And I'm sure I'll be cycling the entire Confederation Trail then.
Confederation Trail PEI travel guide
If you really are keen on cycling Confederation Trail in PEI, the entire thing, and not just in a day, here is a suggested itinerary from Tourism PEI.
Day 1 – Tignish to O'Leary (45 km easy to moderate)
Day 2 – O'Leary to Wellington (45 km easy to moderate)
Day 3 – Wellington to Hunter River (65 km moderate to hard)
Branch Trail – Emerald to Borden-Carleton (18 km easy)
Day 4 – Hunter River to Morell (65 km moderate to hard)
Branch Trail – Royalty Junction to Charlottetown (9 km easy)
Branch Trail – Mt. Stewart to Georgetown (40 km moderate)
Branch Trail – Cardigan Junction to Montague (10 km easy)
Day 5 – Morell to Elmira (54 km moderate)
Branch Trail – New Harmony Junction to Souris (9 km easy)
Branch Trail – Charlottetown to Murray Harbour (80 km moderate)
You can download a full cycling Confederation Trail in PEI guide here.

Read more about the Maritimes:
Lobster tour through the Bay of Fundy
What to do in Saint John, New Brunswick
For more about travel to Canada: visit Things to do in Canada