This post may contain affiliate links.
Are oysters in Prince Edward Island, a shellfish-rich province on Canada's East Coast, the best in the world? Call me crazy, but I say yes. Here's why my love affair with oysters in PEI continues.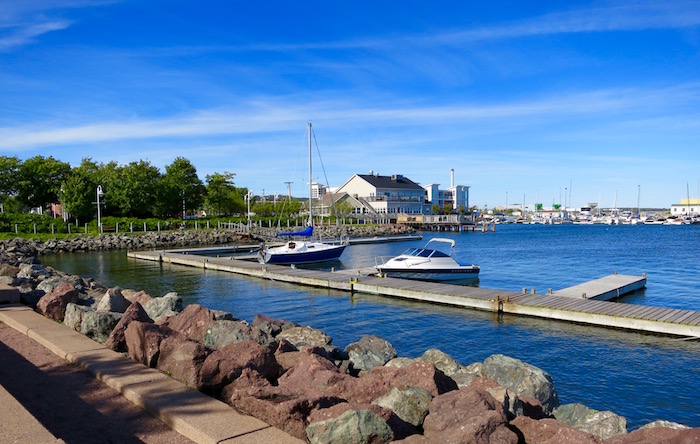 Canada is a lucky country. The Canadian province of Prince Edward Island has the best oysters in the world. Yes, yes, I'm sure I'll be getting hate mail from France, Spain, Australia and everywhere else in the world with a coastline (including Maine and Canada's West Coast), but it wasn't me who said it first. Blame the Paris World's Fair in 1900, an event that named Prince Edward Island oysters the most delicious in the world.
Looking for info on the PEI Shellfish Festival in Charlottetown? Scroll down for info below.
Best varieties of oysters in PEI
Malpeques, Raspberry Points or Colville Bays, I love them as if they were my own children (who I then wanted to eat). Crisp and fresh, salty with a subtle sweet end note, a plump choice grade Malpeque oyster can propel you into a whole new dimension of tangy taste – although, my husband, not the world's biggest oyster fan, will no doubt roll his eyes when he reads this.
A trip to Prince Edward Island is a tour into culinary bliss
So, on my last visit to Charlottetown, PEI, I made sure I ate as many oysters as I could. And because I'm an independent type who likes to do things alone I brought Amy Rosen, former food editor at Chatelaine Magazine, to the Claddagh Oyster House, for an oyster tasting.
Oysters are the real reason for touring Prince Edward Island
Of course there are many attractions in PEI: Cow's Ice Cream, beaches, Anne of Green Gables, cycling on the Confederation Trail, and lots of delicious wonderful lobster, but give me a Malpeque oyster any day (except for when I want lobster).
Claddagh Oyster House
Therefore, when Amy and I walked into the Claddagh Oyster House on Sydney Street to speak to champion oyster shucker Marc Dolan, who manages both the Claddagh House and the upstairs Dublin Pub, and whose father Liam Dolan is the Chairman of the PEI Shellfish Festival, it will come as no surprise to you that Malpeques were the main thing on my mind.
What's the deal about Malpeques?
"Whenever I order PEI oysters," I said to Marc, trying not to drool as I stared at my plate of shucked oysters on ice, "especially when I'm outside PEI, the server always seems to say they're Malpeques. Are they putting me on?"
I asked because to me, this sounds suspiciously like when you're in Thailand having a $5 massage on the beach and every masseuse studied at Wat Pho Temple.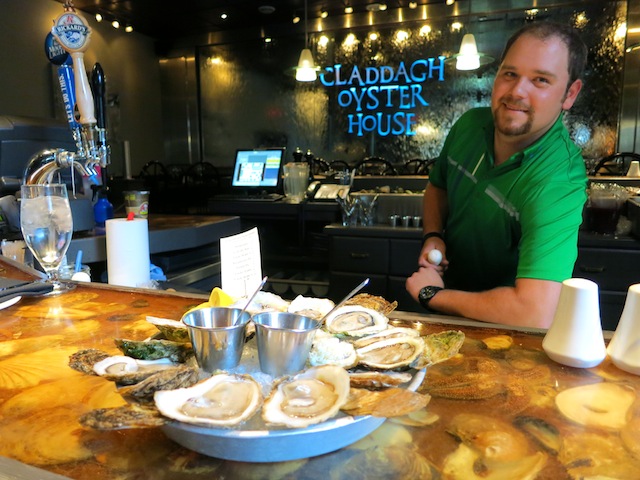 Apparently, according to Marc, the oyster servers have not been putting me on, and who knows, maybe those Thai masseuses all really did study at the famous Wat Pho.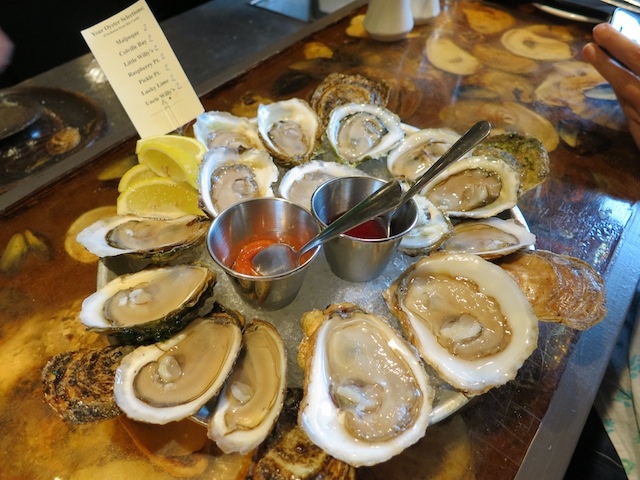 The truth about Malpeques
While Malpeque Bay is one of many bays in PEI, all oysters in PEI can be considered Malpeques, Marc said, because the seed is collected from Malpeque Bay and delivered elsewhere, where the little oyster babies grow and thrive, like at Raspberry Point, oh heaven. And at Coleville Bay, where those plump buttery oysters are the raw food dreams are made of.
My fickle shellfish heart
While I confess that quite often it's East Coast lobsters that have my heart, after my oyster tasting at Claddagh Oyster House, I am, while not dumping lobster completely, thinking about embarking on a passionate oyster affair. (Those who say oysters are aphrodisiacs are obviously correct, except that you fall in love with the taste, not necessarily the person beside you.)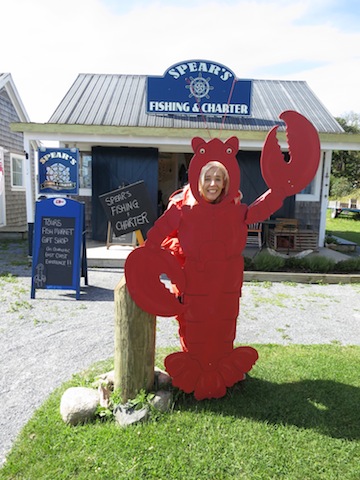 Public displays of oyster affection
In fact, I couldn't help oohing, ahhing and swooning the entire time at Claddagh as the clean taste of PEI oysters hit my mouth. This apparently embarrassed Amy to no end, because she mentioned it as we were walking back along the boardwalk that runs along the waterfront of Charlottetown.
"Were you really embarrassed?" I asked her, surprised. I mean, I'm used to being a walking embarrassment, but this time I'd been sitting down.
"Yes," she said.
"Really?" I asked again.
"Yes."
"Really?"
"No."
Phew. But okay, next time I'll try to keep my expressions of love for oysters in PEI down to a polite murmur (ha! not likely) as I slurp my fresh-from-the-ocean Malpeque oysters, and I'll try to return to PEI whenever I'm hungry, or at least for the PEI Shellfish Festival next year.
How to celebrate oysters in PEI … oh, yeah – and all that other good food, too.
The PEI International Shellfish Festival
Now you don't need to be torn between lobster and oysters – the PEI Shellfish Festival lets you celebrate both, not to mention other kinds of shellfish. Held in mid September, the festival is hosted by PEI's celebrity chefs and you're sure to find chowder, oyster shucking competitions (Go Marc Dolan!), demos and a big fat kitchen party atmosphere.
2016 Fall Flavours Festival in Prince Edward Island
Here's a chance to fuel all your foodie maritime dreams, including, of course, oysters in PEI. This year, 2016, from Sept 2 to Oct 2, the Food Island Partnership has announced a local culinary adventure, Fall Flavours Festival in Prince Edward Island, featuring authentic PEI tastes & traditions.
Promised are fab food, fun venues, great entertainment, signature events hosted by celeb chefs personalities, and, not least, intimate food experiences. (Ahem, I know oysters are an aphrodisiac, but I can only guess what kind of 'intimate' experience they're referring to). For more info visit the Prince Island Fall Flavours website.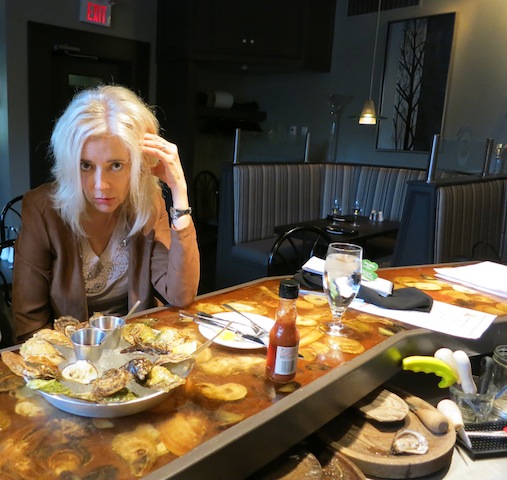 Go out on an oyster boat and harvest your own
While going out and tonging (picking up) and shucking my own oysters straight from the ocean was a once-in-a-life-time experience (unless I do it twice), I learned something. I don't actually like eating oysters straight from the ocean. I prefer a little distance between me and my live food. In this case, distance means cooled in the fridge and drizzled with lemon.
If you want to tong your own oysters, check out the Oyster Lovers Ultimate Aficianado's Dream Tour with Experience PEI.
Explore the PEI Culinary Trail
Why limit yourself: Do the PEI Culinary Trail, a trail that will help you experience some of the best culinary experiences Prince Edward Island can offer. Visit the PEI Tourism Website for more info.
Read More about:
Carol and Amy's misadventure in London, England
Amy's oyster slurping tips in Chatelaine.
The Maritimes:
Lobster tour through the Bay of Fundy
Cycling Confederation Trail in PEI
What to do in Saint John, New Brunswick
For more about travel to Canada: visit Things to do in Canada