This post may contain affiliate links.
White Aylesbury ducks, sly foxes, scenic fells and lakes – this is the English Lake District that the popular children's author, Beatrix Potter, knew and loved. Most fun of all, touring some of the top Beatrix Potter sights in the Lake District can lead to unexpected adventures.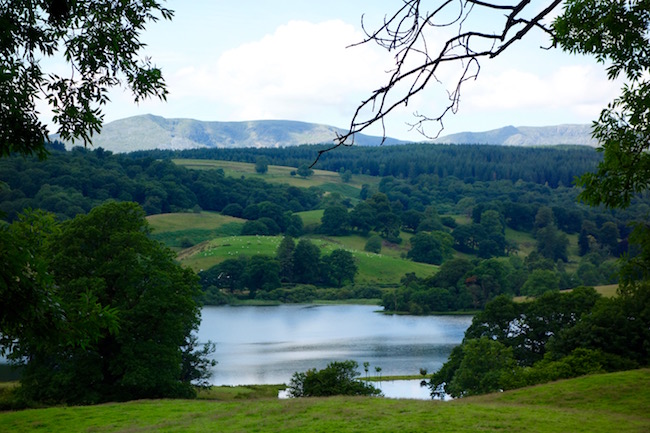 My Beatrix Potter adventure begins
If I'm like any character in a Beatrix Potter book, it would have to be Jemima Puddle-Duck. She's platinum blond, not too bright and has a misguided crush on Mr Tod, the dapper red fox who does not have her best interests in mind. (What he has in mind is roast duck.)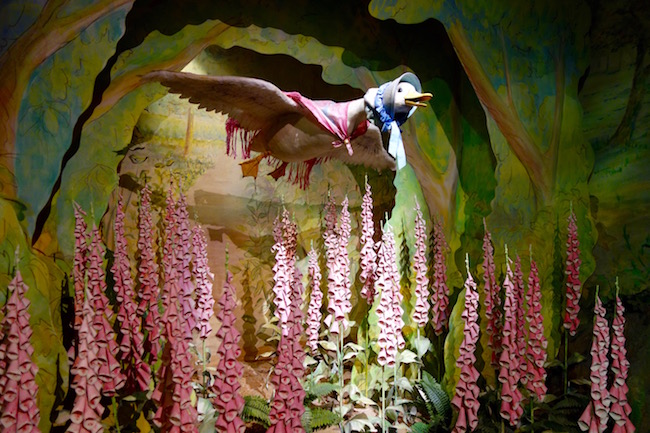 Beatrix Potter sights in the Lake District
But here's the thing: After touring Beatrix Potter's beloved Hill Top Farm in Near Sawrey in England's Lake District, visiting the Beatrix Potter Gallery in Hawkshead and seeing the World of Beatrix Potter Attraction in Bowness-on-Windermere, it's hard not to fall for both the Lake District in Cumbria and for the villainous Mr Tod who, of all the Beatrix Potter characters, is the one with the most charm.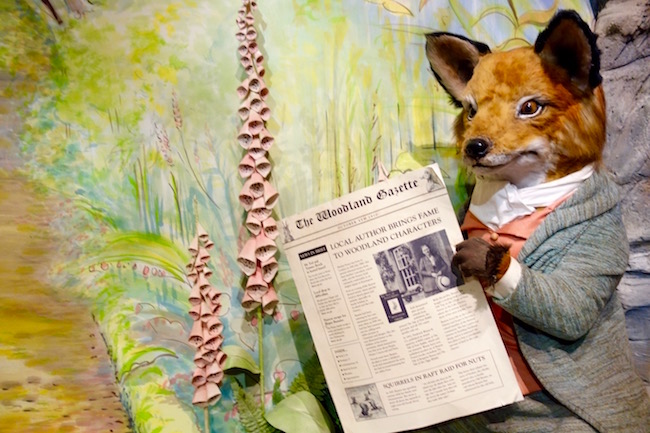 Patty, one of the women I'm travelling with, would no doubt disagree. She has an inexplicable affinity for Jeremy Frog.
"It's not Jeremy Frog," she corrects me. "It's Jeremy Fisher, who is a frog. The Tale of Mr Jeremy Fisher is the first Beatrix Potter story I had."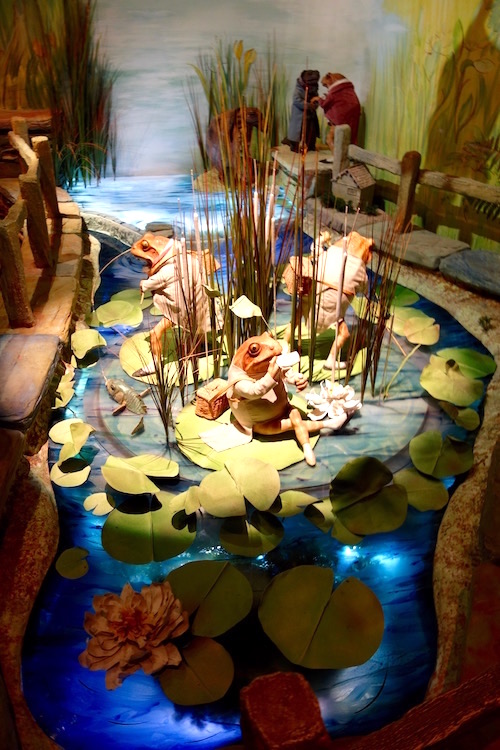 Happy birthday, Beatrix Potter
So while Patty dreams of kissing toads and I wonder if I can get my husband to grow a pointy nose and sandy-coloured whiskers, we check out some of the best Beatrix Potter sights in the Lake District. As this year is the 150th anniversary of Beatrix Potter's birth, there is a lot going on. In fact you could spend your entire vacation tramping through the footsteps of this famous author/illustrator in county Cumbria and still have plenty to see.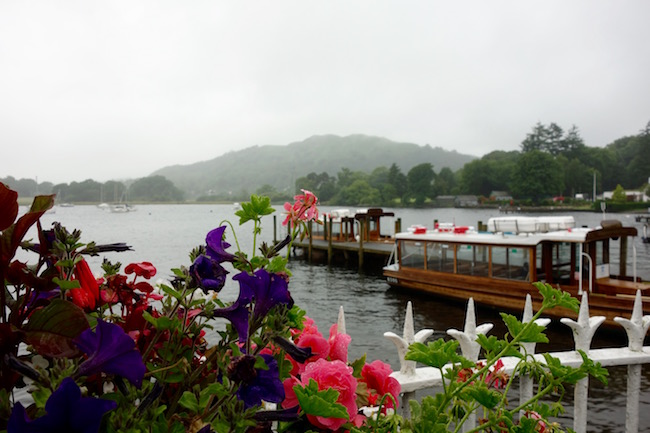 Who was Beatrix Potter?
Born in London in 1866, Beatrix Potter is one of the world's most famous children's authors. The creator of the much-loved Peter Rabbit, she wrote and illustrated 28 books, and was passionate about land conservation and preserving the environment of the Lake District.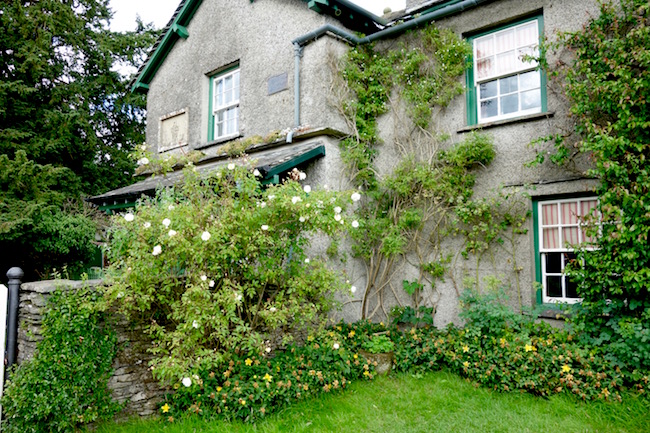 Beatrix Potter's Hill Top
Any tour of Beatrix Potter should start at Hill Top Farm, the 34-acre working farm she bought in 1905. Not only does Hill Top's garden, tumbling over with summer flowers, look like something straight out of Peter Rabbit, the house is a snapshot of her country life.
Hill Top and its surroundings were also home to many Beatrix Potter characters such as Samuel Whiskers, Tom Kitten and my own vacuous spirit animal, Jemima Puddle-Duck.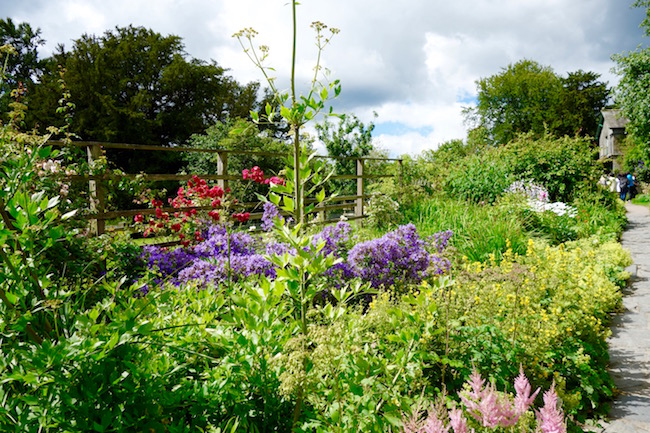 Tower Bank Arms
Right around the corner from Hill Top is the Tower Banks Arms. In addition to serving an excellent Cumbrian beef and ale stew, Tower Banks Arms is featured in the Tale of Jemima Puddle-Duck.
Here's the story. Jemima, obsessed with finding a quiet spot to lay her eggs, lets herself be taken in by the debonair fox, Mr Tod, who promises to give her a nice tranquil spot in his summer shed, which, curiously enough, is littered with feathers.
Spoiler alert: I know you're worried for Jemima's safety, but don't panic. Kep, the farm collie, rounds up two fox-hound puppies and they chase the villainous Mr Tod away. The downside is that the fox-hound puppies eat Jemima Puddle-Duck's eggs, a dark bit of a plot twist that shows Beatrix Potter was firmly grounded in the cruelties of the natural world.
Esthwaite Water
After lunch I head off for a solitary walk. I'm aiming for Castle Farm, where Beatrix Potter lived after she got married at the excellent age of 47. Dim-witted as Jemima Puddle-Duck, however, I take a wrong turn and end up on a narrow country road. Turning a corner I come across a sight so sparkling and English Lake-y, with green hills rolling off into the distance and the dramatic fells behind, it's the single most impactful moment of my trip.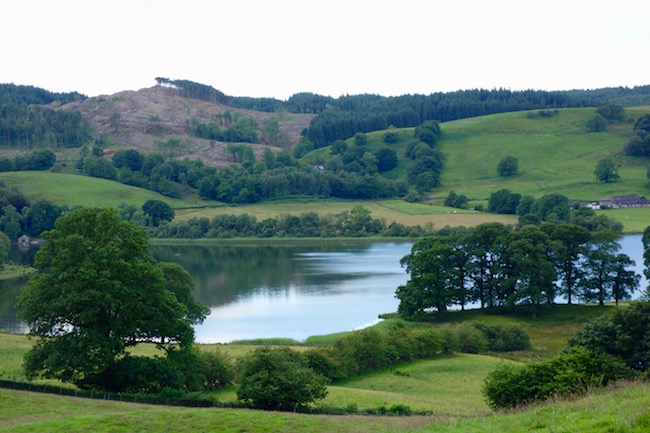 This is Esthwaite Water, a small lesser-explored lake than some of the others in the Lake District such as Coniston Water and Windermere. But it was Beatrix Potter's favourite and home to Mr Jeremy Fisher, who set off from here in The Tale of Mr Jeremy Fisher on his lily pad boat to catch minnows for a dinner party, only to end up in the jaws of a big trout instead. Spoiler alert: He escapes.
Patty will be sorry she missed this, I think, strolling along happy as Squirrel Nutkin with a big sack of hazelnuts. (And by the way, is it only me or is Squirrel Nutkin totally demented? Read The Tale of Squirrel Nutkin and you'll see what I mean.)
The Beatrix Potter Gallery and Hawkshead
Once I rejoin my companions our next stop is the Beatrix Potter Gallery in the town of Hawkshead. This National Trust-owned building was once the office of Beatrix Potter's solicitor, William Heelis. And he must have given her some pretty savvy advice because she ended up marrying him.
Beatrix Potter was a fungi fanatic
As we shuffle through the 17th-century building, surrounded by many of Beatrix Potter's original illustrations, we quickly learn there was more to this talented author than cuddly cottontails and kitten paws. From an early age she was interested in science and botany, particularly in various species of fungi and how they reproduced.
Through the course of her research she produced hundreds of scientifically accurate and very beautiful botanical illustrations as well as a paper called 'On the Germination of the Spores of Agaricineae.'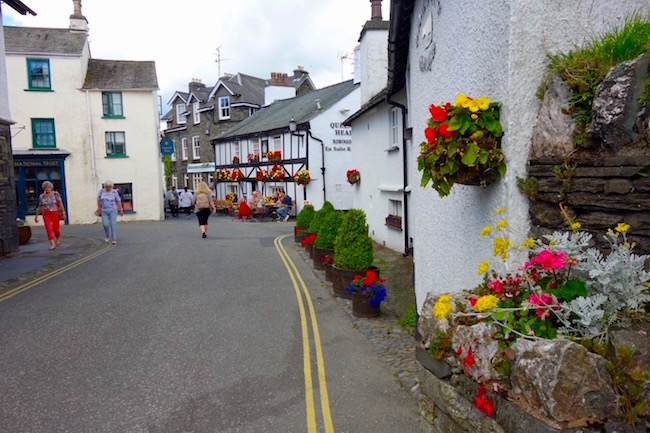 A woman in the Victorian Age
Sadly, the male-dominated scientific community refused to take her seriously. "But if they had," a guide says as we shuffle through a series of rooms with whitewashed walls and dark wood doors, ' she may never have become a writer at all."
So three cheers for failure! (There's hope for me yet!) And just so you know, a century later her research was proved correct.
The World of Beatrix Potter Attraction in Bowness
You can't embrace Beatrix Potter in the Lake District without visiting the World of Beatrix Potter Attraction. (Well you can, but what would be the point?) At this multi-media experience several larger-than-life exhibits let you skip through all sorts of Beatrix Potter's imagined worlds.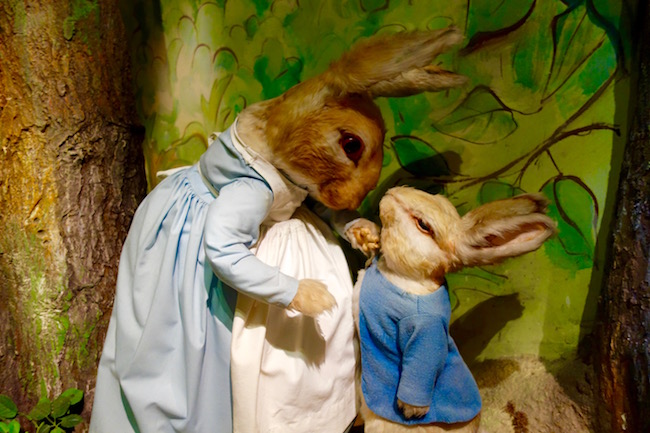 Beatrix Potter favourites
If you're travelling with children, the World of Beatrix Potter is probably the one Beatrix Potter sight you should see. Here you'll see all your favourite characters: Peter Rabbit, Pigling Bland and Flopsy, Mopsy and Cottontail. Jeremy Fisher has a large exhibit and best of all, I get to spend some quality time with the foxy Mr Tod (but don't worry – he won't be luring me into his shed. I've learned from Jemima Puddle-Duck's mistakes).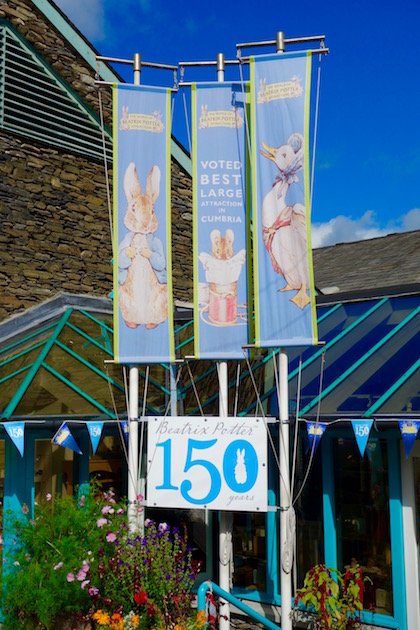 Where is Peter Rabbit?
At the attraction's mini musical Where is Peter Rabbit? many Beatrix Potter books are featured including The Tale of Mr Tod. It's a traumatic story, actually. While attempting to roast baby rabbits in his oven, Mr Tod gets into a knock down fight with his arch enemy, the stinking unkempt badger, Tommy Brock.
The Tale of Mr Tod was one of the last original books Beatrix Potter wrote, and she enjoyed spending time with her two colourful villains, saying, "I am quite tired of making goody goody books about nice people. I will make a book about two disagreeable people, called Tommy Brock and Mr. Tod."
How can you not admire a woman with an attitude like that?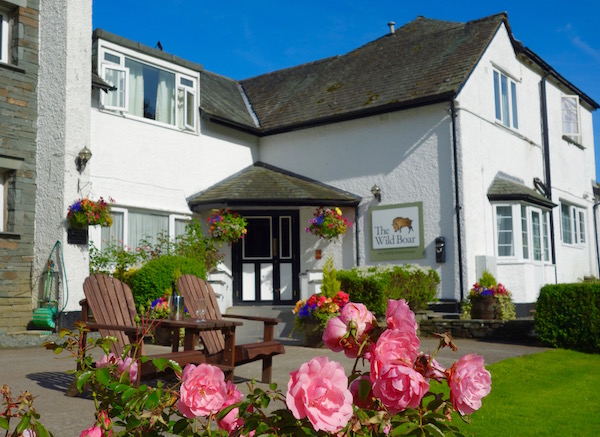 Showing attitude
My own 'attitude' comes out later that evening at the Wild Boar Inn, a 4-star hotel near Windermere as we settle in for dinner. Patty takes one look at the menu, sees wild rabbit and says, "After today, please don't anyone order the rabbit!"
"I'll have the rabbit," I tell the waiter. Much as I like the sight of bunnies hopping along a country lane as much as the next kindly children's book author, the Wild Rabbit Haunch Confit with ginger and garlic, pak choi, risotto croquettes and port wine sauce appeals not just to my appetite but to my weird sense of humour.
The rabbit is delicious and I eat every bite, which leads me to think that maybe I'm more Mr Tod than Jemima Puddle-Duck after all – and it's just possible feisty Beatrix Potter was, too.
Travel guide for Beatrix Potter in the Lake District
Scroll down for all the Lake District travel info you'll need.
If you like it, pin it!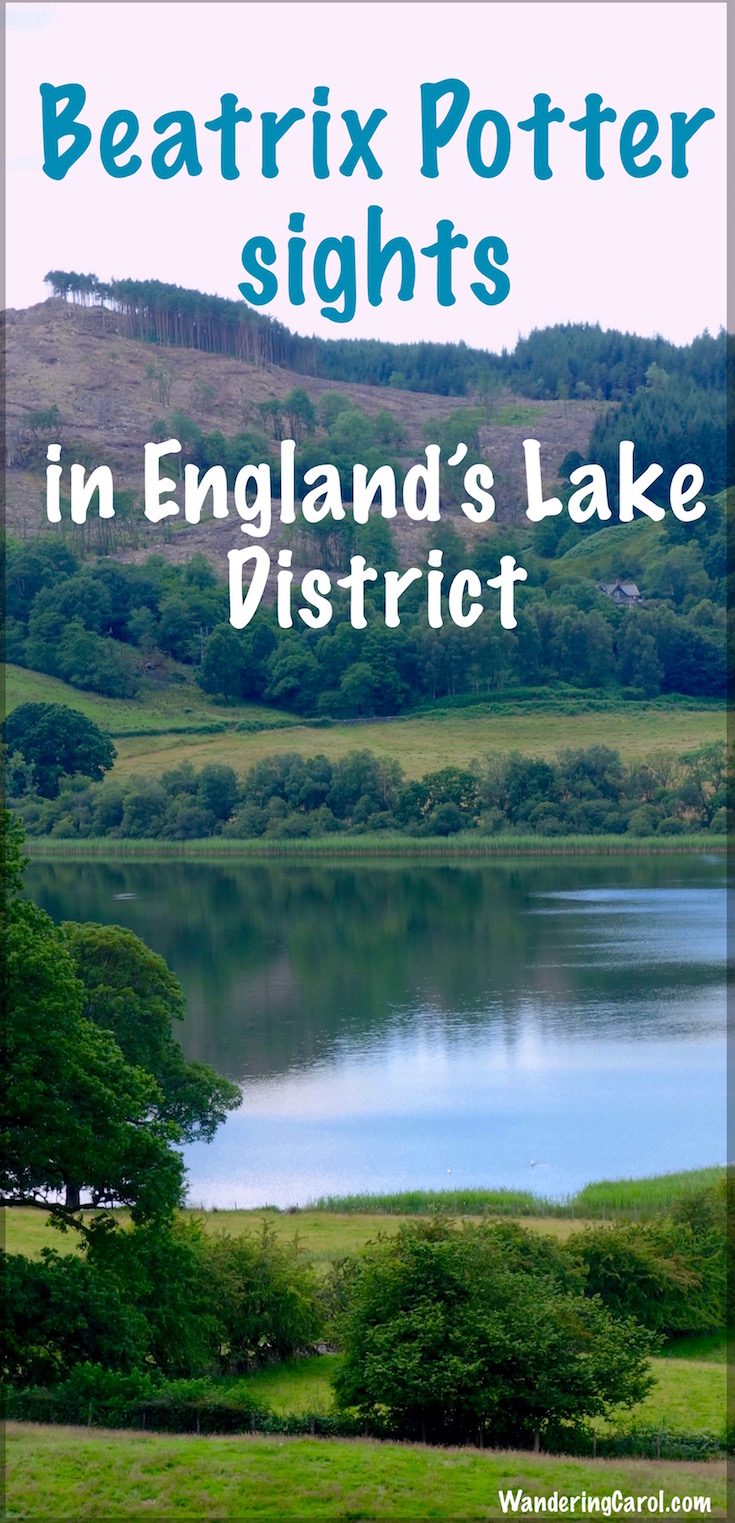 Hill Top Farm, Beatrix Potter's refuge
After Beatrix Potter's death in 1943, she bequeathed Hill Top Farm to the National Trust (along with 13 other farms and 4,000 acres of land). Here you can visit her garden and tour the house, which is filled with original furniture and china (except for the replica bed). Hill Top is located in the town of Near Sawrey, Hawkshead, Ambleside.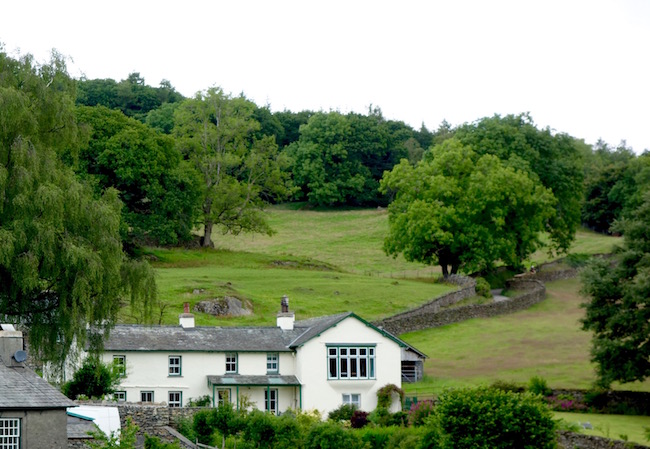 Castle Farm, the Beatrix Potter home
From Hill Top you can see Castle Farm, a white farmhouse in the distance. While Beatrix Potter intended Hill Top to be a museum of her life, Castle Farm was her marital home and she preferred to keep it private. That said, there are some rare tours there.
Beatrix Potter Gallery and Hawkshead
While it's very interesting that the Beatrix Potter Museum and Hawkshead is located in the former law office of her solicitor husband, and we're all very happy that she found love and domestic bliss, marriage did mean she practically stopped writing. Nonetheless, it's a fascinating stop on the Beatrix Potter trail.
The World of Beatrix Potter Attraction at Bowness-on-Windermere
The animated settings of Beatrix Potter characters at the World of Beatrix Potter Attraction make the tales come life. It's truly a fantasyland for children. In the building's Old Laundry Theatre until Sept 4, 2016, is the Beatrix Potter Musical Adventure Where is Peter Rabbit?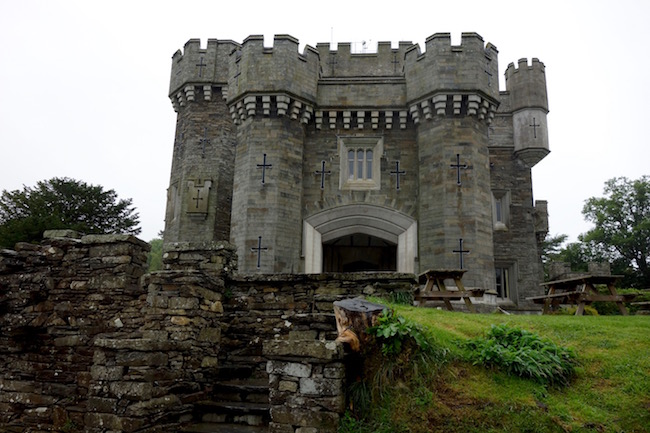 Wray Castle
When it comes to Beatrix Potter sights in the Lake District, another of note is Wray Castle. From Ambleside you can take a short cruise over to this faux Gothic castle built in 1840. When Beatrix Potter was 16 her family spent a 3-month holiday at this grandiose manor on Lake Windermere (nice for some!), and it made a lasting impression. While here she befriended Hardwicke Rawnsley, one of the founders of the National Trust, a major conservation organization in England, Wales and Northern Ireland. She would go on to be one of the Trust's major supporters.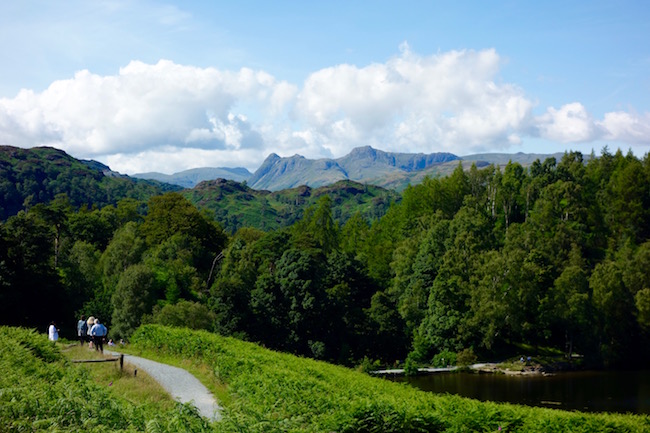 Where to stay in the Lake District
Whether you're after Beatrix Potter sights in the Lake District, or you've come for walks, fells and lakes, you'll be spoiled for choice in this scenic area of England. We stayed one night at a traditional coaching inn, the Wild Boar Inn. Located in a secluded spot near Bowness Bay, about 3 miles from Lake Windermere, it's well known for its Grill & Smokehouse restaurant. (Rooms from £102.)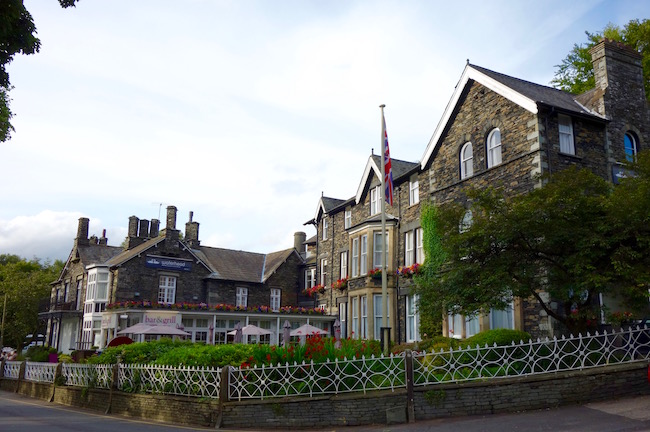 We also spent 2 nights at the lovely Waterhead Hotel on Lake Windermere in Ambleside, a 4-star luxury boutique hotel with a lakeside setting. (Rooms from £139.) Both properties are part of the English Lakes Hotels group.
For more hotels in the Lake District, search here:


Travelling in Cumbria
Country Cumbria is an area in northwest England known for its pastoral beauty. The region includes the Lake District, Eden Valley, the North Pennines, Furness Peninsula, and part of the Yorkshire Dales. It has a long literary history. In addition to Beatrix Potter sights, you can visit Dove Cottage, where William Wordsworth lived. Home to England's largest national park, the Lake District National Park, Cumbria is popular with outdoor enthusiasts and an excellent destination for family travel.