This post may contain affiliate links.
Heading to England? Confused about where to go and what to do? I was. But help is at hand. For some fabulous activities and top things to do in the Lake District, here is a handy Lake District itinerary.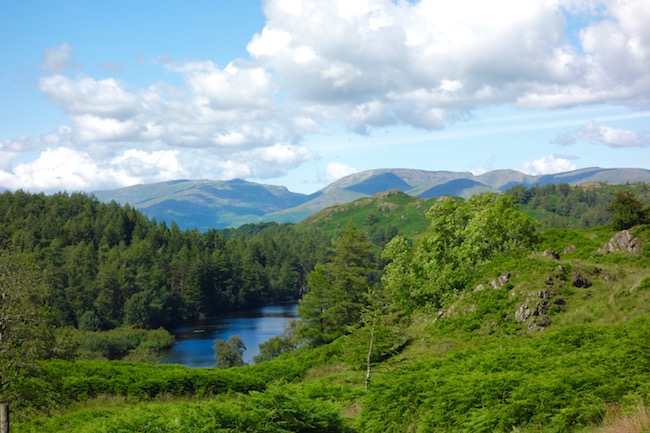 Vacation in the Lake District UK
"How many lakes are there in the Lake District?" one of our group asked our driver as he steered the van over a weathered stone bridge.
"One," he said, his Yorkshire accent strong. "Bassenthwaite Lake."
"What?" We all looked at each other. "What about Windermere?"
"That's a mere."
"What's a mere?"
"It's a lake."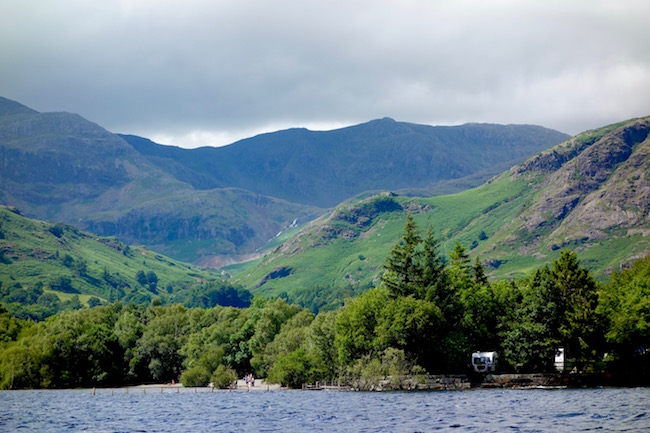 Lake District 101
Clearly, it can take some time to get a handle on the Lake District of England. But this should help sort it out. There are lakes, meres and waters, and all are lakes. They're just not called lakes. There are 16 in all, and if you're planning a trip to the Lake District my advice is this: Don't worry about what they're called, just enjoy the scenery, an eye-blinking mix of rippling blue lakes, rocky gorges, sheep-dotted pastures, woods and mountains (which aren't called mountains, they're called fells).
"Don't forget tarns," our driver adds.  "That's a small mountain lake. Like a pond."
Lake District itinerary
For those not familiar with the area, here's an easy Lake District itinerary that will give you a snapshot of the best Southern Lake District attractions. The lakes we checked out – sorry, I mean the meres and the waters – are Windermere, Grasmere and Coniston Water, three popular South Lakeland destinations. The tarn we visited is the much-photographed Tarn Hows.
We also explored the towns of Ambleside, Bowness, Grasmere and Hawkshead, and while there is so much more to see in this scenic district of Cumbria, England, this should give you a start. So here it is, a mini travel guide to things to do in the Lake District in England, aka Lake District 101.
What is the Lake District?
The Lake District is in Cumbria in the northwest corner of England. It's a 2-hour drive from Manchester or a 5-hour drive from London. Both a region and a national park (to confuse you even more), the Lake District is popular with outdoor enthusiasts, culture buffs who flock here for its literary associations (Beatrix Potter, William Wordsworth and Ruskin to name a few), and travellers who just want to enjoy its postcard prettiness.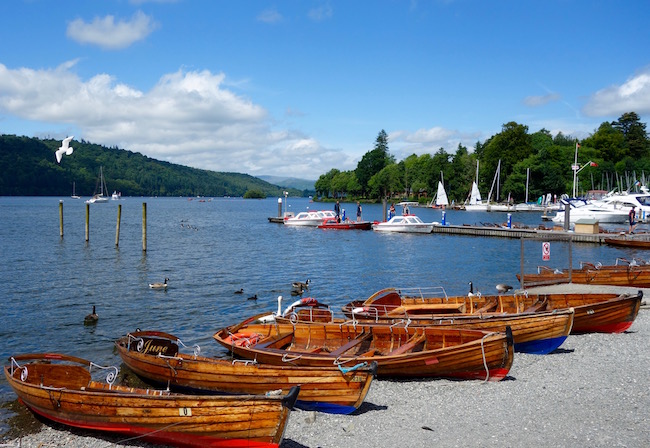 Base yourself on Lake Windermere
Windermere is the Lake District's largest, er, lake-that-must-not-be-called-a-lake. It is, in fact, the largest lake in England. And because it's not Lake Windermere (even though it is), it would be easy to get it confused with Windermere, the town close to its shores. So for the purposes of this travel article, we'll refer to it as Lake Windermere – although we could call it by its original Scandinavian name (oh, those Vikings!), which would be something like Lake of a Man Called Vinandr.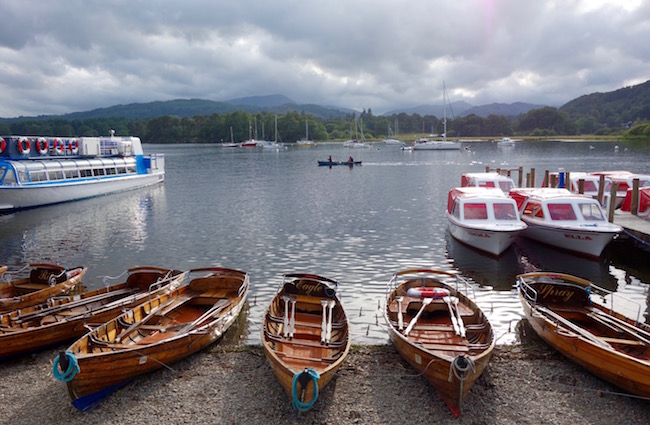 You could happily spend your entire Lake District vacation on Lake Windermere, boating and exploring its towns such as Bowness-on-Windermere and Ambleside. Long, narrow and blue as a lapis lazuli necklace, Lake Windermere is what's known as a ribbon lake, carved by glaciers long ago. It's 10.5 miles long, 220 feet deep and comes complete with a lake monster, Bownessie.
By the way, what's the difference between a mere and a lake?
A mere is a lake that is shallow compared to its relative size.
Towns to visit around Lake Windermere
Bowness-on-Windermere is one of the most popular resort towns in the Lake District. It's a bustling tourist centre with pedestrian streets, quaint shops and a waterfront promenade complete with swans and ducks. Here you can visit the Steam Boat Museum and the World of Beatrix Potter Attraction, go for a boat cruise or just stroll around and relax.
Bowness-on-Windermere (also called Bowness) is the only town right on Lake Windermere itself. Ambleside is a mile away from the lakeshore although Waterhead, a resort-like cluster of hotels just a 10-minute walk from Ambleside, and often referred to as Waterhead Ambleside, is also directly on the waterfront. The town of Windermere itself grew up around the railway station, which is a short taxi ride away from Bowness (or a 20 to 30 minute walk).
Lake District attractions for literary lovers
Beatrix Potter attractions in the Lake District
The author and illustrator of Peter Rabbit and many other much-loved children's books lived in (and bought up much of) the Lake District and there are many Beatrix-Potter-related sights such as Hill Top, her farmhouse retreat in the village of Sawrey and the Beatrix Potter Gallery in Hawkshead. A passionate supporter of the National Trust, she devoted untold hours to preserving the Lake District region. If you're looking for Beatrix-Potter-related things to do in the Lake District read Beatrix Potter sights travel article.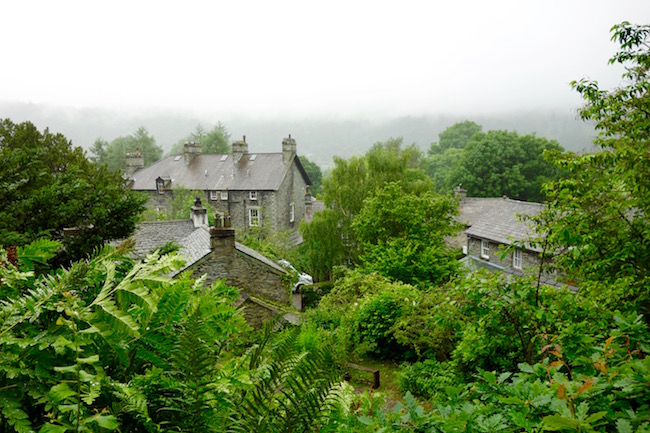 Wordsworth attractions in the Lake District – Dove Cottage
North of Lake Windermere is Grasmere, both the lake-that-is-a-mere and the town. It was raining when we visited, making William Wordsworth's home, Dove Cottage, all the more atmospheric. Wordsworth first visited Grasmere with his friend, the gifted but troubled Romantic poet Samuel Taylor Coleridge. Shortly after Wordsworth bought Dove Cottage, eventually living here with his sister, Dorothy (also a talented writer), his wife, Mary, and the first three of their five children.
Next door to Dove Cottage is the Wordsworth Museum & Art Gallery (one ticket gives you entrance to both) and you can have lunch at the Dove Cottage Tea Rooms and Bistro. Note: The rooms in Dove Cottage are small and only a certain number of people can go in at a time so book ahead. It's one of the most popular literary sights in England.
Other Wordsworth Lake District attractions in Grasmere
Wordsworth fans head to St Oswald's Church to pay homage to the great wordsmith at his burial site. And if you happen to notice the sweet scent of gingerbread in the air, that's because Sarah Nelson's Grasmere Gingerbread Shop is located in the former school, Church Cottage, where Wordsworth once taught.
Fun fact: William Wordsworth wrote one of his most famous poems "I Wandered Lonely as a Cloud" while living at Dove Cottage.
Allan Bank
If you're looking for more Wordsworth-related things to do in the Lake District climb up to Allan Bank, a 10-minute uphill walk from Grasmere village. It was originally disdained by Wordsworth who declared it "a temple of abomination," but nonetheless he ended up moving in. Owned by the National Trust, it's open to the public, and I've got to say the view is gorgeous and it's a nice bit of Georgian architecture but inside, the house isn't much of a looker.
It's interesting for the history, however, as it had quite a boho vibe during Wordsworth's time. He lived here with his family along with, at various times, Thomas de Quincey of Confessions of an English Opium-Eater fame, Samuel Taylor Coleridge, who had also been (unhappily) seduced by opium, and a steady stream of houseguests.
More a drop-in centre than a museum, locals like to visit Allan Bank, make themselves a cup of tea and sit with binoculars looking for the rare red squirrel, which I was fortunate enough to see scampering around when I visited.
Ambleside
If you haven't got your fill of William Wordsworth yet, head towards Ambleside. Just 1.5 miles northwest of the town is yet another Wordsworth home (at this point you may be getting the sense he moved around a lot). Rydal Mount is larger than Dove Cottage, though not as well known, and was the Wordsworth family's home from 1813 until he died in 1850
Things to do in Ambleside
I'm not saying the Galava Roman Fort, also known as the Ambleside Roman Fort, is a blockbuster Lake District attraction, but it's interesting to see the region's Roman heritage. Located just next to Waterhead Ambleside, the foundations of the ancient Roman fortress share a grassy field with a number of cows. I went at dusk and was virtually alone (except for the cows). PS: I'm a little afraid of cows.
Windermere Lake Cruises
From the Ambleside Pier at Waterhead, Bowness, Brockhole or Lakeside you can tour all around Lake Windermere with Windermere Lake Cruises. With a Freedom of the Lake ticket you can hop on and off at will. We took a boat from Waterhead over to Wray Castle, a mock Gothic castle that Beatrix Potter's family rented for three months when she was a teen.
Walk and Cruise: Here's an ideal excursion with Windermere Lake Cruises. Combine a boat cruise with a walk along the west shore of Lake Windermere. Take the boat over to Wray Castle, then do the 4-mile Western Shoreline Footpath Walk down to Ferry House, where you can board the boat again. Visit the Windermere Lake Cruises website for more info and other excursion ideas.
A scenic Lake District attraction: Tarn Hows
If you're travelling from Lake Windermere over to Coniston Water, make a detour to Tarn Hows.  A tarn, you may remember, is smaller than a lake, although if you ask me, Tarn Hows is easily the size of a lake. In fact, it's a tarn times three, created by joining three tarns together in the 1800s, and no doubt all the Romantic poets who flocked to the Lake District enjoyed the 1.5 mile footpath that circles it.
Fun Fact: Beatrix Potter bought Tarn Hows in 1929 and later sold it to the National Trust.
Things to do at Coniston Water – Take the Coniston Gondola
Coniston lake-which-is-not-a-lake-but-a-water has some pretty spectacular scenery of the mountains-that-are-not-mountains-but-fells. I hate to add more confusion to this Lake District itinerary, but you need to know that the Coniston Gondola is not a gondola that goes up the side of a mountain. Nor is it a small Venetian type of gondola that is steered around by a gondolier.
The Coniston Gondola is a steamer, a steam yacht gondola that offers a full lake cruise, something that surprised me very much when I arrived for my tour.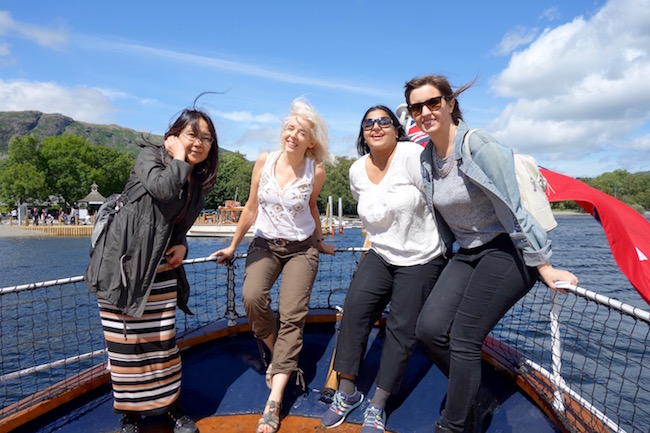 Lovingly rebuilt, this Victorian steam powered-yacht is a beauty with lots of gleaming wood, an interior saloon and a fun commentary that I hardly listened to because I was too busy sitting outside enjoying the breeze, trying to spot the rock formation called Old Man of Coniston and posing with my friends for photos.
I also got to drive the boat, er, yacht, which put a lot of kayakers at risk for their lives, but I suspect the friendly captain would have stepped in before the situation got too dire. (I also secretly suspect he has a second steering wheel and was only pretending to let me drive, which, all things considering, was probably wise.)
Ruskin attractions in the Lake District
One of the places you'll pass on your Coniston Gondola cruise is Brantwood, the estate owned by John Ruskin, the famous Victorian poet, artist and conservationist. If you're a Ruskin fan, you can stop off and visit it. Other Ruskin sights in the village of Coniston include the Ruskin Museum and Ruskin's grave in the churchyard of St Andrew's Church.
The Coniston Gondola is owned by the National Trust and you can board at Coniston Pier, Lake Road, Coniston, Cumbria.
Expanding your Lake District itinerary
Of course there are plenty more things to do in the Lake District. In fact, I've only touched on the Southern Lake District. You've got the Western Lake District, Hadrian's Wall, Eden Valley and the Pennines and Morecambe Bay, the Lakes & Dales Loop and Hadrian's Cycleway for cyclists and plenty more strolls, hikes, lakes and towns to explore. But hopefully this cleared up some confusion about meres, waters, tarns and fells. Now if only we knew what a dale was …
PS: It's a broad valley.
Travel tips for your things to do in the Lake District itinerary
Getting to the Lake District – Can you get to the Lake District without a car?
Yes. A car is not essential to get to the Lake District, though it's the easiest way to get around. You can take a direct train from Manchester to the town of Windermere. From there you can take a taxi (or bus 599) to Bowness-on-Windermere, which would make a good base if you're carless.
Getting to the Lake District from London: Take a train from London to Oxenholme Station and change for a train to Windermere.
Getting around the Lake District without a car. You can take local buses between towns, and cruise around with Windermere Lake Cruises. They have a variety of cruises including a Boat and Bus to Hill Top and Hawkshead Excursion so that you can get your Beatrix Potter fix in.
Where to stay in the Lake District
Bowness: If you're staying in Bowness, you might want to check out the Laura Ashley branded hotel, the Belsfield. I didn't stay here, but the central location, contemporary-meets-Laura-Ashley decor and expansive grounds that roll down to the foot of Lake Windermere had me drooling. Rooms from £119.
Peaceful and pretty: If a crowded tourist town isn't your scene, stay at Waterhead Ambleside at the Waterhead Hotel, an English Lakes Hotel property. Traditional outside, modern inside, it's got a prime lakeside location, and is near the Waterhead Ambleside Pier as well as the Roman Ruins. More confusion: There is more than one Waterhead Hotel in the Lake District. I stayed at Waterhead in Ambleside.
Luxury on the horizon: The Low Wood Bay Resort Hotel & Marina, another English Lakes Hotel property on the shores of Windermere is being transformed into the Lake District's first luxury destination resort. Upgraded facilities will include an extensive outdoor spa. Whoot!
Budget: I'm not a hostel goer myself, but for those wanting to visit the Lake District on a budget, the YHA Ambleside Hostel certainly looks like an upscale hotel from the outside and has a fab lakeside location at Waterhead Ambleside.
Where to eat in the Lake District
We did one dinner at the Waterhead Hotel, where I couldn't resist the Slow-cooked Blade of Cumbrian Beef with truffle mash, roasted baby onions and wild mushrooms, butternut squash purée, oxtail pasty, parmesan and parsley crust.
We also dined at the chic Zeffirellis in Ambleside, where all your vegetarian dreams will come true. I'm still thinking about the fresh ravioli. And if you're looking for entertainment type things to do in the Lake District, Zeffirellis has an art house cinema upstairs as well as a jazz cafe bar.
Read more about Places to Visit in England. For more things to do in the Lake District visit Cumbria Tourism.
Disclosure: My trip to the Lake District was subsidized by VisitBritain. All opinions and determination to sort out meres, waters, lakes and tarns are my own.