This post may contain affiliate links.
Scottsdale, Arizona, has a lot to offer desert lovers, and the Four Seasons Resort at Troon North has a prime location near Brown's Ranch, part of the McDowell Sonoran Preserve. This protected desert preserve is perfect for a Scottsdale mountain biking adventure, so turn up the heat and add a mountain biking tour to your Arizona getaway.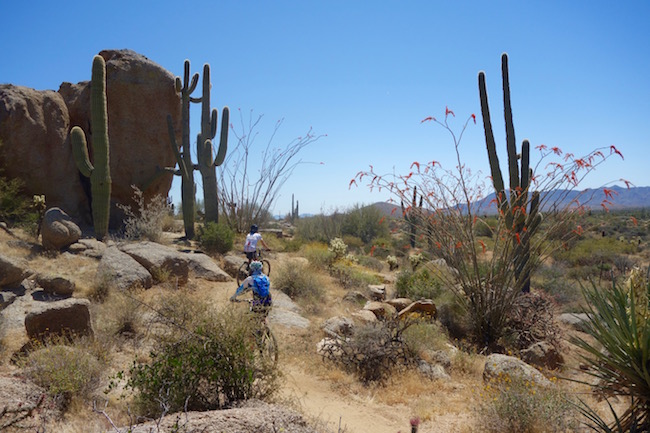 Should I stay (at the resort) or should I go (mountain biking)?
A Sticks and Stones Massage at the Four Seasons Resort Scottsdale won't break my bones, but a mountain biking adventure in the Sonoran Desert might. That's what I'm thinking as Larry, our mountain biking guide from Arizona Outback Adventures explains to my husband and me that our bike tires are made to go over rocks so we should just plow ahead. And that some parts of the trail might be sandy. And that during the tricky stretch when we go downhill, around a corner and then up a hill it will be hard to get momentum for the climb, so we should have ours thumbs ready to put on the lowest gear because if we don't we won't make it up the hill.
"But if you have to walk it up, that's okay," he adds, glancing at me.
I am too a wild adventurer
Okay, clearly I'm no mountain maiden and I'm not used to the Arizona desert heat. Sweat droplets are already mountain biking their way down my back and we haven't even started. I take a drink of water and try to remember why, on our short Four Seasons Resort getaway just outside Scottsdale, Arizona, my husband Mark and I have chosen to leave the refreshing pools of the luxury resort for the rock-and-cactus environment of Brown's Ranch, part of Scottsdale's 30,000-acre McDowell Sonoran Preserve where mesas, trails and cacti criss-cross the landscape and rattlesnakes, scorpions and poisonous gila monsters (a type of venomous lizard) rule the land. (To be fair, so do jack rabbits, falcons, roadrunners and mule deer.)
Because I'm a wild adventurer, that's why! Or at least my husband is. And also because the Four Seasons Resort Scottsdale is just a hop, skip and pedal away from Brown's Ranch and because the 5-star resort has teamed up with Arizona Outback Adventures to offer a number of adrenalin-inducing adventures.
A custom-tailored Arizona Outback Adventure
Most importantly, I agreed to go on the tour because our two-hour mountain biking excursion promises to be custom tailored for all levels of mountain biking. This means it will be tailored for my level, which means both Larry and my husband will be bored. Which means that instead of feeling like a wild adventurer I'll feel like a loser. Oh, well. Not the first time.
Although I can't say my husband looks bored as we unload the mountain bikes and pedal in past the Brown's Ranch Trailhead Facility. In fact, he's in his element here in the dry heat of the Sonoran Desert, the second hottest desert in the USA. (Mohave is the hottest.) Obviously he was a venomous lizard in a former life.
A cactus in Teddy Bear clothing
"Watch out for the Teddy Bear Cholla cactus." Larry points to a group of stumpy furry-looking plants just off the trail, telling us that this deceptively cute cactus has spines that stick fast and dig into your skin with tiny backward-directed barbs.
"Yikes," I say, moving back.
Exploring the Sonoran Desert at Brown's Ranch
I keep looking around for the ranch, but it's not some kind of commercial dude ranch like I'd expected. Brown's Ranch is a historic cattle ranch established in 1916 and shuttered in the 1960s and not much remains. In its place is the sleek Brown's Ranch Trailhead facility with a parking lot, clean toilets (yay!) and interpretive exhibits – and it's a major gateway to a network of desert trails ideal for hiking, mountain biking and horse riding.
"Horses have the right of way," Larry adds.
"No problem." As long as I don't have to veer off into a patch of Teddy Bear cactuses or share space with a scorpion I'll be fine.
Let the Sonoran Desert mountain biking adventure begin
On first glance the Sonoran Desert looked like a dusty expanse of nothing, but now that I'm cycling through it, it looks more like a beautiful cartoon. Everything is larger than life. Giant Saguaro cactuses salute us with fat arms us as we speed around curves. Round reddish boulders dwarf shrub brush and mesquite trees run wild.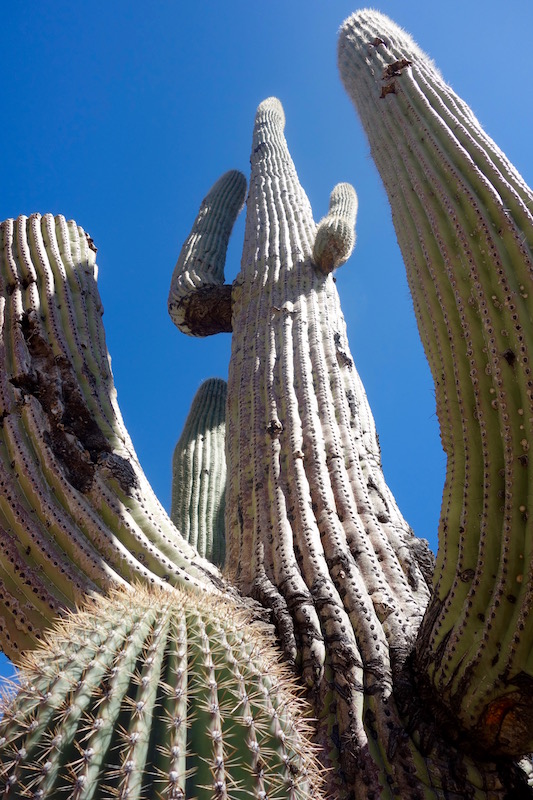 Are we there yet?
It's fabulous and exciting but, er, I could really use some shade. It's starting to feel like the sun is punching me in the head.
"Shady stop coming up," Larry says, reading my mind, or possibly noticing I've slowed to the speed of an eroding granite mountain.
Cathedral Rock
You couldn't ask for a better mountain biking rest stop than Cathedral Rock, a formation of huge leaning boulders with a distant view of Pinnacle Peak. Larry points out some dips in the rock floor. They were formed over centuries by the local Archaic, Hohokam and Yavapai tribes who used the rock to grind grain or nuts. Archaeological studies have found traces of human habitation in the area around Brown's Ranch that go back some 8,000 years.
Ancient history at the McDowell Sonoran Preserve
Sitting down cross-legged, I think about the people who have sat here before me, preparing meals, resting after a hunt or praying to their gods. Somehow it makes the desert feel more hospitable – although I could just be reenergized because Larry has been plying me with water and protein bars.
Yet something has changed. When we set off again I feel more connected to the landscape. Instead of seeing barren ground and hostile territory,  I start seeing the desert as life sustaining, full of plants that nurture such as creosote, a natural antibiotic; Mormon Tea, good for allergies and low blood pressure; soothing prickly pear and jojoba. It's all very earthy and desert-zen-like until we near the tricky downhill-corner-and-uphill bit, the part I've been hoping would go away.
Why does adventure have to be hard?
Larry and Mark go ahead and they're quickly out of sight. For a moment it's just me and the desert. I set off, a warm wind batting my cheeks as I soar down as fast as I dare, but not so fast I'll slip on the turn. Gripping my handlebars I brake, round the corner, change gears and manage to struggle up the hill. Whoot!
"You did it!" says my husband.
"You powered up it!" Larry says.
While I'm quite filled with triumph, I also want to laugh because I've realized it's a good thing to be a loser in the desert. No one blinks if Mark or Larry makes it up a hill, but I get applauded for the least bit of success.
Travel guide for Scottsdale Mountain biking adventure
If you like it, pin it! (Or scroll down for travel tips about a mountain biking tour and other outdoor programs at Four Seasons Scottsdale.)
About Four Seasons Resort Scottsdale at Troon North
I did an informal survey and asked every local I met in Scottsdale which they considered the top luxury resorts in the area. Every single person included Four Seasons Resort Scottsdale at Troon North. Every single one. An upscale desert hideaway, it has a stunning location in the foothills of Pinnacle Peak and understated architecture – 210 adobe casitas that melt into the landscape as if they're part of the desert itself.
The decor is southwestern, with shades of poppy, tan, rust and sunflower influenced by the desert in bloom and Sonoran Desert sunsets.
Four Seasons Scottsdale facilities
This 5-Diamond luxury Arizona resort has 2 outdoor pools, an outdoor whirlpool, cabanas, a children's wading pool, 2 tennis courts and the award-winning Sonoran Spa. And yes, I did get that Sticks and Stones Massage, thanks very much, and it went a long way to soothe my aching thighs.
Dining: Four Seasons Scottsdale has 3 restaurants: the poolside Saguaro Blossom, the fun Americana-themed Proof; and the upscale Talavera, a modern take on a classic steakhouse with southwestern decor and a fab outdoor terrace for sunset dining.
Room prices vary but check out their special offers page for deals like Stay 3 Nights get the 4th Night Free. You can definitely get some deals in the summer.
Outdoor Adventure in Scottsdale at Four Seasons Resort Scottsdale
While the Four Seasons Scottsdale is undeniably popular with golfers, and has an exclusive partnership with the world-class Troon North Golf Club, there are plenty of other outdoor activities to careen headlong into. And in Scottsdale mountain biking and hiking are favourite local activities.
The resort has teamed up with Arizona Outback Adventures to offer guests a series of active excursions. And while you'll be tempted to lie around that oasis-in-the-desert they call a pool all day (at least I was), Four Seasons' close access to the extensive trail system and wild-and-insane landscape of the McDowell Sonoran Preserve would make it shame not to explore.
Four Seasons Scottsdale 'Multi-Sport Fitness Fun' outdoor adventure options:
A Sonoran Desert Sunrise Stroll in the McDowell Sonoran Preserve.
The Bright Side of the Troon – special hybrid bikes make for a scenic ride around Troon Mountain and the iconic Pinnacle Peak.
Full-Day Adventure Kayaking – I did a shorter version of this a few years ago when I first visited Scottsdale, and kayaking on the Verde River is not to be missed, especially if you spot wild horses like we did. (And I only had one bikini top malfunction. That story lives on at Arizona – A wild ride through the desert.)
Double Downhill-Downstream Multisport Descent – I thought I was doing well with mountain biking (hey, it was my first time), but this outdoor adventure combines mountain biking down the slopes of the McDowell Mountains with paddle boarding on the Verde River. I'd probably need both a Four Seasons' Sticks and Stones Massage and a Healing Hiker's Massage if I did that.
Location: Four Seasons Resort Scottsdale is 30 miles from the Phoenix Sky Harbor International Airport, a 40-minute drive.
Address: Four Seasons Resort Scottsdale at Troon North, 10600 East Crescent Moon Drive, Scottsdale, Arizona.
About Arizona Outback Adventures
Arizona Outback Adventures (AOA) come highly recommended and offer high-performance bike rentals, day-long adventure trips and longer backcountry adventure tours. I've used them both times I've visited Scottsdale and always had a great time.
About Brown's Ranch Trailhead
Brown's Ranch Trailhead is located at 30301 Alma School Rd, Scottsdale, AZ. Brown's Ranch is in the northern region of the McDowell Sonoran Preserve. From the entrance, trails lead to desert landmarks such as Granite Mountain, Cholla Mountain, Brown's Mountain, Balanced Rock and, my favourite, Cathedral Rock. Directions: Brown's Ranch is about 1.25 miles north of the intersection of Alma School Parkway and Dynamite Boulevard.
Parking and access are free.
Prefer to enjoy a Scottsdale Mountain biking adventure on your own? Arizona Outback Adventures also offers bike rentals. If you go into the desert alone, bring plenty of water, sunscreen, a hat and a cell phone. Grab a map before you go.
Here's a link to the route we did: Cycling Route at Brown's Ranch.
Disclosure: My Scottsdale trip was made possible with the help of the Scottsdale CVB and Four Seasons Resort Scottsdale at Troon North. All opinions and desert love are my own … and my husband's, because he loves the desert even more than I do.
Read more Scottsdale travel blog posts:
A Scottsdale urban retreat at the Hotel Valley Ho.
A Camelback Mountain hiking adventure.
Read more: about Travel in the USA.