This post may contain affiliate links.
If you want a weekend getaway, Viamede Resort, Ontario, two hours northeast of Toronto, promises a 'boldly different' experience. Sitting on the shores of Stoney Lake in the Kawartha Lakes district, this 4-season destination is a unique trip into Ontario cottage country.
Visiting Viamede Resort, Ontario
I'm looking out at Stoney Lake, stretching and yawning after the 2-hour drive up from Toronto. Behind me, Viamede Resort curls around the long shoreline.
"Boldly Different," I tell my husband, Mark, scanning the view. "That's the resort's tagline. But they'll have to convince me, because I don't quite see how."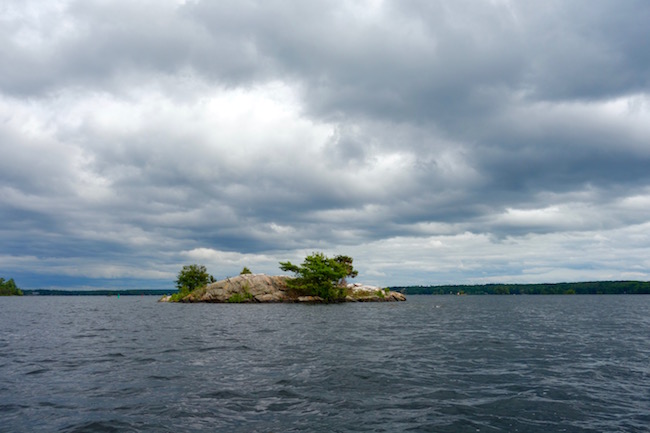 A classic Ontario getaway
What I do see is a deep blue lake dotted with granite islands and the odd lonely tree. I see a thick sheaf of forest and what looks like two resorts put together, a white-with-green-trim row of cottages on the Mount Julian side, and a row of log-cabin-like cottages with red roofs on the other. In between sits the historic Viamede resort hotel, a gracious white frame building that looks, according to my husband, 'Cape Cod-ish.'
Exploring the Kawartha Lakes
We've driven up to Stoney Lake for a weekend getaway from Toronto. I've heard about the Kawartha Lakes district in Ontario, but I've never visited a resort here. I've also never heard of Stoney Lake, which, considering it's 32 km long and an Ontario Cottage Country classic, shows that there is a serious gap in my Ontario getaway education.
After checking in, we park outside our one-bedroom cottage. The ground rolling down from our cottage towards the lake looks as if it was once manicured but has now grown wild. "I'm not sure about the lawn," I whisper to Mark.
"I like it," he says. "It's natural."
Natural ambition
Natural is my first clue that Viamede Resort does, in fact, have some lofty 'Boldly Different' ambitions. Flipping through the info binder in our cottage, I learn that the resort's resident farmer, Jarrod Craig – "The resort has a resident farmer!" I shout out to Mark, who is busy checking out the barbecue on our deck – is the person responsible for bringing the lawns back to native grasses which are far more friendly to wildlife.
I join Mark on the deck. "So it's not a neglected lawn, it's an 'encouraged habitat of local grasses and wildflowers.' I like it better already."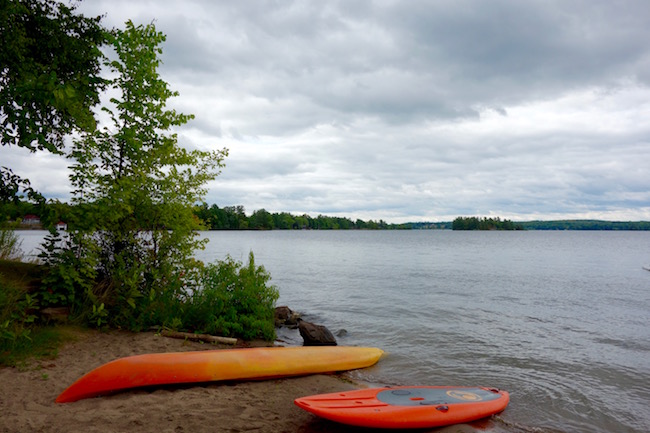 Stoney Lake history
Sometimes it just takes a bit of background to see things in a new light. And that seems to be the theme for our weekend. Once I learn, for example, that Viamede Resort has been around since the 1870s, I look at it differently, too. Originally two separate resorts, Mount Julian and Viamede, they were established when a few forward thinkers were starting to buy up land around Stoney Lake for cottages.
The main hotel dates back to 1907, though an earlier hotel on the site dates back as far as to 1873. And the historic Inn at Mount Julian, now the resort's fine dining restaurant, hasn't changed much since 1874.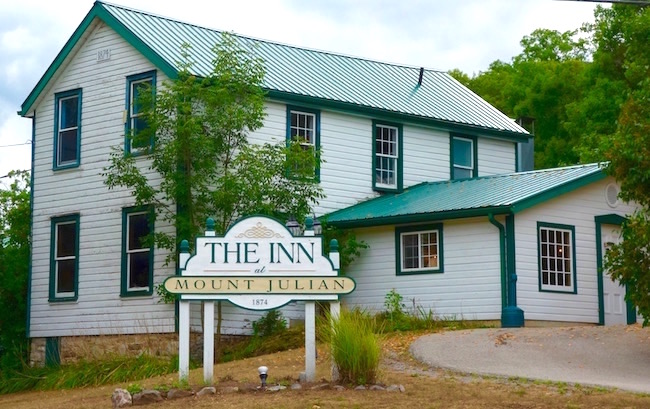 Early vacationers on the Trent Severn Waterways
Back in the day, these early vacationers would have come up by steamer through the Trent-Severn Waterways that connects Lake Ontario to Georgian Bay, and just thinking of Viamede's history makes our own experience feel richer, as if we're joining a long line of lake lovers.
When we head down to the Boathouse Restaurant for dinner, I don't just think 'casual lakeside bistro,' I imagine it back when it was the resort's dancehall, filled with women in long dresses and dapper men in suits.
Viamede Resort cuisine
No matter how elegant the resort was, however, I doubt the hotel guests got to enjoy a medium rare ribeye burger like the one Mark is digging into. (I'm having the organic trout, which is also very good, but I'm still trying to steal as much of Mark's burger as I can.)
This is when I learn something else about Viamede Resort. It takes its cuisine seriously, using ingredients from its garden and farm as much as possible. What they can't grow or raise themselves, they buy from local producers and try to source nothing beyond Ontario.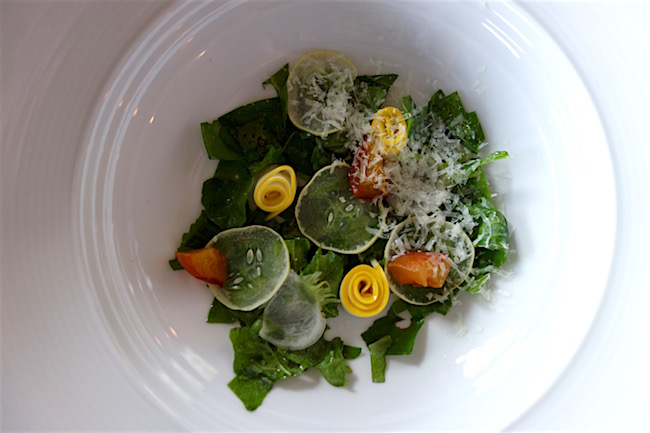 Fine Dining at Mount Julian restaurant
Viamede's farm-and-forest dining philosophy is raised to an art form at the resort's Mount Julian restaurant, where you can dive into a 5, 7, or 9 course Chef's Tasting Menu. From cattail shoots to fresh quail eggs, the resort's Executive Chef Kevin McKenna makes sure at least one ingredient in every dish is harvested from Viamede's farm or their extensive 165-acre property.
Chef's tasting menu
"How long does a 9-course dinner take?" I ask our server when Mark and I sit down in the wood-lined Mount Julian restaurant on our second evening.
"Between four and four and a half hours," she says cheerfully.
It's tempting, but we opt for the 5-course tasting menu instead, because no matter how light the sweet corn soup is, with its bursts of sorbet and chipotle popcorn; how artistically the Cider Lake smelts are arranged on the plate, or how tender the dry aged Traynor Farms ribeye with potato cake, goat cheddar and creamed garden spinach, we have a lot of things on our agenda.
Activities at Viamede Resort
There is canoeing and kayaking around lonely islands, swimming in the lake and a floating trampoline.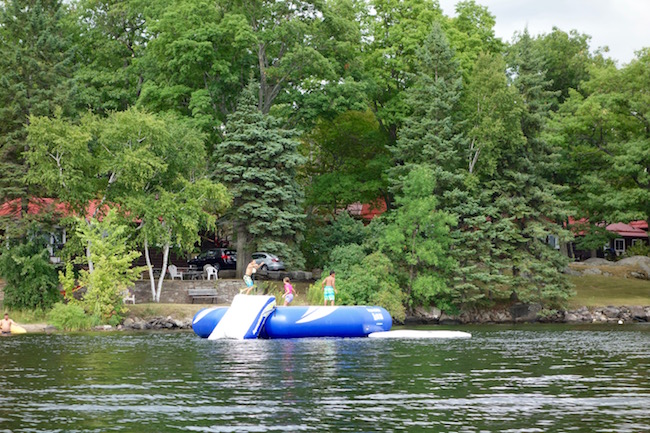 There are six kilometres of nature trails, sunsets to photograph, tea tastings, farm tours, outdoor movie nights and a glamorous lakefront outdoor pool. And, as part of Viamede's Boldly Different approach to vacationing, these resort activities are free.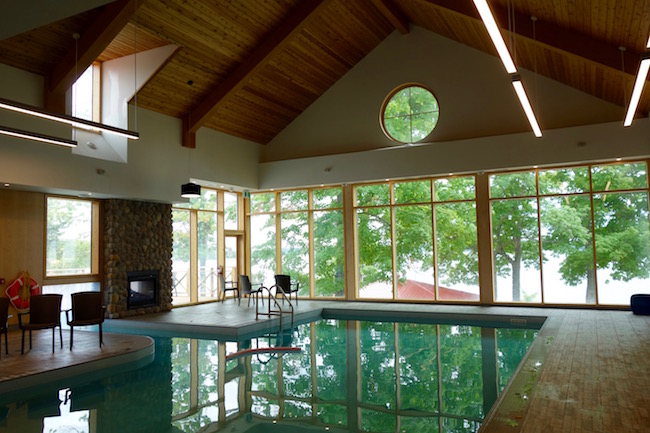 Can't beat that sauna
Mainly, however, Mark and I are drawn to the resort's newest addition: the swanky indoor outdoor pool, steam room and sauna facility. Since most vacationers seem to come to the Kawartha Lakes to actually be by a lake, Mark and I pretty much have the sauna and small outdoor deck to ourselves. We sweat ourselves silly, cool off in the pool and peer over the rail down to the small beach where families seem to gravitate.
Understanding Viamede Resort
It's taken awhile to get a handle on Viamede Resort, but, as Mark and I stroll along the lake at sunset, I think I've finally got it. It's a lakeside retreat with rustic charm, luxury amenities (did I mention the sauna?) and high-end locavore cuisine.
It's also got a wacky edge when it come it comes to workshops, and I'm sorely tempted to sign up for its School of (un)Necessary Skills for Distinguished Ladies and Gentlemen of the 21st Century – perhaps a weekend Parlour Tricks workshop or The Lost Art of Grooming.
Of course there are things I don't like. Marks says it's because I'm a pampered city dweller: loose screens in our cottage and a fire exit gate off the pool deck that's still raw unfinished plywood. But any criticisms are counter balanced by things I do like: the crisp white bedding, the updated kitchenette in our cottage, surprise hideaways around the property such as the 400-year old 'Viking' Oak Tree in the forest or tranquil Toby's Swimming Hole by the lake.
(And not least, the sausages at the complimentary buffet breakfast are delicious.)
Mostly I have the sense of a continuum, that the resort has been rolling on since the 19th century and will continue to change and grow, not stopping until every unfinished piece of plywood has been tackled. A member of Ontario's Finest Hotels, Inns and Spas, Viamede was bought in 2010 by Ben Samann, who is also the General Manager. He's clearly worked hard to bring back Viamede's former glory as a top Kawartha Lakes resort – and yes, make it Boldly Different.
Travel guide for Viamede Resort, Ontario, and the Kawartha Lakes district
A few 'Boldly Different' perks:
Viamede is a very dog-friendly resort – no extra fees for the canine members of your family.
As of September, Viamede Resort will be offering shuttle buses to and from Union Station in Toronto for $30, making it an excellent weekend getaway from Toronto.
Complimentary buffet breakfast for all hotel guests.
No dreaded 'resort' fees.
You can go food foraging with the chef.
Free parking and Wifi (in the main building – though I couldn't get Wifi in the cottage).
On-site century-old chapel for weddings.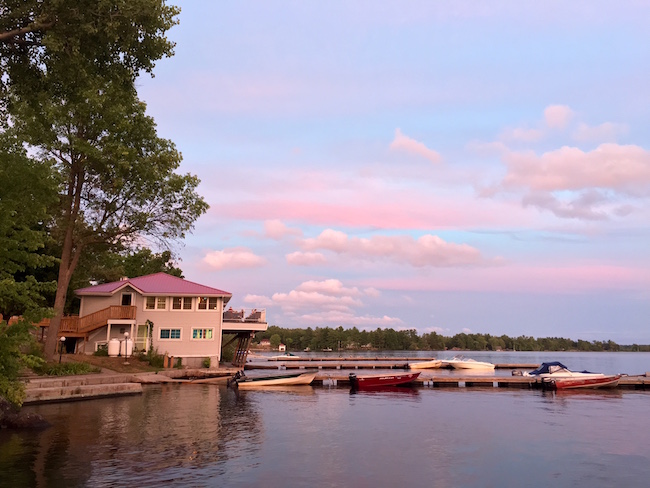 Prices and packages at Viamede
Prices range from $249 (deluxe room) up to $509 for the 3-bedroom cottage in high season. Packages are the best deal and there is a huge variety for you to choose from. Here's a sample:
Over 55? A Golden Getaway Package offers a midweek 2-night stay for 2 for $249 per night and includes an $80 dollar food credit per day for the Boathouse Restaurant.
A Midweek Get-Together Package offers a 2 or 3 night stay from $590 including meals and shuttle.
A Fall Harvest Package is $389 for 1 night in a deluxe room and a 7-course tasting menu with wine pairings for 2.
Where is Viamede Resort?
Viamede Resort is located at 595 Mount Julian-Viamede Road, Woodview, Ontario. Tel: 705-654-3344. Visit the resort website for more info.
About the Kawartha Lakes and Stoney Lake
Known for its lake tourism, the Kawartha Lakes are a scenic chain of lakes in south central Ontario. The region is about 2 to 2.5 hours northeast of Toronto, and many of the lakes are connected by the 386 km Trent-Severn Waterway. Stoney (or Stony) Lake is actually 3 lakes put together: Upper Stoney Lake, Stoney Lake and Clear Lake, and contains more than 1,000 islands.
Read more: To find some other top Canadian destinations visit Top Places to Go in Canada.
Disclosure: My trip was subsidized by Viamede Resort: All opinions and love for Ontario getaways are my own.