This post may contain affiliate links.
Skiing in the Alps is a dream trip but how do you plan it? An all-inclusive ski vacation at the family-friendly Club Med Peisey Vallandry in the French Alps is easy, and a ski package is more affordable than you might think.
Here's my experience. (Or scroll down for a travel guide.)

Skiing in the Alps at Club Med Peisey Vallandry
I have a problem with ski lifts, and skiing in the Alps didn't change things. On my first day of ski school at Club Med Peisey Vallandry I didn't lean forward enough when I got off the lift, so I never managed to stand up and ended up skiing up to my class sitting on the back of my skies.
The second time we went up in the chair lift, I tried to get fancy and stop short as I joined my line of classmates. But not short enough. I crashed into the last girl in line, who banged into the next person, who knocked the man beside her into the snow.
Strange how I never saw that man in the class again. Clearly, he decided he couldn't keep up with the group.
Ski lesson confidential
None of that, however, was the reason that Stephan, our tanned ski instructor, suggested politely that I might be 'happier' in a level down. I was skiing too slowly and in danger of holding everyone up. "You may not be able to keep up as we progress," he said gently.
"Nooooo!" howled Marie-Andrée. Marie-Andrée, with her bright red hair and sunny smile, had helped organize this ski trip for a small group of travel writers. I was the one who had talked her into joining the Level 2A Intermediate Group instead of a lower level, and now I was going to desert her.
Pin me!
Conquering fear on the ski slopes
I couldn't get demoted. I had my pride to consider. I was going to have to get better and fast, especially because I knew the only thing holding me back was fear. I like to take a timid approach to outdoor activities. I also like to go slow to look at the scenery.
And personally I think that the joys of slow travel should extend to Club Med ski lessons in the French Alps, especially when the sun is glinting off snowy peaks, the air is fresh and alpine-y and it's just a joy to be in the Savoy region of France, where all my European ski dreams (except the one about being a good skier) were finally coming true.
Turning up the speed on a ski trip in the Alps
When a duckling-like ski class of six and seven year olds zipped by me, it was clear things had to change. So the next trip down the mountain I didn't wait to go last down the hill. I nudged my way into the middle of the group. I sped up. But there was a fair bit of careening going on and I knew I was still on probation.
"Hey, Stephan," I said. "Which ski do we put the weight on when we turn?"
"But this is basic!" Stephan said. My heart tumbled into the snow because now I knew I really would be demoted. He looked at the group. "Which ski? Interior or Exterior? Who thinks interior?"
I raised my hand hopefully. So did the rest of the group, all except Marie-Andrée and Jonathan, the only other travel writer in our Level 2 group.
"It's exterior!" Stephan said. Then he gave us the magical key to skiing in the Alps. "This is what we tell the children. With your arms out, pretend to be an airplane doing a turn."
The ski tip that works
Why wasn't I told this at birth? That one piece of advice alone was worth a week's full of ski lessons. Once I started playing airplane at every turn, my body automatically did the right thing. My skiing got 100% percent better (well, okay, at least marginally better) and I could relax, improve and truly feel the thrill of skiing in the Alps, even on the red runs.
Redemption on the ski slopes
Best of all, when I ducked out of class early because the resort's heated outdoor pool and Carita Spa were calling my name (and also because my thighs were trembling with ski fatigue), Stephan didn't kick me out permanently, but smiled and assured me I could rejoin the group the next day.
Travel guide for skiing in the Alps at Club Med
Who knew? Club Med has 20 ski resorts in the French, Swiss, and Italian Alps, which just goes to prove Club Med isn't all about beach volleyball and palm trees.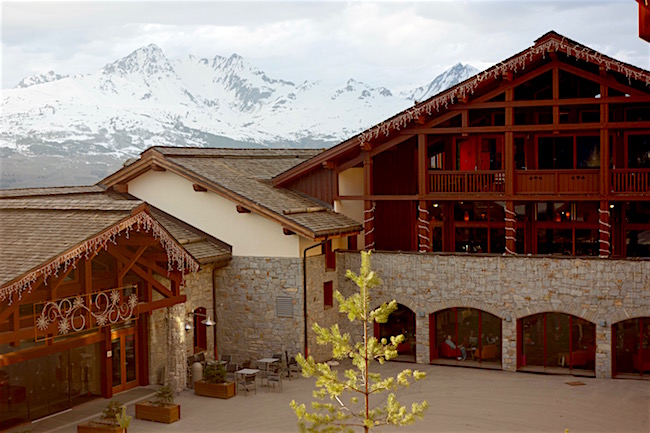 Skiing at Club Med Peisey Vallandry
Club Med Piesey Vallandry is located in the southern French Alps. The resort makes an excellent base for a ski trip because it's part of the vast PARADISKI ski domain, a 425 km (264 mile) ski area with 139 lifts, 236 trails and stellar panoramic views. In the group I travelled with we had every level from absolute beginner to advanced, and there were runs to suit every level. Visit Club Med for more information.
About Club Med Peisey Vallandry
The 4-Trident (Club Med's version of stars) Club Med Peisey Vallandry ski resort sits high in the Tarentaise Valley, an area rich with forests of larch, spruce and pine and the all-important mountains and ski slopes. Skiing starts at your doorway.
The hotel: Designed in casual contemporary style of bright reds and beige, the chalet-style resort has 284 rooms and 3 room types: club, deluxe and suites. The action centres around the central lobby lounge/bar, and there is also a nightclub, 2 restaurants and outdoor terraces. Leisure facilities include heated indoor and outdoor pools, sauna, steam room and fitness and a full-service Carita Paris Spa.
The resort is more family oriented than party singles, so the atmosphere is laid back.
Skiing in France with your family
Club Med Peisey Vallandry was voted the Top Family Resort in France on TripAdvisor in 2015. Kids Clubs include: the Petit Club Med is for toddlers aged 2-3 (an extra fee applies); the Mini Club Med for ages 4-10 (included in package) and the Club Med Passworld for ages 11-17 (also included in your package).
What is included in a Club Med ski package at Peisey-Vallandry?
Accommodation, meals, snacks and drinks, which include wine, beers and soft drinks.
Sports and activities such as skiing, snowboarding, hiking and nordic walking.
Access to the indoor and outdoor swimming pool, Turkish bath, sauna and fitness centre.
Evening entertainment.
Flights, transfers, group ski lessons and lift passes.
Cost for a ski week at Club Med Peisey Vallandry
Price varies, depending on date and room type, but here are a few examples for 2016/2017. Tip: Prices are highest in February, lowest in December and April. Check the website for exact details and prices.
For 1 person without flights from CAN $1630.
For 2 people inclusive of flights are from about CAN $6300.
Getting there
From Canada it's easy now that Air Canada is doing direct flights from Toronto and Montreal to Lyon (flight from Toronto stops in Montreal), as well as direct flights to Geneva. Club Med partners with Air Canada for Canadian guests and provides the transfers from the airport to the resort. Travel time to Club Med Peisey-Vallandry from Geneva is about 2.5 hours. From Lyon about 2 hours 20 minutes.
Ski lessons
Ski lessons and snow boarding lessons are top of the line as Club Med Peisey Vallandry partners with the prestigious Swiss Ski School. Ski equipment rentals have an extra fee, worth it if you don't want to cart around luggage.
Fabulous food
This is the Savoy region of France. That should be your first clue that the food is going to be good. At La Vanoise, the resort's international buffet, the extensive range of dishes include: fresh oysters from the Atlantic coast on Tuesdays, locally-sourced products from the Rhone Alps region, a pasta and pizza bar, fresh-baked bread from a local bakery in Les Arcs, a variety of main courses, local Glace des Alpes ice cream and a cheese buffet with renowned local cheeses including the divine Beaufort.
Traditional dining: You'll also want to try the resort's wood-panelled full-service Pierra Menta restaurant – cheese fondue makes a good choice.
Skiing in the Alps in the Savoy Region of France – some handy explanations
What is PARADISKI?
PARADISKI includes the ski areas of Les Arcs/Peisey Vallandry and La Plagne, and covers about 14,390 hectares of skiable ground. 70% of the ski trails in PARADISKI are at an altitude of 2,000 metres or higher.
It has one of the largest aerial tram in the world, the Vanoise Express. PARADISKI is one of the largest ski domains in the world. Visit the PARADISKI website for more information.
What is Les Arcs?
Part of PARADISKI, Les Arcs is a large ski area encompassing a number of small villages including Peisey Vallandry.
What is La Plagne?
La Plagne is another ski area that is also part of PARADISKI. The aerial tram, the Vanoise Express, connects Peisey Vallandry to La Plagne.
What is Peisey Vallandry?
Located in the Haute Tarentaise, Peisey Vallandry is a collection of 5 Savoy villages, including Landry, Nancroix, Vallandry, Peisey and Plan-Peisey. The Club Med Peisey Vallandry is in Plan-Peisey, which is right by the Vanoise Express.
Exploring the region
Check out Vallandry: It's fun to get out for dinner at least once. We dined at a restaurant in Vallandry at Coeur de Val, a cozy restaurant with traditional cuisine.
Notre Dame des Vernettes: A 45-minute walk from Club Med Peisey Vallandry, Notre Dame des Vernettes is a small Baroque chapel high in the mountains that is well worth a visit. You may need to arrange your hike beforehand to make sure it's open.
Visit the cows: If you were meant to be a cow, there would be no better life than as a Beaufort bovine as they spend their summers in high alpine pastures grazing on wild grasses and alpine flowers. The cheese produced, Beaufort Cheese, is only produced in the Savoy. You can pat a friendly Beaufort cow for yourself at GAEC Alpin farm. It's in walking distance of the Club Med.
Resources: Visit Atout France for information on travel to France. Rhones-Alpes Tourism is a good resource for the region, as well as the Tourism Office for Peisey-Vallandry. For flights go to AirCanada.com
Read more: While you are in the Savoy region, consider visiting the beautiful city of Annecy. To help you, here's a One day guide to Annecy.
Travelling around Europe? Visit Places to visit in Europe and French destinations to visit in the South of France.
Note: My trip was subsidized by Atout France: All opinions and ski mishaps are my own.