This post may contain affiliate links.
Just 41 km (26 miles) south of Geneva, the lakeside town of Annecy makes a terrific day trip. Here's how to (or how not to) spend one day in Annecy, France.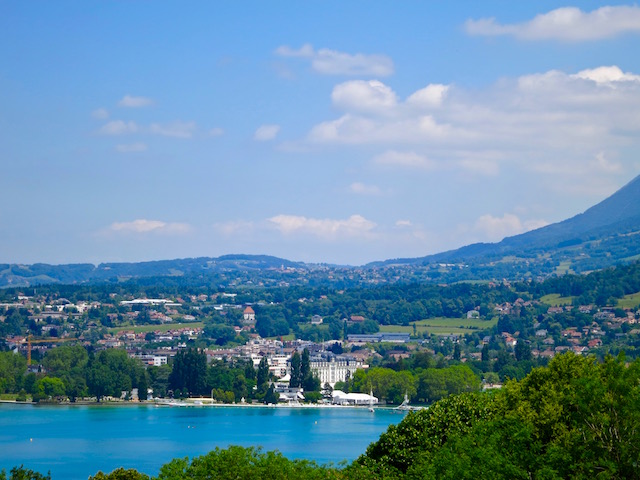 Outdoor adventure in Annecy, er, make that misadventure
"Are we lost?" I stopped my bike and glanced back at my husband, Mark.
He gave me a look. That look. Of course we were lost. We're always lost in France. Usually it's the fault of our wretched GPS, but as our rental car was back in a parking lot in Annecy, I couldn't blame it. I couldn't even blame my husband (though I tried to think of a way.) No. We were lost because I'd convinced Mark that the bike trail goes all the way around Lake Annecy. I'm sure I'd read that somewhere.
Note to readers: Don't believe everything you read. Or at least don't believe it will be easy. Get a map.
Renting a bike in Annecy
Renting a bicycle is one of the best things to do in Annecy, a sun-laden (unless, of course, it rains) lakeside town near the Swiss border in southeastern France. But, the trail runs for some 40 km so if you keep cycling farther away from the town when you're convinced you're circling back, your legs will get tired, the sun will relentlessly slam down on your head and you'll become grumpy.
(Unless you're like my husband who is impervious to heat, fatigue and whining wives, and could probably cycle all the way to Geneva before even needing a bathroom break.)
Why me, asks my husband?
Thirty minutes later my thigh muscles were twitching and we'd lost sight of the 14 km long lake altogether. (Lake Annecy, or Lac d'Annecy, is the third largest lake in France.) If we wanted to get back in time to explore the town, it was time to admit defeat and turn around. This made me even grumpier.
(At this point you may be thinking my husband is a very lucky man to be married to such a perky cheerful person. You would be correct.)
One day in Annecy, France
In my defence, we wouldn't even be spending one day in Annecy if it weren't for me. I'm the trip organizer in this duo. And Annecy, an alpine town in the Haute Savoie region of France, is an ideal destination for a day trip, especially on a sunny breezy day when the lake is blue, the hills of the surrounding Rhône-Alpes are blue, the sky is …. well, you get the idea.
Also, the buildings are historical and the deserts excellent (when you ride too far on your rented bicycle sugar takes on a grave importance.) And while Mark and I were cycling (slowly) back to Annecy (because someone's legs were tired) I had a revelation about Annecy, which I'd now like to share.
Annecy has a split personality.
Historical Annecy
There's the historical town of Annecy, with its canals and little shops and sidewalk cafes and which, if it weren't for all the French being spoken and the lack of spaghetti you might believe you're in Venice.
Then there is Lake Annecy. Lake Annecy is right at the foot of the town, but it might as well be a world away because it's more like an outdoorsy beach resort complete with a grand old hotel, the Hotel Imperial; bike trails (that don't go all the way around the lake) and endless boating activities.
When it comes to fun things to do in Annecy, if you're any type of sporty traveller at all, you'll want to spend time at the lake.
I have a split personality, too
When we (finally) arrived back at Lake Annecy and returned the bikes, I had another revelation: I have a split personality, too, because as soon as I saw pedal boats for rent, I turned into Super Sporty Woman.
"Let's rent pedal boats!" I said to my husband, even though two seconds earlier I'd been staggering around moaning about my sore muscles and swooning from heat fatigue.
"Let's not," he said.
It was my turn to give him the look. The look that says 'I know driving a pedal boat isn't cool. It's not like say, driving a Bugatti through Paris, but if you loved me you'd rent a pedal boat.'
We rented a pedal boat. And if you're someone other than my husband, who hates them, and especially hates that I wave at absolutely everyone when I'm on one, it's one of the most fun things in Annecy to do.
Annecy Itinerary
If you're planning to follow the same 'one day in Annecy itinerary' that we did, I recommend you have lunch before you rent a pedal boat and get lost on a bicycle – unless of course you're one of those mythical early birds I've heard so much about, then you can have lunch after. Whenever you eat, you should have lunch at Le Belvedere.
Renewing the romance in Annecy – it's uphill from here
If anything can make a husband who hates pedal boating love his wife again, it's the food at Le Belvedere, a one Michelin star restaurant above town at the foot of the Semnoz Mountain. It has gorgeous views of the lake that you can drink in along with your wine.
If you don't have a car, you'd have to be sporty to pedal a bicycle up to Le Belvedere. You'd have to be even more sporty (not to mention stupid) to try with a pedal boat. I recommend a taxi.
Le Belvedere
If the weather is cooperative sit on the terrace and splurge with their set lunch menu at 37 Euros. In our case it was worth it to save our marriage. Mark is still raving over their cheese platter, while I can't forget the chocolate dessert.
I'm posting a photo of that dessert just so I can pretend I'm eating it again. (If you catch me licking my computer screen, please arrange an intervention.)
Exploring La Vieille Ville of Annecy
Once your husband loves you again, and you love the world because of the glass of Roussette de Savoie Marestel you drank at lunch, it's time to explore historic Annecy. The Old Town is a watery place, sliced through with canals from the River Thiou.
The thing to do is wander around, take photos and enthuse about the cute canals and historic buildings.
Palais de l'Ile
One of the buildings everyone enthuses over is the Palais de l'Ile. It's exactly the size of the rock island it sits on (so you have to look very carefully to see that it is, indeed, on an island).
Built in the 12th century, the Palais de l'Ile was once a prison, and possibly, if I make my husband go pedal boating again, he'll try to lock me up in there.
An Annecy escape
If you're seeking sanctuary from a husband who would like to lock you up, consider visiting one of Annecy's churches. I'm partial to the neo-classical Notre Dame de Liesse Church, Built in the mid 1800s, it's constructed on the site of a 13th-century sanctuary. The clock tower is from the 1500s and there's an even older Gothic stained glass window.
(Just an FYI: Annecy has been inhabited for 5,000 years.)
Too many things to do in Annecy
There is so much else to see but if you have only one day in Annecy, you'll be hard pressed to fit it all in. You can walk up to a museum in a castle built by the Counts of Geneva, the Musee Chateau d'Annecy.
Mark and I were too lazy to go in. We were also too lazy to go hiking up in Le Semnoz. I blame the wine at lunch. I blame the chocolate dessert, the pedal-boating and, just out of habit, our wretched GPS. But most of all, I blame a scenic cycling trail that doesn't go all the way around the lake. But if it did (and I could find the path), I'd cycle back to Annecy every chance I got.
Travel Guide for One day in Annecy, France
Pin me!
Cycling: It may not sound like it from this Annecy travel blog post, but cycling along the lake (and beyond) is one of my favourite memories of visiting Annecy. Roul' ma poule has bike rentals in two locations, one one on 4 Rue des Marquisats and 47 Avenue du Petit Port. If you go to their website you can see that it IS possible to cycle around Lake Annecy. Obviously, this was beyond our navigation skills. If you manage it, let me know.
Annecy restaurants
Le Belvédère is at 7 chemin du Belvédère, Annecy. Tél. +33 (0)4 504 504 90
If you prefer to eat in town the elegant one Michelin star La Ciboulette is highly rated. 10 rue Vaugelas.
More things to do in Annecy
Boat Cruises on Lake Annecy are popular. If we'd had more time it would have been fun to do a dinner cruise with Compagnie des Bateaux du lac d'Annecy. 2 place aux Bois, Annecy.
Extreme Adventure: You won't catch me doing this but Annecy is a centre for paragliding. One company to offer this is Annecy Adventure.
Annecy hotels
If we'd stayed overnight hands down I'd pick the Imperial Palace, a large Belle Epoque hotel right on Annecy Lake at Allée de l'Impérial.
Check more hotels and availability (I'm a Booking.com affiliate.)
Day tripping to Annecy, France
A day trip to Annecy from Lyon is possible, though you'd probably want to stay the night. Annecy is a 2-hour train ride from Lyon and roughly 1 hour 40 minutes by car.
A day trip to Annecy from Geneva is easy if you're driving as it's only 41 km away. You can take a bus from the Gare Routiere, the Geneva Coach Station, but with several stops it will take about 1 hour 40 minutes. Train is even slower and not direct.
Spending one day in Annecy from Aix-Les–Bains is what we did. It's only 35 km away. We drove but there is a direct train from Aix-les-Bains-le-Revard Station that takes half an hour.
The Annecy Tourism Board has a great travel info.
Read more about traveling to Europe or about French destinations to visit.