This post may contain affiliate links.
A luxury Halong Bay cruise is the best way to get away from the crowds, and here are the top quiet places to escape to. (Sponsored guest post by Thu Nguyen)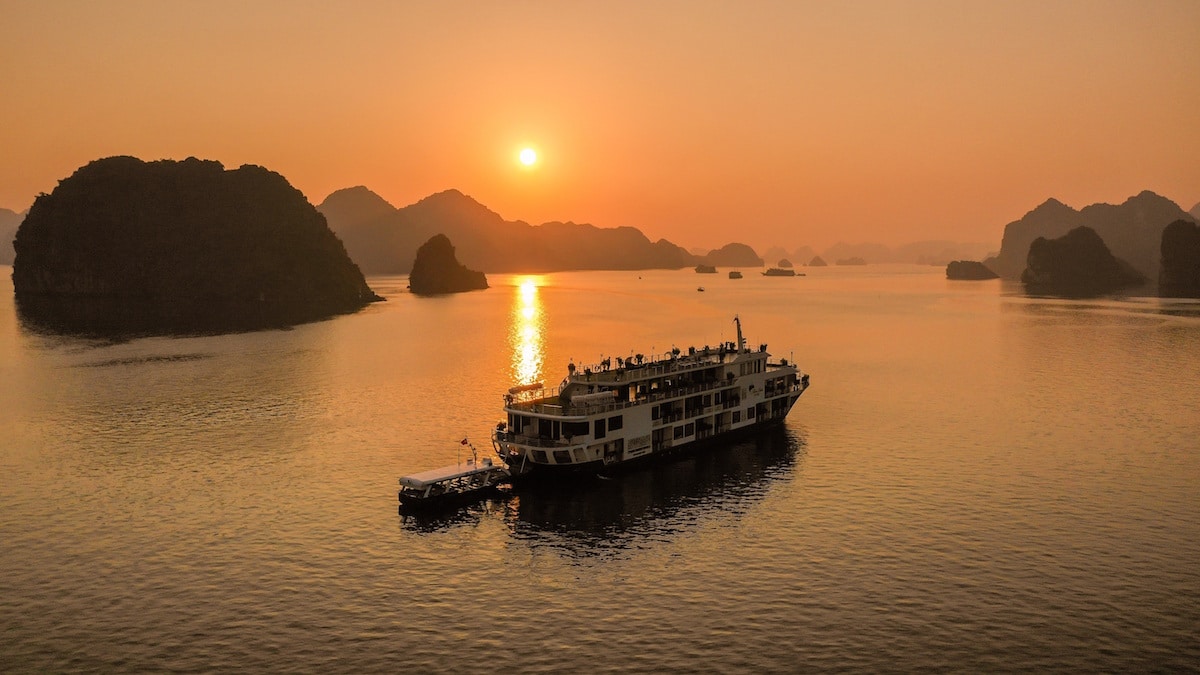 Getting Away from the Crowds of Halong Bay
Halong Bay is one of the most impressive UNESCO World Heritage spots in
Vietnam. The giant karst formations rising out of the sea are a magnificent
sight to behold.
However, some of the main areas in Halong Bay are overly trodden and overly sailed. The consequences are large crowds, noise and the kind of canned tourist experience that will easily spoil a potentially magical experience.
I did find a few nice, quiet spots though. I'll point to some around Halong and Lan Ha and offer an unexplored place that will help you to avoid the crowds.
Why is it called Halong Bay?
The name Halong Bay is a local translation, which means the Bay of the Descending Dragons.
When invaders came to try to conquer the region, locals prayed to the gods for help, and the gods sent a dragon to protect them. The dragon spewed gems and rocks all over the place, which turned into islands and islets, leaving potential invaders confused as to where they were located.
The dragon's children settled in bays close by. The locals were protected and safe. Nowadays, everyone can find a quiet space to enjoy the pristine waters and scenery surrounding this area – if you know where to go.
You can also still see traditional ways of life and daily activities in this area.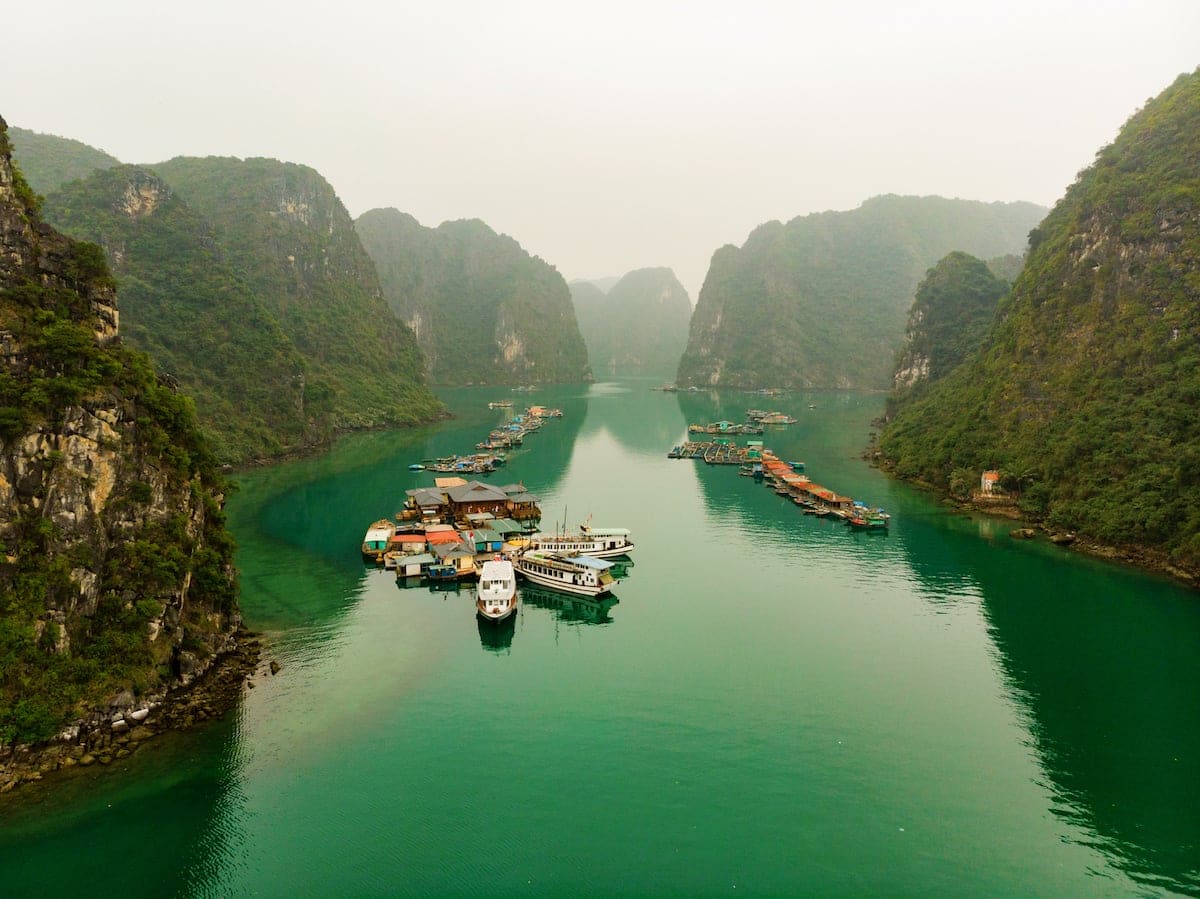 Visit Cua Van Fishing Village
If you get here at the right time, the charming village of Cua Van is incredible. It's made up of little huts that can be seen floating in the water. People live here as it is easy to conduct a traditional way of life without the increasingly traditional modern noises of car engines and horns in city streets.
You'll see fishermen bringing in their daily catch. You'll smell the fresh seafood across the water. You can feel the cool breeze and taste the sea water as it brushes past you. You'll hear the slow drumming of junk boats, fishermen selling their supply and perhaps children playing the floating school. What a unique place to visit.
Go Cave Exploring
Halong has a lot of rock formations and a lot of caves. The best thing about the caves is that they are quiet. Very quiet. And there are a few different ones to see.
Sung Sot Cave, or the Cave of Surprise, is secluded and lovely.
If you move towards Lan Ha Bay, there is the Dark and Bright Cave to visit as well. It's a soothing atmosphere. You can only see it by kayaking there or taking a rowing boat.

Another interesting cave in Tien Ong Cave. Located on Cat Ba Island, this cave has some incredible formed structures dating back to the prehistoric age. It is worth a visit and no one really comes here, so it's just you and the people on your tour.
Moving Out Further … to Bai Tu Long Bay
Bai Tu Long Bay is where some of the dragon's offspring settled, or so the story says. They created their nests by helping to develop a new coastal maze of sculptures.
Bai Tu Long Bay is where you will get the kind of serene and secluded feel that most people envision when they plan a trip to this part of Vietnam. It hasn't been overrun by the daily tourist crowd yet as it's further out than Halong Bay.
It's not on the itinerary of the usual Halong Bay cruises and junk boats that guide people around the area. This means you must pay a premium for the sail. It's worth it.
Check out the islands, beaches and caves in this area while it is still relatively undiscovered in the modern world.
Quiet Time on the Beach
Co To and Thanh Lan Islands are both lovely and tranquil places to make a
stop. These are islands where you'll want to take a stroll on the sandy beach or paddle in the crystal-clear waters. These are just like the romantic desert
islands you read about in books.
Bai Tu Long Bay has the most islets out of all the bays. Yet, it remains one of the least visited areas in this part of Vietnam. With over 300 islets, you can
take a tour to this area alone.
Ngoc Vung Beach is one of the most chilled out places in the whole area. It is wonderful. This is an offshore beach that remains relatively unspoilt and untouched.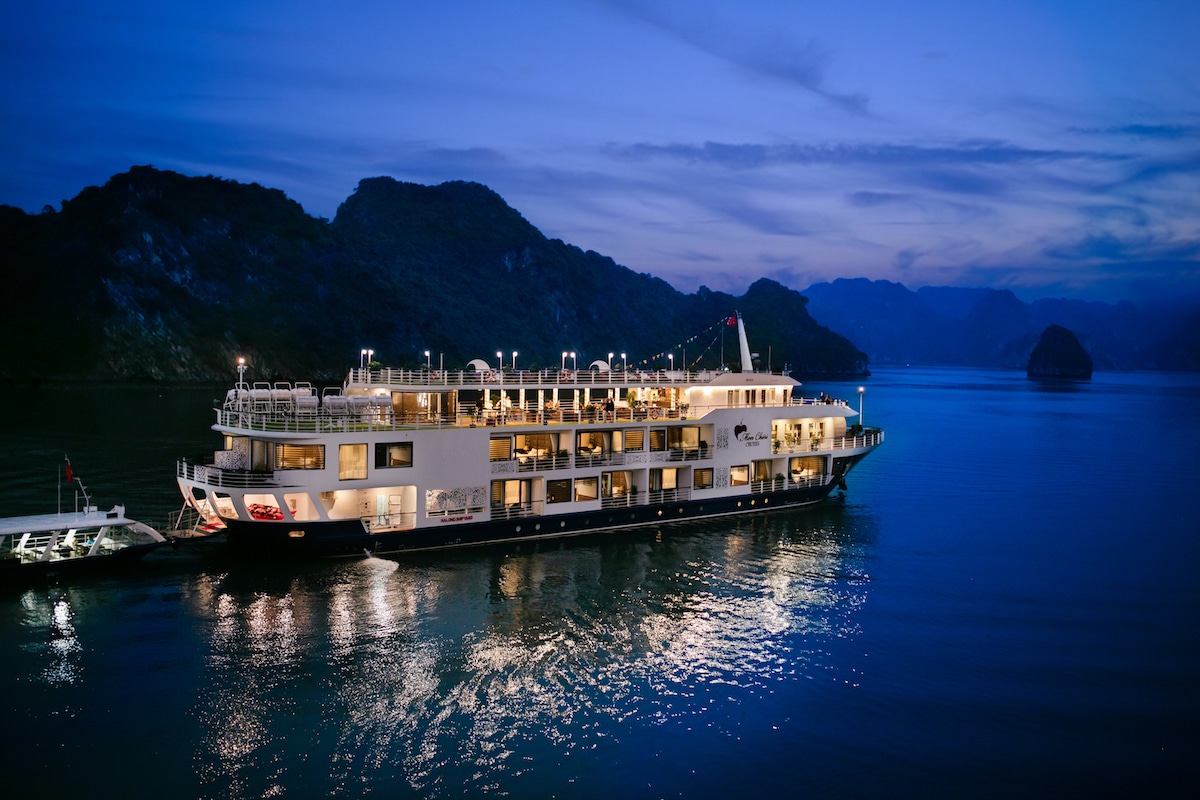 Luxury Cruises Around Halong Bay
Try a Peony, Signature or Mon Cheri Cruise for a luxurious experience to
explore those secluded islets far, far away.
Luxury cruises offer alternative itineraries to the usual junk boat tours, so you can see the sights exclusively. They're an ideal way to experience Vietnam and Halong Bay and the surrounding region in comfort and without the crowds.
Cruising Away From the Crowds
My advice is to go now before these serene destinations become well-sailed tourist attractions. The bonus of luxury cruises is that they offer restful cabins for escape from outside life. Cruise spas provide a sleepy retreat, while mindfulness activities such as Tai Chi onboard can help invigorate your clarity and calm.
While a Halong Bay cruise is a great way to explore this fascinating region, taking it a step further and getting off the beaten track makes it a trip beyond the ordinary.
Booking a Luxury Halong Bay Tour
Halong Hub is a booking agent that partners with a number of Halong Bay cruise companies. Specializing in luxury overnight cruises, it understands the importance of sustainable, responsible tourism, and is committed to helping travellers appreciate the beauty of Halong Bay, not exploit it.
Looking for more Vietnam travel ideas? Try a luxury Chu Chi tunnels cycling tour or check out the Jade Pagoda in Saigon.