This post may contain affiliate links.
If you're searching for the best Cu Chi Tunnels tour from Ho Chi Minh City, consider a speedboat, cycling and tunnel tour with Les Rives and their partner Grasshopper Adventures. If you like active travel, it's one of the top day trips from Saigon you can do.
For my experience read on. For how-to's and prices, scroll down.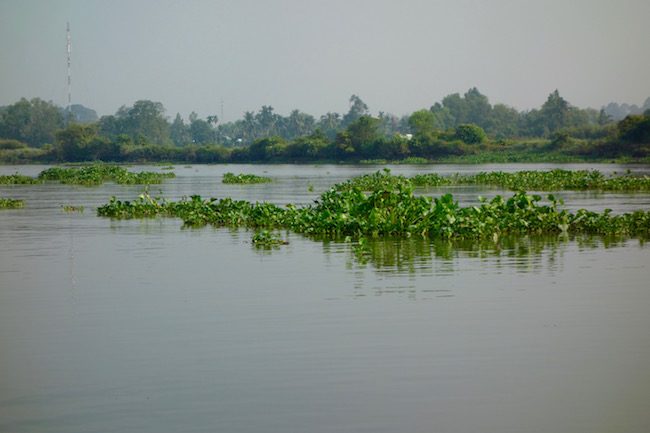 The best Cu Chi Tunnels Tour
Our speedboat spreads ripples through the water hyacinths floating on the Saigon River. Within 15 minutes our tour has left the high rises of Ho Chi Minh City (formerly Saigon) behind and is passing shacks, docks, gardens and palm trees.
Quotable Vietnam
"I love the smell of Napalm in the morning," some wise guy says. (It might have been my husband, Mark, but he denies it.) It's an infamous quote from the quintessential Vietnam war movie Apocalypse Now, a movie that drove the horrors of the war into the consciousness of North Americans like no other piece of celluloid could.
Travelling up the Saigon River by speedboat
Granted, we're on the Saigon River, not the mythical Nung River that represents the Mekong in the film. We're also travelling by a luxury speedboat with Les Rives Experience, an upscale tour company based out of Ho Chi Minh City. It's a far cry from the nihilistic boat ride into the Heart of Darkness (the book Apocalypse Now is based on). Instead of purple smoke and artillery fire, a hostess is handing out sandwiches, drinks and fruit.
Even so, how can you not relate this day trip from Saigon – or any river tour in Vietnam – to the war? Especially when you're heading to the notorious Cu Chi Tunnels.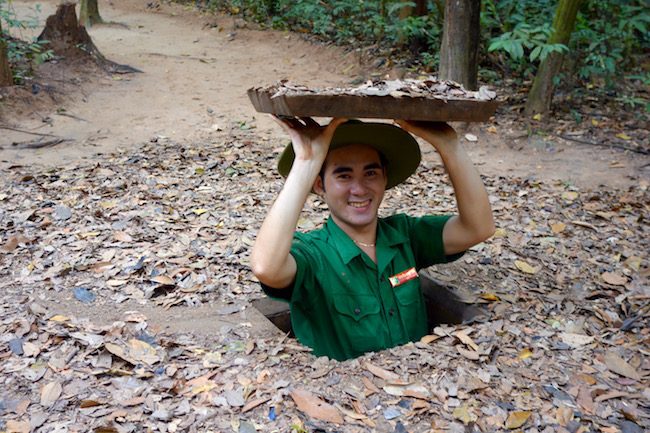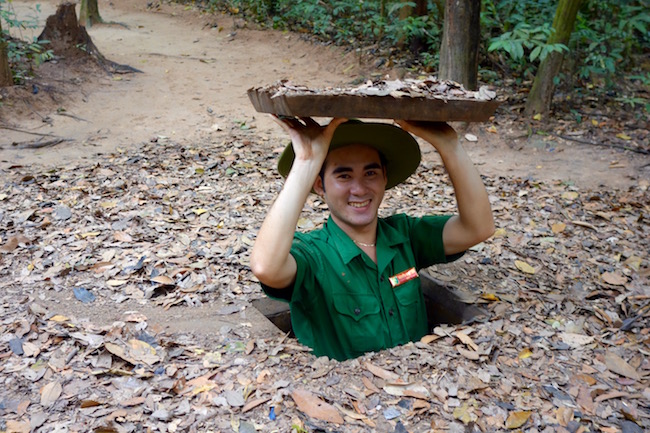 What are the Cu Chi Tunnels of Vietnam?
Located in the Củ Chi District just outside of Ho Chi Minh City, the Cu Chi Tunnels are a vast underground maze that played a huge part in the Vietnam War. Begun during the French occupation and extended during the Vietnam War, the tunnels extend for more than 200 km. At one point they stretched all the way from Saigon to Cambodia. During the war they were used by the Viet Cong to elude and attack South Vietnamese and American forces.
Visiting the tunnels is a day trip from Ho Chi Minh City that's hard to resist, and I can't imagine a more atmospheric way to bypass the traffic of Saigon than to travel by riverboat and bicycle.
Exploring Vietnam by boat, bike and tunnel
"Good morning, Vietnam," Marks says, as our boat pulls up to the dock an hour later.
In addition to the tunnel tour we wanted a taste of rural life in southern Vietnam, so we'd signed up for a 3-pronged day tour, combining the speedboat ride, a cycling trip through the countryside and the tour of the Cu Chi Tunnels.
Cycling Vietnam
Les Rives partners with Grasshopper Tours for this full-day small-group adventure tour and in no time, we've met our Grasshopper tour guide, Thang, and are climbing on our bicycles. I slip on my helmet and check out the competition – not because I plan to leave the six other tourists in the dust, but because I already know I'm going to be last. Every step of the way.
Sigh. I am.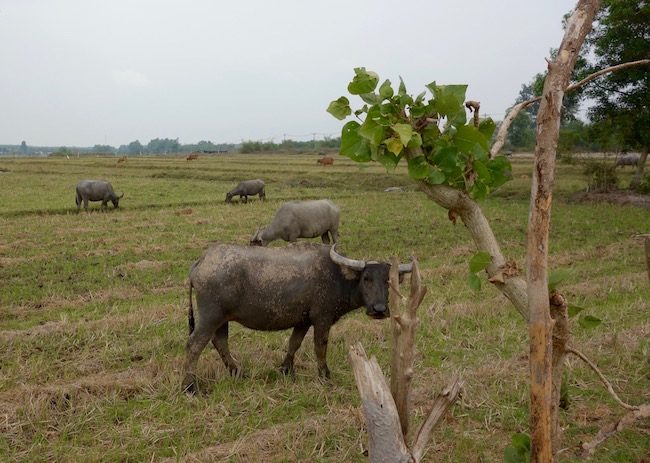 No one said I was an Olympian
"The Canadians are holding us up," says one of the Americans, as I dawdle over a photo of a water buffalo.
"Not us, her!" Mark says.
Thank you, dear husband, for pointing that out. But I can't help it. For one thing, the heat is knocking me out. The second thing is that I want to linger over every view: rice paddies, fields of red peppers, the farm where we stop to see how rice paper is made and the sleepy country roads.
(The third reason I'm slow is that I'm useless when it comes to sports – but enthusiasm counts for something, right?)
"You go ahead," I tell Mark, knowing he'd be happier at the front of the pack.
"I feel better riding behind you," he says. "If you fall behind too much I might never see you again."
"Oh, ha ha ha."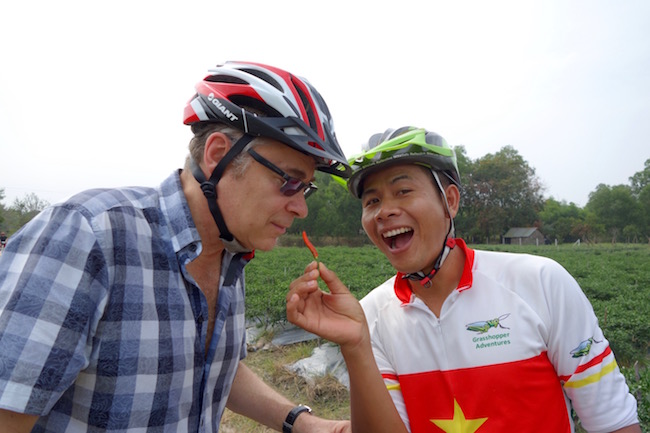 How many day trips from Saigon are this much fun?
After a shady stretch though a tree-lined rubber plantation, where a grinning elderly man gives us an impromptu lesson in how to slice a rubber tree so it releases its sap, we halt at a stream. A rustic bridge made out of twisted logs lies across it.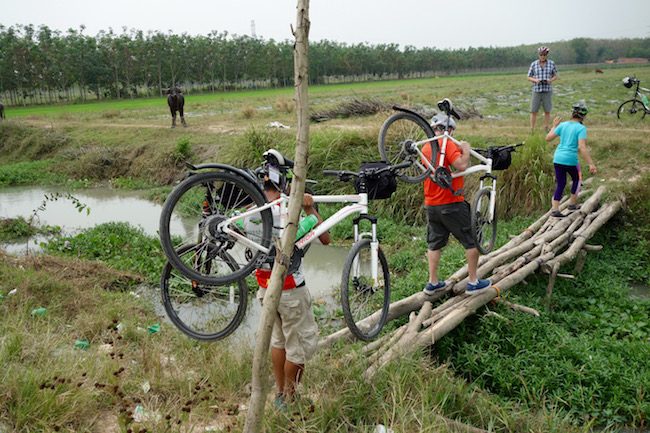 Thang hoists up two bicycles and whips across.
"I am so not doing that," I say. I'll be lucky to make it across holding my iPhone.
Mark goes before me, hoisting his bike on his shoulders, startling a water buffalo who charges into a stream. (That's my husband – the terror of water buffalos worldwide.)
Bridge over untroubled water
I step onto the rickety bridge and pause. "Eeeep."
"Walk like a duck!" says Joe, one of the Americans.
"Keep your feet splayed apart," says Thang, as I take a few tentative steps. Even without a bike I feel quite triumphant when I reach the other side. I stop to enjoy the moment until a farmer in a cone hat requests I move out of the way so he can lead his water buffalo across – a rural Vietnamese version of a traffic jam.
Cu Chi Tunnel Tour
Eventually we arrive at the Cu Chi Tunnels, and I'm proud to say I didn't give up halfway through. Surrounded by jungle, we're shown bomb craters, piles of unexploded munitions and termite mounds that disguise ventilation holes and sniper hideouts.
Mark is horrified by the booby trap, a swinging grass-covered trap that – if a soldier stepped on it – would plunge him into a knee-high pit of bamboo stakes often smeared in feces.
"Not to kill," Thang says, "to maim. Their goal was to create fear."
The horror
I stop for a moment, picturing green American soldiers walking here before me. I try to imagine the uncertainty and courage of the American and South Vietnamese soldiers known as 'Tunnels Rats' who had to shimmy into the 'Black Echo,' armed with pistols, flashlights and fear.
I think of the determination of the Viet Cong, digging out this invisible world with rustic tools, facing scorpions, spiders and snakes.
The Cu Chi Tunnels as a refuge
I think of panicking villagers sliding into stifling tunnels to escape napalm attacks. It wasn't far from here that the shocking photo of Kim Phuc, the severely-burned girl running naked down the road after an aerial napalm attack was taken.
The psychological warfare played by both sides is chilling, but it was a war the Americans couldn't win.
A sobering tour
Some 10,000 Vietnamese died in the tunnels, and our Cu Chi Tunnel Tour leads us through various stretches. In one we see a makeshift underground emergency room. Another is a subterranean meeting room complete with bats rustling overhead.
Not everyone on our tour chooses to go into all the tunnels – and, as a matter of fact, not everyone could fit through them, but I want to squeeze into every one.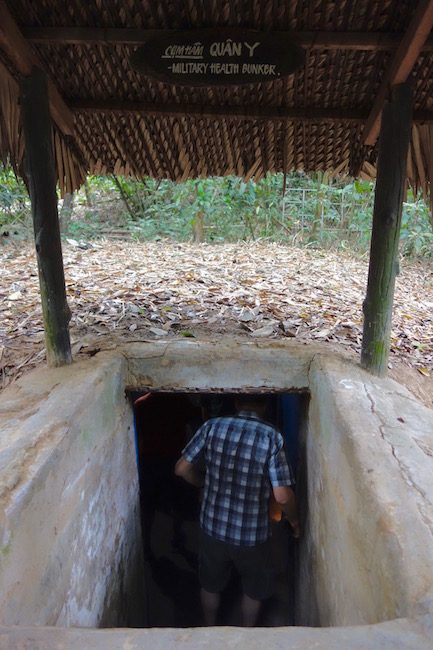 The tunnels, Thang tells us, could be three levels deep and up to 12 metres (40 feet) down. People could be hidden here for weeks at a time, suffering through attempts to gas, shoot or bomb them out.
Until this moment, Apocalypse Now was the closest I'd come to defining the war in my mind, but as I crawl through black passages, sometimes crouching, sometimes on my hands and knees, and once, sliding along on my rear, the grit of the past gets under my fingernails in a way no movie, however evocative, ever could.
Apocalypse Now is one thing, a Cu Chi Tunnels Tour is a glimpse into Apocalypse Then.
Travel tips for the best Cu Chi Tunnels Tour in Saigon
About Les Rives Experience
Les Rives offers luxury river experiences and city tours such as the Cu Chi Tunnels Tour, Sunset Cruises and Mekong Delta Tours. We did the Cu Chi Tunnels by Boat and Bicycle Tour. It costs VND 3,599,000 (about $157 USD) pp and includes a light breakfast on the boat, all-day refreshments, all entrance fees, experienced guides, pick up and drop off at central Saigon hotels and a fabulous Vietnamese lunch at the rural Truong Lac Restaurant – which, after cycling nearly 30 kilometres (18.6 miles), is well deserved.
Full confession: We were slow so our tour was shortened to just over 20 kms. This had nothing to do with me. I swear.
Visit the Les Rives website for more info.
Pin me!
About the Cu Chi Tunnels Boat and Bicycle Tour
The boat: Pick up is at 7:00 a.m. from your hotel. The trip upriver takes just over an hour on custom-designed 10-metre long speedboats. Significantly, they're designed to cause little wake to minimize environmental impact.
The cycling: The mountain bikes are well maintained and good quality. Helmets are included. The ride is on flat roads, tracks and lanes. Traffic is minimal. Unexpected fruit stops take place along the way and guides come equipped with water, packets of electrolytes and a support van. Between the seven of us, we made use of each of these services. Visit Grasshopper Adventures website for more info on the cycling.
What you need to know about this Boat, Cycle and Chu Chi Tunnel Tour. It is really hot! Use sunscreen, sunglasses and drink lots of water.
On the way there, you go by speedboat, on the way back by van.
The best way to see the Cu Chi Tunnels and avoid the crowds: Surprisingly, we saw only a handful of other tourists on our day trip, even though the tunnels are known for being jam packed. This is partly timing and partly because we visited the less crowded Ben Duoc Tunnels, rather than the closer and more popular Ben Dinh Tunnels.
Why, in my opinion, Les Rives must have the best Cu Chi Tunnels tour: luxury transportation, expert guides, crowd avoidance, small groups and personalized service. (For example, some of the people on the tour had to go straight to the airport afterwards, and Les Rives arranged it so they didn't need to go back into Saigon.) Also, vitally important were the numerous fruit breaks and excellent Vietnamese lunch.
For more things to do in Saigon, read about the Jade Emperor Pagoda.