This post may contain affiliate links.
The fabulous Chateau de Chenonceau, the 'Ladies Castle' in the Loire Valley of France inspires passion like no other chateau. A visit to Chenonceau is to delve into one of the most scandalous rivalries in French history, that of Diane de Poitiers and Catherine de Medici, Queen of France.
Chateau de Chenonceau: a gift to Diane de Poitiers
Clearly, it pays to be a mistress. It did in the case of Diane de Poitiers. Born in 1499, she was granted the right to live at the fairytale-like Château de Chenonceau in the Loire Valley of France by her besotted lover, the French king Henri II.
How did she manage that, I wondered? Looking through the mist I see a vision of a castle, its compact turrets and towers rising straight out of the River Cher, its long arched bridge reaching across the water like a ballet dancer's arm. Now that's what I call a present. I once got a bracelet from a boyfriend and thought I was doing really well. Obviously Diane de Poitiers was in a whole different league.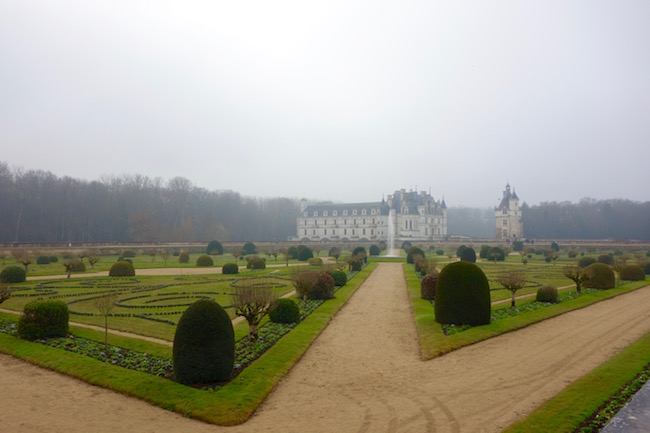 The Ladies Castle
The elegant Diane de Poitiers might have stolen Henri II's heart, but she's only one of a handful of powerful women who have ruled over this 16th-century chateau, which is why it's known as the Ladies Castle. As popular as the prom queen at a school dance (definitely not me), Chenonceau is the second most visited chateau in France after Versailles, and the most popular castle in the chateau-littered landscape of the Loire Valley, the beautiful Val de Loire.
Why visit Chenonceau?
To visit Chenonceau is to step into France's feminine past. As I walked past a medieval tower, the only remnant of an older chateau that once stood here, I couldn't help wondering if it's better to be a mistress than a wife. I've only been married three years and I'd hate to think I made a misstep by getting hitched. Maybe I should have been my husband's mistress!
The femme fatale of French castles
Chateau de Chenonceau arouses passion, love and jealousy like no other chateau. It caused a bitter cat fight power struggle between the sophisticated Diane de Poitiers and Henri II's much younger wife, the Florentine-born Catherine de Medici. Catherine, with her protruding eyes, thin face and diminutive stature, wasn't a beauty like Diane, but she had a steely will, a love for the arts, was highly educated and brought a certain Florentine glamour to the French court, introducing the fashion of high heels and perfumed accessories.
So let's take a closer look at this battle of wills. It will make your Chenonceau visit all that much more interesting.
Diane de Poitiers – the cougar of Chenonceau
If you're visiting Chenonceau don't miss Diane de Poitiers' bedroom. Gazing around at the canopied bed draped in blue velvet, the Flemish tapestries and fireplace adorned with royal symbols of gold, I tried to picture her. Shockingly, she was 20 years older than Henri, and by the time he became king at the age of 28, she'd been his lover for a decade.
Maybe that's the key to undying love, I thought. Choosing someone 20 years younger. Wait … what?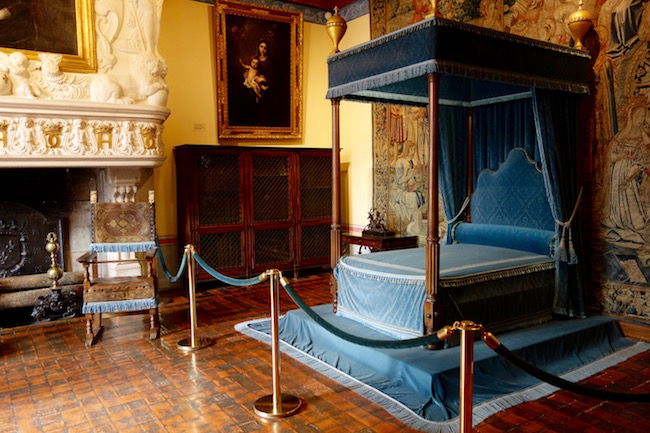 Diane had such a hold on men's imaginations that centuries later, the writer Gustave Flaubert wrote:
To sleep in the bed of Diane de Poitiers, even though it be empty, is worth as much as sleeping in that of many more palpable realities.
Score one for the mistress. So what did she have that Catherine (like most of us) didn't? Often associated with the Greek Goddess Diana the Huntress (she was clearly savvy at branding herself), Diane de Poitiers had fair hair, courtly manners, fabulous taste and a keen intellect. She also had famously porcelain skin, which she maintained by drinking an elixir of liquid gold, a heavy metal cocktail that likely contributed to her death at age 66.
She bathed daily (a rarity at the French court) and kept herself in shape by hunting and swimming. The less confident Henri II, who had lost his mother, Queen Claude, at an early age, was mad about Diane, and stayed that way until his untimely death after a jousting accident.
It seemed Catherine didn't have a chance.
Diane de Poitiers at Chenonceau
While Diane de Poitiers was granted the right to live at Chateau de Chenonceau, she knew that if Henri died, the crown could claim it back. That would never do. Diane was regal and enchanting, but she was also – I'm not sure how to say this politely – greedy. After some determined legal wrangling, in 1547 she became the rightful owner of the coveted French chateau.
She turned it into a profitable estate, added formal gardens and built the beautiful arched bridge that connects the castle to the far bank of the River Cher.
The rivalry between Diane de Poitiers and Catherine de Medici
If you visit Chenonceau you can also visit the Catherine de Medici bedroom. (No, they didn't live there at the same time, but Catherine was forced to make a visit there.)
In contrast to the blue of Diane's bed, Catherine's room is blood red and golden amber. Beside the bed hangs a painting by Correggio called The Teaching of Love. Betrothed to Henri when they were only 14 years old, she was passionately in love with her husband and bitterly jealous of Diane de Poitiers.
Who wouldn't be? Cruelly, Henri gave the crown jewels to Diane rather than to her. It's even said Henri only visited his wife's bedchamber when pushed to by Diane, who knew the necessity of having royal heirs. Could there be a harder blow to a wife's ego than that?
A dangerous enemy
Let's not write Catherine off just yet. I wouldn't want Catherine de Medici as a rival. I wouldn't want any Medici as a rival. Sometimes known as the Sinister Queen, she was known to dabble in astrology, alchemy and possibly the occult.
She wore a talisman of human blood, goat blood and metals that had been melted together at an auspicious time of the stars. Nostradamus was her astrologist, and her personal perfumer, René le Florentin, was accused of murder by infusing gloves with poison.
Channeling Catherine Medici at Chenonceau
I moved around her bedroom, feeling as if I could almost sense her steely will. Is it cold in here? Is that her fragrance I smell? I was starting to freak out until I realized the scent was coming from the fresh flowers that always decorate Chenonceau.
Don't miss the flowers at Chenonceau
Flower arrangements at Chenonceau are one of the purest pleasures of visiting this historic castle in the Val de Loire. A rare chateau with its own floral atelier, the castle's team of florists excel at creating artistic arrangements that infuse it with a spirit of freshness, colour and beauty.
Considering how much both Catherine de Medici and Diane de Poitiers loved their gardens, it adds an extra element of history and connects us to the past in a living breathing way.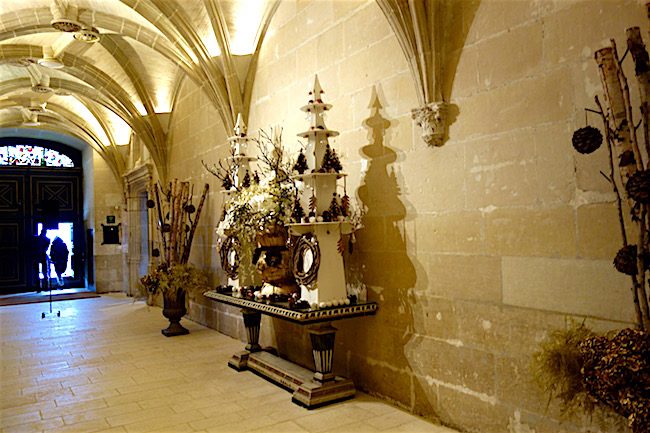 Patience is a virtue
But back to the rivalry between Catherine de Medici and Diane de Poitiers. Catherine bided her time. When the French King was on his deathbed she sprang into action, refusing to let Diane de Poitiers see Henri though he repeatedly called for her.
After his death Catherine forced Diane de Poitiers to give back the crown jewels and to exchange the much-desired Chateau de Chenonceau for the Chateau de Chaument. Fearing worse consequences, Diane agreed. Who knows? If it weren't for her supporters, the powerful Guise family, she might have received some poison gloves of her own.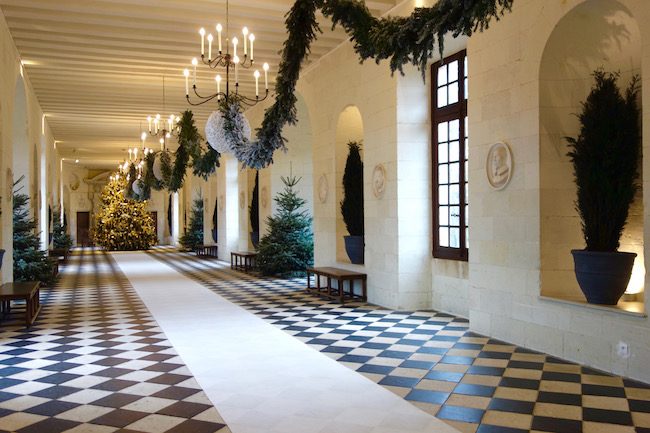 Catherine de Medici at Chenonceau
Finally Chenonceau was Catherine's. My footsteps echoed on the black and white checkered floor of one of the two long galleries Catherine had built overtop of the bridge. Putting her own stamp on Chenonceau she established a library and created her own gardens alongside Diane's. To this day they stand as botanical evidence of the rivalry between Diane de Poitiers and Catherine de Medici.
Finally I visited the Green Study, from which Catherine would go on to rule France in the name of her sons while Diane lived out her days in relative obscurity – proving that matrimony trumps mistress after all.
Travel tips for visiting Château de Chenonceau: the Ladies Castle of the Loire Valley, France
Pin me!
Where is the Chateau de Chenonceau located? Chenonceau is located outside the village of Chenonceaux (with an 'x') in the central Val de Loire (the Loire Valley) region of France. It's a 2-hour drive from Paris and a 40-minute drive from Tours.
Can you get to the Chateau de Chenonceau by public transportation? Yes. From Tours you can take a train to Chenonceau Chisseau and walk from there. The walk should take about 10 minutes.
What's the cost for visiting Chenonceau? Adults price is 13 € for a visit with the brochure, and 17.50 € with audio guide. Children and students 10 € with brochure, 14 € with audioguide.
For more info on visiting Chateau de Chenonceau or to book tickets online visit the chateau website.
My trip was organized by Atout France. A huge thank you to Val de Loire Tourism and Air France.
Read more about the chateaux in the Loire Valley. And why not visit Chateau de Chambord? Cheverny is another great option.
Read more about top European destinations.