This post may contain affiliate links.
Visiting Chateau de Cheverny in the Loire Valley of France might just be a highlight of your trip. Known for its richly-decorated interior and its connection to the Tintin comic books – it was the inspiration for Captain Haddock's Marlinspike Hall – this gleaming French castle is the only family-occupied chateau open to the public. For highlights and my experience, read on. For travel tips and a list of other things to do in Cheverny, scroll down.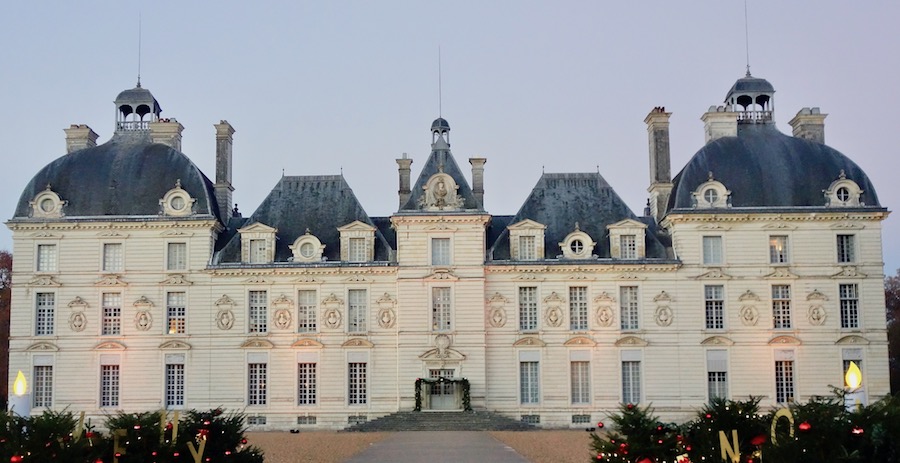 Chateau de Cheverny in the Loire Valley of France
It's one thing when you don't plan your own Loire Valley itinerary. It's another when you're standing by the kennels of a pack of baying hunting dogs on the grounds of a magnificent French chateau, the Chateau de Cheverny, and your guide Guillot, a woman from the town of Cheverny, tells you you'll be staying here tonight.
My eyes lit up as I looked over to the grand chateau, it's two identical wings of white stone spreading out from the central entrance. "We're staying here?"
"No," said the Marquis de Vibraye, who lives in the chateau and who we happened (fortuitously) to run into. "You'll be sleeping with the dogs. There are more than 100. You'll be very warm."
There's nothing like a marquis with a sense of humour. Luckily I'm not to be a traveller in the doghouse, although I'm not exactly a houseguest either. The Chateau de Cheverny, one of the most lavishly furnished of the Loire Valley chateaux, has a row of modern vacation rentals that back onto the chateau grounds.
Chateau de Cheverny history
Chateau de Cheverny was built between 1604 and 1644 – no one can quite agree on the dates. Located between Blois and Chambord, it's made of a special stone called bourré from the nearby Cher Valley. Fragile when quarried, the stone gets whiter and harder as it ages, giving this Loire Valley castle a perpetual pristine gleam. The style is Louis XIII, a classical type of architecture most travellers have never heard of but that is characterized by elegant proportions and symmetrical lines. If you've seen the Palais de Luxembourg in Paris, you've seen a prime example.
Topping the chateau is a hodgepodge of slate-coloured domes, bell towers and peaked French roofs. It's so appealing that the Belgian comic book creator, Hergé, used the castle as the model for Marlinspike Hall (Château de Moulinsart) in the Tintin comics, the ancestral home of Captain Haddock. (Although Hergé did leave out the two end pavilions so that it didn't look quite so imposing.)
Feeling a little like Tintin in The Secret of the Unicorn, the first book Marlinspike Hall appeared in, I stepped inside.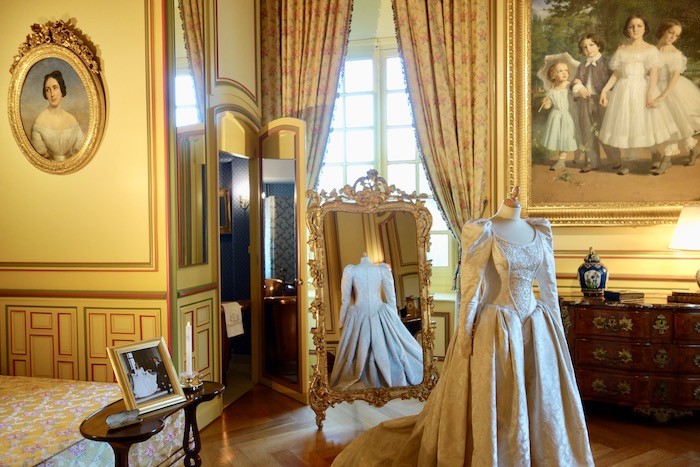 Inside the castle
Unlike some chateaux (ahem, Chambord), the Chateau de Cheverny has a richly-decorated interior with many of its original furnishings. It also has its original family. The Marquis de Vibraye is a descendent of Henri Hurault, the comte de Cheverny, who originally owned the land. But don't go thinking you'll be rooting through closets and tripping over toiletries. The family lives in a private section. You will see family photos here and there though, such as family photos and the wedding dress of the Marquis' bride, Constance du Closel, from 1994 – a real love story, said Guillot – which just adds to the sense that Cheverny is a living home more than an untouchable museum.
Although, I couldn't help thinking as I wandered through the dining room with its Baccarat crystal chandelier and its 34 panel paintings depicting the tale of Don Quixote, I wouldn't mind if my home was a little more museum-like, not if it meant I could have a rare Gobelin tapestry of Helen of Troy being abducted by Theseus in my vast and spacious Guard's room. Never needing restoration, the beautiful tapestry still retains its exquisite reds and blues and greens.
"Because neither sun or moon has every shone on it," Guillot said.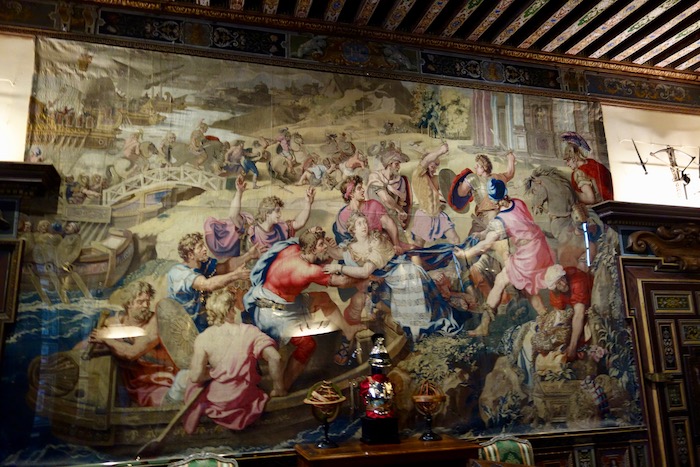 Diane de Poitiers at Cheverny
Although the moon has shone on Cheverny, at least symbolically. In the 1500s, when an earlier feudal castle still stood onsite, the estate left the hands of the Hurault family after a tumultuous financial falling out with the king, and into the slender fingers of Diane de Poitiers. The mistress of King Henri II, Diane de Poitiers was a fabled beauty who loved to hunt, was 18 years older than her lover and aligned herself with the moon goddess Diana.
She, however, preferred the fairytale turrets of the Chateau de Chenonceau, and the Hurault family was able to buy Cheverny back.
The story reminded me of Captain Haddock in Red Rackham's Treasure. Marlinspike Hall was originally owned by his ancestor, the Chevalier François de Hadoque, but it ended up in the hands of the disreputable Bird Brothers. It wasn't until after a great many escapades involving shark-repelling submarines and hidden treasure that Captain Haddock managed to purchase it back.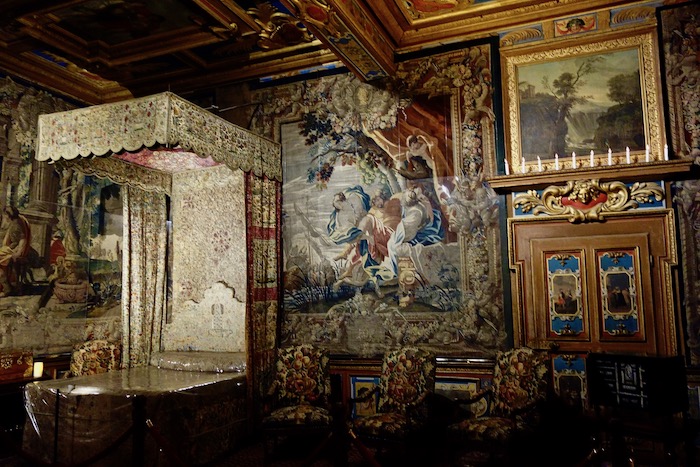 The King's Bedroom
While I wasn't overly covetous of the suits of armour, pikestaffs and crossbows in the Guard's Room (so hard to dust), I was overcome with redecorating dreams in the King's Bedroom, which is practically dripping in gilt. There are huge tapestries of Ulysses, a canopied bed with a Persian silk cover that dates back to 1550, a painted coffered ceiling that shows the story of Perseus and Andromeda and a chimneypiece elaborately carved and golden.
"The room was prepared for a king, but not a king ever stayed," Guillot said.
"I could stay," I said hopefully. In fact I could move in. Perhaps the family needs a dog walker. Or maybe, like  Tintin, I could simply move in and go on madcap adventures.
Mona Lisa at Cheverny
One person, or at least a painting of a person, who did stay at Cheverny was the Mona Lisa. In WWII, the painting was moved to the Orangerie on the chateau grounds for safety along with many other priceless works of art. Today, the Orangerie is a tearoom open from April to November.
The Tintin chateau
Another thing to do on the grounds is to visit Les Secrets de Moulinsart, an interactive exhibit that brings you into the world of Tintin through sound effects, animation and life-size sets. It's a family-friendly activity and adds a fun Tintin-themed experience to your visit, making you feel, just for a moment, that you're part of Cheverny or at least of Marlinspike Hall.
Travel guide for Chateau de Cheverney in the Loire Valley, France
Pin me!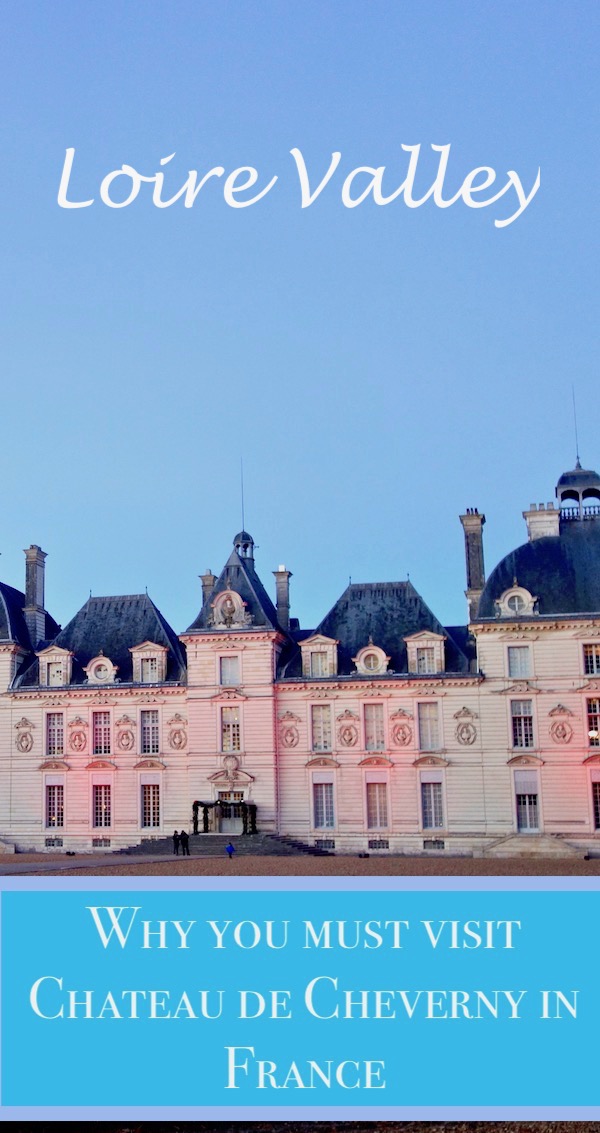 Where is Cheverny? Cheverny Chateau is less than an hour from Tours and can be reached from Paris in two hours. It's located in the Loire-et-Cher department of the Loire Valley, 16 km southwest of Blois. It's also in the Sologne, a region of north central France known for ponds, lakes and game-filled forests.
What makes this Loire Valley chateau unique?
The Chateau de Cheverny is the only family occupied chateau you can visit in France.
It was the first chateau in France to open to the public and has welcomed visitors since 1922.
It's open 365 days a year and has only ever been closed three times. Once was in 1963 when the Queen Mother came to visit.
Unlike many chateaux of the Loire Valley, Cheverny was built over a relatively short period, so the architectural style is particularly harmonious.
Tintin!
The cost for visiting Cheverny: 
The Chateau: Adult €11.50. Students €8.20 Children under 7 free.
The Chateau, Gardens and Secrets of Marlinspike Hall: Adult €16.50. Students €12.10. Children under 7 free.
Chateau, Gardens and Electric Car and Boat Ride: Adult €16.50. Students €12.30. Children under 7 €4
Chateau, Secrets of Marlinspike Hall and Electric Car and Boat Ride: Adult €21. Studetns €16.20. Children under 7 €4.
Opening times for Cheverny
From April 1 to Sept 30 entrance times are 9:15 a.m. to 6:30 p.m. Otherwise 10 a.m. to 5 p.m.
For more information on prices, times and directions visit the official website.
10 things to do in Cheverny
#1 Tour the chateau. This is clearly the top activity in Cheverny. Some highlights – in addition to the ones mentioned in the article above – include:
An original trunk owned by Henri IV in the Guard's Room.
In the Drawing Room you'll find an original portrait of Cosomo di Medici by Titian, a portrait of Jeanne of Aragon from the studio of Raphael and Louis XIV Chairs.
Don't miss the huge set of prehistoric antlers some 6,000 years old from Siberia.
In the Tapestry Room you can see a balance wheel clock that shows the phases of the moon.
In the Gallery is a framed document signed by George Washington. It relates to the Society of the Cincinnati. Washington was a co-founder of the society, and three ancestors of the Hurault family were members.
An early rocking horse from the era of Napoleon III.
#2 Have tea at the Orangerie
#3 Watch the feeding of the dogs at the Cheverny Kennels
Above all, the Chateau de Cheverny is known for the hunt and the Cheverny Kennels date back to 1850. The dogs are a cross of English Fox hound and French Poitevins. Their feeding is a spectacle, with the eager dogs waiting until the command before digging in. You can watch them feed at 11:30 a.m. daily from April 1 to Sept 14, and on Monday, Wednesday, Thursday and Fridays from Sept 15 to March 31. Bank holidays excepted.
#4 Visit the Gardens
Loire Valley chateaux are known for their beautiful grounds and gardens and Cheverny is no exception. There are four themed gardens: the Vegetable Garden, the ornamental Apprentice's Garden, the Tulip Garden and the Maze.
#5 Tour the park
It's a French chateau but it's an English style park of giant redwoods, cedars and lime trees. You can stroll or do a tour on an electric boat and car (departures every 30 minutes in season).
#6 See the Tintin exhibit
Les Secrets de Moulinsart exhibition is located in a separate building on the castle grounds.
#7 Stay at the Cheverny Suites
The Suites at Cheverny are 6 premium townhouse vacation rentals with a contemporary decor. Accommodation holds from 2 to 7 guests, depending on which suite you rent. Prices range, starting at €420 for 2 nights midweek for 2 people. A 20% discount is available for stays between November 1 and March 1. Prices include unlimited access to the Domaine de Cheverny, including entrance to the castle, gardens and Tintin exhibit.
#8 Eat at the Trois Marchands (The Three Merchants)
Serving traditional French and regional food, this cozy restaurant in Cheverny has been serving diners since 1850. Address: Trois Marchands, 1 place Victor Hugo, F-41700 Cour-Cheverny Tel: +33 2 54 79 96 44
#9 Explore the village
The village of Cheverny is an ancient town that goes back to the time of the Romans. In town you can visit the spired church of St Etienne that dates back to the 12th century.
#10 Try Cheverny wine
The Cheverny vineyards produce a variety of wines such as Sauvingnon and Pineau d'Aunis while the Romorantin is unique to the appellation of Cour-Cheverny.
My trip was organized by Atout France. For more information on travelling in France or for more things to do in Cheverny, check out their website or visit  Val de Loire Tourism. If you're visiting Paris, check out my easy Paris travel guide.