This post may contain affiliate links.
Visiting Chateau de Chambord in the Loire Valley, France, is a glimpse into Renaissance history, architectural glory and the reign of the French king Francois I. Here is everything you need to know to plan a visit to the largest chateau in the Loire Valley.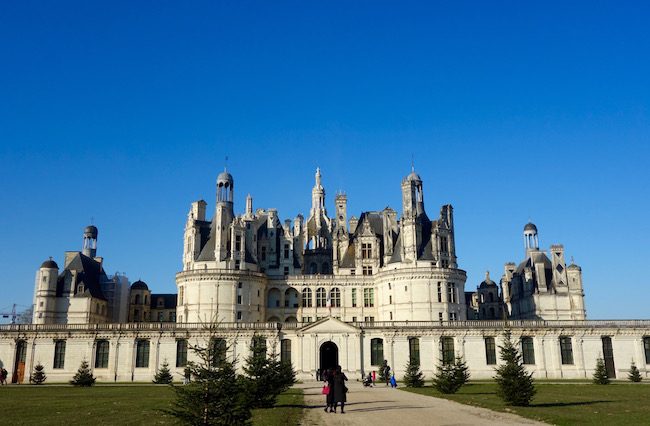 Built by Francois I of France
It must be nice to be a French king and build a little hunting lodge – with 440 rooms, 365 fireplaces (handy, in case you want to warm your hands by a different one each day of the year) and 84 staircases. This is exactly what the youthful Renaissance king, Francois I, did in 1519.
The result? The mightiest grandest chateau in the Loire Valley of France, the imposing Chateau de Chambord.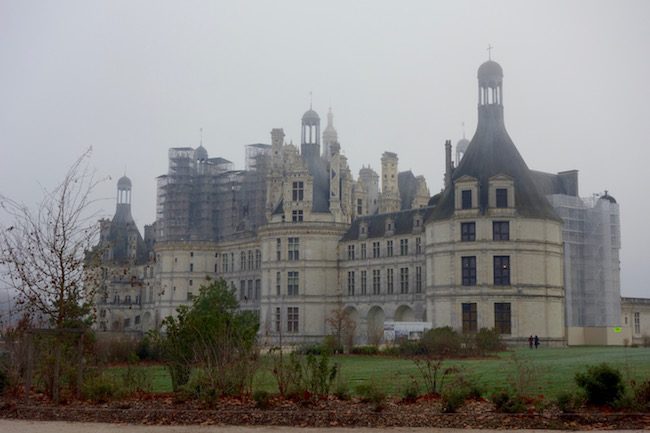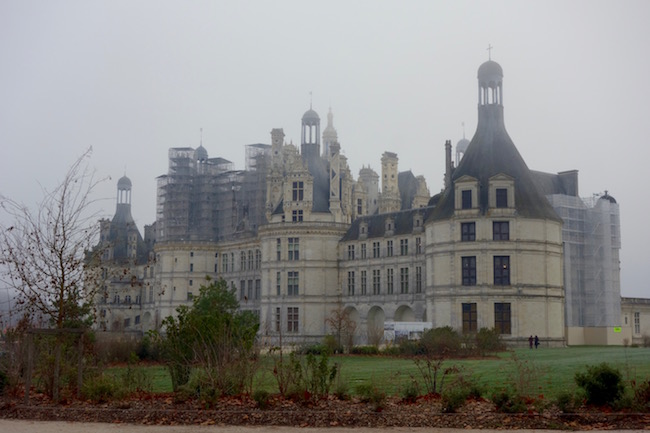 Visiting Chateau de Chambord in the Loire Valley, France
If you're like me, at the first glimpse of Chambord's towers, pinnacles and bastions your eyes will fly open as if a royal eagle had just grabbed your eyelids with his talons and flown upwards. Then you'll gasp and blink rapidly, waiting to see if the sight of the chateau becomes less astonishing. (It doesn't.)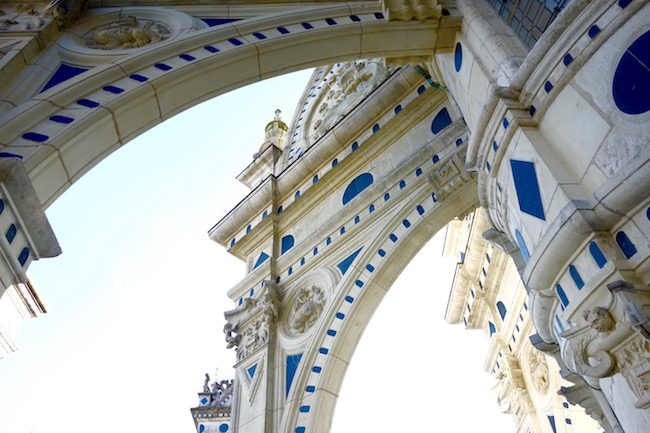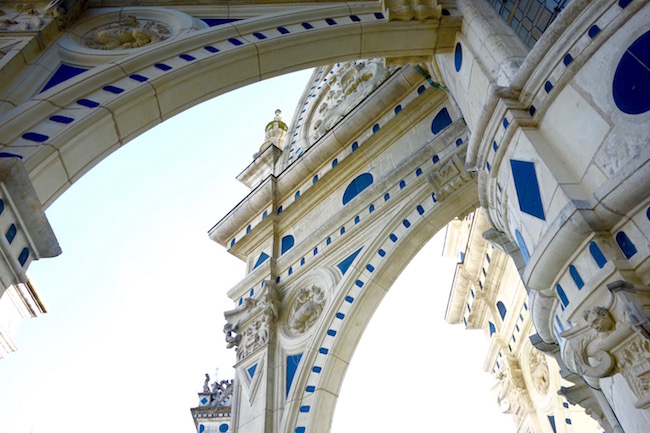 Built of white tuffeau stone, a local limestone that's soft for carving but hardens as it ages, the chateau is a mix of medieval French and Italian Renaissance architecture. It took decades to build, though that includes setbacks and delays such as that pesky inconvenience when Francois I was captured by Charles V, the Holy Roman Emperor, and imprisoned in Madrid until a huge ransom was paid.
When Chambord was habitable (although it wouldn't be totally complete until the reign of Louis XIV), King Francois considered it too draughty and rarely stayed here anyway.
As I said, it must be nice to be king.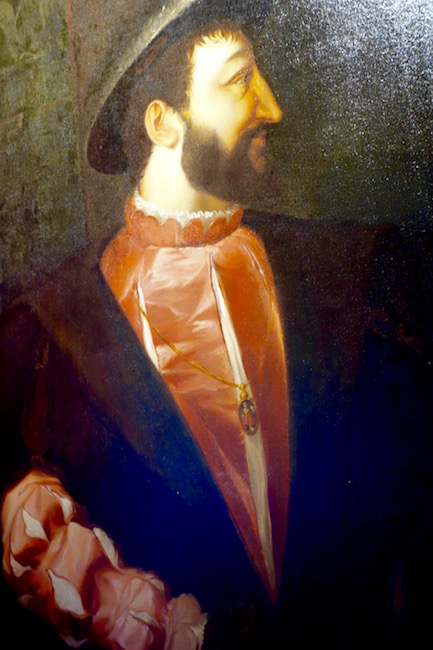 Inside Chateau de Chambord
Inside, the chateau is vast and pale and mostly devoid of furnishings. "It's magnificent," I think, standing in front of the famous double staircase that twirls down the centre of the chateau like a gigantic ivory carving, "But I wouldn't exactly call it homey."
That's because it wasn't built to be homey. Surrounded by thick forest, it was designed as a hunting residence, but also as a symbol of power and prestige, suitable for impressing foreign dignitaries such as Charles V (though why he was invited after imprisoning Francois I is beyond me) and, 500 years later, tourists like us.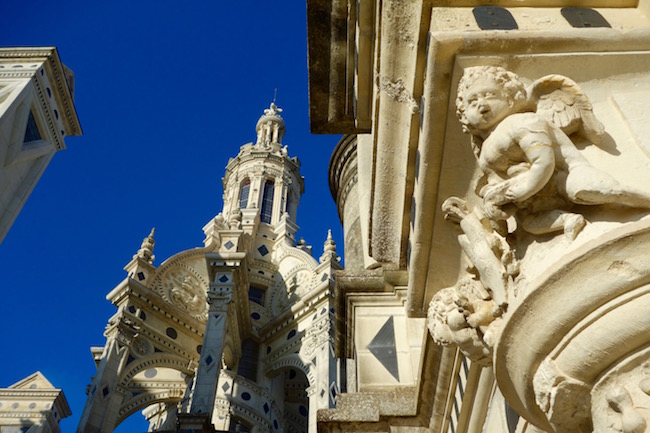 What to see at Chambord
If you're planning on visiting Chateau de Chambord, there are some highlights not to be missed. Here's a top ten list of things to do.
#1 – Walk up the double-helix staircase
We really need to talk about the double staircase. It's the most talked about architectural feature of Chambord, and the spine of the chateau … if, of course, chateaux had spines, and spines were columns of empty air surrounded by two circular staircase-shaped bones.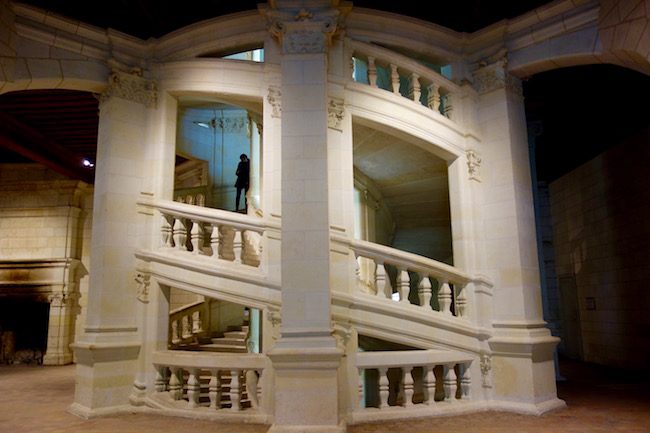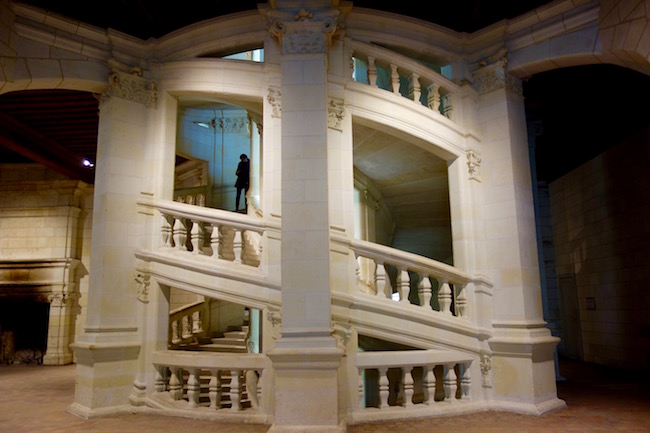 To experience the genius of Chambord's double-helix stairway you need to grab your partner or find a new friend, someone who you'd like to wave to but don't want to touch, because the beauty of the double-helix stairway is that both of you can walk up your own staircase and wave to each other (while grinning foolishly) but never actually meet.
My theory of the double-helix staircase and Francois I's love life
My theory of the staircases-that-never-meet is that they're symbolic of Francois I's emotional distance in love. He was married twice, had two official mistresses during his reign (and I'm not sure how many unofficial ones) and almost certainly had an affair with Mary Boleyn, Anne Boleyn's sister. Clearly the King wasn't physically distant, but he did spread himself a bit thin.
But it's not enough to marvel at a staircase that keeps lovers emotionally apart. The important thing to know is that it was likely designed by Leonardo Da Vinci, who Francois I lured to France and who made sketches eerily similar to the staircase before it was built.
Important bit of trivia: It was Francois I who bought the Mona Lisa, which is the reason it hangs in the Louvre today.
#2 – Spot the Salamanders
Yes, I'm serious. It's quite fun, like a treasure hunt. The crowned salamander was the emblem of Francois I and there are upwards of 800 salamanders carved into the stone ceiling of the main hall alone, so don't blame me if you end up with salamander fatigue.
Why did Francois I choose the salamander for his emblem?
I know, right? Personally I would have chosen a puma, but you have to give the King of France credit for originality. According to our guide, the salamander is associated with the symbol of fire. This fiery power could be used for evil … or justice. In other words, don't mess with Francois I. (And if you do, you'll really want to keep to that double-helix stairway where he can't touch you.)
#3 – Hang out with a HistoPad
Not to be critical, but you might find the vastness of Chambord's interior a little, er, cold and bleak. This is appropriate. The castle wasn't intended to be a permanent residence, and the French court was a nomadic beast, so furnishings were only shipped ahead if the King was planning to visit.
A HistoPad livens things up. With the Histopad, which looks like an iPad, you can circle around a particular room and the screen will magically show you how the room would have looked when someone was actually staying there. It's very enlightening, and explains why you'll see a number of people slowly spinning around, as if they still think they're climbing the double-helix staircase.
#4 – Find a hidden passage
This famous chateau is riddled with secret passages and hidden rooms, all the better for intrigue and affairs – no doubt Francois I made good use of them.
#5 – Don't miss the tapestries
Chateau de Chambord has one of the most impressive tapestry collections in France. Look for the exquisite La Chasse du roi François (King François hunting). Woven in the 1600s, it shows Francois I in all his royal hunting glory.
A debonair man with good looks (despite his large nose) and an imposing figure, he was a patron of the arts, had a sentimental love for chivalry, and is well worth picturing.
#6 – Tour the royal bedchambers
The Castle of Chambord may have some cavernous empty spaces, but it only makes the furnished rooms more exciting. On the first floor you can visit Louis XIV's lavish 17th-century bedchamber, and you don't even need the Histopad to visualize it.
#7 – Find the royal graffiti
In Francois I's bedchamber, which you can also see, it's said that the king himself, wounded by a failed romance, scratched this mournful bit of graffiti on a window:
Souvent femme varie, bien fol est que s'y fie. Translation: "Every woman is fickle, he who trusts one is a fool".
I somehow missed this choice bit of royal graffiti – I was too busy counting salamanders – but his heartbreak might explain my 'emotionally distant' theory.
#8 – Don't miss the roof terrace
Originally designed as a platform to watch the hunt down below (and no doubt an excellent spot for flirtatious noblewomen to get a good look at the king), the rooftop terrace gives you a sense of the immense size of the castle grounds which are roughly the size of Paris and completely walled in.
Even more eye catching (if you don't have a king to ogle) is the closeup look at the carvings, spires, dormers, columns and gables that make up Chambord's elaborate skyline of stone.
#9 – Explore the Domaine de Chambord – the castle grounds
If you're visiting the Chateau de Chambord during high season, you can rent a bicycle, electric vehicle (like a golf cart) or even a boat. At anytime of year you can walk.
#10 – Sleep on it
If visiting the Chateau de Chambord for a day isn't enough, the Domaine de Chambord rents out cottages just 200 metres from the chateau. Personally I'd prefer to sleep in a royal bedchamber, but as I'm not a queen and not a single emotionally distant king has invited me to stay, I'll have to content myself with counting salamanders and walking up double-helix staircases instead.
Travel tips for visiting the Chateau de Chambord in the Loire Valley, France
Where is the royal Château de Chambord?
Located at 41250 Chambord, Loir-et-Cher, it's 15 km west of the city of Blois.
How to tour the Chateau de Chambord
Self guided tour: Visiting Chateau de Chambord on your own is easy to do. Start with the free 20-minute film, then wander around and read the English-language panels. You can also pick up a free visitor guide at the entrance, buy the 7€ guidebook, get a 5€ audio guide or the 8€ HistoPad.
Short guided tours: One hour tours are offered every day from July to September. Price is 5€.
Day trip to Chateau de Chambord from Paris: A number of tour companies offer day trips to the chateaux of the Val de Loire from Paris. If you're pressed for time, this might be the way to do it. A quick google search will show you plenty of options.
Pin me!
What is the difference between the Domaine de Chambord and the Chateau de Chambord?
The Domaine National de Chambord is the entire walled-in area of Chambord, and includes the chateau, a village, farms and woodland.
Getting to the chateau
By car: Renting a car is probably the easiest way to explore the chateaux of the Loire Valley. The Chateau de Chambord is 2 hours south of Paris.
By train: Take the train from Paris Austerlitz Train Station to Blois-Chambord (about 1 hour 20 minutes) then, from April to October you catch the Château Shuttle for the 25-minute ride. The shuttle does a circuit of Blois, Chambord, Cheverny and Beauregard. At other times of the year you could take a taxi from Blois-Chambord.
Entrance price for the Domaine de Chambord
Adult price is 11€. Children under 18 free with parents (if under 16, only one parent is necessary).
Travel resources for the Loire Valley
For more information on visiting the Chateau de Chambord, cottage rentals, tickets, bike, boat or electric vehicle rentals and guided tours visit the website for the royal Château de Chambord.
My trip was organized by Atout France. Thanks to partners Val de Loire Tourism, Air France and MyWebSpot, which helped keep me connected along the way.
Read more about the chateaux in the Loire Valley. Top picks include: