This post may contain affiliate links.
With its elegant Neoclassical architecture and graceful colonnades, the Czech spa town of Marianske Lazne, or Marienbad, is one of the most appealing spa towns in Europe. If you're going to spend one day in Marianske Lazne, here are the top things to do.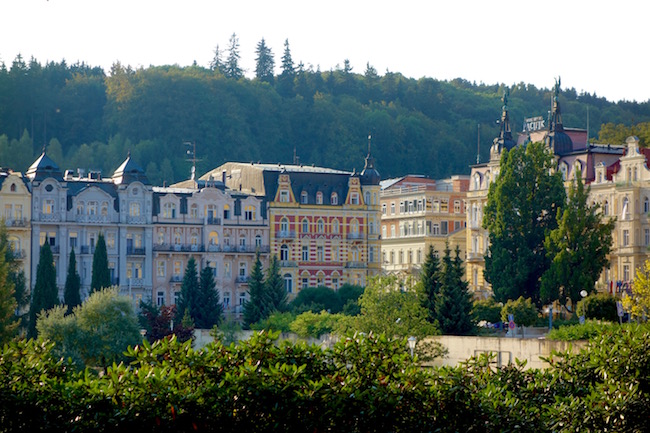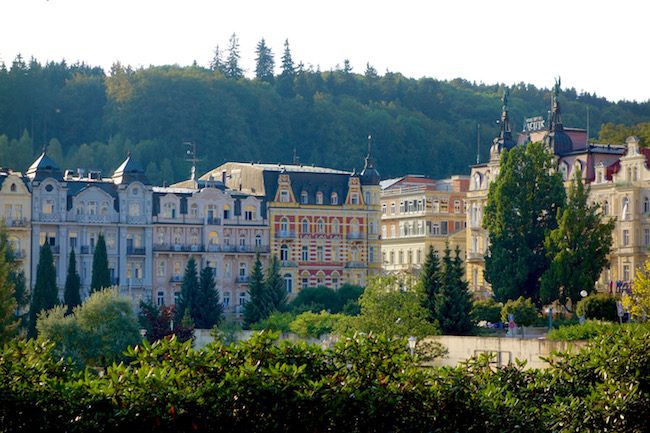 A historical Czech spa town
Ever since my first visit to Marianske Lazne, when I discovered the gargling pavilion, I knew I'd love this historical Czech spa town. Is there any other town on the planet that has a Neoclassical building just for gargling with healing mineral water? It was so odd and wonderful that I vowed to visit the gargling pavilion every day.
So each afternoon after my program of spa treatments, I'd walk to the park that housed the slightly faded building, pay a blonde woman behind a booth a nominal amount for a plastic cup, and go to my gargling stall.
Good for respiratory ailments
Granted, it was slightly gross when I heard a pot-bellied man in the stall next to me spitting into the sink, but the Forest Spring was said to be good for respiratory ailments, and besides, I was usually the only one there.
To me, the gargling room symbolized everything good (except for the gross spitting) about stepping into the past for a traditional spa cure, about visiting European spa towns and reliving a time when spa stays were gracious and lengthy and revolved around holistic treatments of mud, mineral water and even carbon dioxide.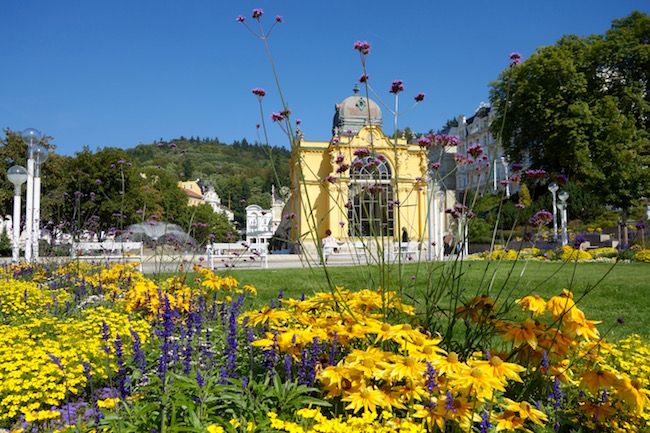 Return to Marianske Lazne
The problem is that now that I was back in Marianske Lazne years later, I couldn't remember where the gargling pavilion was. I hoped it hadn't disappeared. During my gargle-hunting travels, however, I saw just about every tourist attraction in and around town, so if you're planning a day trip to Marianske Lazne and looking for things to do, let me give you a travel guide.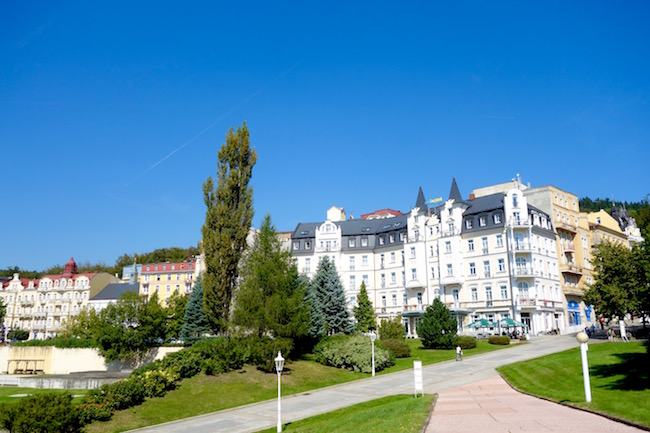 About Marianske Lazne
Marianske Lazne is the Czech Republic's second largest spa town after Karlovy Vary. It's totally walkable and so eye-catching it hardly seems real. In the 19th century it was popular with celebrities and royals alike. Among its A-list guests were King Edward VII of Britain, Czar Nicholas II of Russia and the Hapsburg Emperor Franz Joseph I, not to mention Mark Twain, Thomas Edison, Goethe, Chopin and Churchill.
Today, spa lovers come here for comprehensive spa programs that range from a few days to three weeks, but if you just want to spend one day in Marianske Lazne as a tourist, you'll find plenty to do.
One day in Marianske Lazne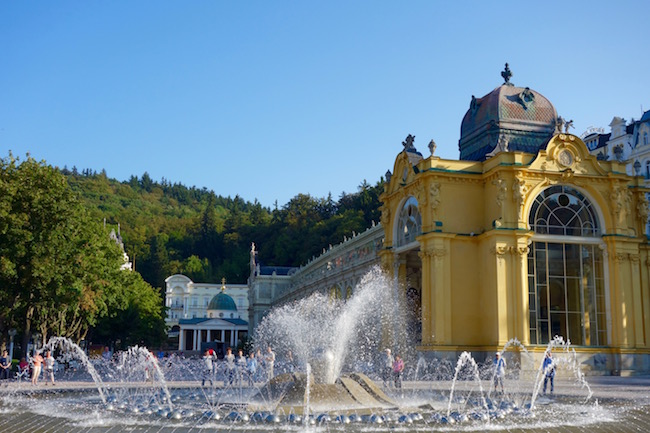 Visit the Singing Fountain
With 250 jets, the Singing Fountain (Zpivajici Fontana) is probably the most popular tourist site in town and comes complete with lights, music and tourists taking videos on their cell phones. Time your visit right. The fountain starts dancing to music every odd hour during the day and evening, plus there's a final performance at 10 p.m.
You'll find the Singing Fountain in the main spa zone at the end of the main Colonnade.
Stroll through the Colonnade
Another unmissable sight in Marianske Lazne is the Colonnade (the Kolonada), or, to be more exact, Maxim Gorky's Colonnade. A graceful cast iron structure, it's a bit sleepy but it's the spine of the spa zone, connecting the Singing Fountain with the Cross Spring Pavilion.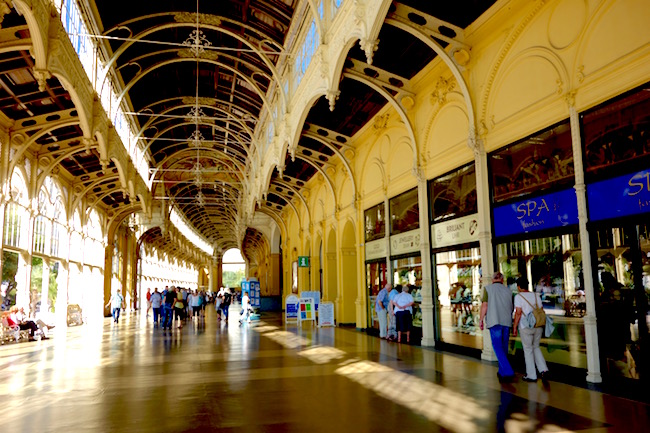 Have a wander through, there's a nice clothing shop, some souvenir shops, a cafe and a spa bureau where you can organize spa treatments. While you're there look up at the ceiling frescoes that symbolize man's quest for flight.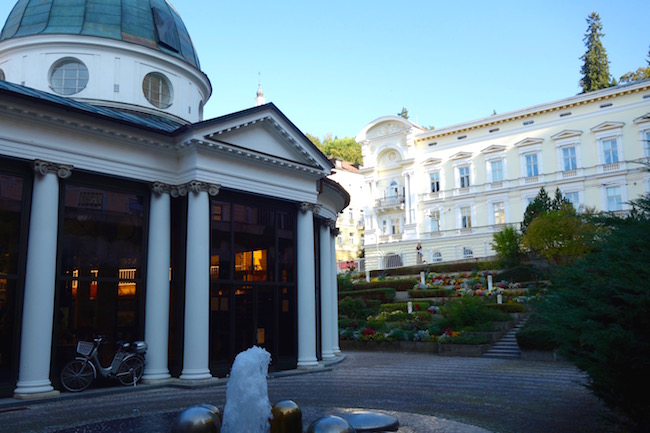 Taking the waters at the Cross Spring Pavilion
The Cross Spring was the first spring to attract visitors back when Marianske Lazne was nothing but a marshy swamp. Today it's the heart of the spa zone and where you'll find all the hardcore spa goers drinking their prescribed ration of spa water.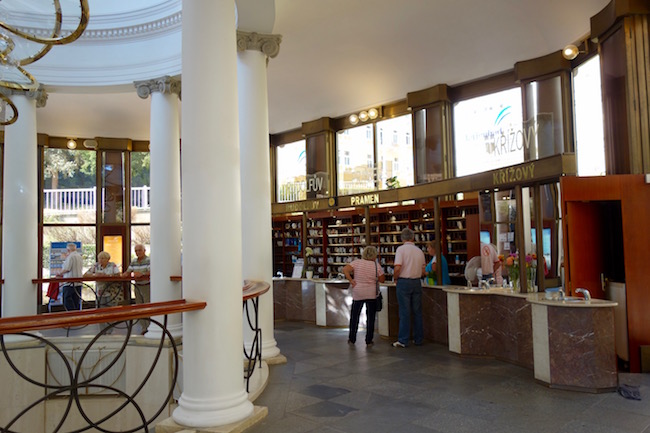 Drinking the water
Sampling the various springs is endlessly fun and one of the top things to do in Marianske Lazne. Everyone says to be careful and not to drink too much as each spring treats a different ailment. Personally I always go overboard because I get so excited about spa water. Please don't do that because then you'll get a stomach ache or diarrhea and blame me. (And then you'll associate this travel blog with diarrhea forever.)
Eat a spa wafer
Something's got to soak up all that mineral water, so take a spa wafer break. There's a shop called Lazenske Oplatsky that sells these popular thin wafers filled with delicious things such as hazelnut and chocolate just down the pedestrian street from the Cross Spring Colonnade.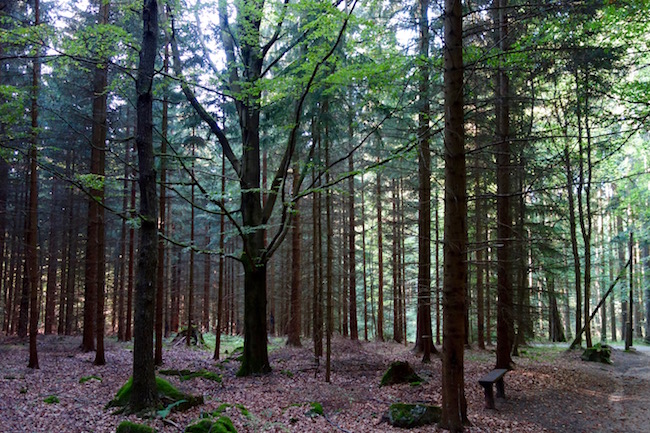 Head for the Slavkov Forest
Marianske Lazne is a walkable town. It's even more walkable once you get out of it. Usually I just head northwest to the slope that rises above the spa zone and end up on a trail. It's always a walk of discovery as you'll constantly stumble upon little shrines, monuments and pavilions nestled in the trees when you least expect it.
Trails in Marianske Lazne
If you like hikes and strolls, walking some of the many historical trails is one of the top outdoorsy things to do in Marianske Lazne. You'll have fun checking out the Goethe Trail, Royal Trail, Mitterach Trail and the Edward Trail, though I found it a challenge to stay on any particular one, and usually ended up zigzagging along two or three before landing up back in town. Get a map from the tourist board or your hotel, or study the info boards you'll find at trailheads.
No doubt at some point you'll land up at the Geological Park, a trail through the beech forest that highlights no end of rocks and flora and will get you well acquainted with the geology of the region.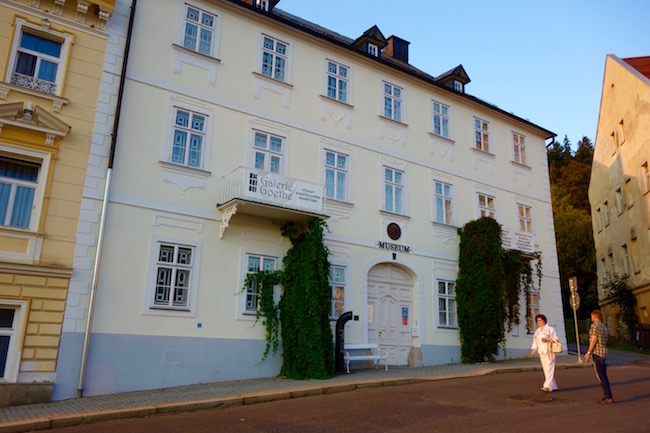 Day trip through Marianske Lazne's history at the Town Museum
Looping back into the spa zone it's time to do some sightseeing into the town's elegant past. Although the mineral springs have been known for centuries, the town itself was only founded in the early 19th century.
For an overview visit the Town Museum located in the former pension where Johann Wolfgang Goethe stayed in 1823. A short film (ask for the English version) gives you plenty of insight into the spa history. (Closed Mondays.)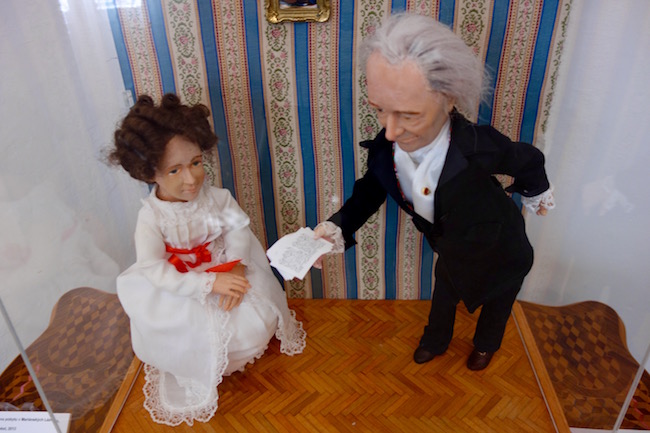 Important Goethe and Ulrika gossip
It was in Marianske Lazne the 74-year old Goethe fell madly in love with 19-year-old Ulrika von Levetzow. Sadly for him, Ulrika turned down his marriage proposal at his birthday party in the nearby town of Loket, and I'm not sure he ever recovered.
Pin me!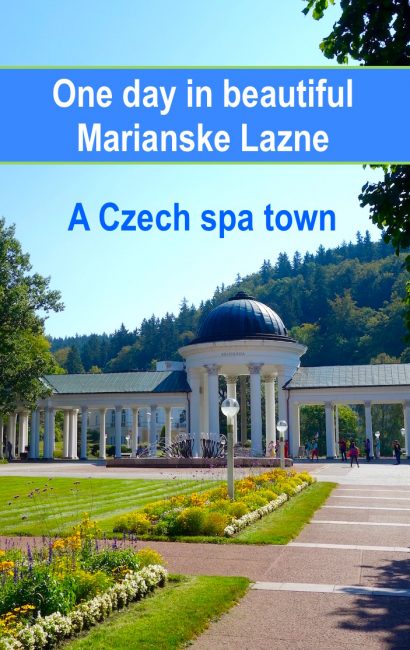 Statue of Goethe
Outside the Town Museum in the park across the street you'll find a bronze statue of Goethe. Feel free to pretend you're Ulrika and give him a kiss, or at least a friendly pat on the back.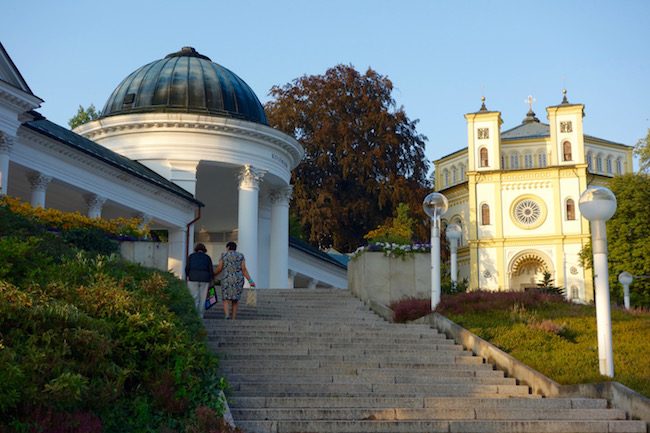 Russian Orthodox Church
Just across the green lawn on Ruská Street 347/9 (Russian Street) is the Russian Orthodox Church built between 1900 and 1902.
Fryderyk Chopin Memorial Museum
If you only have one day in Marianske Lazne you might not have time for two museums, but if you do the Chopin Museum is on the second floor of the Chopin House on Hlavní 47. (Warning: The museum is often closed so good luck.) It's said that when Chopin would practice the piano while staying here crowds would gather outside to listen at the window.
And, in the famous-men-in-love-with-young-women-in-Marianske-Lazne category, Chopin was besotted by 16-year-old Maria Wodzińska, whose family was taking the waters here. They eventually became engaged, however he was no more successful than poor Goethe in the love department, because Maria ended up marrying someone else.
Nonetheless, it does leave one wondering if the famous springs of Marianske Lazne act as a love potion, at least for men.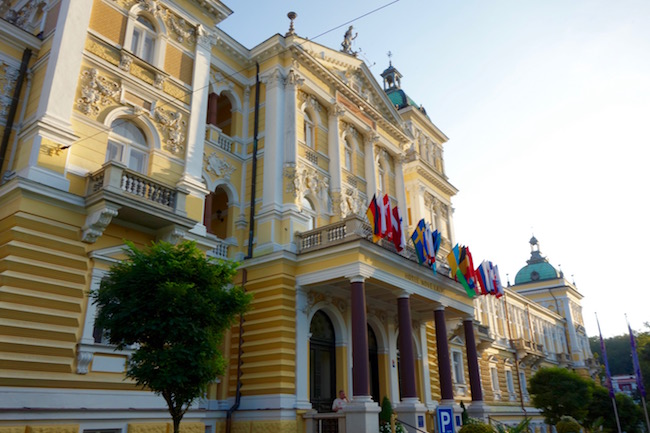 Get a spa treatment at Hotel Nové Lázně
If you want to sample a Czech spa head to the prize of Marianske Lazne, the 5-star Hotel Nové Lázně (where I was lucky enough to stay for a week). This old world hotel has a vast spa offering every treatment you've never heard of as well as an atmospheric swimming pool with its original red pillars from 1896.
Have a royal bath in the Royal Cabin
The Hotel Nove Lazne also has the 2-room bathing cabin where King Edward VII bathed in royal splendour.
How to arrange a spa treatment
Entrance to the spa wing of the Nove Lazne Hotel is at the eastern corner of the hotel. Here you'll find the spa information office. If it's not too busy you can purchase a day pass to use the pools. Even better, opt for a private mineral bath in the Royal Cabin so you can bathe in the same tub where King Edward's royal bottom once rested.
Warning: Book early. The Royal Cabin sells out and it us truly a once-in-a-lifetime bathing experience. (Unless of course you go twice.)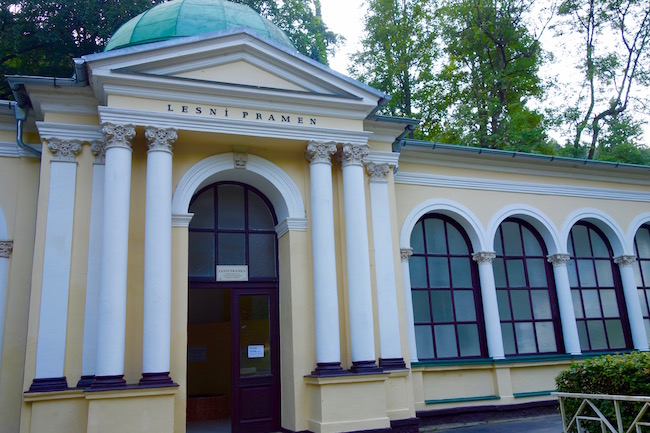 Back to that gargling pavilion
That should pretty much take up your one day in Marianske Lazne. Just to round out my story (and to bore you to tears), let me tell you that toward the end of my stay I walked up toward the edge of town where a park fades into forest and there it was, the elusive gargling pavilion!
The name of the pavilion is Lesni Pramen, the Forest Spring, and as per my memory it was deserted. I rushed in ready to gargle, but sadly there was no blond woman to sell me a plastic cup, and the gargling stalls were boarded off.
At least the fountain was still there, burbling up its iron-rich water just as it had for centuries. I took a mouthful, gave a little gargle for old times' sake and went on my merry spa-loving way.
Travel tips for One day in Marianske Lazne (Marienbad)
Getting to Marianske Lazne
From Prague: Driving from Prague to Marianske Lazne takes 2 hours. By train: From Prague to Marianske Lazne you can catch a train from Hlavní Nádraží Station (the main train station). The fastest train is the high speed Pendolino that goes twice a day and takes about 2 and a quarter hours. It's a bit long for a day trip so you may want to spend the night.
Marianske Lazne makes a perfect day trip from Karlovy Vary (Carlsbad). From Karlovy Vary you can take a train or a bus. Driving is about 45 minutes to an hour. By train it's about an hour and 20 minutes.
Where to eat in Marianske Lazne
Generally people eat in their hotels as part of their spa package. Locals recommend Medité, a Spanish tapas-style restaurant at Hlavní 279/7.
Where to stay
If you want to stay more than one day in Marianske Lazne, Danubius Hotels have some of the best  Marianske Lazne hotels. I've stayed in the 4-star Hotel Hvezda and the 5-star Hotel Nove Lazne and would recommend both. Both have ornate historical exteriors, modern rooms, pools and are smack in the middle of the spa zone.
Note about Czech bathing traditions: Swimming pools use regular water. If you want to try the mineral water, you need to opt for a mineral bath in a private cabin.
Karlovy Vary or Marianske Lazne?
Karlovy Vary is more glamorous, more active and larger than Marianske Lazne. If you want something a little more quiet and gracious with a tranquil feel, choose Marianske Lazne. I have to admit that though I love visiting Karlovy Vary, my heart will always be with Marianske Lazne.
To book spa packages, get hotel information and learn about the various spa cures in Marianske Lazne visit the Danubius website or read my article on How to Spa in Marianske Lazne.
Day trips from Marinaske Lazne: Check out the Tepla Monastery, a day trip from Karlovy Vary, Marianske Lazne or Prague.
My trip was subsidized by the Czech Tourism Office. All opinions and spa fanaticism are my own.
For more info on Europe read Top Destinations in Europe.