This post may contain affiliate links.
Looking for a fun activity in Versailles? What about a photo shoot? Immerse yourself in the 18th-century French court by channeling Marie Antoinette at Costumes and Chateaux in Versailles.
Channeling Marie Antoinette
Have I mentioned I'm very elegant? So was Marie Antoinette, Queen of France, with her ornate court dresses and elaborate 'poufs' – towering hairstyles that incorporated anything from ostrich plumes to a scene of the Garden of Love, complete with trellises and courtiers. Is it any wonder then, that while I'm visiting Versailles, home to the most lavish palace in France, I've decided to embrace all things ornate and luxe?
An experiential attraction in Versailles
I'm going to start by channeling Marie Antoinette, or at least one of her select few besties (preferably one who survived the French Revolution) during a photo shoot at a chic boutique and studio called Costumes and Chateaux in Versailles. Located on Louis Plaza across from the looming Cathedral of St Louis, it sells exquisite artisanal items and specializes in costume rentals and photo shoots with period 18th-century outfits – an ideal way to get into the spirit of aristocratic Versailles.
Costumes and Chateaux in Versailles
Breathless from taking a wrong turn and doing a panicked speed walk down the last few streets, I leap into the shop a few minutes late for my appointment with owner, Clementine Chaumereuil. Fanning my face I stare in delight at this cluttered shop of wonders. Wigs, hats and jewelry perch on shelves. Elaborate outfits for men, children and women hang on the wall.
Best of all is the rack of dresses in as many hues as there are flowers in Versailles' English Garden. If it weren't for my jeans and boots, I'd feel like Marie Antoinette stepping into her private boudoir.
Marie Antoinette's wardrobe
Even Costumes and Chateaux, of course, can't compare to Marie Antoinette's vast wardrobe, which filled three entire rooms at Versailles. Considering she changed three times a day, and required a constant stream of new fashions, it's easy to see how the ruffles would stack up.
Since I'll only be wearing one dress I have trouble narrowing it down. At first I'm drawn to a floral pink, as I know Marie Antoinette was fond of floral scents, then my eyes land on an irresistible dove grey.
Now if I could just get it over my head.
Marie Antoinette's gazette des atours
Luckily my ladies maid the cheerful shop assistant, Marie, comes to my rescue as I slide into a voluminous crinoline and struggle to slip the dress over my head. It's not easy, but it's nothing like the formal ritual Marie Antoinette had to go through each day. After choosing her day's outfits from her gazette des atours, a fat book containing fabric swatches from each of her gowns, she would be dressed with the aid of the highest-ranking noblewoman while the lesser noblewomen watched.
Is it any wonder she rebelled from the strict rules of the French court and preferred to spend time with her closest courtiers at Trianon Palace, her private retreat on the Versailles grounds?
Marie Antoinette was a fashion icon
A true fashionista, Marie Antoinette dedicated much of her time and energy to fashion. Some put this down to her shallowness and immaturity, others believe that as a foreigner (she was Austrian) and a mere young woman at the sophisticated French court, it was the only thing in her life she could control. Whatever the reason, she relished her regular meetings with her dressmaker and stylist, Rose Bertin, who became a confidant and friend.
Pin me! I won't scream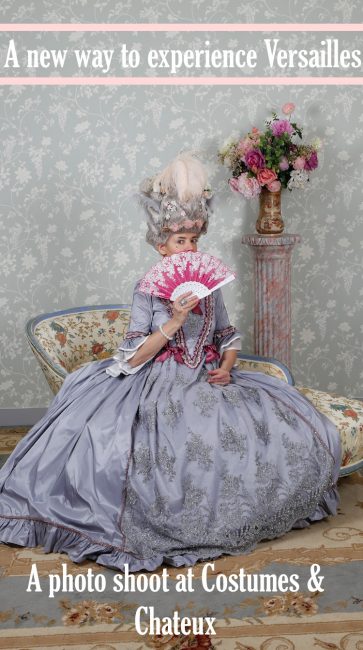 Rose Bertin, the power behind the fashion throne
Perhaps the Queen was too devoted to Bertin. While the dressmaker kept Marie Antoinette ahead of the fashion curve (and is, in fact, considered the world's first celebrity stylist), it was a doomed partnership. Bertin's astronomical prices spawned mutterings of Marie Antoinette's excessive spending while people went hungry, and courtiers were angry and jealous a commoner such as Bertin had such a close association with the Queen.
When Marie Antoinette's star fell, so did Bertin's, who fled Paris in 1792.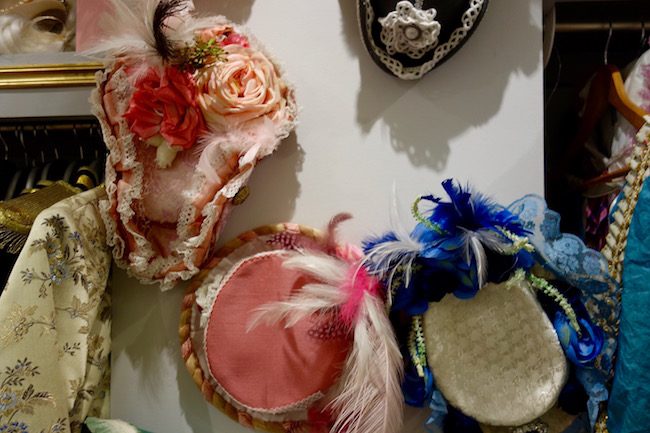 Costumes & Chateaux, a Versailles original
It's a sobering reminder not to get too caught up in frivolous things such as fashion, and even Marie Antoinette would come to champion the simple muslin chemise (more for comfort than economy), but just this once (oh, who am I kidding?) I let myself get seduced by the rustle of silk and brocade. And, since Bertin, I mean, Costumes & Chateaux owner Clementine Chaumereuil, makes all the dresses right here in Versailles, it's practically an essential cultural activity, is it not? I'm doing it for France!
Hairstyles during Marie Antoinette's time at Versailles
Next comes the wig crafted by the wigmaker for the Comedie Francais in Paris. According to Clementine the French court at that time preferred light hair. "But they didn't have L'Oréal!" she says. "They bought hair from Nordic countries."
It was Marie Antoinette's personal hairstylist, Leonard Autié, who created the fantastical high hairdos Marie Antoinette became famous for. These lofty and expensive 'poufs' quickly caught on, causing more than one socialite to go into debt, and furthering criticisms against the spendthrift Queen. And while the wigs I try aren't quite as elaborate as the Coiffure à la Belle-Poule, a creation that celebrated the victorious naval battle of the frigate, La Belle Poule, by sporting a ship complete with masts, rigging, and guns, it's more fanciful than any hairstyle I've ever worn.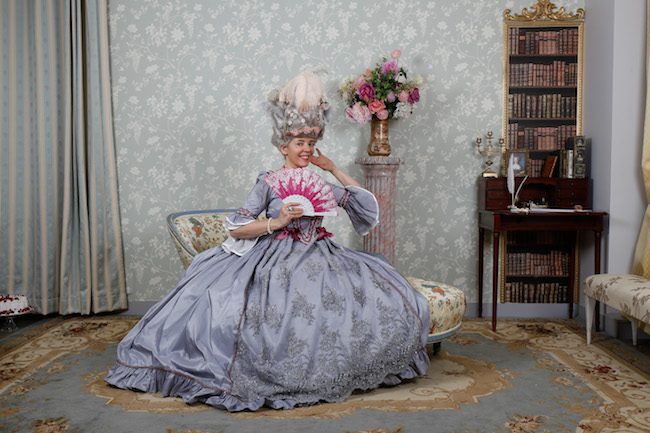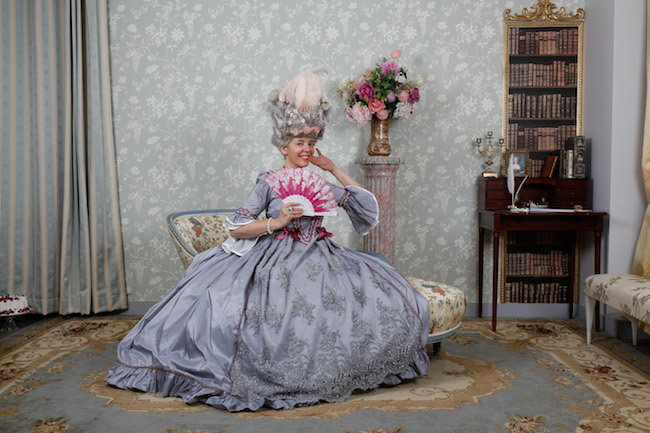 A costumed photo shoot in Versailles
The photo shoot itself is hysterical. I'm lounging on divans, posing in hats, pouting with umbrellas and simpering with cake while Clementine works the camera. It's as over the top as the 18th-century French court itself and, while Marie Antoinette detested the relentless attention focused on her as queen, I'm enjoying my royal moment, and keep thinking it would be such a fun thing to do as a couple on a romantic weekend in Versailles.
The French Revolution
I feel a bit Cinderella-after-the-ball-ish when it's over, stripped of my wig, ruffles and finery. I'm far better off than Marie Antoinette, however, who, having become a hated symbol for the excesses of the monarchy, was stripped of her finery permanently. In 1973, a victim of the French Revolution, she faced the guillotine in a modest white cotton dress and black petticoat, her hair shorn and covered with a simple lace cap – the days of being France's fashion icon over forever.
About Costumes & Chateaux in Versailles
Costumes & Chateaux is located at 1 Place Saint Louis 0 7008 Versailles. Tel: 01 71 41 07 95. It's within easy walking distance of both the train station and the Palace of Versailles. Prices vary depending on what package you choose but start around 40€ pp.
Opening hours. Costumes & Châteaux is open Tuesday, Thursday, Friday and Saturday from 10:30 a.m. to 1 p.m. and from 2:30 p.m. to 7 p.m. The photo studio is open Tuesday through Saturday. Photo shoots are done by appointment only and can be done in the evening from 7 p.m. to to 9 p.m.
Visit the Costumes and Chateaux website for more information.
The store and studio does photo shoots, costume rentals for grand Versailles balls (I want to go to a grand Versailles ball!), and sells one-of-a-kind dresses for children. How would that be for a Versailles souvenir?
My studio shoot at Costumes & Chateaux was complimentary (thanks very much!) and was organized by the tourism office. For more information on Versailles Tourism visit the official website.
Photo credit: All photos of moi were taken by Costumes & Chateaux.