This post may contain affiliate links.
Visiting Chateau d'Amboise, France, is a highlight of any Loire Valley tour. Known as the Royal Nursery, many future kings and queens were raised here, and Leonardo da Vinci worked here in 1516, but this popular French castle hides more than one tragic tale.
Visiting Chateau d'Amboise, France
The Chateau d'Amboise killed Charles VIII in 1498. Yes, the castle killed him. The 28-year old king of France smacked his head on the lintel (a top beam) of a doorway on the way to the castle's Haquelebac Gallery that overlooked the castle ditch, where a game of Jeu de Paume was going on. He collapsed soon after and died. To make matters worse, the Haquelebac Gallery was a filthy spot, where, ahem, people were known to urinate. Not a choice place to die.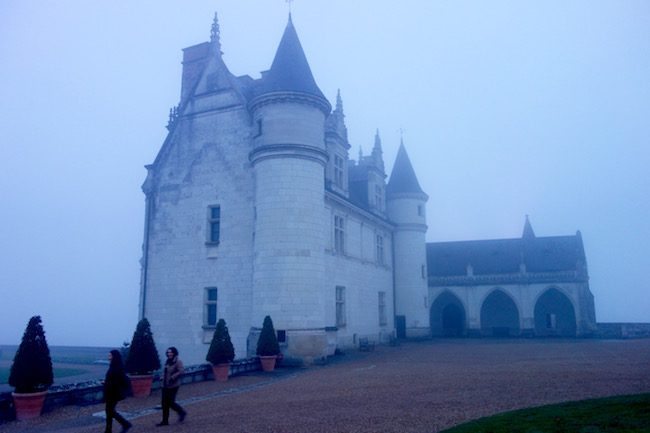 A gloomy day for visiting Chateau d'Amboise
For a much-loved castle in the scenic Val de Loire, the fate of Charles VIII is a dark bit of history, but it suited the weather as I walked up the long ramp to the castle. Fog and rain shrouded the peaked towers and round turrets, and I could easily picture another tragedy ready to happen. Once inside, I looked around nervously, but all doorways and lintels seemed lofty enough to safely pass through.
What caught my interest more was the elegant Council Chamber, a high-ceilinged hall with pointed arches and white pillars carved with fleurs-de-lis and ermine tails.
Chateau d'Amboise history
Built on a rocky outcrop overlooking the Loire River, the Royal Chateau of Amboise dates back centuries it was the 15th and 16th centuries that made it famous. While it's known for its late Gothic and early Renaissance architecture and furnishings, and its connection to Leonardo da Vinci, who moved to Amboise in 1516, it has more than one tragic tale to tell. And since I'm a dismal sort of person who likes to dwell on sad sordid histories, I plan on sharing a few.
Charles VIII at Amboise
But first we need to take another look at Charles VIII. Why? Because before his death at the hands of the chateau (if chateaux had hands) he went to Italy and brought back the Renaissance. Normal people bring back souvenirs, like a tea towel with a picture of the Colosseum on it. Charles brought back an entire artistic movement along with furniture, fabrics, artists and stonemasons.
Mind you, most people don't go sightseeing with an invading army at their side and conquer Naples while they're at it. (Though he did almost get trapped trying to come back.)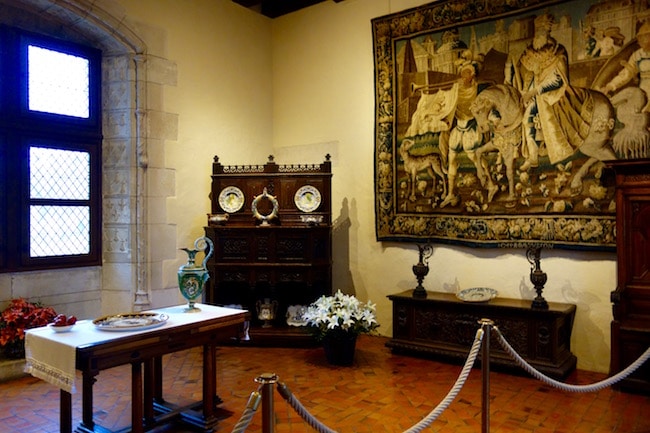 A love affair with the Renaissance
While in Italy the youthful King Charles grew enamoured of the art and architecture of the Italian Renaissance – and one of his most ambitious projects when he returned was to reconstruct Amboise Chateau.
Two kings later, the handsome Francis I who, like Charles VIII, grew up at the chateau, continued to enlarge it. He's the one who invited Leonardo da Vinci to France. And while the chateau is now a fraction of the size it was at its peak, it's still one of the most visited chateaux on the Loire Valley castle trail.
Chateau d'Amboise and Leonardo da Vinci
Happy to escape political turmoil in Rome, the 64-year-old Leonardo da Vinci came to Amboise and brought a few of his favourite paintings, the Mona Lisa included. He was given the title of 'Premier Painter and Engineer and Architect of the King' and housed in the nearby Château du Clos Lucé.
Da Vinci died in Amboise in 1519, and his tomb lies in the delicate-looking gothic Chapel of Saint-Hubert on the castle grounds – so if you're visiting Chateau d'Amboise don't miss it.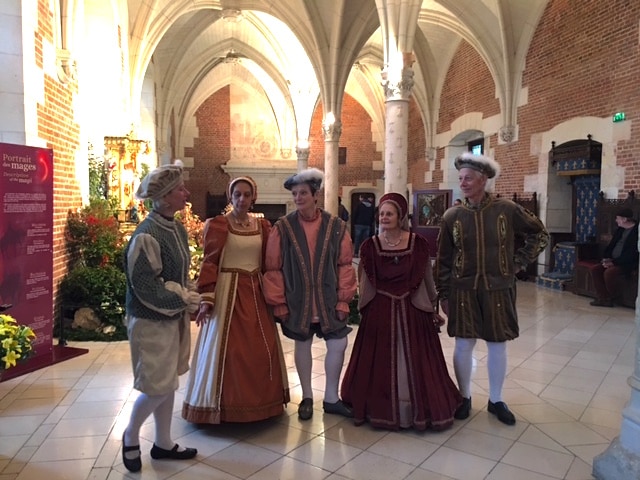 Dancing the Renaissance
I didn't bring a masterpiece like the Mona Lisa with me, but I did bring my dancing boots. I was here to learn a Renaissance dance, a special invitation I was thrilled to accept.
Correction: I was here to attempt to learn to dance. If the castle keepers had had any idea how uncoordinated I am – a trait I apparently shared with Charles VIII who did, after all, walk into the beam of a door – they might have had second thoughts. I just hoped they had liability insurance.
Touring Chateau d'Amboise
Before dancing, I toured the castle, so if you're visiting the Amboise Chateau for yourselves, here are some highlights you won't want to miss:
Visit the Guards' Room to see weapons, armour and models of the chateau then and now.
In the Council Chamber, a room where many festive events took place, notice the two fireplaces, one Gothic style and one Renaissance. You'll also see a throne decorated in royal blue fabric and gold fleurs-de-lis.
The Drummers Room was once the king's dressing room.
The Cupbearer's Room shows the king's table. The tapestries are French 17th century.
The bedroom of Henri II who was married to Catherine de Medici.
The Orleans Apartments show the castle during the 18th century.
Check out the Minimes Tower (Tour des Minimes), where you can stand outside and look out over the Loire Valley.
The gardens designed for King Charles VIII by a Neapolitan monk and gardener.
Chateau d'Amboise and Anne Boleyn
As I stand in the Cupbearer's Room, a room lined with tapestries, I try to imagine Anne Boleyn whisking past. Years before she caught the eye of the English Tudor king, Henry VIII, she came to the French court in 1516 to serve the wife of Francis I, Queen Claude.
Queen Claude had a particular fondness for Amboise, and since Anne arrived just before Leonardo da Vinci it's almost a certainty she and Leonardo da Vinci would have crossed paths. If only Leonardo had painted her, what an intriguing masterpiece that would have been. And if only Anne Boleyn had stayed in France, she might not have lost her head when Henry VIII grew tired of her.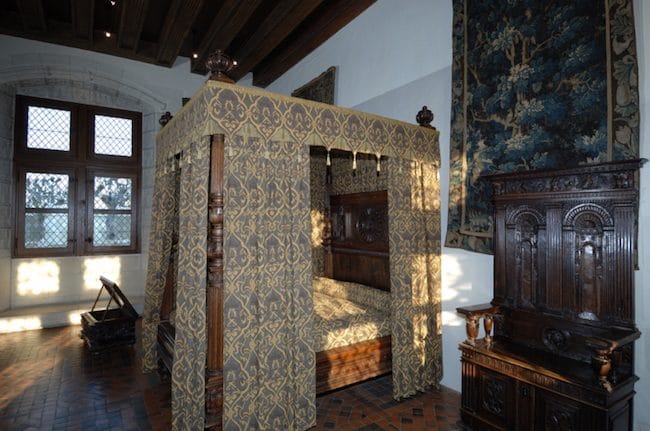 Mary Queen of Scots in Amboise
A generation later Amboise chateau became home to five-year old Mary Queen of Scots and her four-year old betrothed, the future Francis II. When he died at the age of 16, Mary returned to Scotland and we know what happened then. Like Anne Boleyn, she was beheaded at the Tudor Court.
Keeping my head
I was determined to keep my head during my dance lesson. My fellow dance student, Rachel, and I studied the troupe of costumed dancers as they went through the steps. Anne Boleyn was known for her grace and lithe dancing, maybe I could channel her. It seemed simple enough, but I immediately went twirling off the wrong way.
The problem was that when I should have been concentrating on hopping and stamping, I was thinking about one of the most tragic affairs to ever hit the chateau, the Amboise Conspiracy of 1560.
The Amboise Conspiracy
The conspiracy was a plot spearheaded by a group of highborn protestant Hugenots to kidnap the young king Francis II (Mary's husband) in order to remove him from the influential grip of the powerful Catholic Guise family.
The plot was discovered. As the Hugenots arrived at Amboise Castle they were arrested and slaughtered. Bodies were strung on iron hooks around the castle walls, on trees, even from a castle balcony. Others were thrown into the Loire River or drawn and quartered. Some 1200 Hugenots died altogether.
The decline of the Royal Chateau of Amboise
The stench of rotting bodies forced the court to move on. This, as you can imagine, didn't do much for the chateau's image. It never regained royal favour. In the 1700s it was used as a prison, in the French Revolution much of it was destroyed, and it was further damaged when the Germans invaded in 1940. At this point you might be thinking it's a miracle the chateau survived at all.
A visit to Amboise Chateau today
But it did survive and underwent a bit of second renaissance in the 19th century. Today it's maintained by the Count of Paris and, as our group of dancers switch to a more stately court dance, I'm not thinking of tragedies but of ethereal-looking chateau where royal children laughed, art and culture flourished and the French Renaissance was born. I still blame this overload of castle images for my disastrous show at dancing, but at least I didn't fall and crack my head.
Travel guide for visiting Chateau d'Amboise, France
Pin me!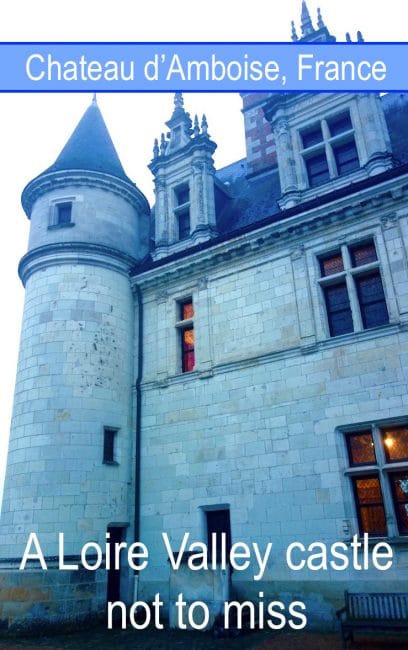 Where is Amboise?
Amboise, France, is located in the Loire Valley just 20 minutes from Tours by train and about 225 km (140 miles) from Paris. It overlooks the River Loire between Tours and Blois. You can visit Amboise Chateau on your own or join one of many Loire Valley Chateau day tours from Paris or Tours.
Chateau d'Amboise hours: The Royal Chateau of Amboise is open for visitors every day except Christmas Day and New Years. Opening hours are 9:00 a.m. while closing hours vary from 4:45 to  7:00 p.m. depending on the season. In low season, it may close at lunch. Check the chateau website for information.
Entrance Prices:
Adult – 11.50 €. With audioguide 15.50 €
Student – 9.90 € With audioguide 13.90 €
Child 7-18 – 7.70 € With audioguide 10.70 €
Under age 7 free
Tours of Chateau d'Amboise
If you're visiting Chateau d'Amboise you might want to sign up for some unique activities. Here are some suggestions of things to do at Amboise Chateau:
iPad fantasy world: Perfect for teens and kids is a new iPad tour that leads the viewer into a fantasy world of heroes, games and history during the reign of Francois I. Price is 5 € in addition to your ticket.
An underground passageway and towers tour: Offered every day during July and August at 5:00 pm. During April and May it's Friday, Saturdays and Sundays at 5:00 pm. In September, same days but at 4:30. (Tours are in French.)
Summer evening sound and light multimedia show at the Royal Chateau of Amboise: The Prophecy of Amboise is a recreation of the Court of Charles VIII with more than 250 volunteers taking part. Generally, shows are on Wednesday and Saturday evenings with a few Tuesdays and Fridays thrown in. Visit Renaissance Amboise for exact dates and times at tickets and info.
Chateau d'Amboise Gardens
If you're visiting the Chateau Amboise don't miss the gardens. The Naples Terrace, which dates back to the late 1400s, was the first Renaissance garden in the Loire Valley, while the Jardin d'Orient was created in 2005. Make sure to give yourself time to stroll around.
The town of Amboise
If you're looking to stay in the Loire Valley, Amboise town is one of the best destinations to stay overnight. It's atmospheric, not too big and has a train station. If you want a larger centre consider staying in Tours.
Things to do in Amboise
Visit the Château du Clos Lucé for a a look at the life and work of Leonardo da Vinci. See the website for more info.
Eat: Once you leave the chateau you'll walk down the ramp and see Bigot, an inviting cafe and patisserie. Bigot is at 2 Rue nationale, 37400 Amboise.
Three km south of the town of Amboise is the Mini Chateaux Park where – you guessed it – you can see an overview (or a mini view) of the chateaux of the Loire Valley spread out over 1.5 km.
Visiting Chateau d'Amboise – how to get there
How to get to Amboise from Paris by train: Direct trains leave from the Paris Austerlitz train station, in the 13th arrondissement. Get to Austerlitz Station from lines 5 and 10 on the metro or from the RER line C. From Paris to Amboise, it takes about 1.5 to 2 hours on the direct train. Note: make sure the train goes direct to Amboise (direction Bayeux). You may have to transfer at St. Pierre des Corps. Some people take the TGV to St. Pierre des Corps and rent a car from there.
From Tours to Amboise by train: There are trains during the day from Tours to Amboise practically every hour. Travel time is about 20 minutes. To visit the chateau you'll need to cross the bridge.
Driving to Amboise: Many people find renting a car is the best way to explore the Loire Valley chateaux. If you're driving to Amboise from Motorway A10, take the Amboise exit, then the D31 followed by the N152 for 15 km. From Motorway A28, take the Tours-Sud interchange in the direction of the A85. From Motorway A85, take the Bléré – Amboise – Chenonceau exit, then the D31 in the direction of Amboise.
Touring the Loire Valley of France? Check out more Loire Valley Chateau articles:
Loire Valley chateaux at Christmas
Get more Europe travel ideas at Top destinations in Europe.
My trip was subsidized by Atout France. A huge thank you to them and  Val de Loire Tourism for making the trip possible.