This post may contain affiliate links.
If you're interested in Canada fishing trips, here's an outdoor adventure with Pouvoirie du Lac Blanc, an outfitter in the Mauricie region between Montreal and Quebec City. Whether you're a skilled fisherman or a beginner, a fishing trip in Quebec may just take soul searching to a deeper wetter level.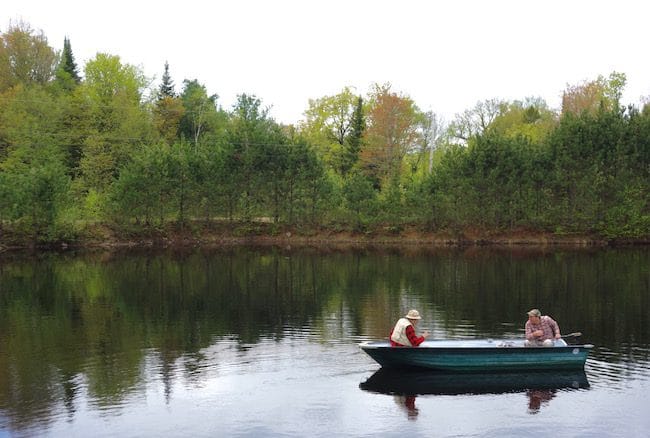 Canada fishing trips – a Quebec outdoor adventure
"The first thing you have do do is cut the worm in half with your teeth and put it on the line," says Stephane, our tanned Quebecois guide, as my friend Claudia and I take seats in a 14-foot fibreglass boat on Lac Roche.
"Arggghhh!" I shriek. "You don't understand my worm phobia!"
"Kidding," Stephane says.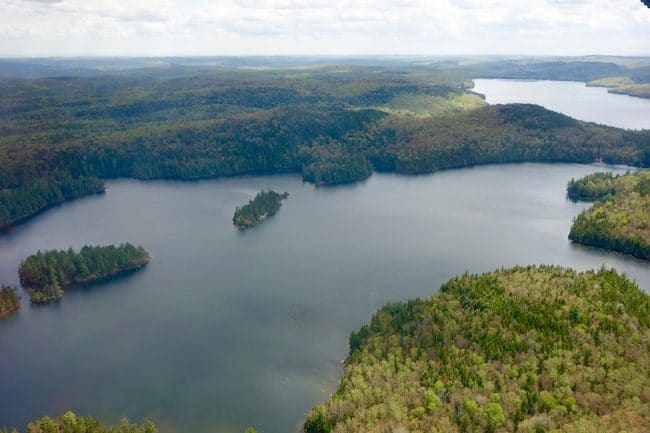 What's the draw of a fishing trip?
I may not have to bite a worm, but I might have bitten off more than I can chew with this fishing trip in Quebec. I don't quite understand why fishing is so popular, and I feel bad about killing a fish. I eat fish though, so that probably makes me a hypocrite.
Since I've decided to devote this Quebec vacation to outdoor challenges, and since Canadian fishing trips are as iconic in this wilderness landscape as maple sugar and bear watching, I've decided to give it a go.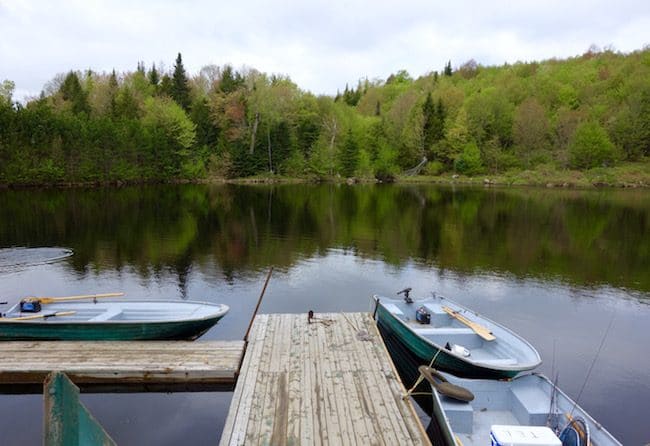 Nature time
There are two other boats in our fishing expedition, but Claudia and I – as the most useless least experienced – have been elected to ride with Stephane. This suits me fine. He can do most of the work while I enjoy some nature-tinged bliss.
The sun has come out, the morning air fresh, and we're surrounded by a thick ring of maple, beech and pine. If it weren't for the black flies circling my head like a crown of thorns, I couldn't have asked for a better day. (Note to Quebec outdoor adventurers, black fly season is short but unsweet for a couple of weeks in May.)
Happy to use a spinning spoon lure instead of a worm, I take the pink Ladyfish fishing rod Stephane has flicked into the water for me and we're off, tootling around little Lac Roche, one of 12 lakes that Pourvoirie du Lac Blanc, a popular Quebec fishing outfitter, has access to.
The first catch of the day
Darcy, a Nova Scotian in one of the other boats hooks a fish. He reels it in as Karine, his boating companion, grabs the net. Darcy heaves, the fish jumps and Karine tumbles backwards into the bottom of the boat while also netting the fish. Success!
Fishing is not easy
I, however, am doing everything wrong according to Stephane. This is no surprise. I try to cast but forget to take my finger off the line. When I get a nibble I don't jerk the line hard enough and when I get another nibble I jerk too many times. Eventually I'm able to cast my line at least five feet from the boat.
"Perfect!" Stephane says.
I start to laugh. "I know what you're really thinking. But being cautious is better than hooking Claudia's head."
"Thank you," Claudia says.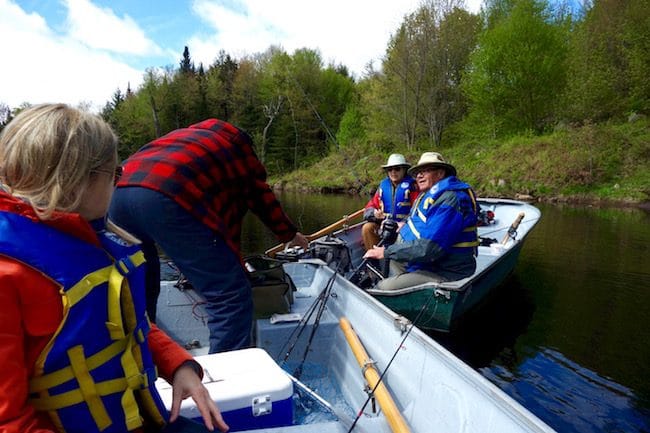 An unlikely catch
Suddenly my line jerks, then jerks again. I've caught something! Unfortunately it's another boat's motor. Stephane shouts at the driver to cut the engine and untangles my line before handing me back my rod with a new lure, a Woolly Bugger (no, I'm not making that name up). "Oh, wait. I just have to put the worm on," he says, taking it back.
"Worm? What worm? You said it was a joke. Can't you at least pretend it's a butterfly," I ask.
"You don't want to kill a butterfly," Claudia points out.
"Good point. Okay, a plastic butterfly."
The real joy of fishing
Now that I'm visualizing plastic butterflies, we settle into a sublime lazy silence. A woodpecker is head butting a tree, the hollow thumps rolling across the water. A crow caws overhead, no doubt laughing because all I've caught is a weed and a motorboat – unlike Claudia who caught a rainbow  trout. But maybe this is the real joy of fishing, I think, the part when nothing happens.
My rod jerks. I jerk back, remembering (for once) Stephan's advice. "This thing is huge," I shout, struggling with the line.
"It's gone under the boat," Claudia says.
"It's Jaws!" I can't even reel it in. The line slackens and I think I've lost it. Then it fights and I fight back, bracing the rod on my chest. The fish goes under the boat again and as I struggle a school of half-formed thoughts splash around my mind; guilt about harming a living creature, images of food chains and trout eating worms without any remorse (as far as I know). This is all overlaid by a sheer rush of adrenalin and excitement, possibly exacerbated by the fact that I'm hungry.
For the first time I understand the lure (pardon the pun) of fishing as a sport – not in abstract terms but on an instinctive gut level.
"Reel it in," Stephane shouts.
"It's a monster." The line bends as I reel it in inch by inch until Stephane scoops a six-pound rainbow trout up in his net. I'd better not have to hold that thing up by the gils for a photo, I'm thinking as it twists angrily. It'll slap me in the head with its tail and I'll go flying off the boat. Part of me thinks I deserve it. Another part of me, a part I don't recognize, feels an earthy sort of triumph.
This is a fish meant for the table (actually a picnic table in the woods), and in a way, isn't it more respectful to eat it like this than by buying it wrapped in plastic from a supermarket so I can conveniently forget it was alive?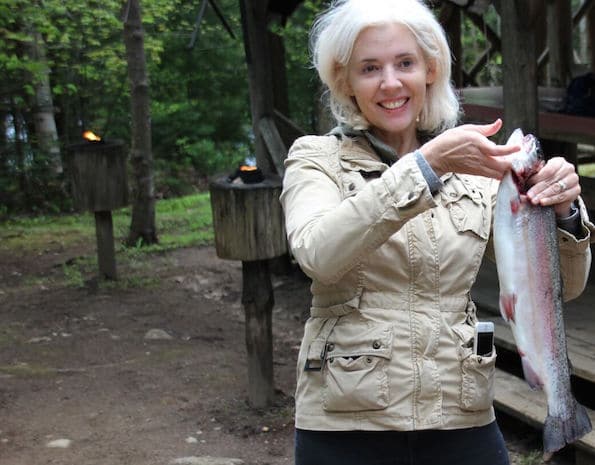 From lake to table
I'll never be an expert fisherman. (No doubt Stephane would be the first to agree.) But this fishing trip to Quebec has made me realize how removed I am from the 'farm and lake to table' process, and how our animal instincts – even if we don't know we have them – can still come into play.
Travel tips for Canada fishing trips
Pin me!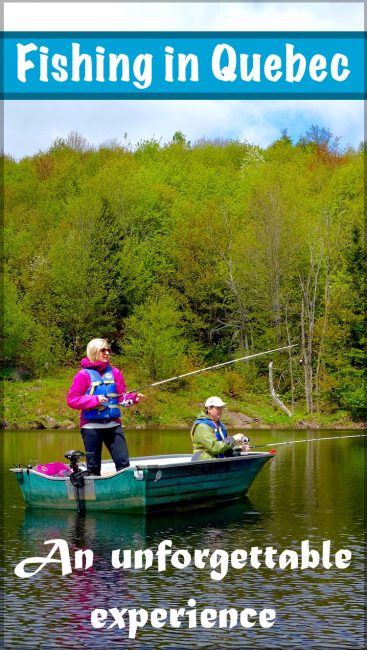 Fishing in Quebec
If you're interested in Canada fishing trips, Quebec makes an excellent destination. What can you catch in the province? Depending on where you go, fish species include yellow walleye, northern pike, sturgeon, bass, rainbow trout, speckled trout, and arctic char in the far north – to name a few. Atlantic salmon, caught only by fly fishing, is a protected species and takes a special permit.
The province is divided into 29 hunting and fishing zones, and has more than 600 outfitters, so you'll be spoiled for choice.
About fishing in Canada
There are some 180 species of freshwater and saltwater fish and five types of salmon in this country, so it's easy to see why Canada fishing trips are so popular. Accommodation ranges from luxury fly-in fishing resorts to rustic campgrounds, and more than three million recreational fishing licenses are bought each year in Canada.
About Pourvoirie du Lac Blanc
Pourvoirie (which means outfitter in French) du Lac Blanc is both a four-season resort and a fishing outfitter. Located in Saint-Alexis-des-Monts, the resort is situated on 3500 acres straddling the regions of Mauricie and Lanaudière, known together as Authentic Quebec. The lakeside resort has 12 chalets, an inn, restaurant and a relaxation centre with indoor pool, sauna and mini gym. They offer a number of outdoor activities, from dog-sledding to tours of a peat bog. Visit their website for more info.
A fishing trip in Quebec with Pourvoirie du Lac Blanc. You can fish for brook trout (speckled trout), rainbow trout and small-mouthed bass. You can also go ice fishing in winter. Choose to go with a guide or on your own.
We stayed at nearby Sacacomie Hotel, a lovely timber resort on the shore of Lac Sacacomie. This large 4-star resort also offers a wide range of outdoor activities in both summer and winter and has an appealing nordic spa. For more ideas on places to stay and things to do in Mauricie and Lanaudiere, visit my Quebec road trip itinerary. For some urban adventure, check out things to do in Quebec City. For more ideas on travel in Canada visit Things to do in Canada.