This post may contain affiliate links.
Looking for a luxury cruise? Thinking of Oceania Cruises? My husband and I are, too. Here are some reasons why.
This post was written in collaboration with Oceania Cruises and the SheSavvy Influence Network. All opinions (and persuasive arguments) are my own.
Bucket List Adventures
On my travel wish list is a cruise. With more than 370 ports of call, Oceania Cruises is making me drool, and I'm in the midst of convincing my husband, Mark, that we need to take a voyage on one of their six ships. So far my (extremely persuasive) arguments include:
Value Luxury
Oceania Cruises are known for their value luxury and come with perks such as free soft drinks, free city shuttles in many ports, free 24-hour room service and no additional charges for specialty restaurants. Who can argue with that? (Certainly not my husband).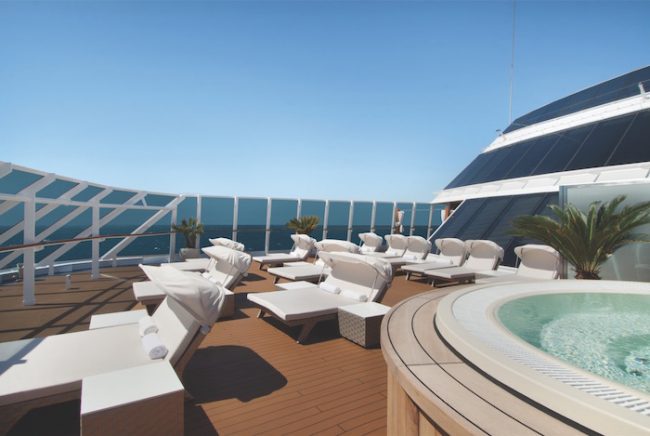 Spa & Wellness at Sea
Oceania's very au courant approach to wellness proves that slothful living is not a cruise necessity. Instead, you can hang out at the Aquamar Spa + Vitality Center. While I'll pass on activities such as Sunrise Stretch and Relax classes, and definitely sleep through Sunrise Yoga, count me in for Awesome Legs or Awesome Abs classes, because then I can look good at the pool.
And if Oceania Cruises comes up with a new class, the Lifting-a-Glass-of-Champagne-While-Showing-off-your-New-Awesome-Legs-and-Abs-at-the-Pool workout, I'll sign up for that one, too.
Mark, meanwhile, is free to do the Boot Camp, Full Body Strength Training and Core Conditioning. More power to him.
Dining Onboard – The Finest Cuisine at Sea
Mark won't have any problem with Oceania's many specialty restaurant options and reputation for gourmet food, but I'm conflicted. That's because the cruise line offers a full spa cuisine menu as well.
Since I want to indulge in lavish meals such as steak and seafood at Polo Grill or contemporary Asian fare at Red Ginger as well as nurture my healthy self, I've decided I may have to eat both a four-course gourmet meal and a spa option at mealtimes, this way striking an optimal balance between indulgence and health-oriented cuisine –
I'm just not sure how this will affect my Awesome Abs.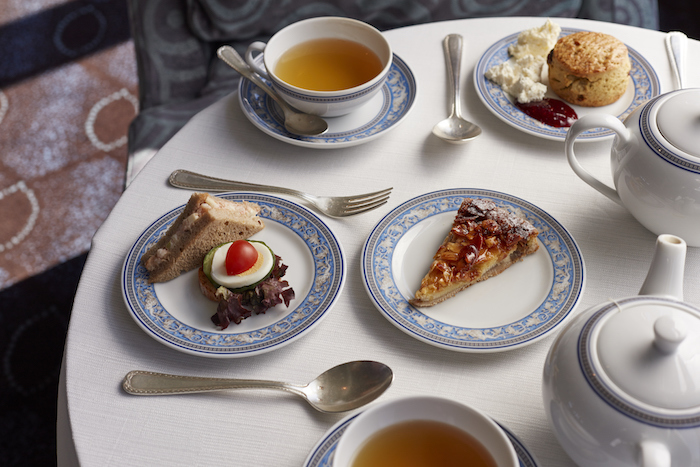 Experiential Travel – The Culinary Centre
The latest trend in luxury travel is to learn, do and experience. If this is you (I'm speaking to you, Baby Boomers), you might be interested in the Culinary Centre onboard both Oceania's Marina and Riviera ships. The Culinary Centre is a hands-on cooking school in a state-of-the-art teaching kitchen, and is the first of its kind at sea.
And while this is probably not the most persuasive argument for my husband, who prefers to eat rather than cook, if I explain that techniques such as barbecue grilling are on the teaching menu, I think I can count him in.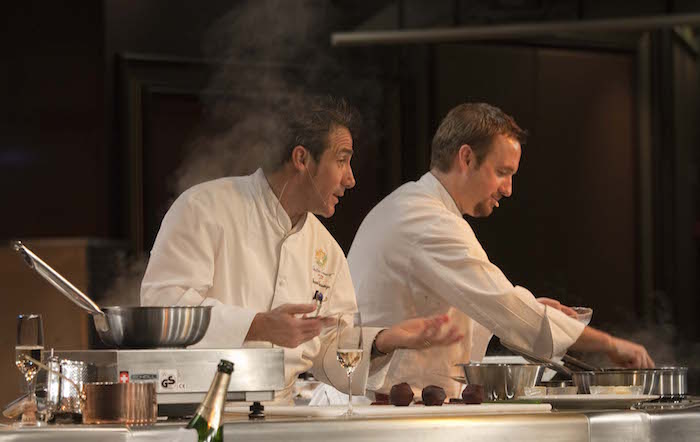 Culinary Discovery Tours
It's also possible to take your culinary travel interests a step further with a Culinary Discovery Tour, a themed tour series where you'll be shopping for fresh produce alongside a master chef at local markets, dining on authentic regional cuisine in various ports and polishing your epicurean skills.
Enrichment Lectures at Sea
There is no point in improving your Awesome Abs without working on your Awesome Brain as well. Listening to a talk about Polynesian Culture or the Secrets of the Explorers of the South Pacific while on a Bali to Honolulu cruise, for example, would be a complete cruise highlight – at least it would be for Mark, who likes to entertain me with the latest theories on the origins of man, while I drive him to distraction with NASA news updates and my obsession with pulsars.
Clearly, we both agree that a voyage can be made so much richer by learning about the culture and natural attractions of the region you're travelling through.
Size Matters
Oceania Cruises' ships host only between 684 and 1250 guests. This means they're large enough to have the amenities you want (like a Canyon Ranch spa), but can also visit boutique ports where mega cruise ships can't go. In addition, their intimate size adds up to more personalized service, no waiting in lines and open-seating in all of the restaurants. (Helpful for my eating-two-meals-at-once idea).
Destinations
If a trip is all about the journey rather than the destination, a cruise is perfect because the journey and the destination are one and the same. Oceania Cruises is destination-oriented, which means that more time is spent in port. And word on the street – or at least on the water – is that their shore excursions are expertly done.
Of course this could cause problems in my marriage. On a Rustic Charms Monte Carlo to Barcelona cruise, for example, I might want to do a Scenic Vizzavona & Corsican Snack Tour (I do like my snacks), which takes you deep into Corsica's mountainous interior to learn about legendary bandits and sample local delicacies such as goat cheese and smoked ham.
Mark, on the other hand, might prefer the Corsican Wine Discovery Tour, though I'm sure if I explain that there will be some excellent local wine accompanying the snacks, he'll come around to seeing it my way.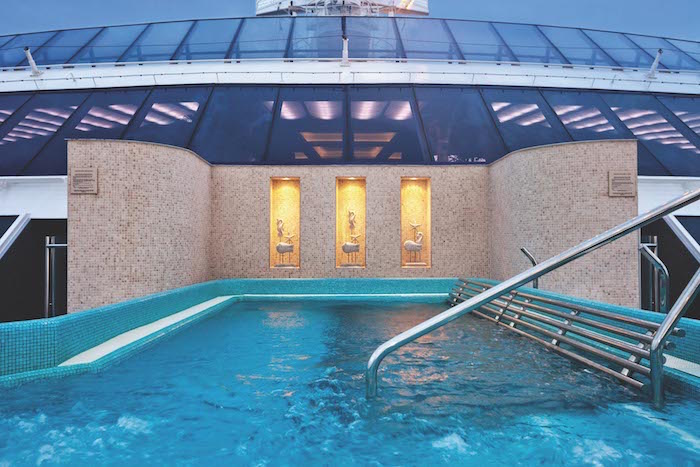 A Cruise For Everyone
With so many options and activities there is bound to be a cruise to suit every taste. For a spa fanatic like me, the ultimate luxury cruise would be one of Oceania's new Wellness Tours inspired by Canyon Ranch. Now all I have to do is convince Mark that a spa cruise retreat in the Mediterranean is his top choice, too.
I can see Tai Chi in a French Garden being a bit of a tough sell, but how could he (or anyone) resist an afternoon soaking in hot springs in the Pope's Thermal Baths at the Viterbo Terme dei Papi in Italy? And once I explain that the Greek Gods of Wellness Excursion in Corfu is set in a vineyard, I'm sure he'll come onboard.
About Oceania Cruises
With six luxurious ships: the Regatta, Insignia, Nautica, and Sirena, which hold 684 guests, and the 1,250-guest Marina and Riviera, Oceania Cruises are renowned for their fine cuisine and destination-rich itineraries in Africa, Asia, Australia, Europe, New Zealand, the Americas and the South Pacific. Visit their website for more information.
Pin me!
Read more about luxury travel.