This post may contain affiliate links.
If there is one place that does the festive season right, it's the Loire Valley of France. Here is a look back at my Christmas at some of the incredible Loire Valley chateaux.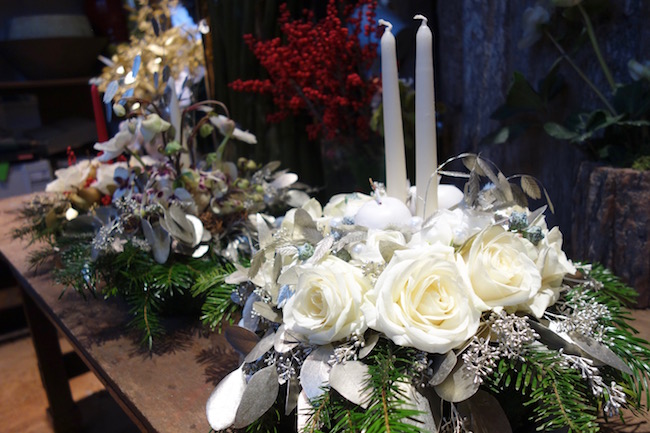 Christmas in the Loire Valley
There are various ways you can look at spending Christmas visiting Loire Valley chateaux.
It will ruin your festive holiday because as you wander through all the splendour it becomes clear you will never be a King of France or even a Duke of Orléans and have a fabulous French castle in Loire Valley all to yourself.

Delude yourself that by drinking lots of Saumer wine from the Loire Valley region and wearing Renaissance outfits while buying baguettes at your local boulangerie, you will magically be granted at the very least, a knighthood, and at best, a dukedom with a grand chateau of your own.
I prefer the second option.
Don't worry, there's a third way to experience the holidays in this scenic area of central France.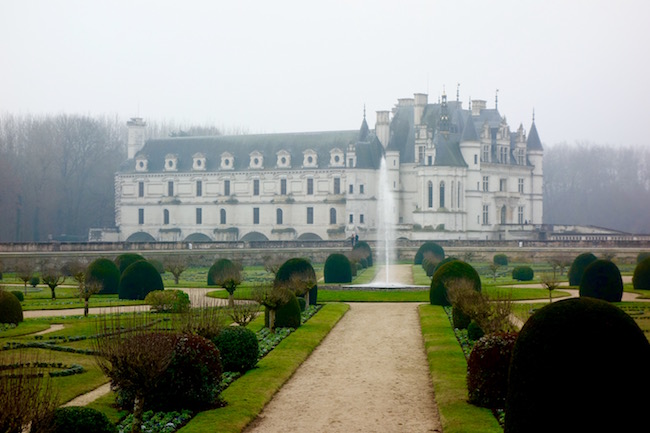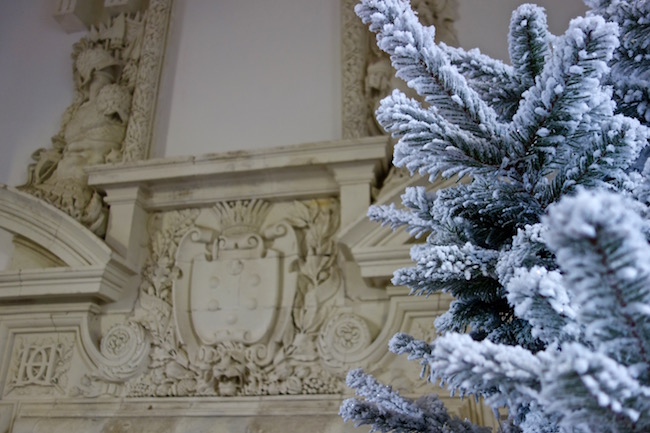 The Best Way to Spend the Holidays at the Loire Valley Chateaux
The third option is to visit the top chateaux of France, ooh and awe over their lavish holiday decorations and imagine yourself living there during a time when there were endless balls, court festivities and feasts.
Let's do that now. Because today, the lavish decor and festive spirit in these grand castles of France are a sure way to put you into the holiday mood.
Five Chateaux of the Loire Valley to Visit in December
I visited five chateaux and at every one I thought I should quit while I was ahead because there was no way the next one could be as spectacular. And then it was.
Just like a Christmas snowflake (a really ostentatious snowflake), each chateau has its own particular grace, magnificence and charm.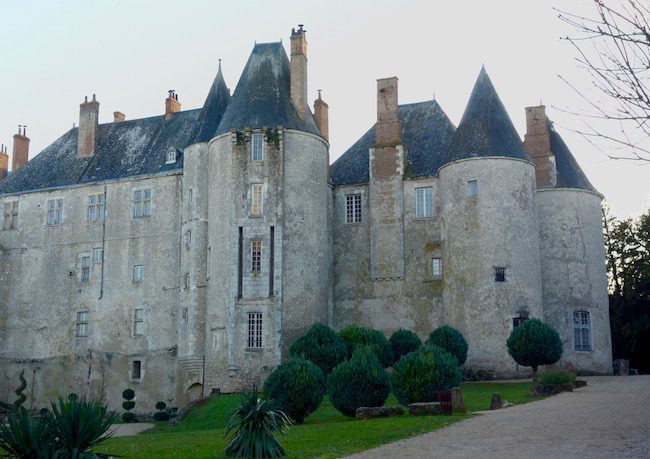 The Chateau de Meung-sur-Loire
The Chateau de Meung-sur-Loire, not far from the city of Orleans, is a dangerous place at Christmas. You are very likely to run into a wolf or a reindeer in the drawing room, because for the holidays this entire Loire Valley chateau transforms.
When we were there it was taken over by wild beasts in medieval finery.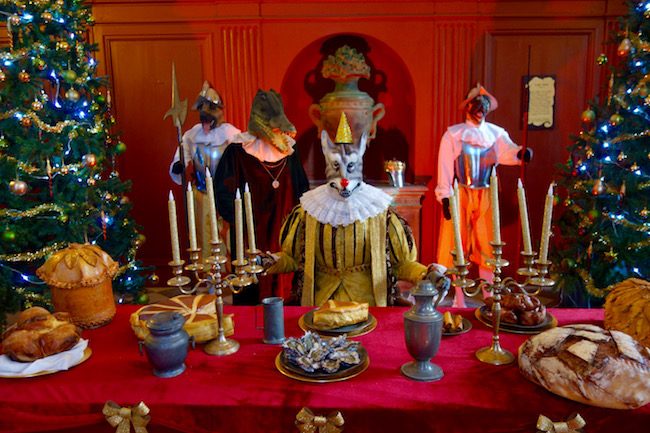 The Chateau de Meung-sur-Loire is popular with locals, which is why it's so fun to visit – because there are all these handsome Frenchmen, er, Frenchwolves hanging about. They're er, positively foxy, especially if you like your dates to sport antlers, furry noses and military uniforms.
This ancient castle is one of the more unusual chateaux in the Loire Valley. With one part medieval and one part classical, it's known as the Chateau with Two Faces, and presents two different facades to the world.
If you love dungeons and underground passages, it has that, too.
The Domaine de Chambord
One of the most visited chateaux in the Loire Valley is the magnificent Domaine de Chambord. Surrounded by forest, it's the largest of all the region's castles.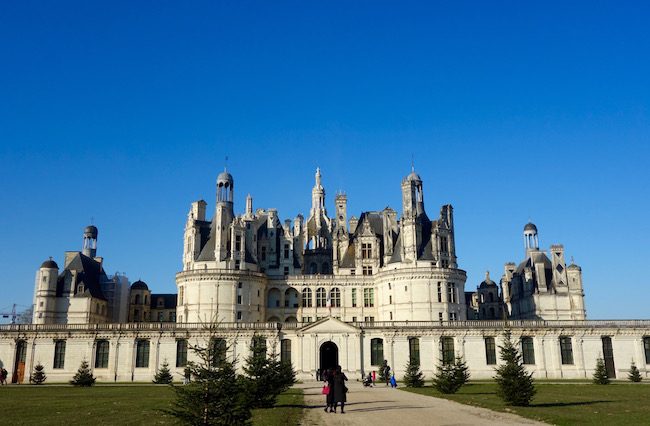 The Chateau de Chambord at Christmas Time
The immense Chateau de Chambord is more like a monument than a lived-in home, though personally I could easily make myself comfy here. It was built for King Francois I in the 16th century though he rarely spent time here.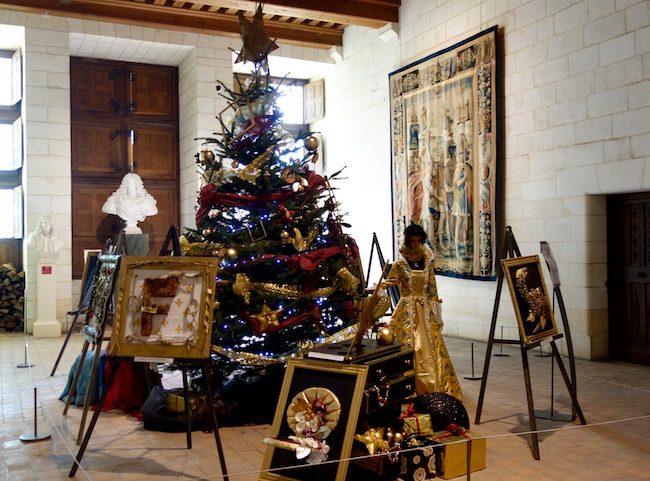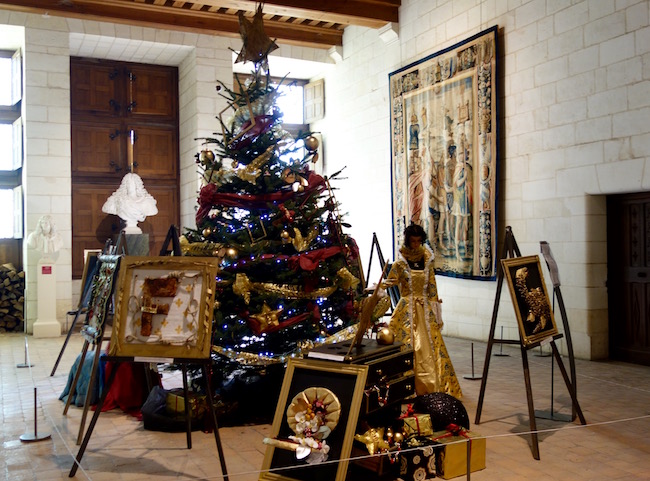 A Gothic-Inspired Masterpiece
In addition to experiencing the sheer magnificence of the chateau, with its famous double-spiralled staircase, towers, turrets and endless carvings of the salamander, which was the emblem of Francois I, one of the best ways to enjoy Christmas at the Domaine de Chambord is to visit the Biscuiterie de Chambord, a cookie store on the castle grounds.
A Loire Valley Christmas Involves Sugar
What? You think chateau visits should be all about dates and history instead of cookies? What kind of festivities are you planning?
I'll have you know I had to sample at least 12 different kinds of famous local biscuits along with my partner in crime, travel blogger Rachel LaTour from Decouverte Monde and our trusty PR guide, driver and organizer, Vanessa Treney from the Tourism Centre Loire Valle, and it was a lot of work.
You visit chateaux your way, I'll visit them mine.
The Chateau de Cheverny
The Chateau de Cheverny has a homier feel than the Domain de Chambord. That's because it's one of the few grand chateaux in the Loire Valley privately owned and lived in.
It's also the home of Tintin and Captain Haddock, who, in the Adventures of Tintin, live in Marlinspike Hall, which is modelled after the one and only Chateau de Cheverny.
What to Wear at a Grand Chateau in France at Christmas
Another reason I like Chateau de Cheverny is because it takes the guesswork out of what to wear for Christmas dinner. You simply wear your Christmas tree.
France is so fashion forward, don't you think?
The Chateau de Chenonceau
One of the mightiest chateaux of all is, at the same time, the most feminine, home to many a forceful noblewoman such as Catherine de Medici and Diane de Poitiers.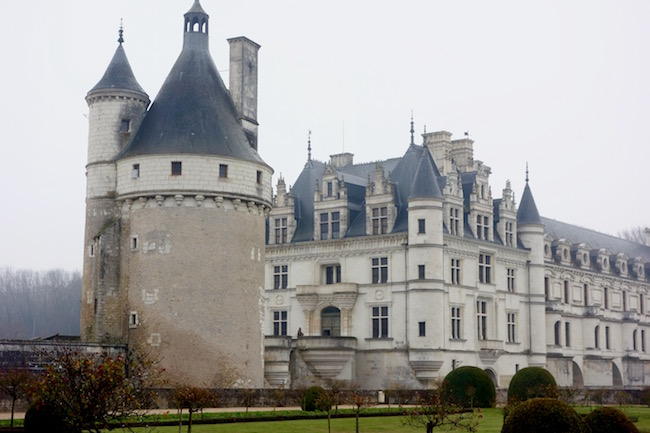 The Floral Atelier at the Chateau de Chenonceau does Christmas right
The Chateau de Chenonceau takes its flower arranging and holiday decorations seriously. In fact it's the only chateau with its own floral atelier and each room is more gasp-worthy than the next.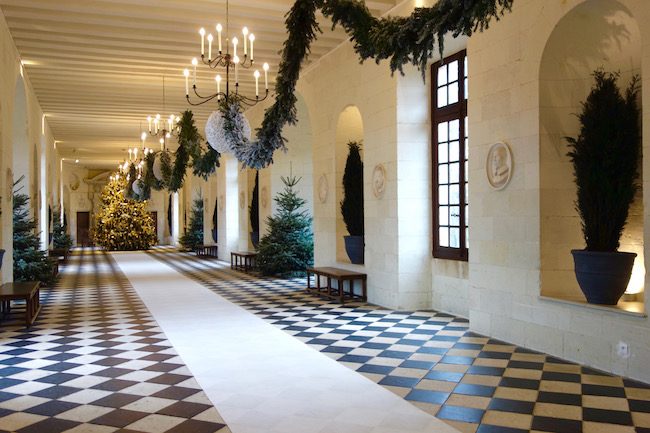 Rooms of Splendour
From the long galleries to the richly-decorated bedrooms lined with tapestries and Nordic-inspired Christmas decor, my head was swivelling around like an owl on steroids.
The Xmas decor at the Chateau de Chenonceau take three months to plan and prepare and it's truly a sweet-scented way to enjoy the holidays.
Royal Chateau d'Amboise
Our Christmas in the Loire Valley ended at the fairytale-like Chateau d'Amboise, a childhood home of King Francois I. Today during the holidays you're more likely to find it occupied by the Christmas spirit and a snowy white decor.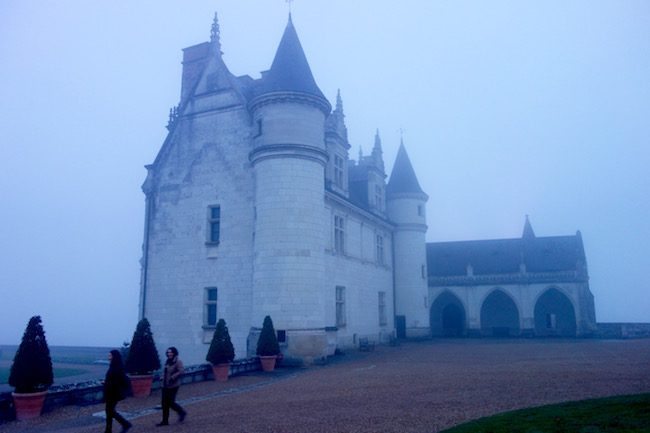 Chateau d'Amboise
Christmas Events at Chateau d'Amboise
At Chateau d'Amboise, after trying my hand at making a marzipan Santa Claus (I accidentally gave him a white hat) and failing miserably at Renaissance dancing, I spent as much time as possible hanging around the castle interior enjoying the Christmas atmosphere.
This was not just because I was suffused with the feeling of holiday goodwill, but because it was raining outside and I was trying to stay warm.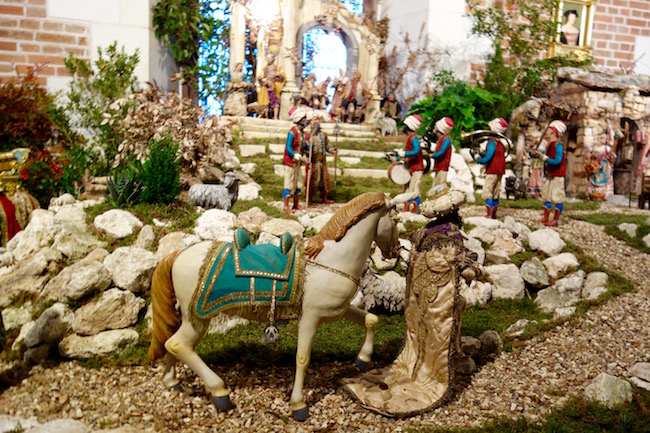 Christmas Nativity Scene at the Chateau d'Amboise
Spending time exploring the chateau gave me time to take a good long look at the castle's marvellous nativity scene. All the terracotta pieces come from Naples, which, I learned, is the centre fo artisanal Christmas figurines. Who knew?
Speaking of things that are not always about France, the very famous Italian painter, Leonardo da Vinci, is buried at the Royal Chateau d'Amboise, and somehow when I visited his tomb, I imagined he was sharing the spirit of a Loire Valley Christmas right along with us. I hope you can, too.
My trip was organized by Atout France.
Read more about travelling to France in the winter at Romantic Paris at Christmas time. Or Read more about top European destinations.